After two years filled with uncertainty, 2022 gave us a semblance of normalcy and people started getting back to their old ways, going out, planning get-togethers and living their lives to the fullest. With 2022 being such an action-packed year, we can only imagine what 2023 has in store for us. If you're looking to make the most of your new year, you don't want to miss out on these iconic events in 2023 taking place across the country. So, get out your calendar and start bookmarking.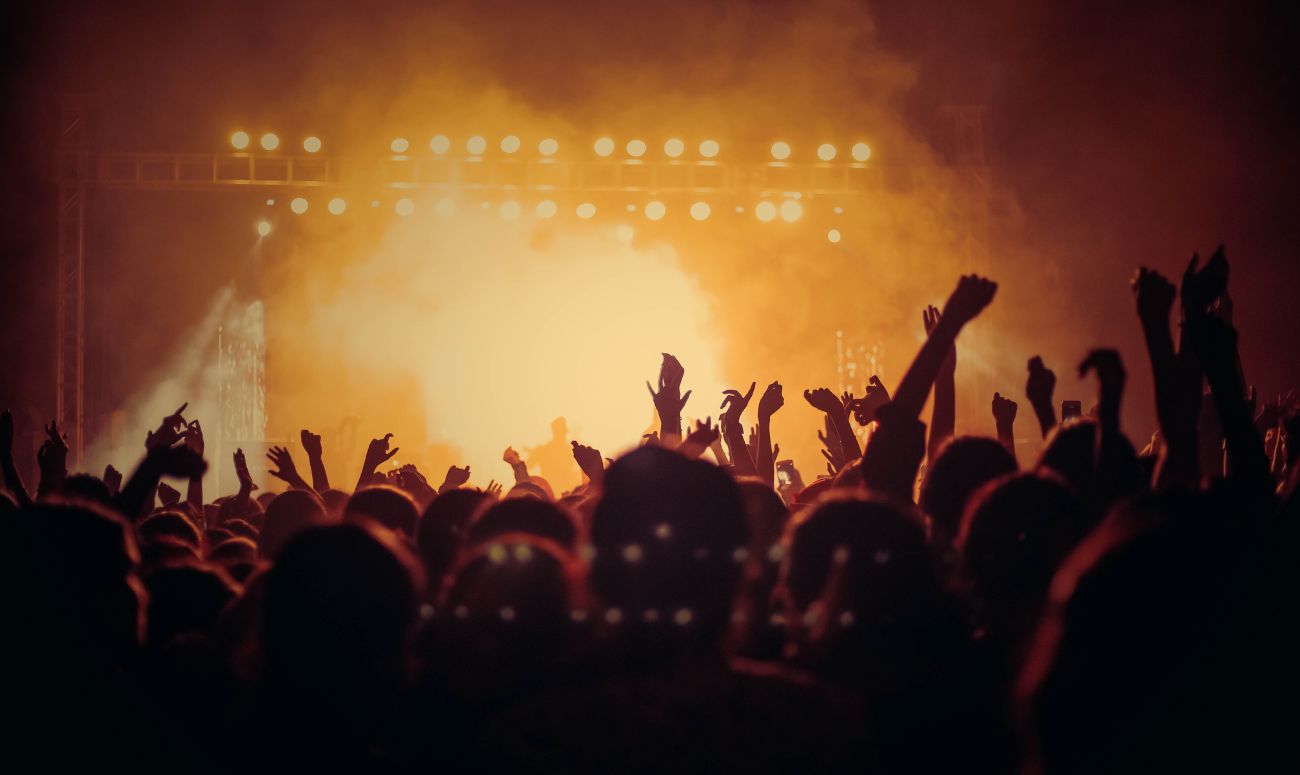 20 Events To Bookmark In 2023  
1. Rann Utsav 
One of the most vibrant and delightful festivals of India, the Rann Utsav – The Tent City experience gives you the opportunity to spend a luxurious holiday glamping in the cultural city of Rann of Kutch. October to February is the perfect time to experience the event as the weather is perfect for sightseeing, interacting with artisans and craftspeople, enjoying the assorted array of folk music, exploring adventure activities, or simply taking in the cultural heritage of the city and the beauty of the white desert.   
Dates: October 26, 2022 – February 22, 2023 
Location: Rann of Kutch, Gujarat 
Book here.  
2. St+art – Mumbai Urban Art Festival 
St+art, a non-profit organisation puts together a multi-city urban street festival every year that livens up public spaces through murals, installations, and experiential exhibitions. They organise these festivals and public art projects in various cities like Delhi, Chennai, Coimbatore, Hyderabad, Kolkata, and Mumbai. Your senses will be delighted by multi-art visuals, enchanting experiences, and projects that contribute to urban regeneration.
Dates: December 22, 2022 – February 22, 2023 
Location: Sassoon Docks, AP Arthouse, Bandra, Mahim, and Colaba, Mumbai, Maharashtra 
3. Kochi Biennale 
Launched in 2011, Kochi-Muziris Biennale is India's first-ever biennial of international contemporary art. Their aim is to juxtapose the cosmopolitan spirit of the modern metropolis of Kochi and the mythical Muziris to showcase new Indian aesthetics and experiences that start a conversation around art, visual art theory, and the contemporary practice in India. This is one of the events you cannot miss out in 2023.   
Dates: December 12, 2022 – April 10, 2023 
Location: Various Venues Across Kochi, Kerala 
Book here.  
4. Jaipur Literature Festival  
Deemed "The Greatest Literary Show On Earth", Jaipur Literature Festival brings together a diverse mix of the world's most renowned writers, humanitarians, thinkers, politicians, business leaders, and movers and shakers to champion freedom of expression and thoughtful debate. This year's panel includes names like Caroline Elkins, Shashi Tharoor, Shobhaa De, Chitra Banerjee Divakaruni, Namita Gokhale, William Dalrymple, and many more.
Dates: January 19 – 23, 2023 
Location: Hotel Clarks Amer, Jaipur, Rajasthan 
Book here.  
5. Van Gogh Experience, Mumbai  
The debut of Van Gogh 360° calls to all the lovers of The Starry Night who want to experience an immersive show that allows you to merge with the vivid visuals created by the iconic painter. The entire space will feature floor-to-ceiling projections that will bring to life over 300 of his paintings and art lovers and more can stroll through this first-of-its-kind exhibition to enjoy the dramatic brushstrokes and bright colours.  
Dates: January 20, 2023 – February 17, 2023 
Location: The Arcade Shopping Centre, World Trade Centre, Mumbai, Maharashtra 
Book here.  
6. Desert Festival 
Taking place in the beautiful city of Jaisalmer, the Jaisalmer Desert Festival is held in the Hindu month of Magh (February), three days before the full moon. Celebrated amidst the tranquil sand dunes of the Thar Desert in the Sam dunes, the festival is a kaleidoscope of excitement, activities, performances, and expansive views that are the epitome of Rajasthan.  
Dates: February 3 – 5, 2023 
Location: Sam Dunes, Jaisalmer, Rajasthan 
Book here.  
7. Tehri Lake Festival 
Experience entertainment, adventure, and glamour against the backdrop of the serene waters of Lake Tehri surrounded by the Himalayas at the Tehri Lake Festival. Organised by the Uttarakhand Tourism Development Board, this three-day festival features the perfect blend of adventure sports and gorgeous, natural vistas.
Dates: February 4 – 6, 2023 
Location: Tehri Lake, Garhwal, Uttarakhand 
Book here.  
8. 2023 Kala Ghoda Arts Festival 
One of the most awaited arts festivals in the country, the Kala Ghoda Arts Festival is an annual exhibition and celebration of theatre, music, films, comedy, and world art. Held in Mumbai, the festival draws in a crowd of over 150,000 culture aficionados from the city and beyond. 2023 marks the 24th edition of this annual festival which will be held in the Kala Ghoda Art District in Mumbai.
Dates: February 4 – 12, 2023 
Location: Kala Ghoda Art District, Mumbai, Maharashtra 
Timings: 10 am to 10 pm  
9. India Art Fair 
One of the finest platforms for modern and contemporary art, the India Art Fair (IAF) 2023 is being held in partnership with BMW India to bring together collectors, curators, and art professionals who are integral to the international art scene.  
Dates: February 9 – 12, 2023  
Preview Dates: February 9 & 10, 2023  
Location: NSIC Grounds, Okhla, New Delhi 
10. Comic Con 
Country's largest-ever pop-culture celebration, the legendary Comic Con features pop cultural artifacts, costume competitions, comic book authors, and the best cosplayers from all over the globe. International comic book publishers like Kodansha, Marvel, DC, IDW, and Dark Horse get hosted by publisher Penguin Random House India.  
Dates: February 11 – 12, 2023  
Location: Jio World Center, Bandra-Kurla  
Book here.  
11. Goa Carnival 2023 
Goa is the epitome of contentment and relaxation, with the destination being one of the most celebrated spots for unwinding. For three days prior to Lent, the state of Goa turns itself into the King of the carnival. The destination is swept by a whirlwind of music, good food, dancing, art and craft exhibitions, and masquerade balls that are eventually taken to the streets. Held at Panjim, Mapusa, Margao, and Vasco, the carnival celebrates Goa's multi-ethnic culture with the slogan of "Kha, Piye, Ani Maja Kar" (eat, drink, and be merry).
Dates: February 25 – 28, 2023  
Location: Panjim, Mapusa, Margao, and Vasco, Goa 
12. Tulip Festival 
Have you ever stepped into a place and felt like you've entered heaven? Imagine being amidst a sea of tulips as far as the eye can see at the Tulip Festival held at the Tulip Garden in Srinagar. Any Kashmir vacation is incomplete without a trip to this awe-inspiring phenomenon. One of the largest gardens in Asia, the Indira Gandhi Memorial Tulip Garden is nestled on the foothills of the Zabarwan mountains, overlooking the gorgeous Dal Lake.
Dates: April 3 – 20, 2023  
Location: Indira Gandhi Memorial Tulip Garden, Srinagar 
13. Nehru Trophy Boat Race  
As the rain sweeps the south of the country and the rivers swell with azure water, a fiercely fought boat race takes over Punnamda Lake, near Alappuzha. Named after Pandit Jawaharlal Nehru, the Nehru Trophy Boat Race is a sight to see with over two lakh people, including tourists from outside the country, rejoicing in the excitement and adventure.
Dates: September 3, 2023 
Location: Punnamada, Alappuzha, Kerala 
14. Ziro Music Festival 
Touted as one of the most eco-conscious music festivals in the country, thanks to the backdrop of the Northeastern Himalayas in the Ziro Valley, the Ziro Valley Festival of Music has been promoting North Eastern musical talent since its inception. The idea is to keep it culturally alive while staying sustainable, eco-friendly, artist-centric, and offering a place for people to come together to discover music from different cultures.  
Dates: Yet to be announced.  
Location: Ziro Valley, Arunachal Pradesh   
15. Jodhpur RIFF  
A not-for-profit roots music festival endorsed by UNESCO as a "Peoples' Platform for Creativity and Sustainable Development", the Jodhpur RIFF happens on Sharad Purnima, the brightest full moon of the year in North India. Spectacular concerts and events are held in and around Mehrangarh Fort, where you can enjoy the culturally blooming atmosphere with the backdrop of majestic Jodhpur.  
Dates: October 26 – 30, 2023 
Location: Mehrangarh Fort, Jodhpur, Rajasthan 
16. Cherry Blossom Festival 
A rare autumn bloom draws visitors to the hill station of Shillong, Meghalaya to witness the flowering of Himalayan Cherry Blossoms. Trees abundant with white-pink flowers flourish with beauty, and people flock to the scene to enjoy the phenomenon while also enjoying the fashion shows, concerts, a beauty pageant, and Japanese cosplay amidst other events at the Cherry Blossom Festival. This is one of the events you absolutely cannot miss out on in 2023.    
Dates: November 17 – 26, 2023  
Location: Polo Ground, Shillong, Meghalaya 
17. India Bike Week 
Asia's largest bike show, the India Bike Week is a 2-day event held in November or December every year to celebrate bikers and their rides of choice. Over 20,000 riders from across the country gather at the event to network with like-minded individuals, attend events, exhibitions, racing events, and much more.
Dates: Dates to be announced soon.  
Location: Goa 
Stay tuned here for more information.  
18. Echoes Of Earth  
Launched in 2016, Echoes of Earth is a two-day event that celebrates music, art, and insightful conversations across genres and cultures. Being the 'greenest' music festival of India, the aim of the festival is to bring communities together with nature and promote a sustainable way of life.  
Dates: December 3 – 4, 2023 
Location: Bengaluru, Karnataka 
19. Hornbill Festival  
Named after the Indian Hornbill, the state bird of Nagaland, the Hornbill Festival of Nagaland encourages engagement amidst different tribes and diverse cultures. The festivities are marked by delicious food, folk music, handicrafts, and much more to entertain visitors.
Dates: December 1 – 10, 2023  
Location: Kisma, Kohima District, Nagaland 
20. Hot Air Balloon Festival  
Held in various parts of Karnataka, the Hot Air Balloon Festival features several hot air balloons sailing the sky, something travel enthusiasts and visitors must experience at least once. The festival is organized by Karnataka Tourism to promote aero sports and is celebrated across a period of 4 days in three regions, Bangalore, Mysore, and Hampi.
Dates: December 1 – 31, 2023  
Location: Bangalore, Mysore, and Hampi, Karnataka  
India being the land of cultural diversity has much to offer. Make sure to mark these events in 2023 in your calendar so that you don't miss out on a once in a lifetime experience.  
Read More: 10 Minutes Of Meditation For Instant Happiness And Love
Like & Follow ThinkRight.me on Facebook, Instagram, Twitter, Pinterest and Telegram to stay connected.