Common cold and cough can occur due to multiple reasons and though seemingly minor symptoms they can be annoying. A stuffy nose and sore throat can make you feel miserable.
As such, there is no cure for common cold and most medications just help in easing congestion. This can be achieved with home remedies from the kitchen too. They will help in soothing the throat and opening up a blocked nose. So, the next time you are knocked down by the flu, try these home remedies for cold and cough along with your doctor's advice.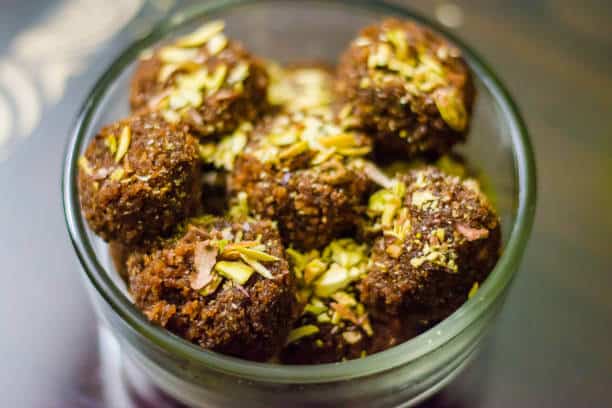 Jaggery Turmeric Ginger Balls
Ingredients:
4 tablespoons dried ginger powder
1 teaspoon turmeric powder
4 tablespoons jaggery powder/grated jaggery
4 tablespoons ghee
Method:
Combine the ginger and turmeric powder in a bowl.
Add the jaggery and toss the mixture.
Add slightly warm ghee and mix all the ingredients with the hand to make a smooth dough.
Take coin-sized portions of the mixture and roll them into small balls.
Store the balls in an airtight container.
These can be had 2-3 times a day to soothe the throat and get relief from cough.
Benefits:
All the ingredients of this recipe are packed with nutrients. Ginger contains a good amount of minerals especially copper and has anti-inflammatory properties. Turmeric is the powerhouse of the herbs family and is loaded with Vitamins B6, C, iron and manganese. Together, all these help in reducing congestion, soothing the throat and improving immunity.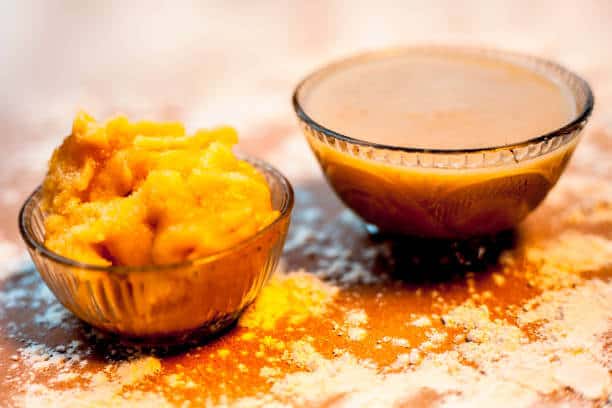 Bajra Raab
Ingredients:
2 tablespoons ghee
1 teaspoon ajwain seeds
¼ cup bajra flour (pearl millet)
2 tablespoons grated jaggery
1 teaspoon dry ginger powder
Method:
Heat ghee in a pan over medium heat.
Add ajwain seeds and once they begin to splutter, add the bajra flour.
Roast the flour for 2-3 minutes until aromatic.
Add jaggery, ginger powder and 2 cups of water. Mix well until jaggery dissolves and there are no lumps in the mixture.
Bring the raab to a boil and then let it simmer over low heat for another 5 minutes. Serve immediately.
Benefits:
This traditional recipe helps in cold and cough by virtue of all its ingredients. Ajwain is antibacterial and antiseptic and relieves spasms while bajra contains flavonoids that help build immunity. Bajra also helps keep a healthy heart and promote blood flow. Jaggery helps in aiding digestion and detoxifying the body.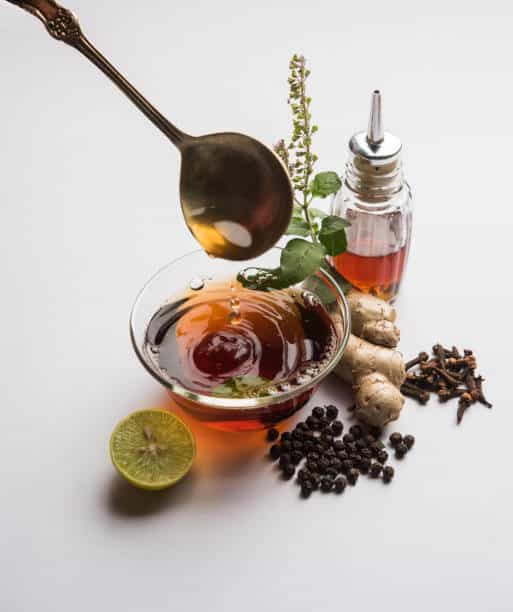 Kadha For Cold and Cough
Ingredients:
2 teaspoons black pepper powder
2 teaspoons clove powder
1 cinnamon (2-inches)
4 green cardamom pods
1 tablespoon crushed ginger
¼ cup holy basil
¼ cup moringa leaves
2 tablespoons honey
Method:
Boil 4 cups of water in a pan over high heat.
Add all the ingredients and give it a stir.
Let the mixture boil over medium heat until it reduces to half the original quantity.
Cover the pan and let it rest for 10 minutes.
Strain the kadha and serve it warm 2-3 times a day.
It can be stored at room temperature and should be heated slightly before consuming it.
Benefits:
This kadha has the richness of Indian spices, all of which have tons of medicinal properties. They help reduce congestion, stuffy nose and boost the immune system. It is loaded with antioxidants and helps soothe a sore throat as well. It is a time-tested home remedy for common cold and cough based on the knowledge of our ancestors.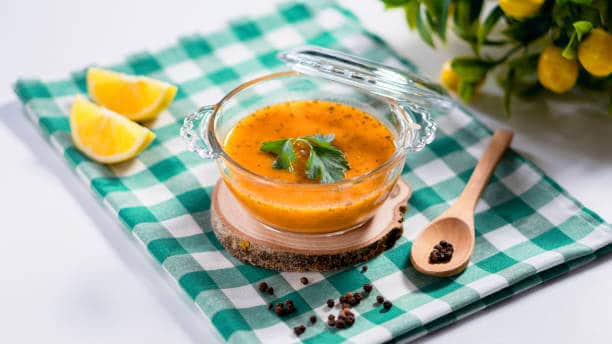 Lemon Coriander Soup
Ingredients:
1 tablespoon vegetable oil
1 green chilli, chopped
1 teaspoon chopped ginger
2 tablespoons carrot juliennes
½ cup shredded cabbage
¼ cup chopped fresh coriander
1 teaspoon black pepper powder
1 teaspoon turmeric powder
2 tablespoons lime juice
4 cups vegetable stock or water
1 tablespoon cornflour dissolved in ½ cup of water
Salt
Method:
Heat the oil in a heavy-bottomed saucepan over medium heat.
Add green chillies and ginger and sauté for 1-2 minutes.
Add carrot juliennes, cabbage and coriander and sauté for 2 minutes. A
dd pepper powder, turmeric powder, lime juice and vegetable stock.
Mix well and let the soup come to a boil.
Add cornflour paste and salt to taste. Mix well and let it simmer on low heat for 2 minutes.
Serve the soup warm garnished with fresh coriander sprigs.
Benefits:
This warm and soothing soup helps relieve the soreness in the throat caused due to cold and cough. Rich in Vitamin A, C and K and phytonutrients, this flavorful soup works wonders in relieving symptoms of common flu. Lemon being rich in Vitamin C, helps to build up your immunity and fight colds during seasonal changes. Coriander meanwhile helps in digestion and sugar level control, especially for diabetics.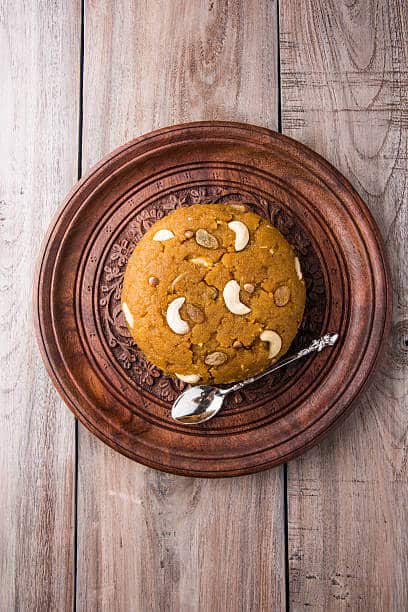 Atta Ka Sheera
Ingredients:
1 cup sugar
4 cups water
1 cup ghee
1 cup coarse whole-wheat flour
Method:
Combine the sugar with water in a heavy-bottomed saucepan over medium heat.
Cook until the sugar dissolves and the syrup comes to a boil. Switch off the heat and keep the syrup warm.
Heat the ghee in a large, heavy-bottomed saucepan over medium-low heat; add the flour and cook, stirring continuously, until the flour turns golden and becomes aromatic.
When the flour is golden and has a nutty aroma, carefully whisk in the sugar syrup, taking care to prevent lumps from forming.
When all the syrup has been added, cook, stirring continuously, until the mixture thickens to the consistency of a thick pudding.
This sheera should be best had immediately as it warms and soothes the throat and provides relief from cough.
Benefits:
Rich in Vitamin B, whole-wheat flour helps in reducing signs of fatigue and weakness due to the flu and gives a burst of energy.

Dr. Deepali Kampani is a digital content specialist who weaves health and food through her pen.
Read more: Is Gluten Messing Up With Your Thyroid
Like & Follow ThinkRight.me on Facebook, Instagram, Twitter, and Telegram to stay connected.