Celebrated on the full moon in the month of Shravana, the fifth month of the Hindu lunar calendar, Raksha Bandhan is a Hindu festival that symbolizes the relationship between siblings. The word Raksha means 'protection' while Bandhan is a verb for 'tie'. It embodies a sense of belonging that the two of them hold for each other, marked by a pious thread that binds them together. This year, August 11 marks the ceremony of honoring this bond between brothers and sisters, sisters and sisters, and siblings and friends alike.  
According to Hindu mythology, the festival of Raksha Bandhan traces back to the evergreen saga of The Mahabharata and Lord Krishna and Draupadi. The epic poem depicts how Lord Krishna, who is the incarnation of the god Vishnu, cut his finger, and Draupadi, his cousin-in-law, tore a strip of her saree to bind the wound. Draupadi considered Krishna as her brother and he, in return, vowed to protect her come what may. They reflected the first brother-sister relationship that extended beyond ties of blood according to Hindu mythology, affirming the crucial importance of family in Hindu traditions.  
As time passed, Raksha Bandhan began as a way to signify the bond between groups of people in the northern Indian state of Punjab. Since Punjab is a border state, they often fought against neighbouring armies. Raksha Bandhan, hence, became a way to symbolize the bond between the Punjab army and the people they protected.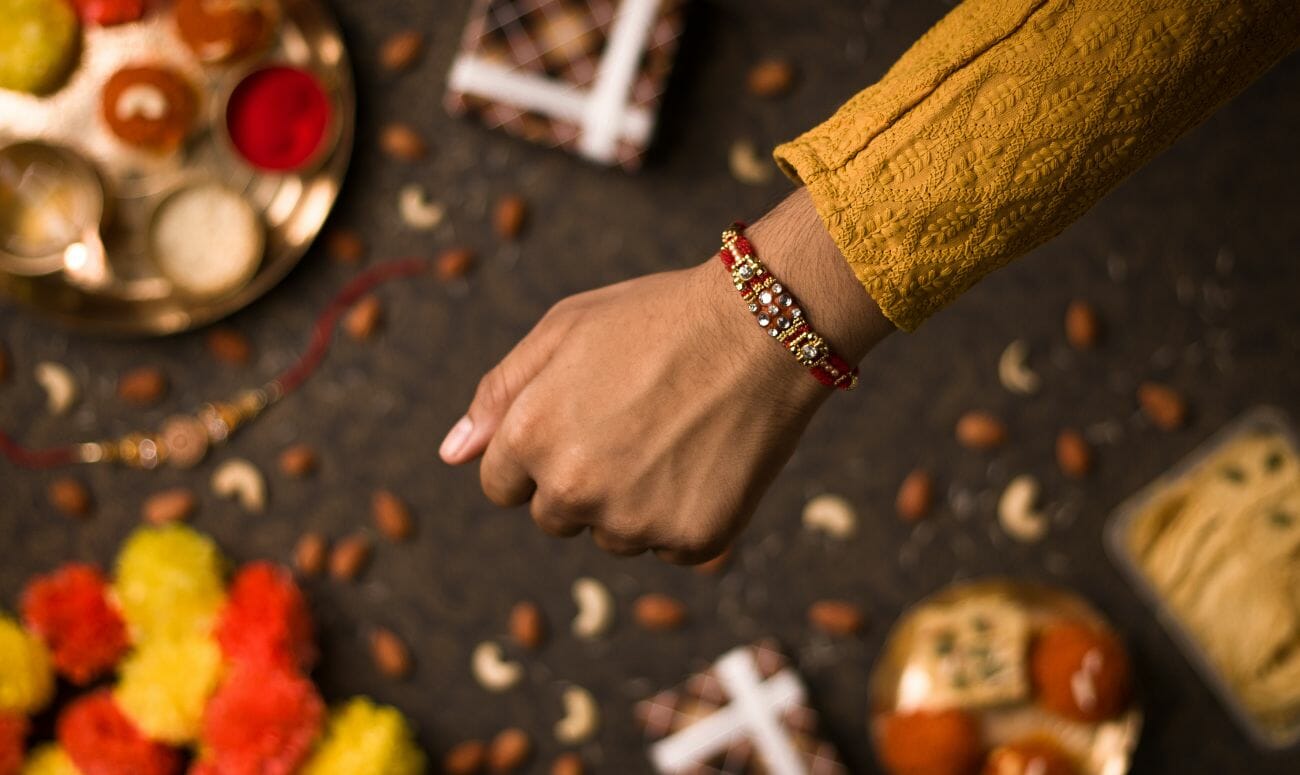 The Ritual of Raksha Bandhan
One of the crucial aspects of Raksha Bandhan is that it's not limited to the immediate family or to those who have a similar religious identity. With time, it evolved into something new, with the generation today setting new domains. Raksha Bandhan is no longer restricted to a brother-sister bond with sisters tying rakhis to each other since they're more than capable of protecting each other as well.
The ritual begins with all members offering prayers to the deities. Homes across the country are prepared for the festival and a thali is made with rakhi threads, Kumkum powder, diyas, agarbattis, and sweets. Then, the sister ties the rakhi, a type of bracelet or amulet made from thread, on the wrists of their brothers or sisters in gratitude for protecting them. While doing so, the sister chants a prayer and marks her brother or sister's forehead with Kumkum. She prays for their health while they vow to protect her. Once the Rakhi is tied, she traditionally presents him with something sweet and he returns the favour with a gift.  
Love, of every kind, is beautiful especially when it's genuine and hospitality is prevalent in the Hindu culture with Raksha Bandhan marking a way to maintain loving family bonds. If you don't have a sibling but still wish to celebrate, honour the bonds you have with your friends and family and express your affection and gratitude towards them by presenting them with a rakhi.  
Read more: How Can You Change Your Money Mindset To A Positive One?
Like & Follow ThinkRight.me on Facebook, Instagram, Twitter and Telegram to stay connected.