We have all heard the proverb 'You Are What You Eat'. It simply means that the food what we put inside our body impacts our overall wellbeing. Knowing this, what should be our food choices? Food should be comforting, but at the same time also provide the required nutrition to the body for optimum functioning. Most of the staples that we store in our kitchen are loaded with carbohydrates, an excess of which is not good for us. We need to replace these with comparatively healthy alternatives. We need to treat our bodies like a machine that is fueled by food and make sure we use the best fuel possible. To achieve this, we need to switch to healthy alternatives while cooking our favourite foods. Below are some recipes made using healthier ingredients. 
5 Healthy Alternatives For You To Try
1. Tiramisu Overnight Oats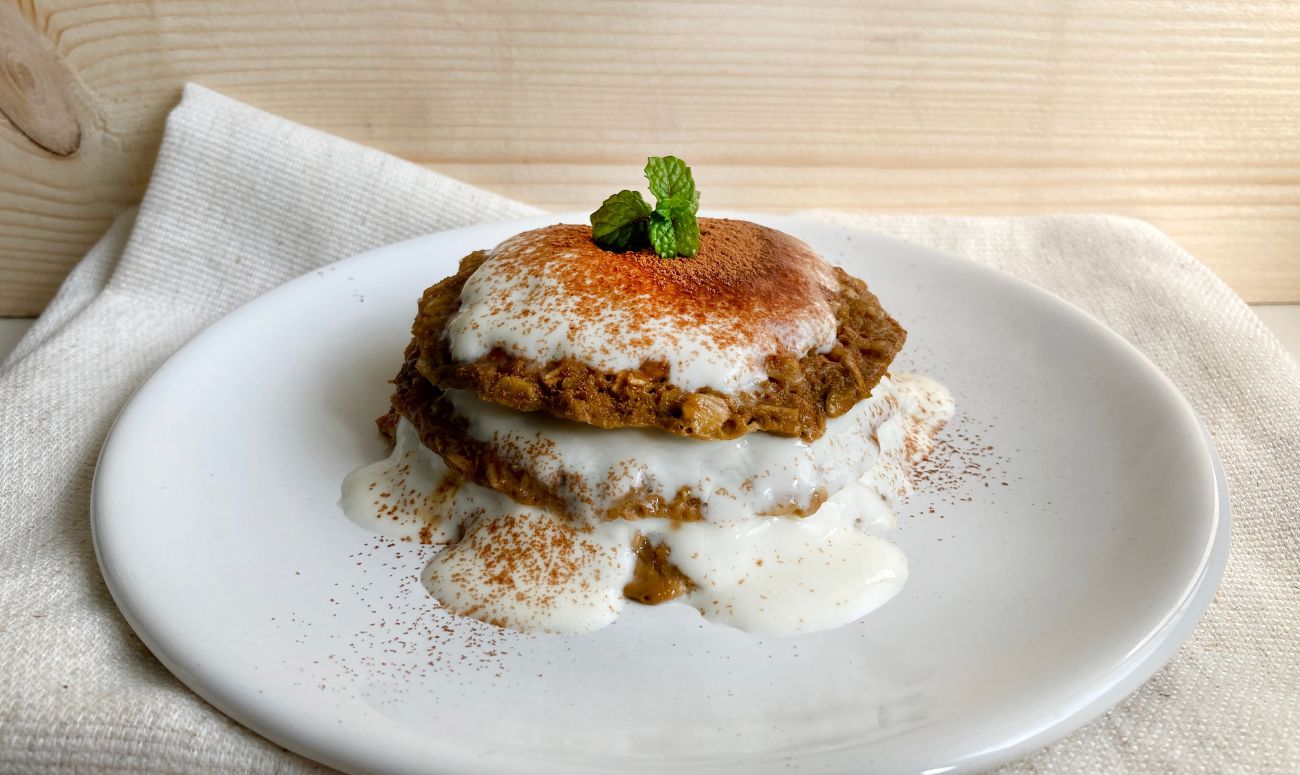 Breakfast is considered as the most important meal of the day. Having a healthy breakfast is very essential as it fuels your body with a lot of energy for the entire day's activities. Including oats in breakfast provides the body with a good amount of carbohydrates, fibre and protein. Oats keep you full for a longer time and thereby also help in weight management.
Tiramisu overnight oats with the dash of coffee is a perfect start to the day!
Ingredients 
1 cup rolled oats 
1 teaspoon flaxseeds, powdered 
1 cup milk 
3 tablespoons strongly brewed coffee 
Pinch of salt 
1 cup yogurt 
2 tablespoons maple syrup (or any sweetener of choice) 
½ teaspoon vanilla essence 
1 teaspoon cocoa powder 
Method 
Combine oats, flaxseeds, milk, coffee and salt in a mixing bowl. Stir gently and cover the bowl. Place it in the refrigerator overnight.
The next day, combine yogurt with vanilla essence and maple syrup. Mix well to get a creamy texture.
While serving, place alternate layers of oats and yogurt mixture on above the other. Top it with a yogurt layer and sprinkle cocoa powder on it.
Calories per serving (approx.): 300 
2. Ragi Cake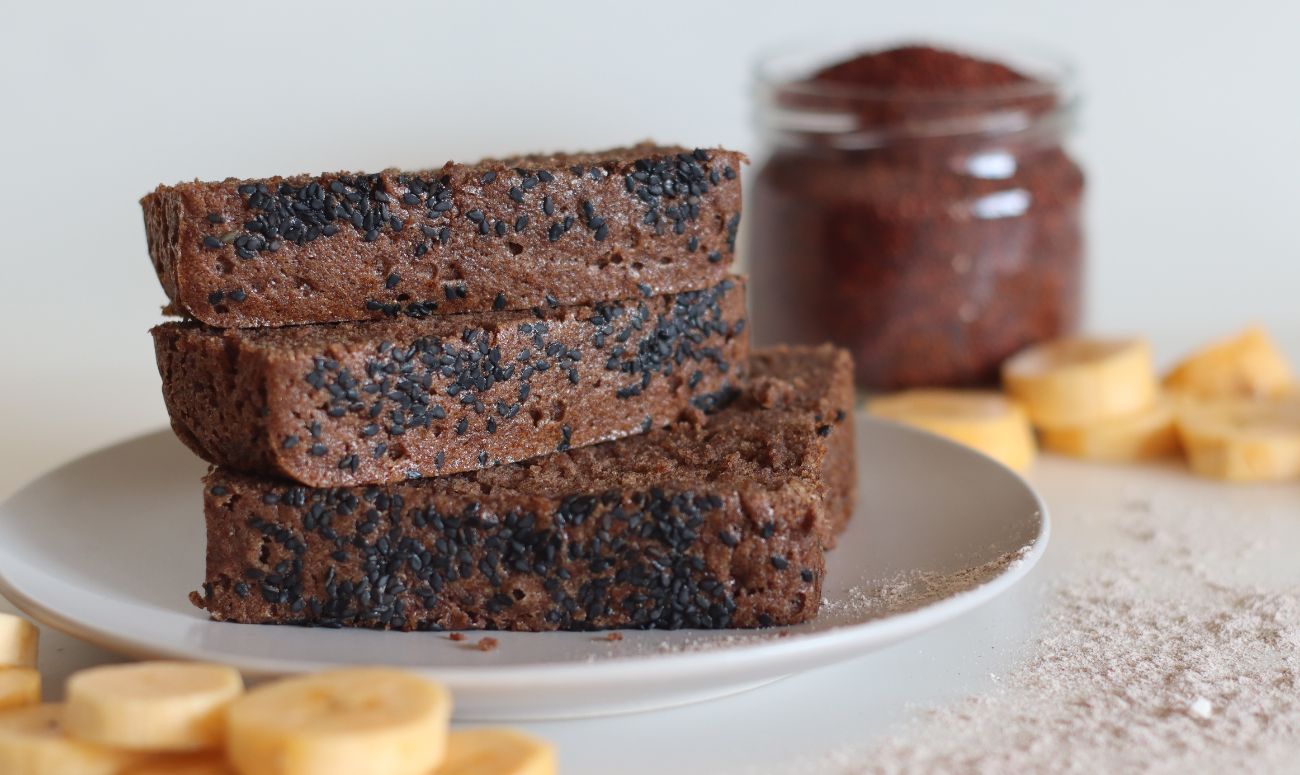 Cake is something that most of us cannot resist, especially children. Most cakes are made of refined flour and loaded with cream and sugar making them extremely unhealthy. In this recipe, ragi and wheat flour are used as the base of the cake. Ragi is a rich source of calcium, protein and iron, which makes this cake one of the most delicious healthy alternatives for kids too. Ragi is gluten free which makes this cake a good option for those with gluten intolerance. 
Ingredients 
½ cup ragi flour 
½ cup wheat flour 
1 teaspoon baking powder 
½ teaspoon baking soda 
2 tablespoons cocoa powder 
¾ cup sugar (or powdered jaggery) 
½ cup milk 
½ cup yogurt 
½ cup ghee 
1 teaspoon vanilla essence 
1 teaspoon vinegar 
Method 
Sieve the ragi and wheat flour, salt, baking powder, baking soda and cocoa powder. Repeat twice.
Add sugar and mix gently.
In another bowl, combine milk with yogurt, ghee, vanilla essence and vinegar. Mix well.
Add this to the dry mixture and mix until all the ingredients combine well. Avoid overmixing.
Preheat the oven for 15 minutes at 180°C.
Transfer the cake mixture to a 6-inch greased cake tin and bake for 25-30 minutes.
Calories per serving (approx.): 250 
3. Quinoa Pulao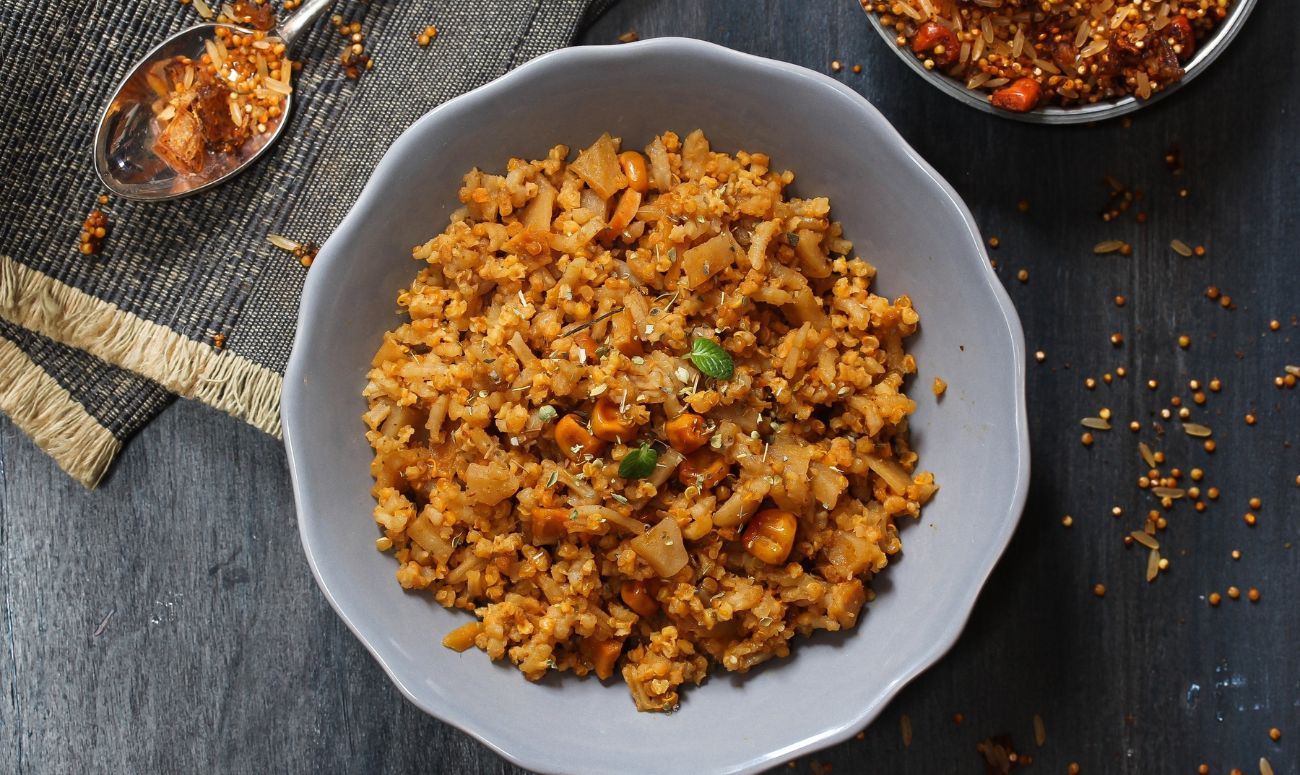 Quinoa is a pseudocereal rich in fibre, minerals, protein and antioxidants. It is a versatile ingredient that can be easily incorporated in the diet. Quinoa is gluten free making it a good alternative choice for gluten intolerant people. Besides the health benefits quinoa is tasty and blends well with other ingredients. It is important to rinse the quinoa well to get rid of saponins found on the outer layer which can make the quinoa pulao bitter.
Ingredients 
1 tablespoon ghee 
½ teaspoon jeera 
1 bay leaf 
1-inch cinnamon 
3 cardamom pods 
3-4 cloves 
1 tablespoon chilli ginger paste 
1 cup mixed vegetables, finely chopped (carrots, French beans, peas) 
1 cup quinoa, rinsed 
¼ teaspoon turmeric powder 
1 teaspoon garam masala 
1 tablespoon lime juice 
Salt 
Method 
Heat ghee in a pan over medium heat. Add jeera, bay leaf, cinnamon, cardamom and cloves. When the spices begin to crackle, add chilli ginger paste and sauté for a minute.
Add vegetables and cook for 1-2 minutes.
Add quinoa, turmeric powder, garam masala and salt to taste. Add 2 cups of water and stir the mixture.
Cook over medium heat, stirring occasionally until all the water is absorbed and the quinoa becomes tender and turns transparent. Add little water if required. Cover the pan and cook over low heat for 2-3 minutes.
Take the pan off the heat and add lime juice. Garnish with chopped coriander leaves.
Calories per serving (approx.): 300 
4. Green Moong Chila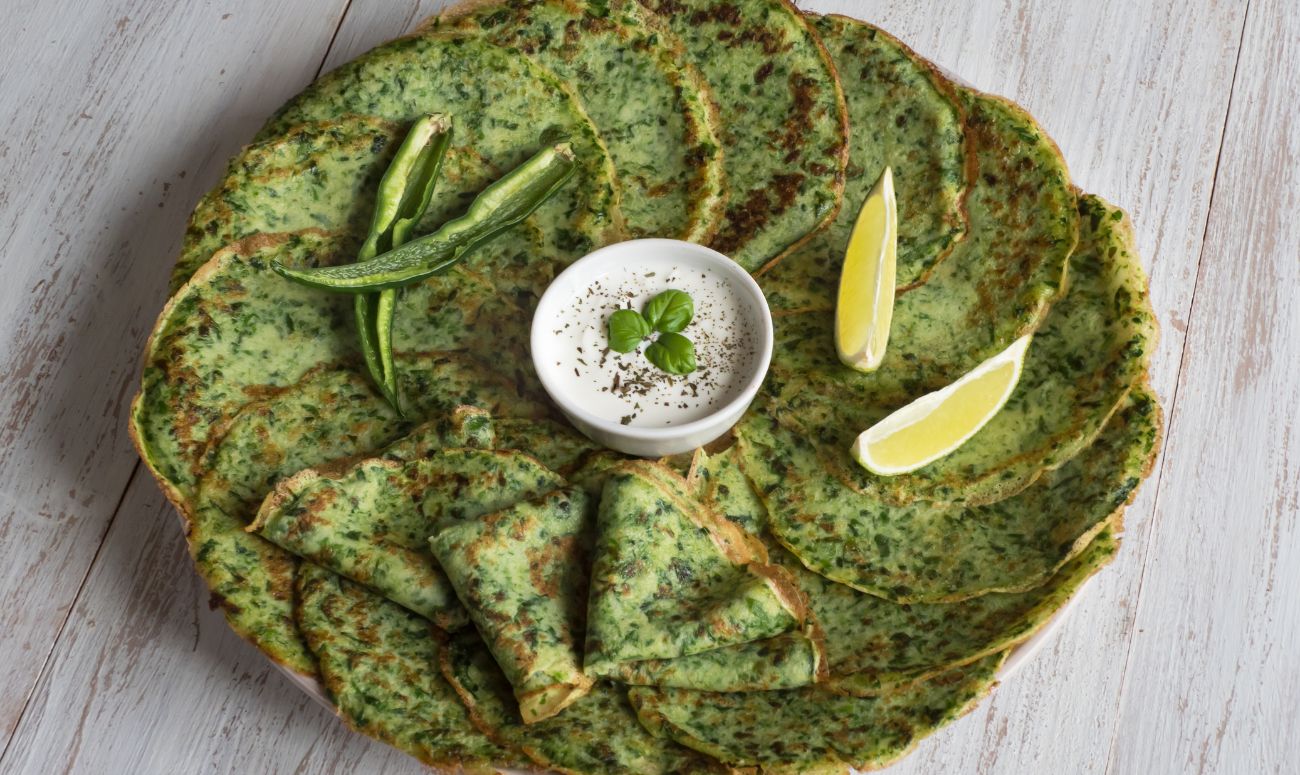 Moong and its derivatives have been considered as one of the healthiest food ingredients since ages. They are rich in high quality protein that help in building bones and muscles. Moong also contains minerals like potassium, magnesium, iron and copper; and, B-complex vitamins. Moong is one of the most healthy and easy to cook pulses that can be transformed into various forms. Green moong chila is a healthy and nutritious alternative that can be had as any meal during the day. 
Ingredients 
1 cup green moong 
1 tablespoon chilli ginger paste 
½ cup chopped coriander leaves 
1 tablespoon gram flour 
1 tablespoon rice flour 
1 tablespoon semolina 
Salt 
Method 
Soak moong for 5-6 hours or overnight.
Drain the excess water and grind to a paste along with chilli ginger paste and coriander leaves. Add water if required.
Add gram flour, rice flour, semolina and salt to taste. Add water if required and mix to get a thick flowing consistency batter. Cover the batter and let it rest for 30 minutes.
Heat a tawa over medium heat and grease it with oil. Take a ladleful of the batter and pour it over the tawa. Drizzle oil and cook it evenly on both sides until golden.
Serve the moong chila with chutney or tomato ketchup.
Calories per serving (approx.): 230 
5. Millets Dosa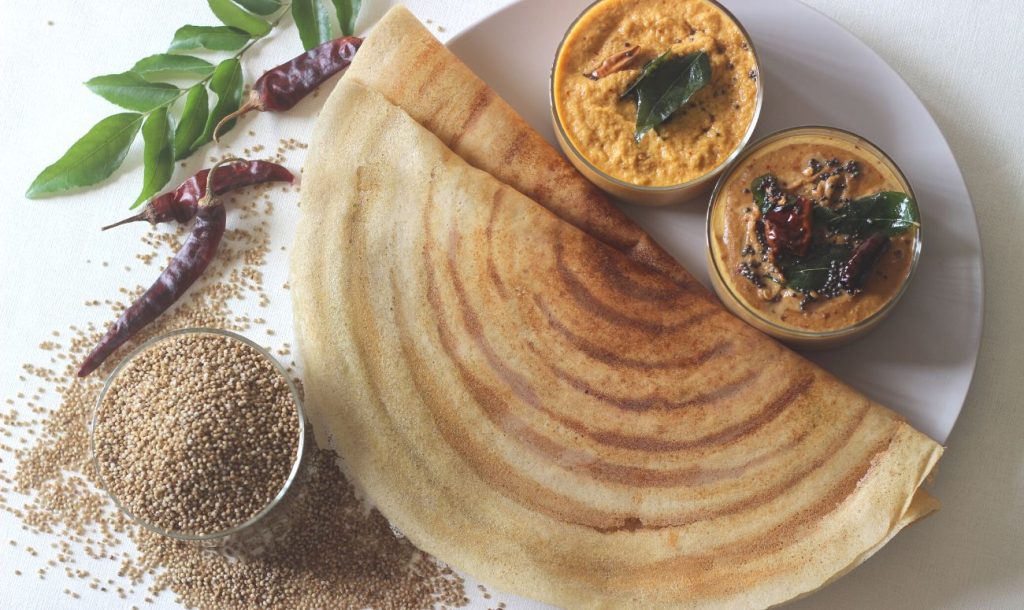 Millets are the oldest cultivated grains and can be used to make a variety of dishes. In many parts of India, millets like jowar and bajra are the staple diet. Millets are extremely versatile, easy to grow and have tons of health benefits. Millets are a good source of phytonutrients that help in fighting free radicals in the body. Millets are naturally gluten free grains containing insoluble fibre that aids in digestion. Millets dosa is one of the best healthy alternatives to the traditional rice based dosa which has a higher carbohydrate content. 
Ingredients 
1 cup jowar 
1 cup whole ragi 
1 cup bajra 
1 cup urad dal 
½ teaspoon methi seeds 
Salt 
Method 
Rinse jowar, ragi, bajra, urad dal and methi seeds. Soak overnight.
Drain the excess water and grind the millets to a thick batter. Cover the batter with a lid and let it ferment for 8 hours.
Add salt and water if required and give the batter a gentle stir.
Heat a tawa over medium heat. Take a ladleful of the batter and pour it over the tawa. Drizzle ghee and cook it evenly on both sides.
Serve the millets dosa with coconut or green chutney.
Calories per dosa (approx.): 125 
Switching to healthier food alternatives is not as difficult as we might think. It just needs a little thinking and experimentation with different ingredients. The transition is worth all the health benefits, both in the short and long term. It is also more sustainable in the long run because it supports the well-being of humans and the environment.
Dr. Deepali Kampani is a digital content specialist who weaves health and food through her pen. 
Read More: 10 Best 2023 Planners And Calendars To Choose From
Like & Follow ThinkRight.me on Facebook, Instagram, Twitter, Pinterest and Telegram to stay connected.