7 positive good news stories from last week that show everything that is right with the world. Especially in the current times.
Elephants To Be Moved From UK To Kenya
Elephants are famous for their migration, but these 13 elephants are going to have a different journey. Their trip is going to be one way from UK to Kenya. The 'Back to the Wild' program has already seen an impressive number of animals born at the Kent parks return to their natural habitats. Western lowland gorillas, black rhino, Javan langurs and gibbons, European bison and clouded leopards are now not only thriving in the wild, but are also successfully breeding. On the Kenyan side, the Shledrick Widlife Trust has been protecting wild elephants and rescuing injured ones for over 50 years. This is going to be the longest and largest elephant release effort in history. We wish them all the luck!
This Colour-Blind Artist's Paintings Are Winning Laurels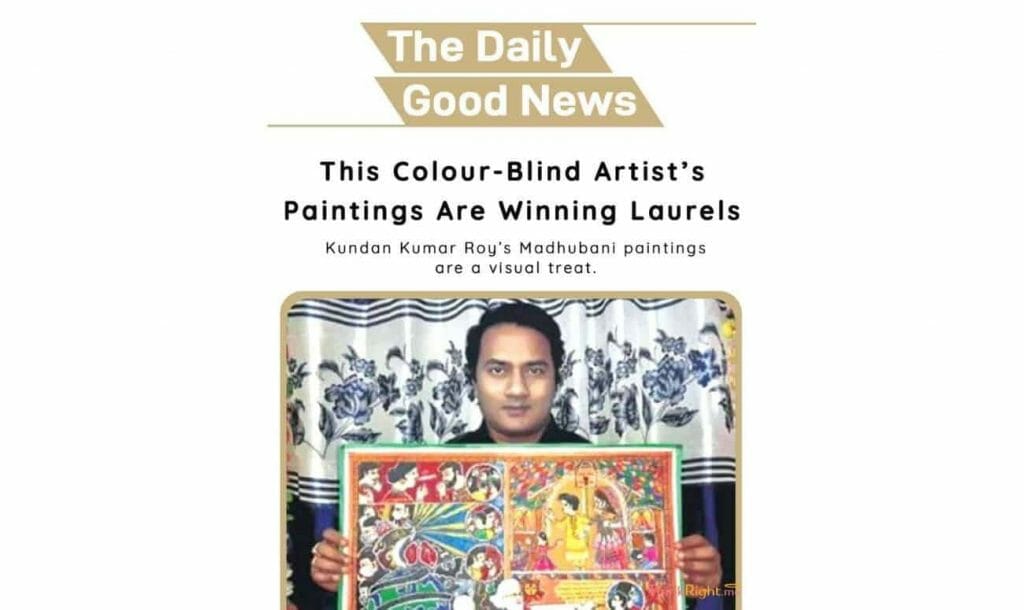 For someone who cannot differentiate between purple and red, painting typically would be a task, but for Roy. His colourful paintings are quite a sensation. A 35-year-old MBA from Patna, he is a gifted sculptor who wants to spread the importance of wearing masks and getting vaccinated through his paintings. His three recent paintings on vaccination have won appreciation from the state health department. He also has a series of paintings on the folksongs of Bihar's nightingale Sharda Sinha, besides depicting other themes related to environment and social causes.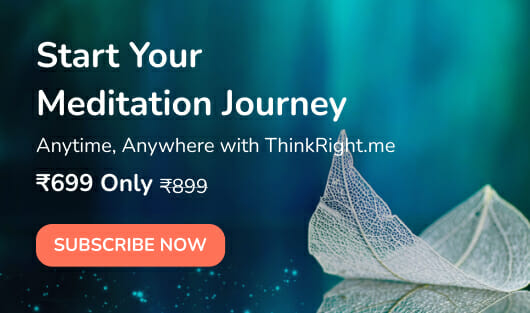 Women Power: 5 Sisters From Rajasthan's Hanumangarh Are Now RAS Officers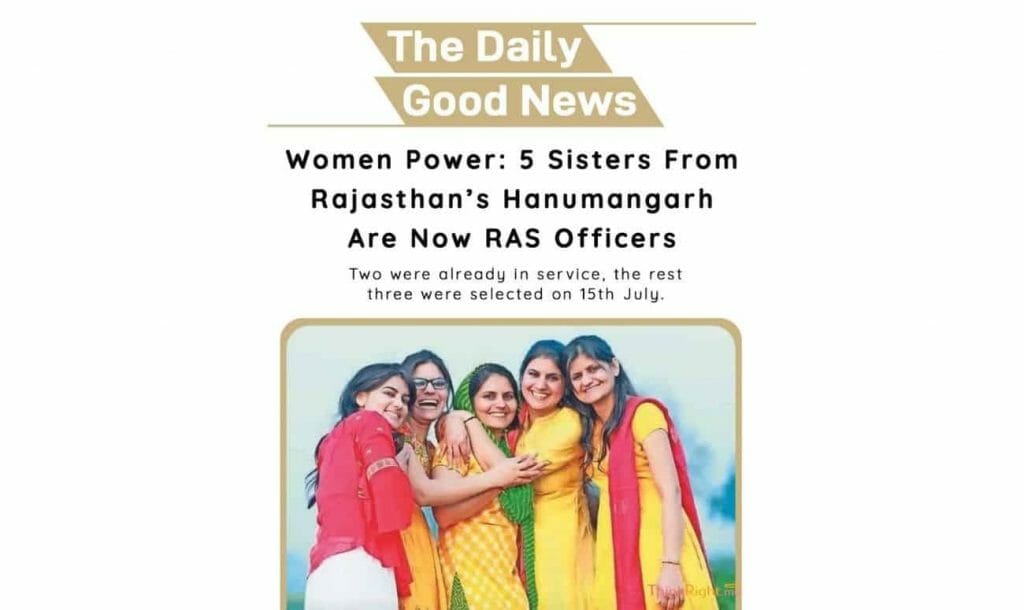 What a proud moment for Sahdev and Luxmi Saharan, as all five of their daughters are now Rajasthan Administrative Service (RAS) officers. Two out of the five of them, Roma, and Manju, were already in service. It was on 15th July, when the remaining three, Anshu, Reetu, and Suman cracked the state's administrative exam to join their sisters. Sahdev Saharan is a farmer who studied up to class 8, and Luxmi Saharan received no education. They thrived to educate their daughters, and today, all five of them are set to changes the lives of many!
Sririsha Bandla Becomes The Third Indian-Origin Woman To Enter Space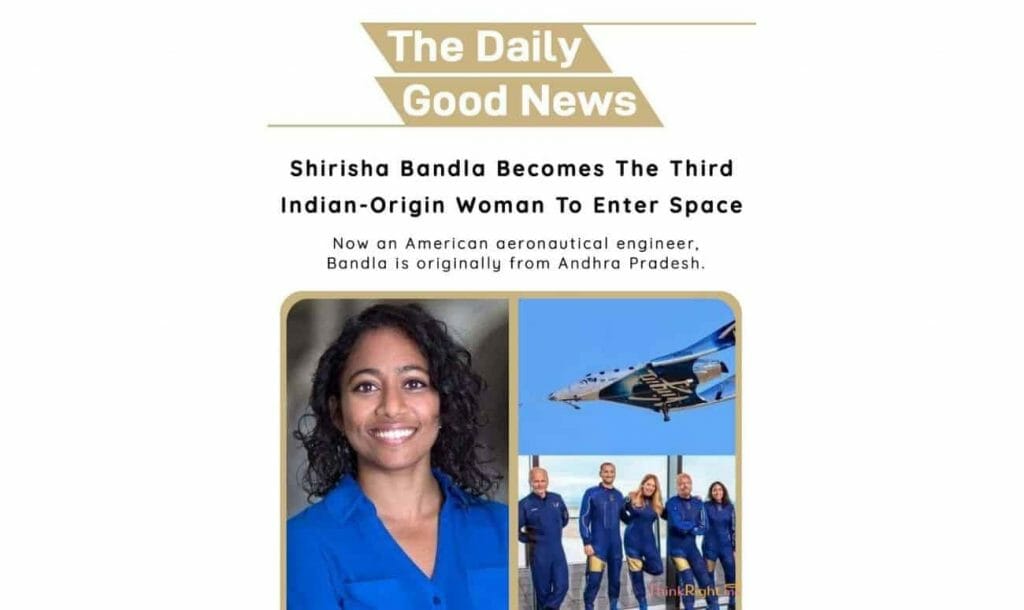 On Sunday, 11th July, she officially become the third Indian-origin to fly into space, when she joined billionaire Richard Branson on Virgin Galactic's first fully crewed suborbital test flight from New Mexico. "When I first heard that I was getting this opportunity, it was just… I was speechless," she said in a video posted on the Twitter handle on Virgin Galactic on July 6. In all seven members, boarded the SpaceShipTwo Unity to make a journey to the edge of space. Bandla had moved to US when she was 4, and graduated from the School of Aeronautics and Astronautics, Purdue University in 2011. She finished her Master of Business Administration degree from George Washington University in 2015. We congratulate her on this feat!
Hyderabad's Slum Dweller Scaled The Highest Peak In Europe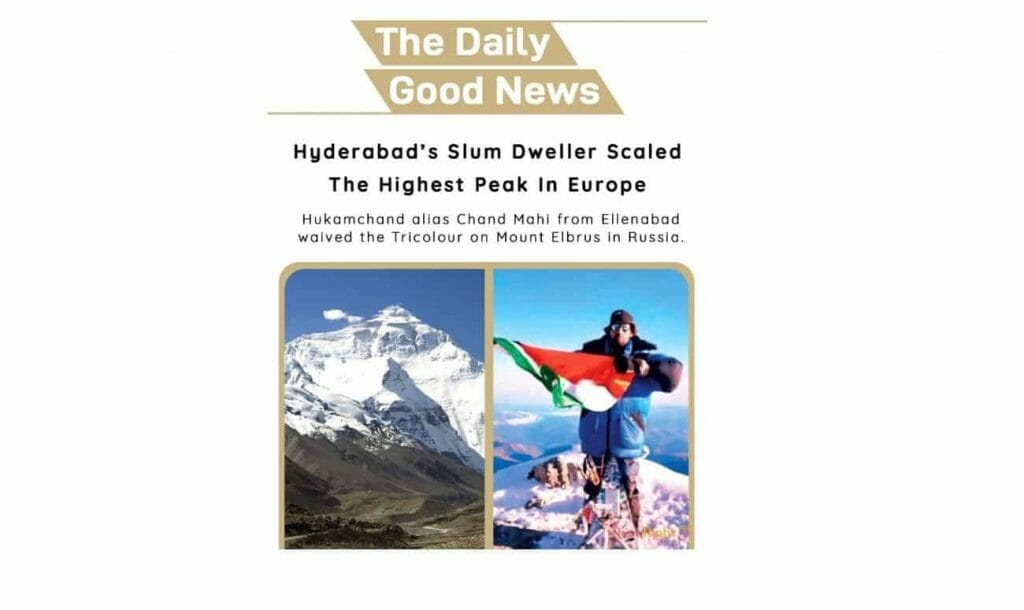 A mountaineer hailing from the Sirsa district in Hyderabad, scaled 18,500 feet to hoist the Indian flag on Europe's highest peak. Various social and religious organisations funded his dream. He left for Russia on April 1, 2021 and began this campaign on July 3 to successfully completed it on Thursday, 8th July. Previously, he has scaled six peaks ranging from 15,500 to 18,000 feet in Himachal Pradesh. We salute his dedication!
From Sprinting Barefoot To Qualifying For Olympics, Revathi Veeramani Has Come A Long Way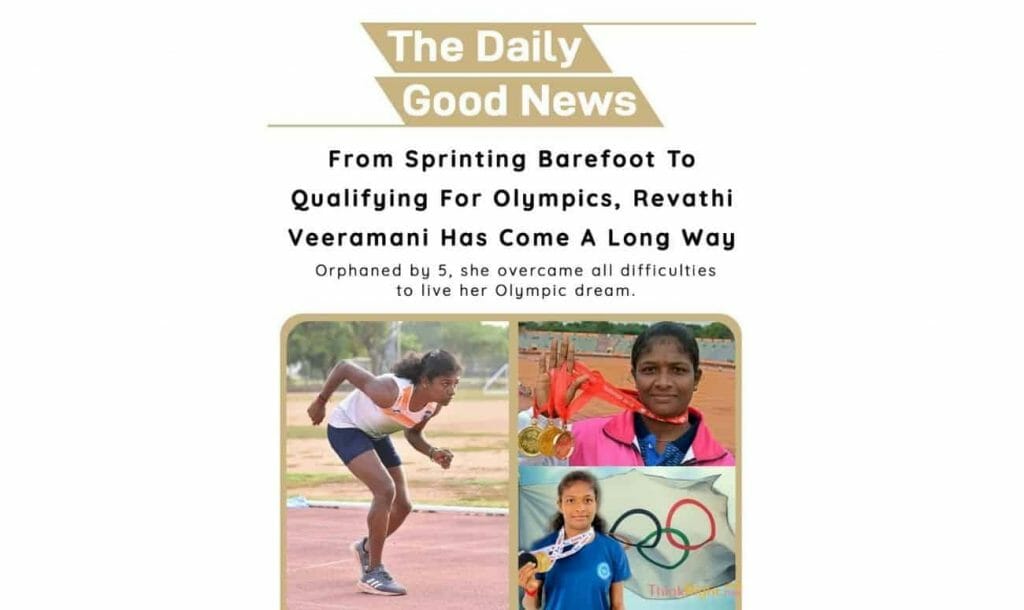 She lost her parents at the age of five, and she along with her younger sister were brought up by her maternal grandmother, K. Aarmmal. She worked as a daily wage labourer. Poverty forced Revathi to practice sprinting barefoot, as proper shoes were out of bounds for them. She practiced diligently, and it bore fruits. Coach Kannan of the Sports Development Authority of Tamil Nadu, saw her run in the 12th-grade school event of a 100m dash, where she ran barefoot. He was impressed and decided to take her talent forward. Cut to today, Revathi's hard work has secured her berth at the Summer Olympics in Tokyo. She has won accolades and medals in various international events earlier and has raced against the odds to qualify for Olympics. We wish her all the best!
Deepak Kabra Will Be The First Indian To Judge Gymnastics At Tokyo Olympics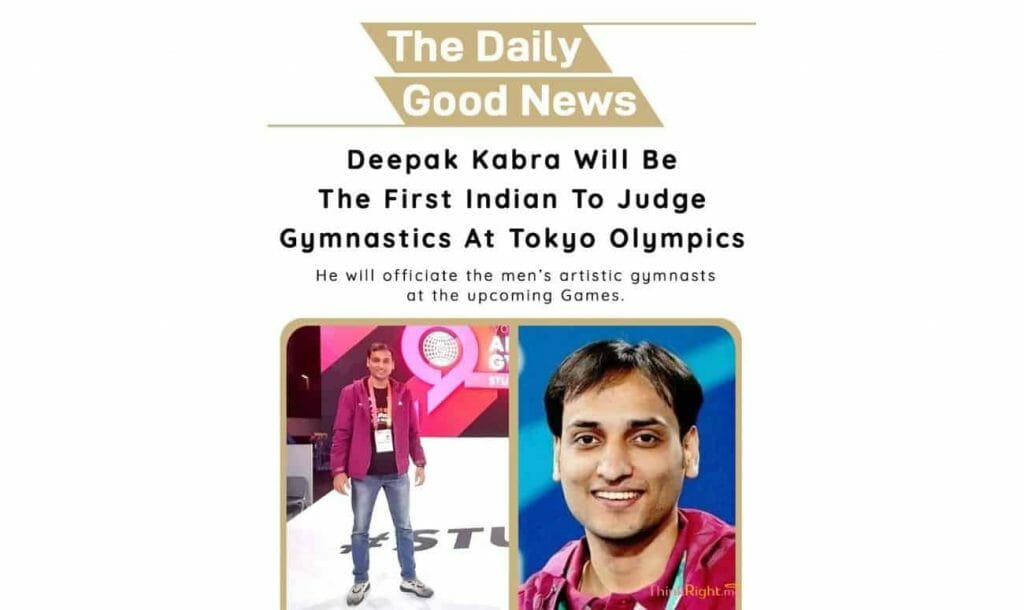 Yet another feather in the cap for India, as Deepak Kabra becomes the first Indian to judge the gymnasts at Tokyo Olympics. The 33-year-old hails from Maharashtra, and has previously judged international sports events such as the 2010 Commonwealth Games, and was the first Indian judge to officiate in the 2014 Asian Games and Youth Olympics as well.
Read the previous week's round-up here.