Here's everything positive that happened this week.
India's Jamsetji Tata Listed As World's Most Generous Individual Of The Last Century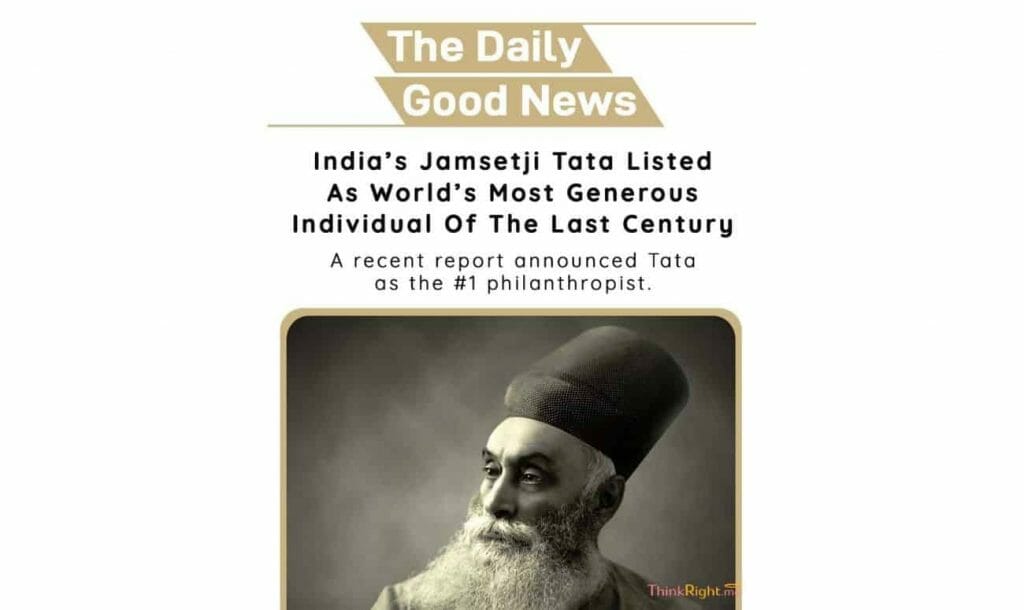 The founder of Tata Group, Jamsetji Nusserwanji Tata has emerged as the world's biggest philanthropist with donations worth $102.4 billion. Hurun Research and EdelGive Foundation compiled a list of top 50 philanthropists, with other big names like Bill Gates, Warren Buffet, George Soros, John D Rockefeller, Jamsetji Tata is sill much ahead. He also began his own endowments in 1892 and donated mainly for healthcare and education needs from Tata Sons' income, which continues today by Chairman Emeritus Ratan N Tata. What a proud moment for us indeed!
Lego Launched Its First-Ever Bricks Made From Plastic Bottles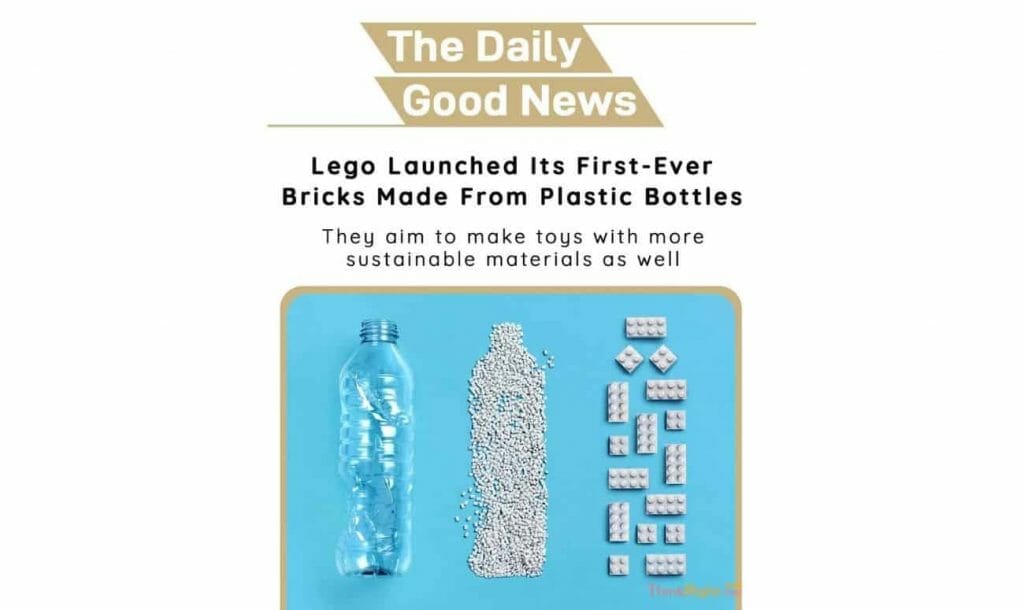 The iconic toy bricks company, Lego just decided to turn plastic bottles into its first prototype brick. The Danish toymaker unveiled its first set on Wednesday, 23rd June. They're also looking forward to build more Lego bricks with sustainable materials as it meets their quality, safety, and play standards. This is indeed, 'legood!'
This 66-year-old Retired Nurse Came Back To Help COVID Patients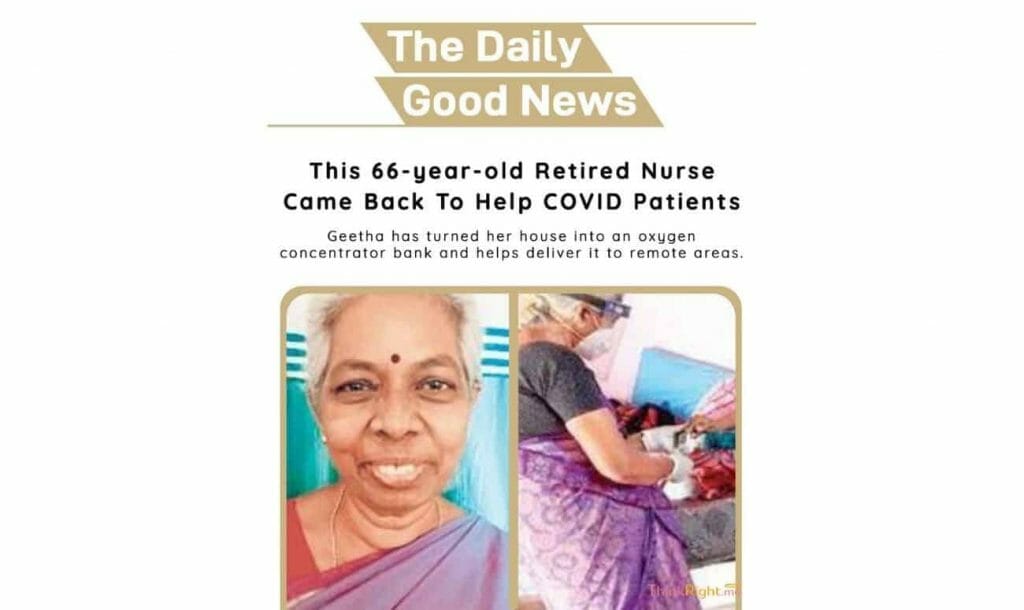 Geetha was leading a relaxed life post her retirement. But seeing the plight of the people, she decided to plunge back to serve the needy. She also decided to turn her house into an oxygen concentrator bank as she saw that the shortage of oxygen was causing a catastrophe. Whenever she gets a call, she along with the Swami Vivekananda Youth Movement (SVYM) staff deliver it. She also nurses patients and counsels their family members. S Praveen Kumar, chief strategy officer and head-education, SVYM says, "This fight has been possible only because of countless untiring efforts of warriors like Geetha."
Sajan Prakash Becomes The First Indian Swimmer To Make Olympic 'A' Cut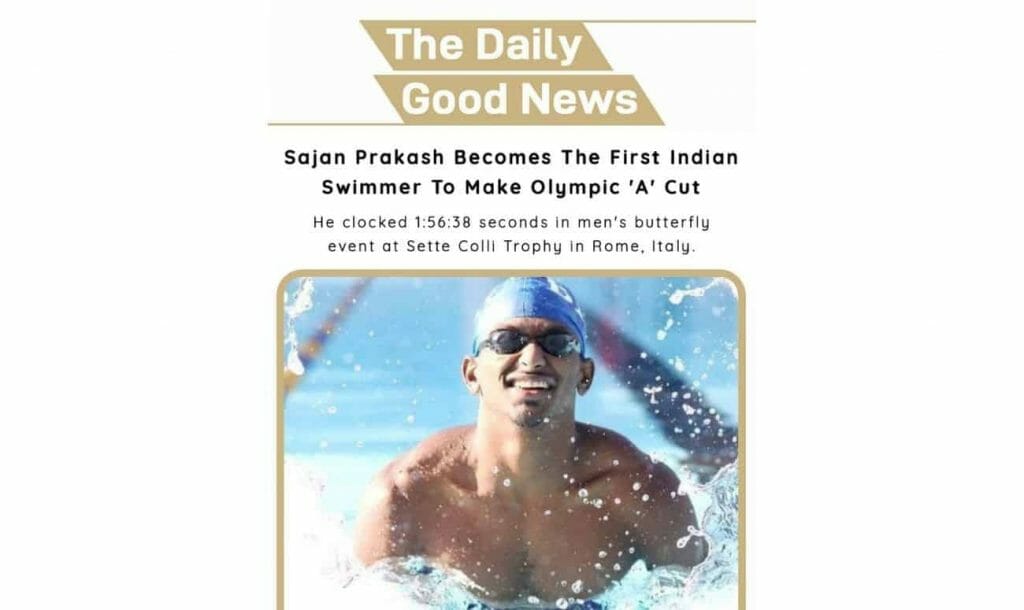 The 'A' standard set for the Games was 1:56.48. The 27-year-old Prakash completed the run 0.10 seconds faster at the FINA-accredited Olympic qualifier. "Historic moment in Indian Swimming !!! Sajan Prakash breaks the glass ceiling clocks 1:56.38 an Olympic qualification time. CONGRATULATIONS," tweeted Swimming Federation of India.
Prakash also rewrote his own national record of 1:56.96s that he had set last week at the Belgrade Trophy swimming competition. This will be Prakash's second successive Olympics, having represented India in the 2016 Rio Games. He will take part in the Tokyo Games alongside Maana Patel. Swimming Federation of India nominated her for the Universality places.
It's a proud moment for this champ and the nation!
15-year-old boy from Delhi received Diana Award for helping girls from marginalised communities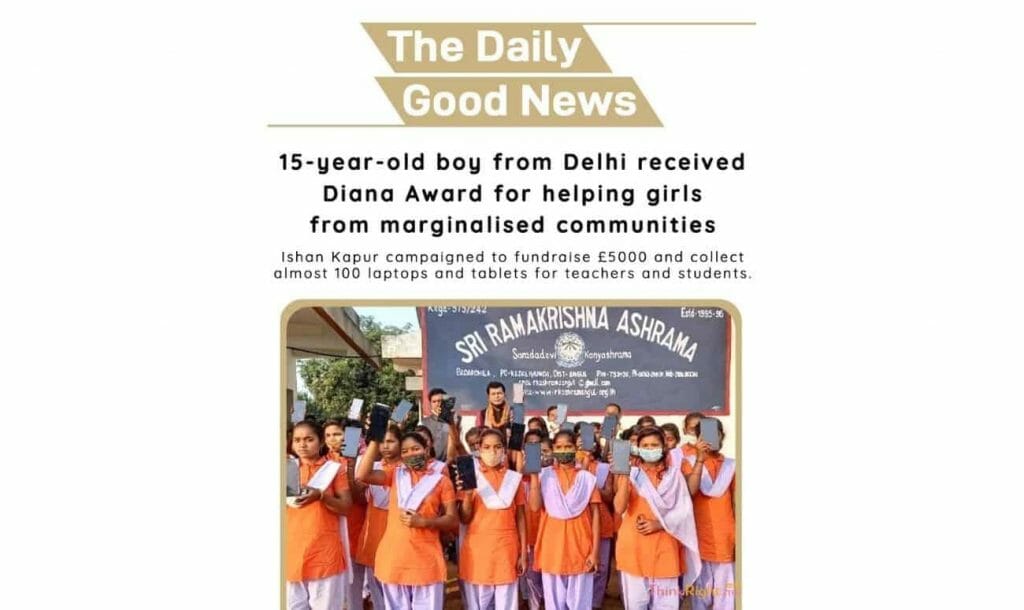 Ishan Kapur, a student at Wellington College (UK), has been recognised with the highest accolade a young person can achieve for social action or humanitarian efforts – The Diana Award.
Ishan works with the Sri Ramakrishna Ashram New Delhi. He also helps a local school access uniforms for marginalised girls.
Ishan devised and delivered an ambitious campaign to fundraise £5000 and collect almost 100 laptops and tablets for teachers and students. Whilst also ensuring everyone had an online connection to access learning during the long nationwide lockdown.
Delhi Civic Body Inaugurated The First Exclusive Third Gender Toilet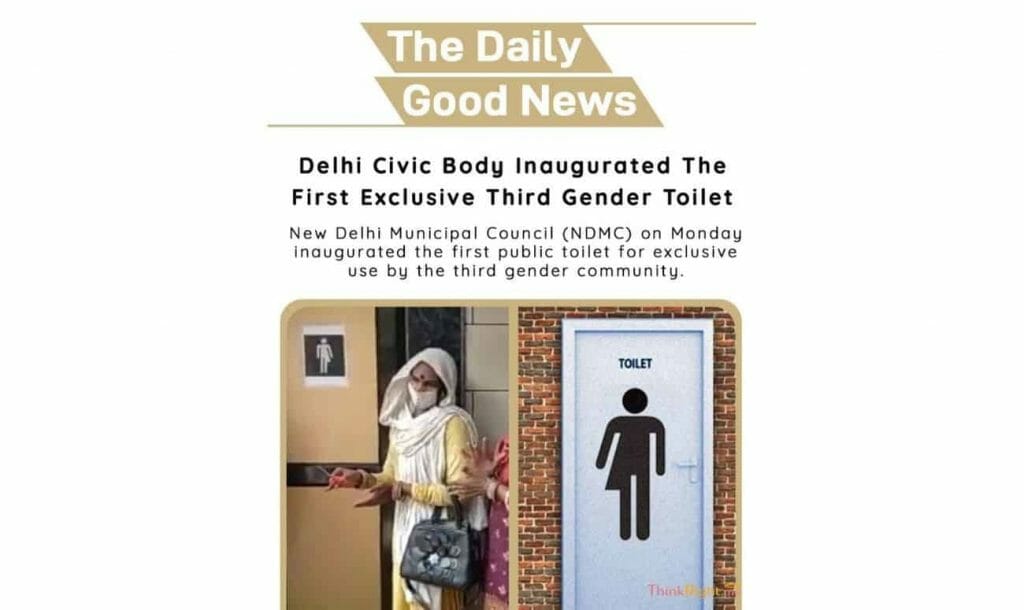 The toilet facility at Press Club of India parking near Shastri Bhawan was inaugurated by NDMC Chairman and Secretary. In January, the NDMC had announced plans for construction of separate toilets for trans persons, in its annual budget.
The Delhi government has directed all its departments, district authorities, municipal corporations, and autonomous bodies to set up separate toilet facilities for transgender persons at their respective offices in the national capital. "There is also a plan for constructing more such facilities after assessing feasibility and identification of site in NDMC areas," a senior civic body official said.
Jharkhand women take a green route to create livelihood opportunities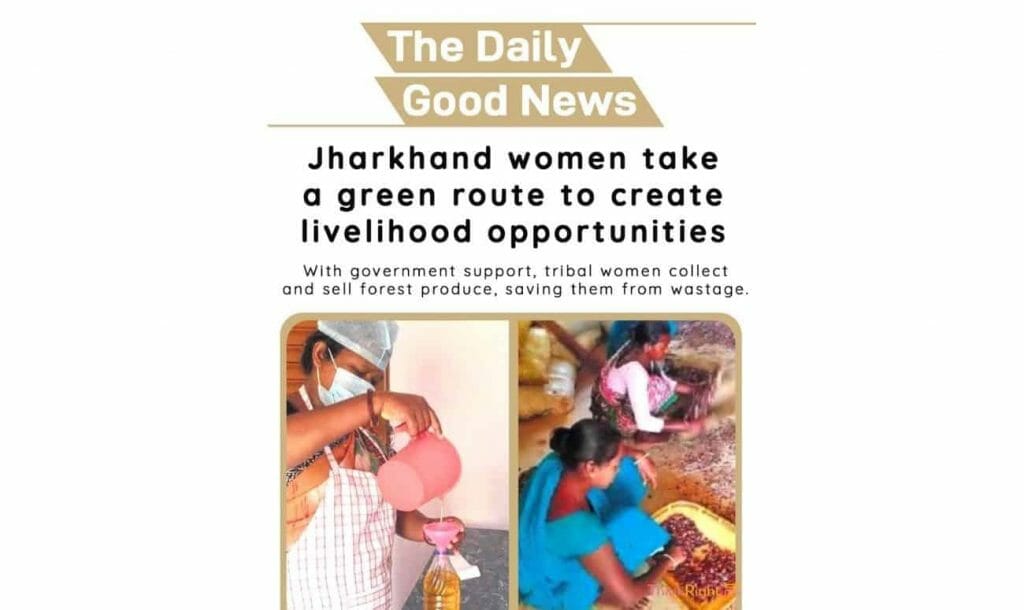 Gloria from Thetaigangar block of Jharkhand's Simdega district used to waste her time sitting idle before joining the Mahila Utpadak Samooh. Which is a women's cooperative involved in the collection and selling of forest produce, especially medicinal plants and herbs.
Now, this gives her an additional earning of over Rs 4,000 every month. More than 12,500 rural women like Gloria are benefitting from the training programme of Jharkhand State Livelihood Promotion Society (JSLPS) under the Medicinal Plant Project of the Mahila Kisan Sashaktikaran Pariyojana.
What a great initiative!
12-year-old Sailor From Fishing Community Earns A Place In Indian Team For World Championship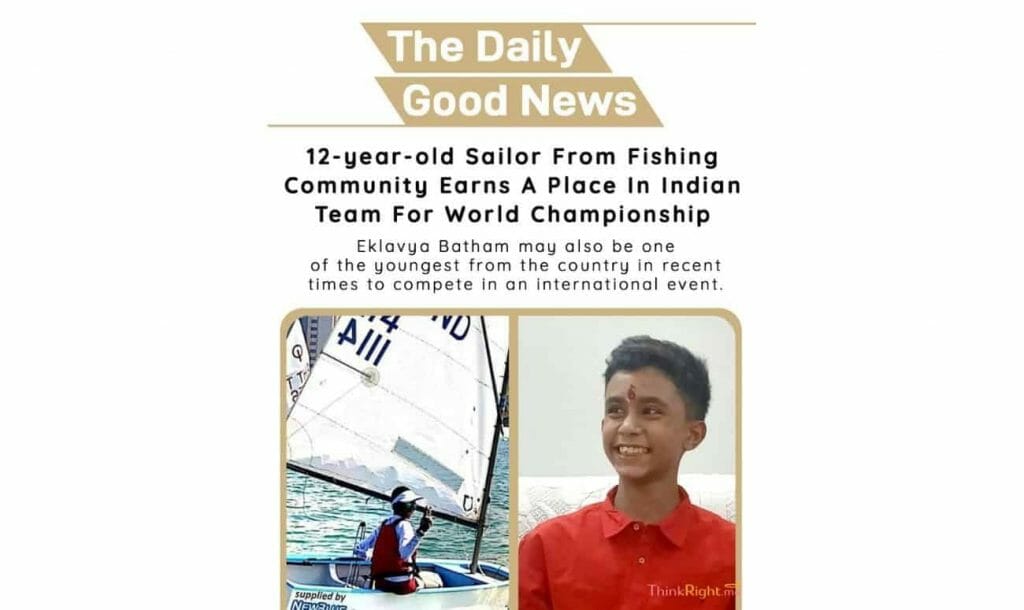 "We belong to the fishing community so that liking for water was always there. In 2017, Eklayva got enrolled in a summer camp organised by the Directorate of Sports, Madhya Pradesh. He was eventually selected for a day-boarding training at the National Sailing School (NSS)," Sanjay Batham, Eklavya's father, told this daily.
Hailing from the fishing community, he always has a liking for water. But little did Eklavya Batham know that he will be representing India within four years of taking up sailing. At 12 years and nine months, the Bhopal sailor may also be one of the youngest from the country in recent times to compete in an international event. He along with four sailors was selected for the Optimist World Championship scheduled in Riva del Garda, Italy, on the basis of their national rankings.
Kudos to this young champ!
Read the previous week's round-up here.