Weaving the patriotic fabric of India. Right from pre-independence days, Khadi is, spinning our country's highest symbol of nationalism – the Indian flag!
Even today, the fluttering Indian flag engulfs the hearts of many Indians with the spirit of pride, unity and love for the nation. The tricolour, representing courage, peace, and growth, embodies the true spirit of being an Indian!
Khadi occupies a very sacred space in the history of India's independence. This special material became Gandhi ji's weapon of self-reliance during the Swadeshi movement. In India that was struggling to break free from the shackles of the British Rule, he promoted its simplicity. And as a social equalizer made it the nation's fabric.
So, is that why Khadi has been chosen as the official cloth for the national flag? Let's explore the story and significance of this textile.
In colonial India, Industrial Revolution, backed by British rule, banned the production of all cotton fabrics in India. Rendering millions of spinners and weavers unemployed, deprived of their means to earn their living.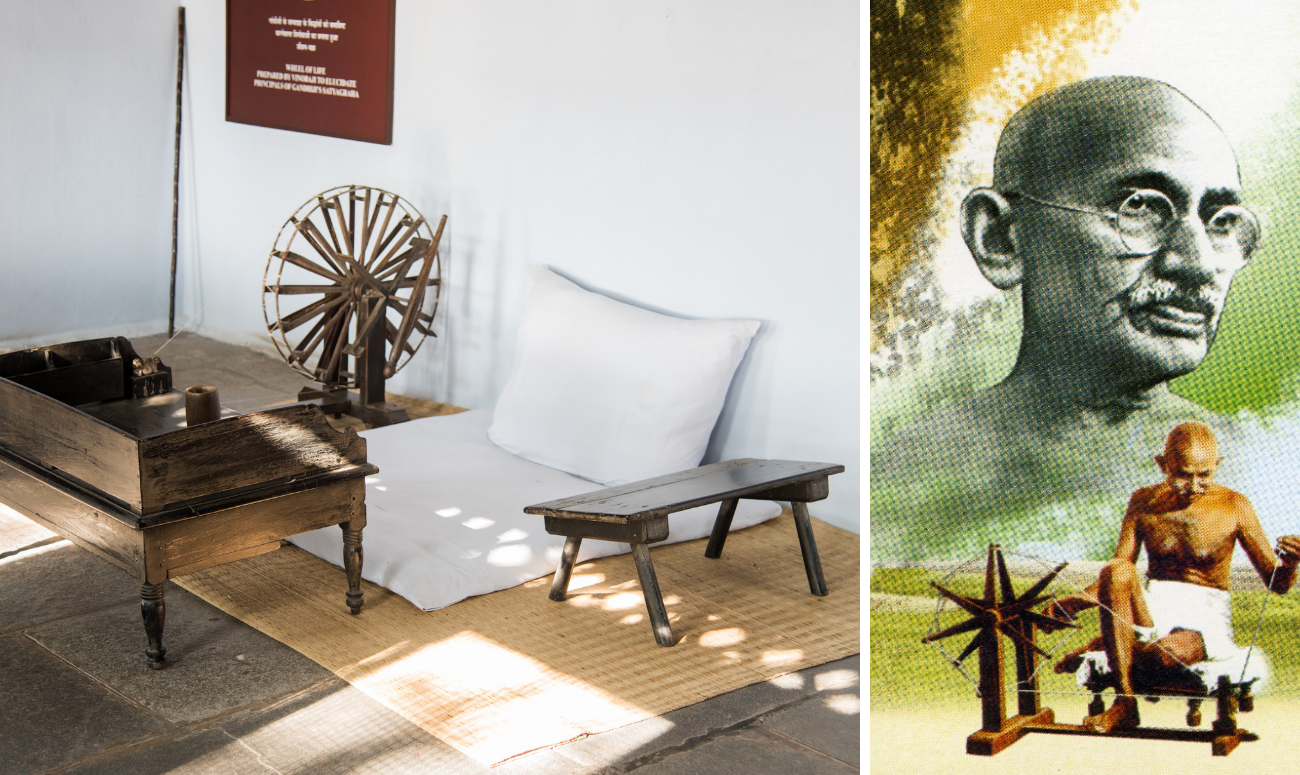 When in the 1920s Khadi manufacturing gained momentum under the guidance of Mahatma Gandhi, this fabric, along with the symbol of Charkha, started becoming synonyms to the message of simplicity and service to mankind.
When on 22nd July 1947, the Indian national flag came into its present form at the meeting of Constitutional Assembly, Khadi was an obvious choice of material. It was designed by Pingali Venkayya. And a code was laid down stating that the Indian national flag must, by law, be made only with handspun or handwoven Khadi. While Khadi in cotton, silk and woollen can be used, it must stick to the guidelines of dye, colour and thread count.
Ever since, the authentic flags come from only the official manufacturer and supplier of national flags in the country – Karnataka Khadi Gramodyoga Samyukta Sangha, situated at Bengeri village near Hubli city in Dharwad district.
In the current times, India's signature fabric Khadi is maintaining a balance between traditions and modernity.
Considered to be the pride of India, the government is taking active measures to promote this industry. As a result, stringent quality control mechanisms are being implied and the rising demand for Khadi have ensured the average sales of the Khadi sector to increase by a whopping 100.02% between 2015 and 2018 to Rs. 1828.30 crore!
This noticeable growth of this industry is surely indicative of a bright future ahead.
Also Read: WHY 2019-20 COULD BE THE YEAR OF EXCEPTIONAL MATERNAL HEALTHCARE FOR THE WOMEN OF INDIA