Your first look at aerial yoga may have been on social media, seeing images of stunning, gravity-defying yoga poses that seem impossible. But you don't need to be an acrobat to learn and master this picturesque yoga variation. Aerial yoga demands physical agility and flexibility and will push you to go the extra mile to become a proficient practitioner. Enhance your traditional yoga practice by bringing playfulness into your routine. In addition, it can also help you ace inversion poses and spine-lengthening asanas which are an integral part of any yoga practice. TRM Master Sneha Desai guides you through the process.
The inputs in this article have been shared by Sneha Desai.
What Is Aerial Yoga?
Aerial yoga combines traditional asana (the physical postures of yoga) and yoga philosophies with the aerial arts. Silk fabrics and/or ropes are hung from the ceiling to aid practitioners in forming shapes. You can be fully supported by the silks — even lying down entirely, like in a hammock — or wrap the silks around particular body parts, keeping other parts on the floor.
Hanging fully or suspending individual body parts is believed to create traction and open your body more gently and intuitively than when you're on the floor. The silks and ropes can also be helpful for balance. While many aerial yoga classes have an acrobatic element, a growing number of classes and teachers are also using aerial silks much more therapeutically.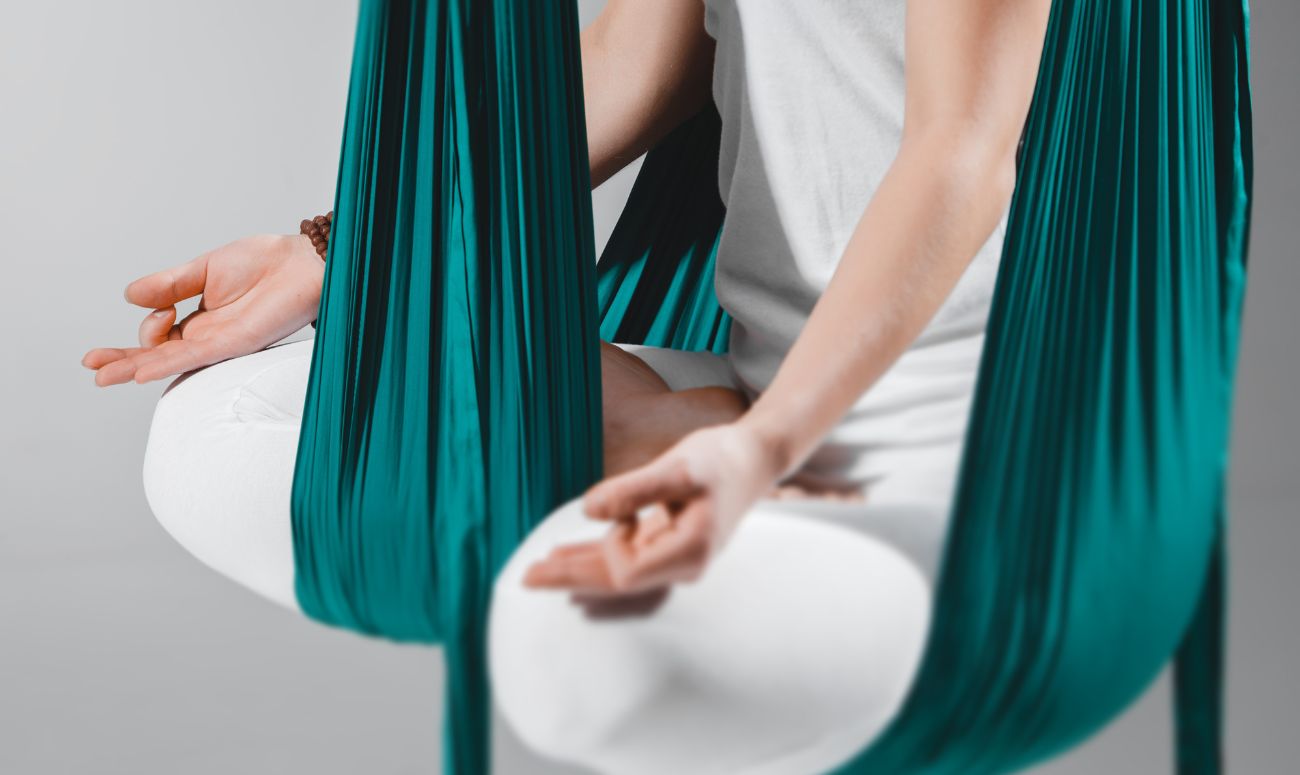 What Are The Benefits Of Aerial Yoga?
1. Improves Flexibility: Aerial yoga allows for deeper stretches than traditional yoga, as the hammock can support you in poses that might be difficult to achieve on the ground.
2. Builds Strength: The instability of the hammock requires you to engage your core and other muscles to maintain balance and control, leading to increased strength and muscle tone.
3. Relieves Joint Pressure: The hammock can provide support for your body weight, which can help alleviate pressure on your joints and reduce the risk of injury.
4. Enhances Relaxation: The sensation of being suspended in the air can be calming and relaxing, and the gentle rocking motion can be soothing to the nervous system.
5. Boosts Mood: Aerial yoga can be a fun and playful practice that can boost your mood and reduce stress and anxiety.
6. Improves Balance and Coordination: Aerial yoga poses require balance and coordination, which can help improve your overall sense of balance and body awareness.
7. Increases Spinal Decompression: The inverted poses in aerial yoga can help decompress the spine, which can improve posture and relieve back pain.
How Can You Become An Aerial Yoga Instructor?
To become an aerial yoga instructor, you have to take a certain hour based YTT (Yoga Teacher Training). You then have to enroll in an aerial yoga course which takes a significant amount of hard work and discipline and can cost anywhere between INR 5,000 to INR 1,00,000, depending on the institute and duration of the course. Once certified, you can apply for work opportunities at aerial yoga studios and start working as an instructor.
The Benefits Of Enrolling In The Aerial Yoga Course With Sneha Desai
Sneha Desai is a Yin Yoga expert who has dedicated many years to finding fun and innovative ways of sharing her knowledge of this lesser-known form of yoga. She started her yoga practice in 2004 under the guidance of her mentor Shilpa Ghatalia, at Yogshakti in Kuala Lumpur and has obtained her RYS 400 Hours TTC. She has also done her certification for Kid's Yoga. Sneha started teaching Yin Yoga in 2004 and has expertise in Integrative Yoga, Restorative Yoga, and Yog Nidra.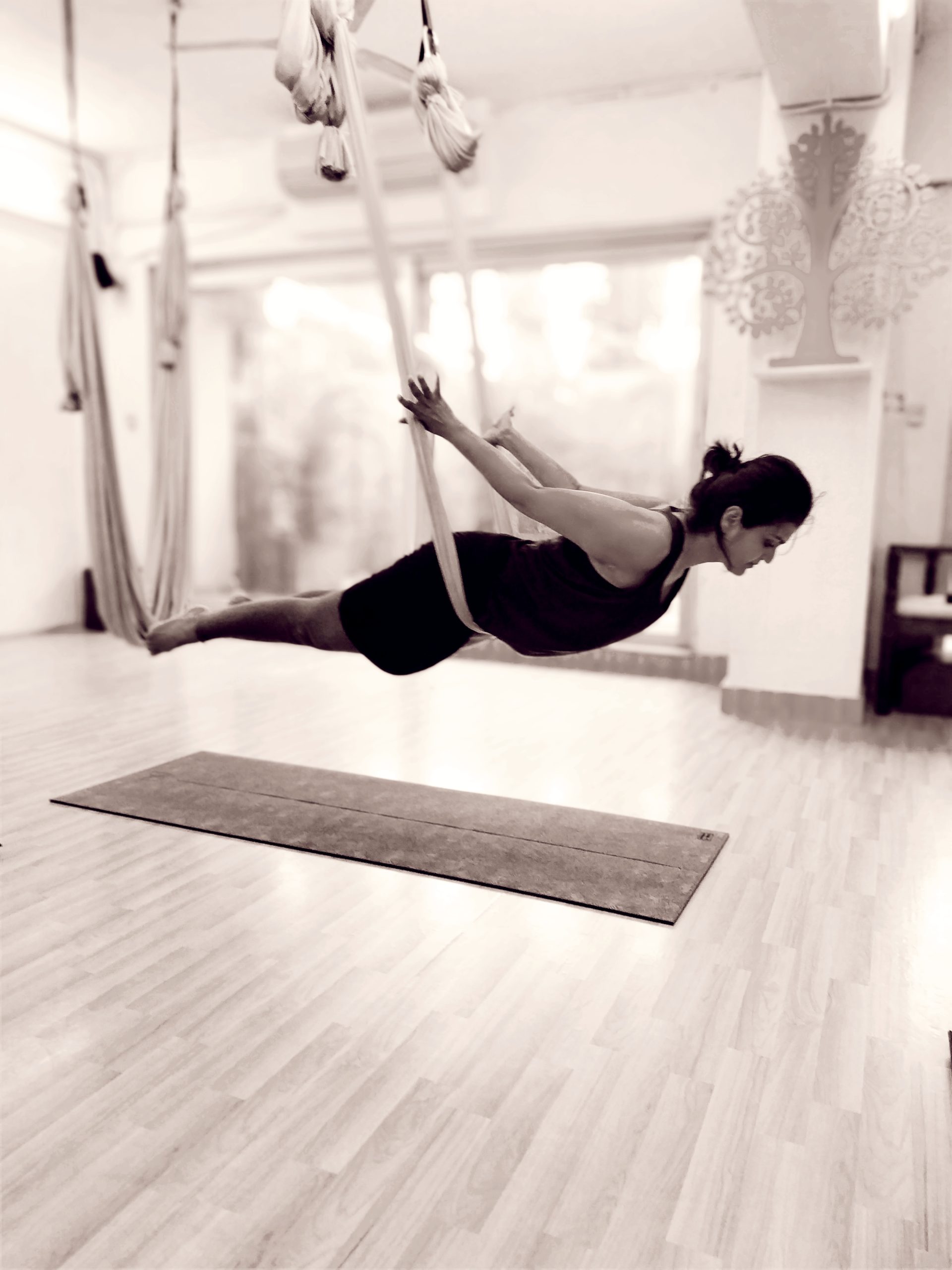 The Aerial Yoga Course Can Deepen Your Practice By:
1. Deepening Your Knowledge of Aerial Yoga: A teacher training course can provide you with a more in-depth understanding of aerial yoga techniques, safety considerations, and modifications, which can help you teach more effectively and safely.
2. Enhancing Your Teaching Skills: The course can help you develop your teaching skills, such as cueing, sequencing, and adjusting, which can improve your ability to guide students through aerial yoga classes.
3. Learning How to Create and Modify Sequences: The aerial yoga teacher training course can help you develop the skills to create and modify sequences that are appropriate for different levels of students and can help you keep your classes fresh and engaging.
4. Developing Your Own Practice: Through a teacher training course, you can deepen your own aerial yoga practice, which can improve your strength, flexibility, and overall health and wellbeing.
5. Expanding Your Career Opportunities: Completing an aerial yoga teacher training course can provide you with the certification and credentials necessary to teach aerial yoga professionally, which can open up career opportunities in fitness centers, yoga studios, and other venues.
6. Joining A Community: An aerial yoga teacher training course can connect you with other aerial yoga practitioners and teachers, providing you with a supportive community to share knowledge and experiences.
Bottom Line
Overall, aerial yoga can be a fun and challenging way to incorporate yoga into your fitness routine, with potential physical, mental, and emotional benefits. However, as with any new physical activity, it's important to consult with a healthcare provider before starting, especially if you have any pre-existing health conditions or injuries.
Aerial yoga is a beautiful form that allows you to get more flexible, build your confidence level and allows you to fight your fears. This will be a 40-hour course certification by World Yoga Alliance & Yin Yang Yoga School which will allow you to work in 80 different countries.
How To Enroll?
Training will be for 10 Days – 4 Hours a day.
P.S. Only 5 people at one time in the training. 
Dates: 1st – 10th April, 2023
Cost of the course: INR 23000/-
Want to learn from her? Download the TRM app at a special price to learn more about TRM Master Sneha Desai and her aerial yoga teacher training.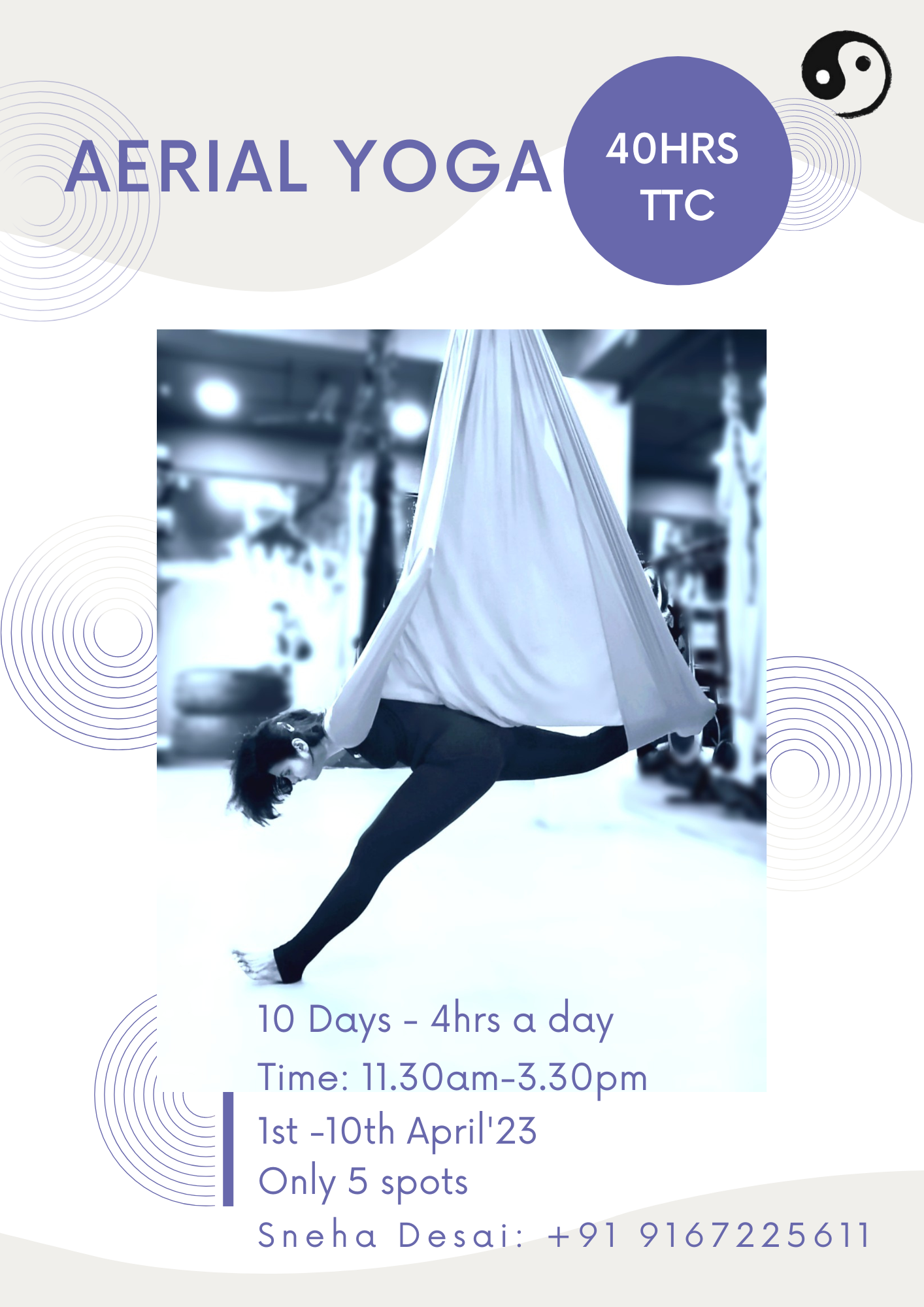 Read More: How Can You Change Your Money Mindset To A Positive One?
Like & Follow ThinkRight.me on Facebook, Instagram, Twitter, Pinterest and Telegram to stay connected.