Have you ever gone to an art exhibition, looked at an art piece, and said, "It's just perfect!" That artwork was not made overnight. It took a lot of hard work, perseverance, and patience to get it 'just right'.
Here are 5 must-follow habits for all aspiring artists and painters out there
It is okay to isolate yourself sometimes
If you are an artist in the 21st century you need to learn to live in the airplane mode constantly. It might be true that staying in touch and connected to your closed ones inspires your inner artist. But when it comes to creating a masterpiece you need to learn to isolate yourself. Hank Willis Thomas, the famous American conceptual artist says that he does his best thinking on airplanes because that's where he is least distracted. He also says that he mimics the same even at home by turning off his phone and the internet when he is working.
Stop trying to 'make the art'
Art is something that flows naturally and is at its best when it isn't restricted. One cannot and should not force the brush strokes. George Condo, American contemporary visual artist says that he often catches himself sitting and staring into nothingness. And when he actually gets bored of doing it he picks up a guitar or a viola and plays to himself, before getting back to work or while the paint settles. This just provides the necessary break to the monotony and fuels the passion further.
Adjust your own body clock
Not all best works happen at the same stroke of the clock. If you are painting a sunrise and want to stay inspired you might want to catch the sunrise while creating that masterpiece. Or if you are catching the poetry of the moon on the canvas you might want to stay up all night painting it with loving strokes. Salvador Dali had this odd habit of holding his key over a metal plate while sleeping because he said that he gets amazing ideas while he is in deep slumber. So when he goes limp in his slumber the key strikes the metal plate and that clanging rouses him and he creates his art after that. That sure is one unique way of taking power naps and waking up with great ideas!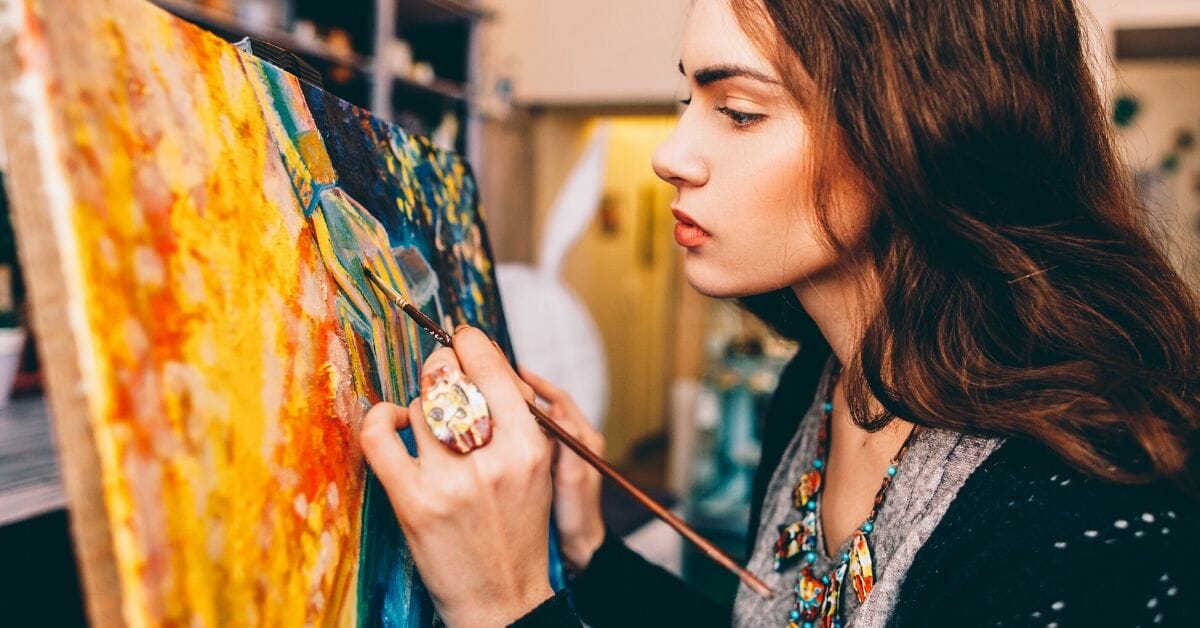 Expect inspiration
Many of the greatest works of art are inspired by mundane places and situations. You can find the inspiration anywhere, building sites, empty rooms, kitchens, conversations anywhere. You just need to keep the eyes and mind open to actually perceive it. What better example than Pablo Picasso, he had the habit to start creating art standing on street corners on a tissue paper if something inspired him at that moment.
Have other hobbies or interests
Almost all the painters and artisans had one other hobby that they followed passionately, be it music, writing, reading, teaching, etc. Some did it to support their passion for their art, while some thought that it is very important to have other interests, as it helped them to refocus and appreciate their love for painting and art. Barbara Kruger was a graphic designer with Conde Nast, this job supported her hobby. While Mark Rothko was an elementary school teacher, it was just something he liked to do. It helped him appreciate his passion and work more. Every artist has his or her own calling, their own unique way to stay inspired. It's more of a calling and instinct than anything else. These are 5 very quirky but very important habits of a highly successful painter through the ages. Which one inspired you the most?
Read more: Why Is Stretching So Important?
Like & Follow ThinkRight.me on Facebook, Instagram, and Telegram to stay connected.