The least exciting part of cooking a meal is dealing with the aftermath later; the pile of dishes, the mess on the counters, and the vegetable waste to discard or compost. Not to mention the gymnastics it takes to keep everything streamlined, to not juggle a bubbling sauce on one burner while the vegetables boil on the other and the oven screams to be looked at. Whether you have to cook for a family who like their dal, chawal, roti, sabzi, every day or have kids who won't eat anything other than pasta, there's a one-pot (or pan or tray) recipe out there to satisfy all these cravings. Read on to know the whole spread of fabulous one-pot Indian meals to save you when you're clueless about what to cook.
5 One-Pot Indian Plant-Based Meals For When You're In A Rush
1. Karnataka Style Vegetable Pulao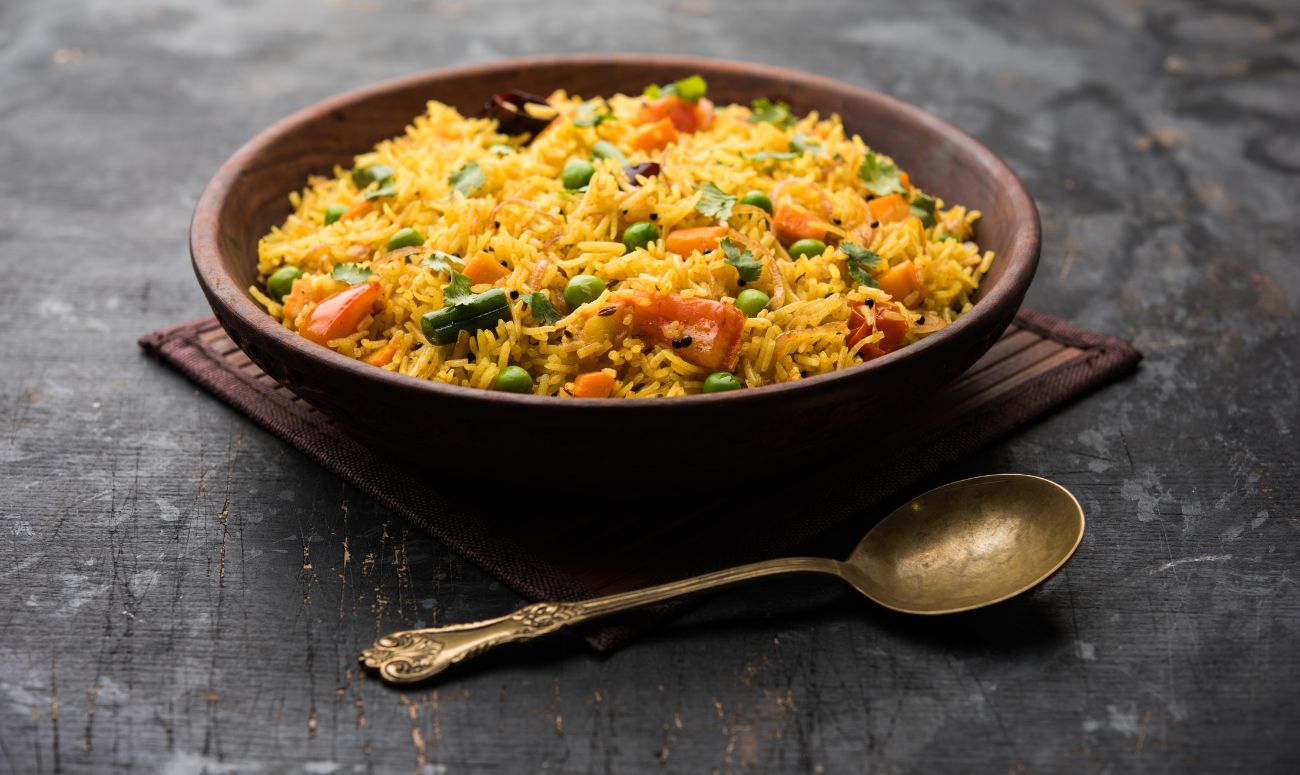 A one-pot vegetable pulao is the best way to create a flavourful dish that also offers nutritional benefits and tickles the taste buds of picky eaters. For parents, the one-pot method can also be a great way to "hide" vegetables in a more palatable way. This Karnataka Style Vegetable Pulao is the perfect one-pot Indian meal as its a fragrant and spicy dish best served with pickle, and papad.
Ingredients:
1 Cup Basmati Rice – Rinsed
1.5 Cups of Water
2 ½ Cup Mixed Vegetables: Carrots, Beans, Green Peas, Cauliflower, Capsicum, Potato
2 Tablespoon Cooking Oil
Spices: 2 Bay Leaf, ¼ Teaspoon Turmeric Powder
Lime Juice & Salt to Taste
Green Masala Paste:
¼ Cup Grated Coconut
1 Inch Ginger
3-4 Cloves of Garlic
3-4 Green Chillies
1 Inch Cinnamon Stick
4 Cloves
2 Cardamom
1 Teaspoon Cumin Seeds
1 Teaspoon Coriander Seeds
1 Teaspoon Fennel Seeds
¼ Cup Mint Leaves
¼ Cup Coriander Leaves
2 Tablespoon Onion
¼ Cup Water
Method:
Take all of the ingredients for the green chilli paste and grind them together with ¼ cup of water.
If you have an instant pot, press SAUTE mode. If not, then you can use a normal pot or pressure cooker as well. Add the oil and once it's smoking, add bay leaf and sliced onions.
Add the vegetables and cook for another minute or so.
Then, add the mint-coriander paste, turmeric powder, salt and saute the mixture for 2 to 3 minutes until the rawness of the spices fades.
Next, add the washed Basmati Rice along with water and stir well before shutting the pot.
If you have an instant pot, turn the pressure valve to the SEALING position and set the pot to manual (High Pressure) for six minutes. For a normal pressure cooker, cook the pulao for 2 whistles on medium flame.
Garnish with fresh coriander leaves and lime juice.
Recipe Courtesy: Indian Veggie Delight
2. Sambar Sadam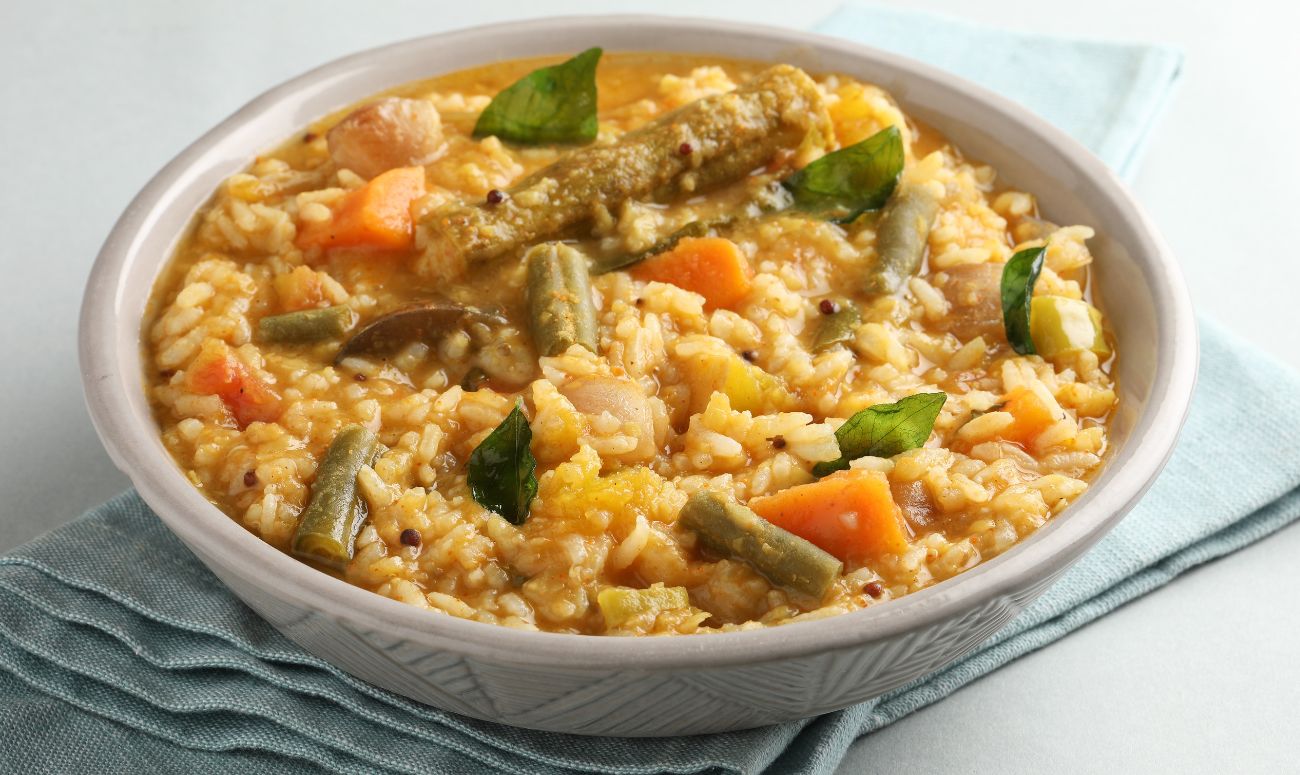 This lentil rice one-pot meal is a South Indian delicacy that can be enjoyed year-round. The tanginess from the tamarind and the spicy tadka of the South Indian spices makes it a must-have. For those trying to eat healthily, this meal is an all-rounder as it provides extra nutrition with the proteins from the dal, is gluten-free, and has a variety of antioxidants from the spices.
Ingredients:
2 Cups Raw Rice
1 Cup Pigeon Peas (Toor Dal)
1 Tablespoon Tamarind Paste
¼ Teaspoon Turmeric Powder
1 Teaspoon Red Chilli Powder
1 Tablespoon Oil
1 Sliced Onion
100 Grams Carrots, Chopped
100 Grams Pumpkin, Chopped
70 Grams Tomatoes, Chopped
1 Teaspoon Mustard Seeds
2-3 Red Chillies
1/5 Teaspoon Hing/ Asafoetida
30 Curry Leaves
Salt To Taste
For Sambar Masala
2 Tablespoons Coconut
1 Teaspoon Cumin Seeds
1 Teaspoon Mustard Seeds
2 Teaspoon Coriander Seeds
½ Teaspoon Fenugreek Seeds    
Method:
For the sambar masala, dry roast coriander, cumin, and fenugreek seeds in a pan. Add 1 teaspoon of skinned urad dal (split black gram dal) and a few red Kashmiri chillies.  
Roast them on slow heat for 2 minutes. Then, add the grated coconut and roast for another 2 minutes.
Allow it to cool before grinding it into a powder. If you want to skip making sambar powder, you can use readymade store-bought one as well.
Heat a tablespoon of oil and add mustard seeds, hing, curry leaves, cumin seeds and white urad dal.
Add the chopped vegetables and saute the mix for 3-4 minutes.
Next, add salt, turmeric, red chilli and freshly ground sambar masala.
Rinse the dal and rice separately.
In the pressure cooker, add the toor dal, rice with salt, and 3.5 cups of water. Secure the lid and cook for 3-4 whistles before letting out the pressure naturally. If you have an instant pot, cook the vegetables, rice and dal for 10 minutes on high pressure.
Finally, in a pan heat one tablespoon of oil and add mustard seeds and curry leaves along with dried red chillies. Once the mustard seeds have popped, pour the tadka over the rice mixture.
Serve hot.
Recipe Courtesy: MyTastyCurry
3. Spinach Dal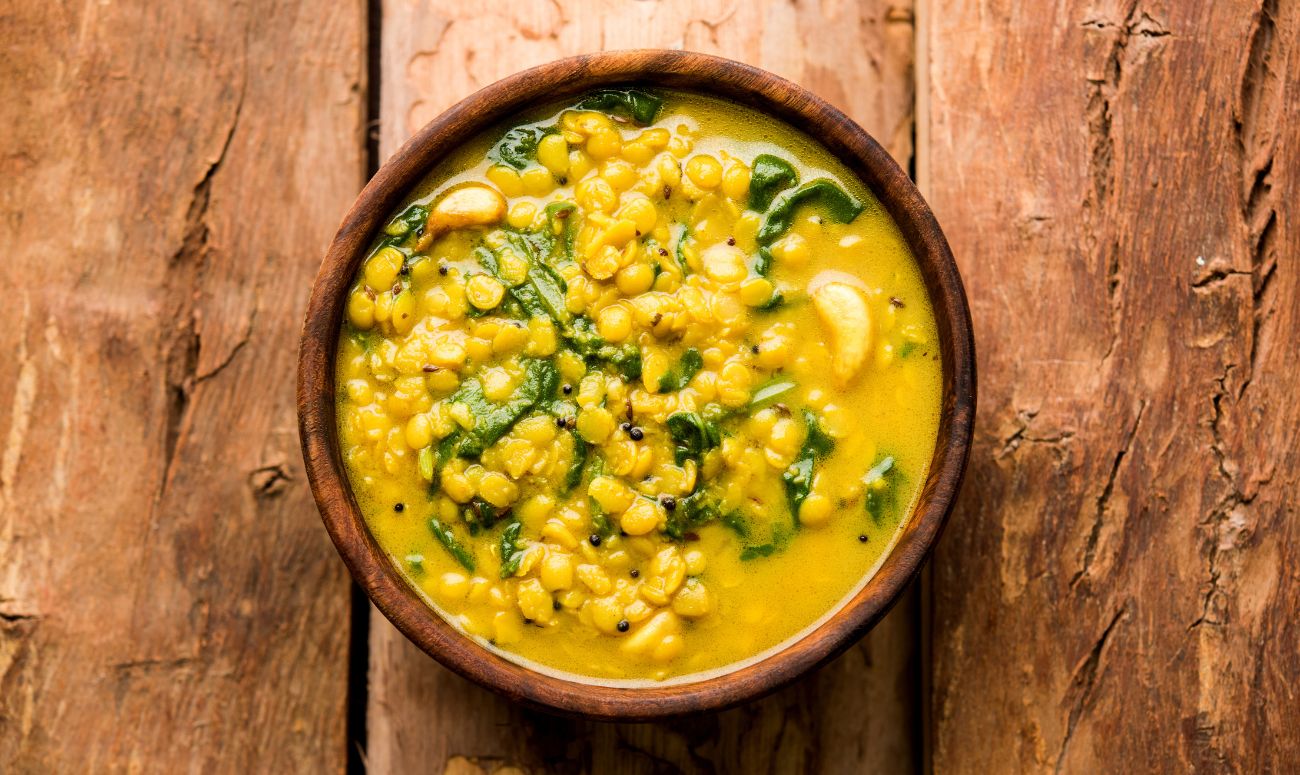 When you're looking for a quick dump-and-done yet nutritious vegetarian meal, pull out this Spinach Dal recipe. Not only is it delicious, it's also the ultimate comfort food and you'll be surprised how flavourful the spinach makes the dal.
Ingredients:
1 Tablespoon Oil
½ Teaspoon Cumin Seeds
1/8 Teaspoon Ground Turmeric
1 Green Chilli, Chopped
1 Tablespoon Garlic, Minced
8 Curry Leaves
1 Tomato Diced
1 Teaspoon Salt
2 Cups Water
½ Cup Red Lentils (Masoor Dal), Rinsed and Drained
Handful of Baby Spinach
1 Cup Basmati Rice, Rinsed and Drained
1 ½ Cups Water
Method:
Add oil, cumin seeds, turmeric, green chilli, garlic, curry leaves, tomatoes, lentils, salt, and water in the pressure cooker. Stir.
Place the tall trivet inside the pot. Add rice, salt, and water to the stainless pot that comes with the pressure cooker and place it on the trivet.
Close the lid and pressure cook on high for 5 minutes.
After 5 minutes, allow the pressure to naturally release. Open the lid and take the rice out.
Mix the lentils with a spatula. Here, you can add water to bring the dal to the desired consistency.
Add the chopped and rinsed spinach and mix well before bringing the dal to a boil.
Serve with pickle and papad.
Recipe Courtesy: Ministry Of Curry
4. Mumbai Pav Bhaji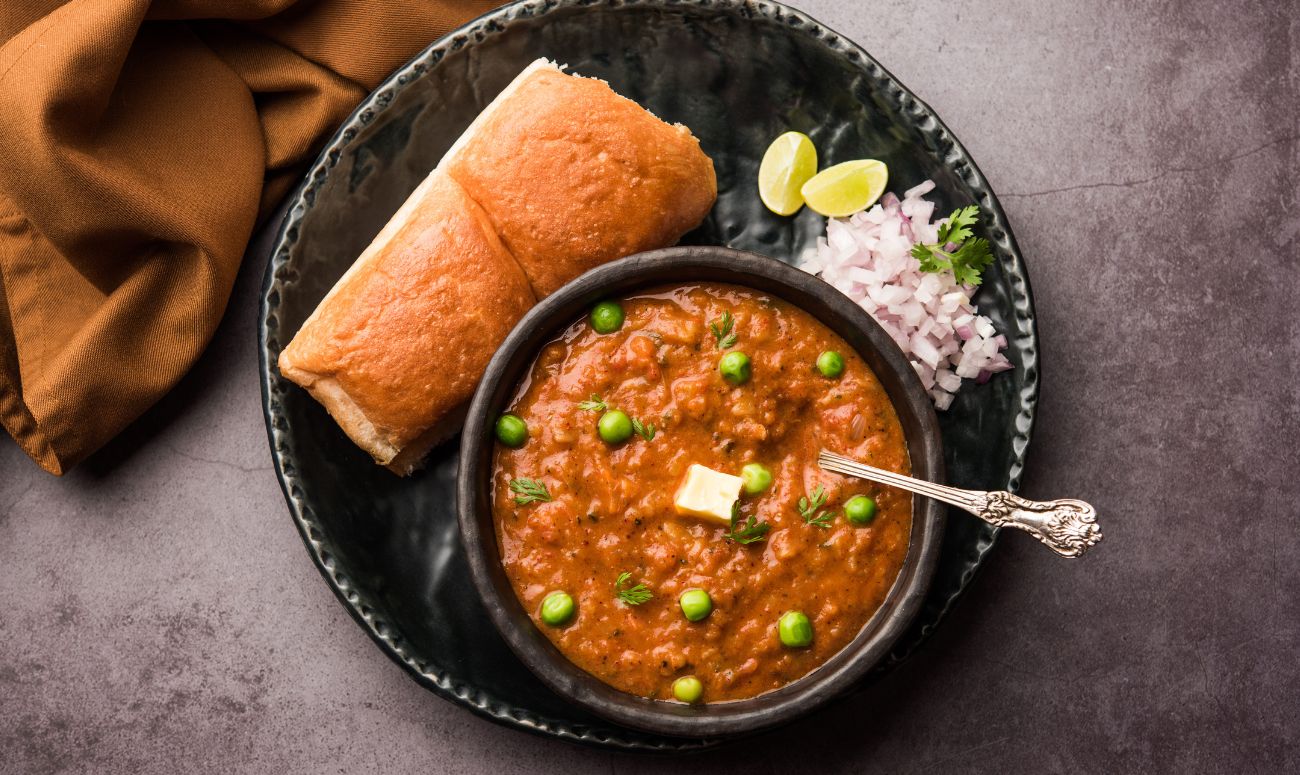 A fan-favourite in most households and street food as well, Pav Bhaji originated as a quick midnight meal for factory workers in Mumbai in the mid-1800s and found its way into people's hearts all around the world. Made with leftover vegetables and a variety of spices, this pav bhaji is one of the perfect one-pot Indian meals and can be the answer your weekly dinnertime dilemmas.
Ingredients:
2 Tablespoons Olive Oil
1.5 Cups Onions, Chopped
1 Tablespoon Ginger, Grated
6 Cloves Garlic, Minced
2 Cups Tomatoes, Chopped
1 Cup Carrots, Chopped
2 Cups Cauliflower Florets
1 Cup Peas
1 Cup Capsicum/Green Bell Peppers, Chopped
1 Teaspoon Salt
½ Teaspoon Kashmiri Chilli Powder
2 Teaspoons Pav Bhaji Masala
1.5 Cups Water
1 Tablespoon Lime Juice
For Tadka:
1 Tablespoon Olive Oil
Pinch of Hing/Asafoetida
1 Teaspoon Pav Bhaji Masala
½ Teaspoon Kashmiri Chilli Powder
Method:
Add oil into a pressure cooker or instant pot and once it's heated up, add the onions along with ginger and garlic. Sauté for at least 5 minutes.
Add tomatoes and chopped vegetables, Kashmiri chilli powder, salt, pav bhaji masala, and 1.5 cups of water. Put the lid on and pressure cook on high for 3 whistles or 5 minutes if you're using the instant pot. Once done, wait for the cooker to cool down to naturally release the pressure.
Use an immersion blender or potato masher to blend the veggies into a puree or coarse mixture depending on your preference.
Next, in a small saucepan or tempering pan, add a tablespoon of olive oil and once it's hot, add asafoetida, Kashmiri chilli powder, and pav bhaji masala.
Once it's well mixed, pour the mixture over the pureed bhaji and stir well. Cook for another 5 minutes on low to let the flavours mix.
Finish with a tablespoon of lime or lemon juice and fresh coriander.
Serve with freshly baked dinner rolls or the iconic pav.
Recipe Courtesy: Simmer To Slimmer
5. Moong Dal Vegetable Soup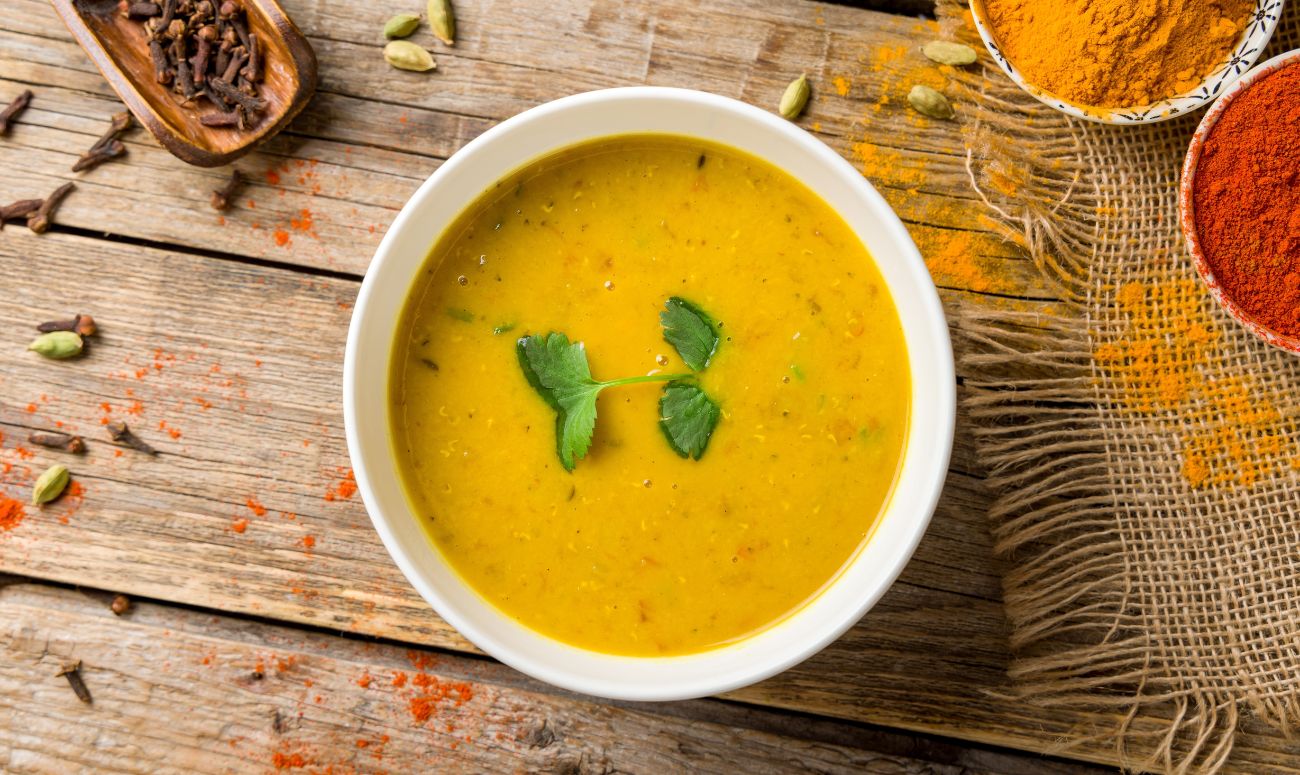 A time-saving soup can easily be whipped up when you're in a crunch but still want to level up your nutrition intake. Soups are significantly more nutritious than their conventionally cooked counterparts as the water soaks up all the nutrients from the vegetables and spices when simmered long enough. The delicious moong dal soup is a wonderful source of protein, calcium, and iron and is enough to offer a well-balanced meal.
Ingredients:
¼ Cup Yellow Moong Dal (Split Yellow Gram)
1 Teaspoon Olive Oil
1 Cup Onions, Chopped
1 Cup Carrot, Chopped
½ Cup Cauliflower Florets
¼ Teaspoon Salt
½ Teaspoon Chilli Powder
Freshly Ground Black Pepper (Kalimirch)
2 Tablespoon Finely Chopped Dill Leaves
2 Teaspoon Lemon Juice
Method:
Clean and rinse the dal before soaking it in hot water for 2 hours. Then drain and keep aside.
Heat oil in the pressure cooker and add onions. Sauté on medium heat for 2 minutes.
Add the yellow moong dal, carrots, and cauliflower, and mix well as you sauté is for another 2 minutes.
Next, add the salt, 3 cups of water and stir well. Pressure cook the mixture for 4 whistles.
Allow the steam to naturally escape before you open the lid.
Then, add chilli powder and pepper and cook on medium heat for another 1 minute.
Lastly, garnish with dill leaves and lemon juice and serve hot with garlic bread.
Recipe Courtesy: Tarla Dalal
One-pot meals are a great way to sneak vegetables into a dish through soups, sauces, or sabzis. They also increase nutrition by fortifying the less nutrient-dense ingredients and make it easier for picky eaters to practice mindful eating. Save this article for the next time you're in a clutch about what to cook for your family.
Read More: Why Rajasthan Is Quickly Becoming One Of India's Most Sought-After Mindful Destinations?
Like & Follow ThinkRight.me on Facebook, Instagram, Twitter, Pinterest and Telegram to stay connected.