Protein plays an important role in the creation and maintenance of cells in our body. They are made of amino acids, also called as building blocks that boost the immune system. A protein rich diet is very essential while recovering from viral infections like Covid. It helps in strengthening respiratory muscles and improving energy levels. A high protein diet and good hydration are key during the recovery period.
Mix Sprouts Corn Chaat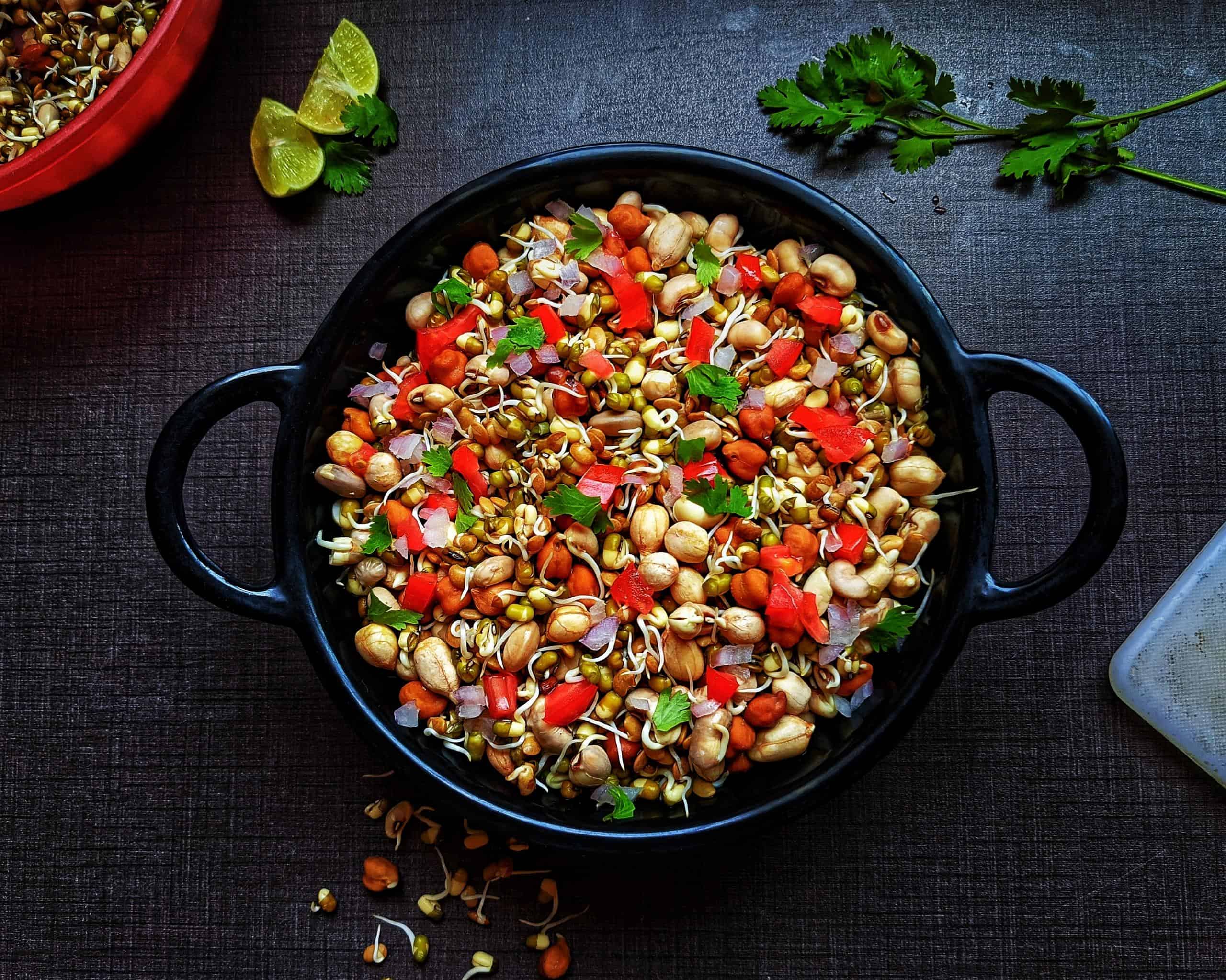 Ingredients:
2 cups boiled mixed sprouts
½ cup boiled sweet corn kernels
1 tomato, finely chopped
¼ cup finely chopped red and yellow capsicum
1 teaspoon chaat masala
2 tablespoons roasted peanuts
1 teaspoon lime juice
1 tablespoon powdered sugar
2 tablespoons chopped fresh coriander leaves
2 tablespoons fine sev
Salt
Method:
Combine all the ingredients in a mixing bowl and toss them well. Serve immediately garnished with coriander leaves and sev.
Benefits:
This protein-rich dish helps in muscle building and weight loss. Protein takes time to digest and hence prevents overeating. Sprouts are fibre laden and have negligible calories. They help in blood circulation and digestion.
Hummus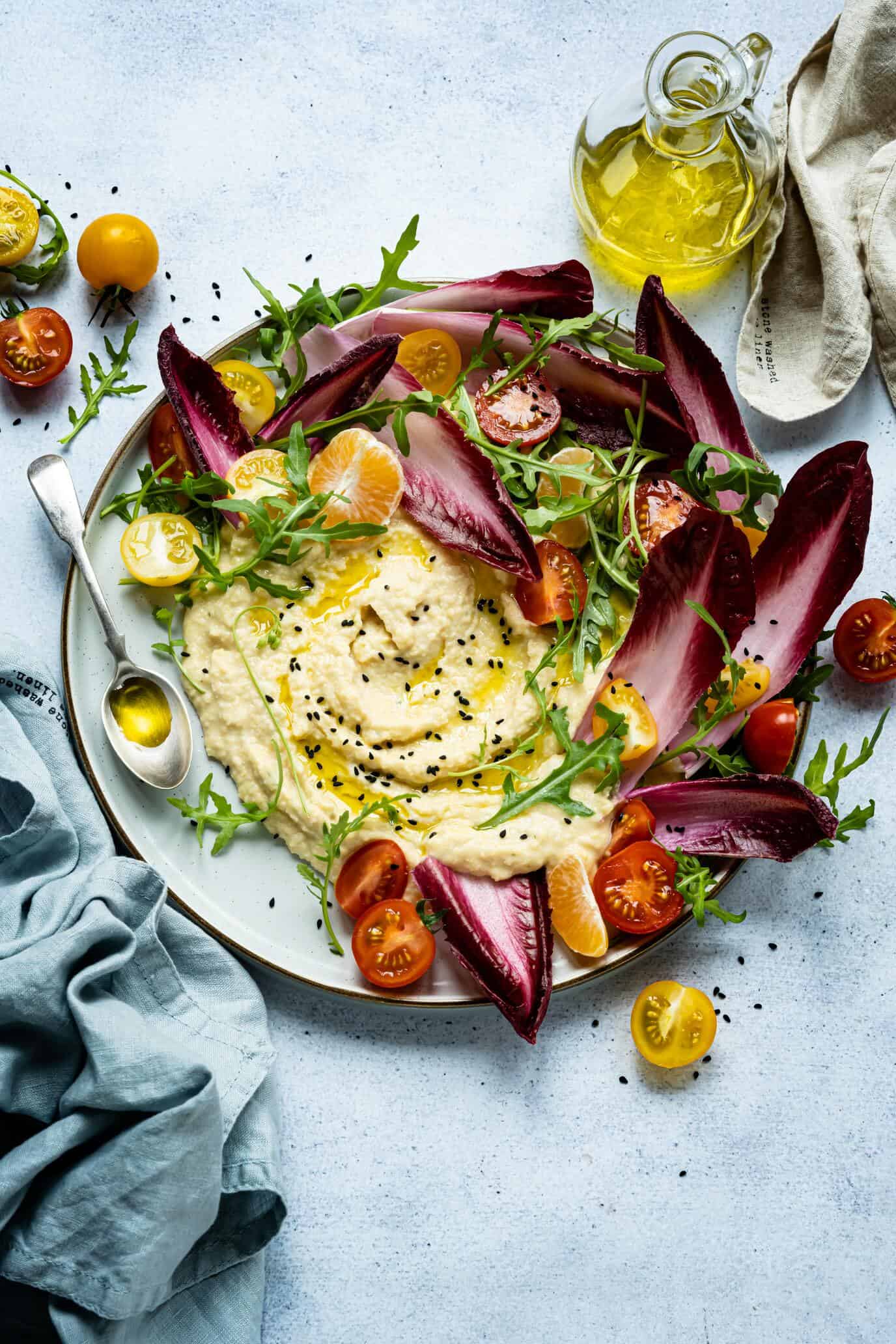 Ingredients:
1½ cups boiled chickpeas
4 tablespoons lime juice
4 tablespoons olive oil
3 tablespoons curd
1 tablespoon sesame seeds
Salt
3 tablespoons red chilli powder
Method:
Add the chickpeas, lime juice, olive oil, curd, sesame seeds and salt to taste in a mixer jar. Blend until you get a smooth and creamy paste. Add chilled water if required. Transfer the hummus to a bowl. Sprinkle red chilli powder and drizzle some olive oil. Have the hummus with falafel or as a dip with salad vegetables or khakhra.
Benefits:
Hummus is rich in plant-based protein, as well as vitamins and minerals. It helps fight inflammation due to the antioxidant properties of olive oil. Its high fibre content helps in promoting gut health and increasing good bacteria in the digestive tract. It brings cholesterol parameters in control and maintains blood sugar levels.
Paneer Paratha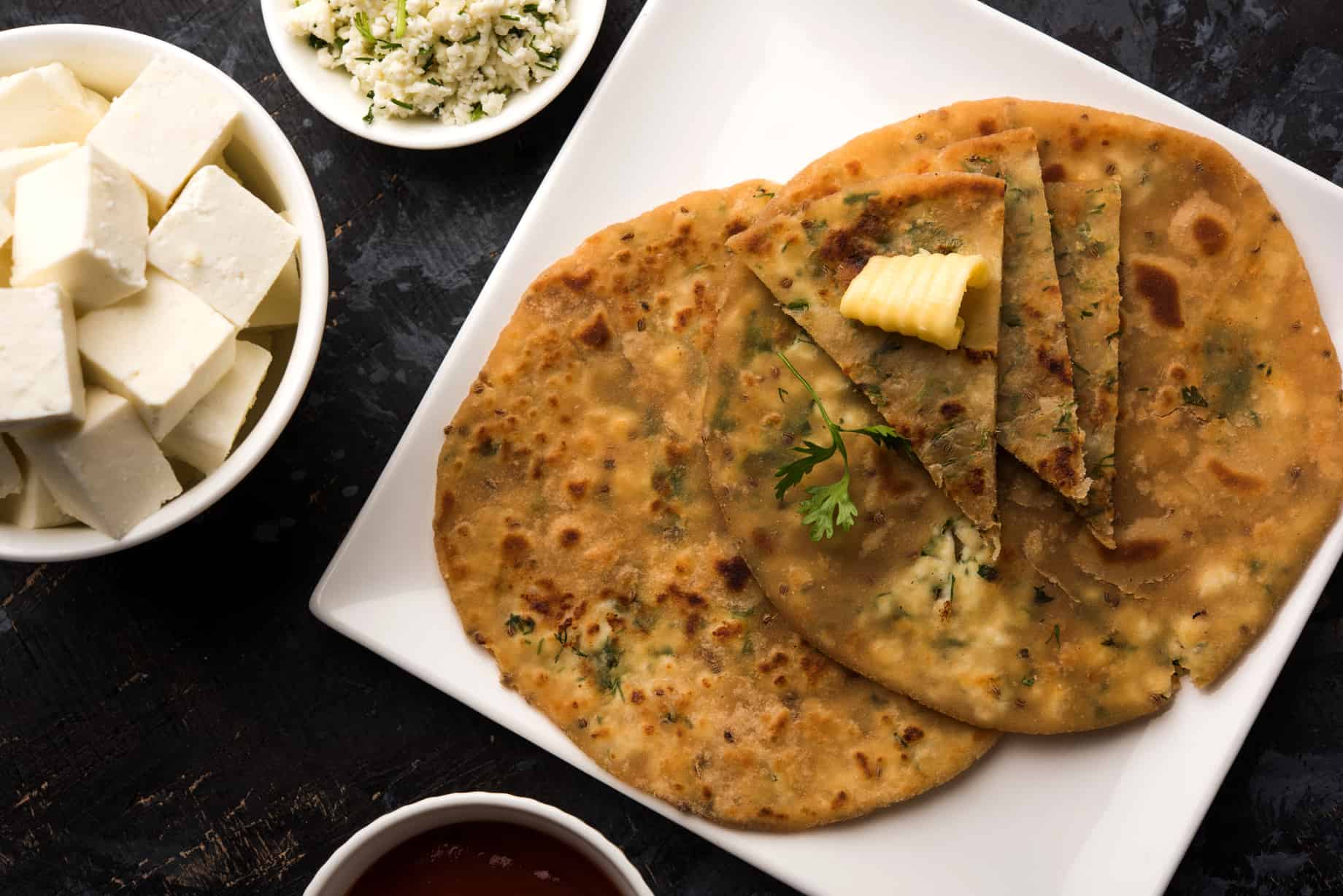 Ingredients:
2 cups whole wheat flour
¼ teaspoon oil
½ cup grated paneer
¼ cup chopped capsicum
1 teaspoon kasuri methi
3 green chillies, finely chopped
A pinch of amchur powder
2 tablespoons chopped fresh coriander leaves
Salt
Ghee
Method:
Combine wheat flour, oil, salt to taste and water as required in a mixing bowl and knead into a semi-stiff dough. Cover it with a wet cloth and let it rest for 10 minutes.
In another bowl, combine the paneer, capsicum, kasuri methi, green chillies, amchur powder, coriander leaves and salt to taste. Mix well so all the ingredients combine well.
Divide the dough into lemon sized portions and roll each portion into a 3-inch-wide paratha. Place 1 tablespoon of the paneer filling in the centre. Bring the edges of the paratha together and seal the dough to make a stuffed ball. Dust it with flour and gently roll it into a 6-inch-wide paratha. Heat a griddle over medium heat. Place the paratha on it and cook evenly on both sides until golden brown spots appear. Drizzle ghee on both sides. Serve the paneer paratha warm with pickle or curd.

Benefits:
The whole wheat flour used in the making of this recipe is good for people with diabetes as it does not cause high sugar levels in the blood. Paneer is a source of protein for vegetarians and also contains calcium that helps with weight loss. It is low in carbs, but its protein content makes it filling and prevents weight gain. Since it contains amino acids and omega 3, it promotes heart health as well.
Homemade Peanut Butter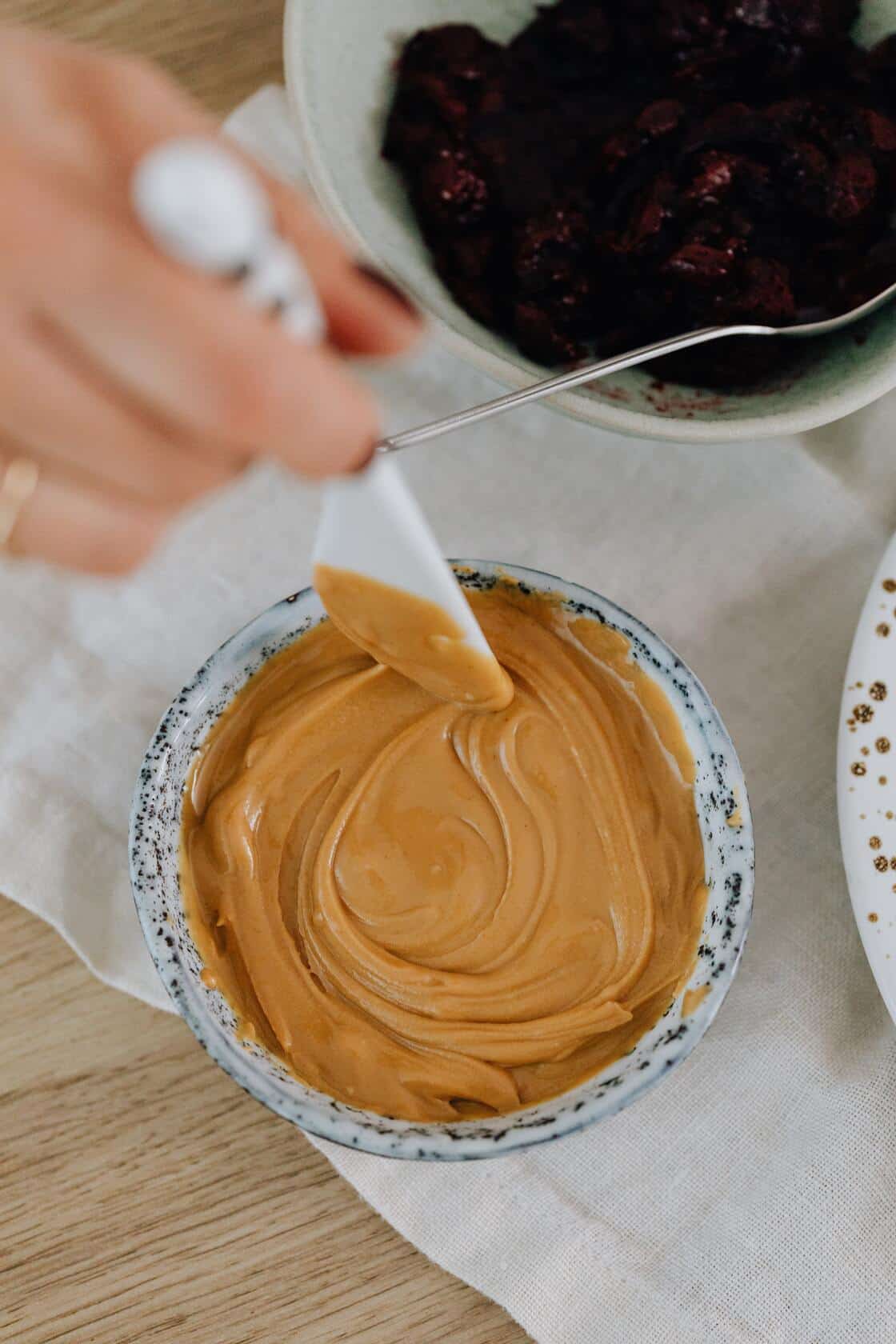 Ingredients:
2 cups roasted peanuts
2 tablespoons honey
Salt
Method:
Grind the peanuts in a mixer grinder for 4-5 minutes, stopping and stirring intermittently. The peanuts will turn into a creamy paste. Transfer to a bowl and add honey and salt to taste. Store the peanut butter in an airtight container in the refrigerator. Use it as a spread on bread or rotis.
Benefits:
Peanut butter is packed with proteins and is an excellent source of copper that not only maintains bone density but improves immunity as well. It reduces the risk of osteoporosis and heart disease.
Healthy Roasted Seeds Trail Mix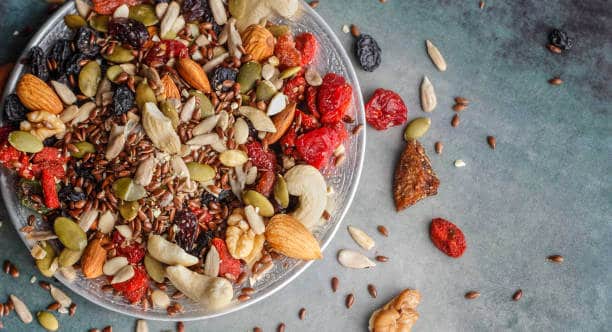 Ingredients:
½ cup sunflower seeds
½ cup pumpkin seeds
½ cup flax seeds
¼ cup white sesame seeds
2 tablespoons black sesame seeds
¼ teaspoon black pepper powder
Salt
Method:
Roast all the seeds separately until crispy and aromatic. Transfer them to a mixing bowl and let them cool down. Sprinkle pepper powder and salt to taste. Toss them lightly. Store the seeds trail mix in an airtight container. You can use them as a topping or have a spoonful as a mini snack.
Benefits:
Trail mix has ingredients that are packed with protein which re necessary for muscle growth, tissue repair and to boost immunity. They also promote weight loss by reducing hunger and keeping you full for longer. They contain omega 3 that reduce inflammation and protect the heart functions.
Dr. Deepali Kampani is a digital content specialist who weaves health and food through her pen.
Read more: 6 Lifestyle Changes That Can Help You Get Pregnant
Like & Follow ThinkRight.me on Facebook, Instagram, Twitter, and Telegram to stay connected