Spinach or palak is a green leafy vegetable that is packed with health benefits. It is considered as a superfood because of its high antioxidant content that protects the body from diseases. Research says that maximum benefits can be derived from spinach by consuming it raw. But since the raw taste might be a put off it can be pureed or blanched to retain its nutritive value. Spinach should be cleaned well to remove sand and soil and should always be had fresh. Along with the tons of vitamins and minerals it contains, spinach is the richest plant source of iron and helps in anemia.
Palak chaat
Ingredients:
1 cup besan
¼ teaspoon turmeric powder
A pinch of asafoetida
2 tablespoons rice flour
Vegetable oil for deep frying
8-10 palak leaves
½ cup green chutney
½ cup tamarind chutney
2 tomatoes, finely chopped
½ cup masala peanuts
1 cup curd
½ cup fine sev
1 teaspoon chaat masala
Salt
Method:
Combine besan, turmeric powder, asafoetida, rice flour and salt to taste with water in a deep mixing bowl to form a thin batter. Heat oil in a frying pan over medium heat. Dip the palak leaves in the batter and drop them in the hot oil. Deep fry evenly on both sides until light brown and crisp. Remove the fritters with a slotted spoon and drain on paper towels. Place the palak fritters on a serving plate. Drizzle green and tamarind chutney over them. Top it with tomatoes, peanuts, curd, sev and chaat masala.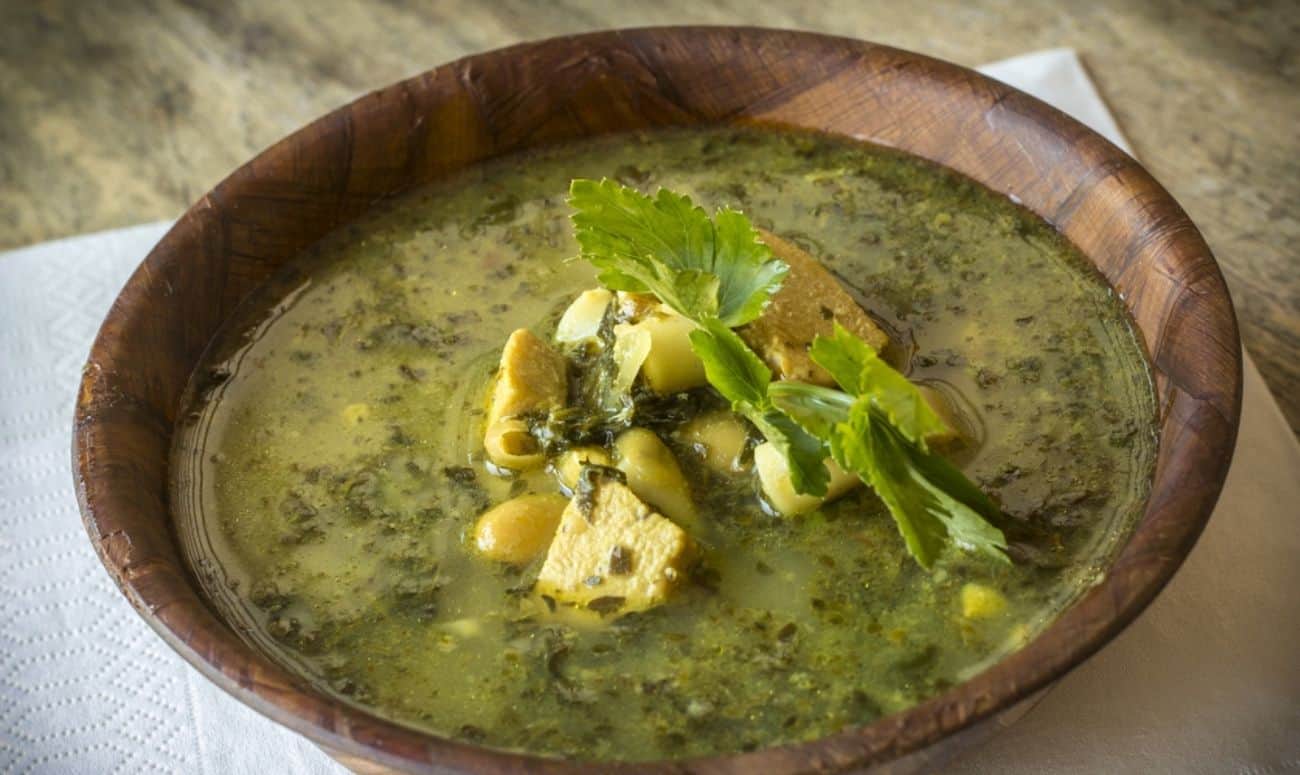 Dal palak
Ingredients:
2 tablespoons ghee
¼ teaspoon cumin seeds
1 teaspoon grated ginger
2 green chillies, chopped
1 tomato, chopped
2 cups chopped spinach
¼ teaspoon turmeric powder
½ teaspoon red chilli powder
¼ cup toor dal, soaked
¼ cup chana dal, soaked
1 tablespoon lime juice
Salt
Method:
Heat ghee in a pressure cooker. Add cumin seeds, ginger and green chillies. Sauté for 1-2 minutes and add the tomato. Cook until tomato is mushy. Add the spinach and cook until the leaves are wilted. Add turmeric and red chilli powder and mix well. Drain the dals and add it to the pressure cooker along with salt to taste and 1 cup of water. Mix well and cook the dal for 3 whistles. Once the pressure releases, mash the dal with a spoon. Add lime juice and simmer the dal over low heat for 5 minutes.
Hariyali pav bhaji
Ingredients:
2 cups spinach, chopped
2 green chillies, chopped
1 teaspoon ginger, chopped
2 tablespoons butter
1 capsicum, chopped
2 green tomatoes, chopped
3 potatoes, boiled and mashed
½ cup green peas, boiled and mashed
¼ teaspoon turmeric powder
1 teaspoon pav bhaji masala
1 teaspoon lime juice
Salt
Method:
Blanch the spinach in hot water for a minute. Remove from the water and transfer to the mixer jar. Add ½ cup chilled water, green chillies and ginger and grind to a smooth paste. Heat butter in a pan over medium heat. Add capsicum and cook for 2-3 minutes. Add tomatoes and cook until they become mushy. Add the spinach paste and cook for 2 minutes. Add potatoes, peas, turmeric powder, pav bhaji masala and salt to taste. Add 1 cup of hot water and mash the bhaji well. Add lime juice and let the bhaji cook for another 5 minutes. Serve the hariyali bhaji warm with pav.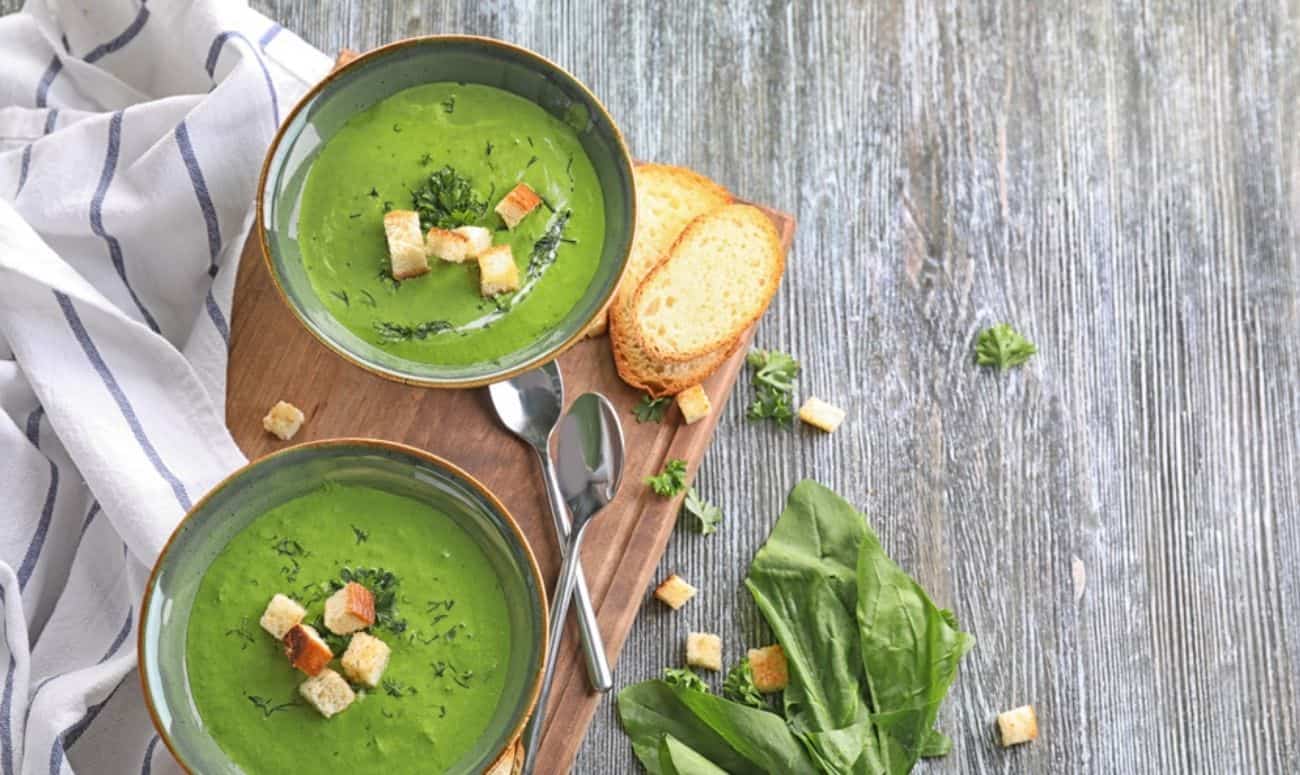 Spinach hummus
Ingredients:
½ cup boiled chickpeas
1½ tablespoon tahini paste
1 tablespoon lime juice
1 tablespoon paprika powder
1 tablespoon olive oil
4 tablespoons chilled water
2 tablespoons spinach puree
Salt
Method:
Grind chickpeas to a smooth paste. Add tahini paste, lime juice, paprika powder and olive oil. Mix well. Add chilled water, spinach puree, salt to taste and grind for some more time to get a creamy consistency. Refrigerate and serve cold with salad cucumbers or carrots.
Palak juice
Ingredients:
2 cups spinach
6-8 sprigs of parsley
1 green apple, chopped
4 teaspoons sugar
Juice from 1 lime
A pinch of black salt
Method:
Combine all the ingredients in a blender jar and blend until smooth. Strain the mixture and stir until all the sugar dissolves. Add ice cubes and serve immediately.
Dr. Deepali Kampani is a digital content specialist who weaves health and food through her pen.
Read more: 5 Lessons That We Love From A Year Of Living Kindly By Donna Cameron
Like & Follow ThinkRight.me on Facebook, Instagram, Twitter and Telegram to stay connected.