The weather is warmer than ever, which makes cooking and eating fresh and light meals one of the easiest remedies to beat the heat. Yes, summer salads are great no-cook meal options, but sometimes you need something a little more substantial. And India has a repertoire of Indian summer recipes that can help you stay cool and healthy during the warm weather.  
6 Indian Summer Recipes To Eat Seasonally
1. Bengali Aam Dal  
One of the most common summer recipes among Bengali households, the Bengali Aam Dal or Tok Dal as it's famously known, is a light and refreshing recipe with limited spices. The lentil soup is full of fragrant flavours, dominated by green mango.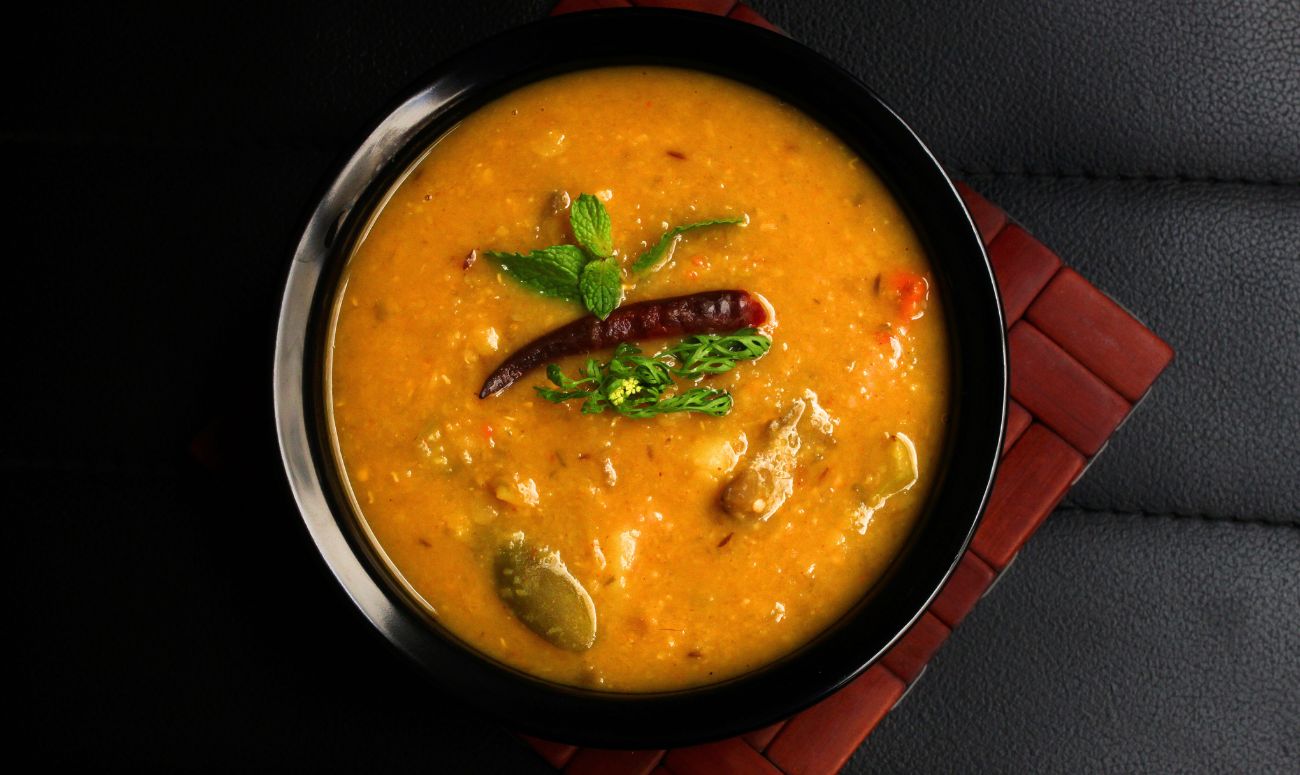 Ingredients:  
100 g red lentil/masoor dal
1 or 2 green mangoes
1 teaspoon mustard seeds
1 teaspoon turmeric powder
1 red chilli
3 tablespoon sugar
1 teaspoon salt or to taste
2 tablespoon mustard oil
Method:  
Wash the lentils 2-3 times until the water runs clear.
Peel the skin of the mangoes and cut into long strips after removing the seed.
Heat oil in a pressure cooker and temper with mustard seeds and dry red chili.
Add the green mango strips and cook for a minute before adding the salt and cooking.
Add the red lentils followed by 2.5 cups of water and the turmeric powder.
Add sugar and taste for salt before adjusting accordingly.
Cover and cook on low flame for 3 whistles.
Switch the flame off and wait till the pressure drops before opening the cooker.
Serve with hot steamed right and a side of Aloo Bhaja or Aloo Bhate.  
Recipe Courtesy: Debjanir Rannaghor
2. Kadhi Pakora 
In most Punjabi and Sindhi households, Kadhi recipes are family heirloom recipes and are perfect for summer weather. The famous Kadhi Pakora recipe has crispy onion pakoras dunked in spicy, savoury, and tangy yogurt kadhi, making for a delicious Indian summer recipe.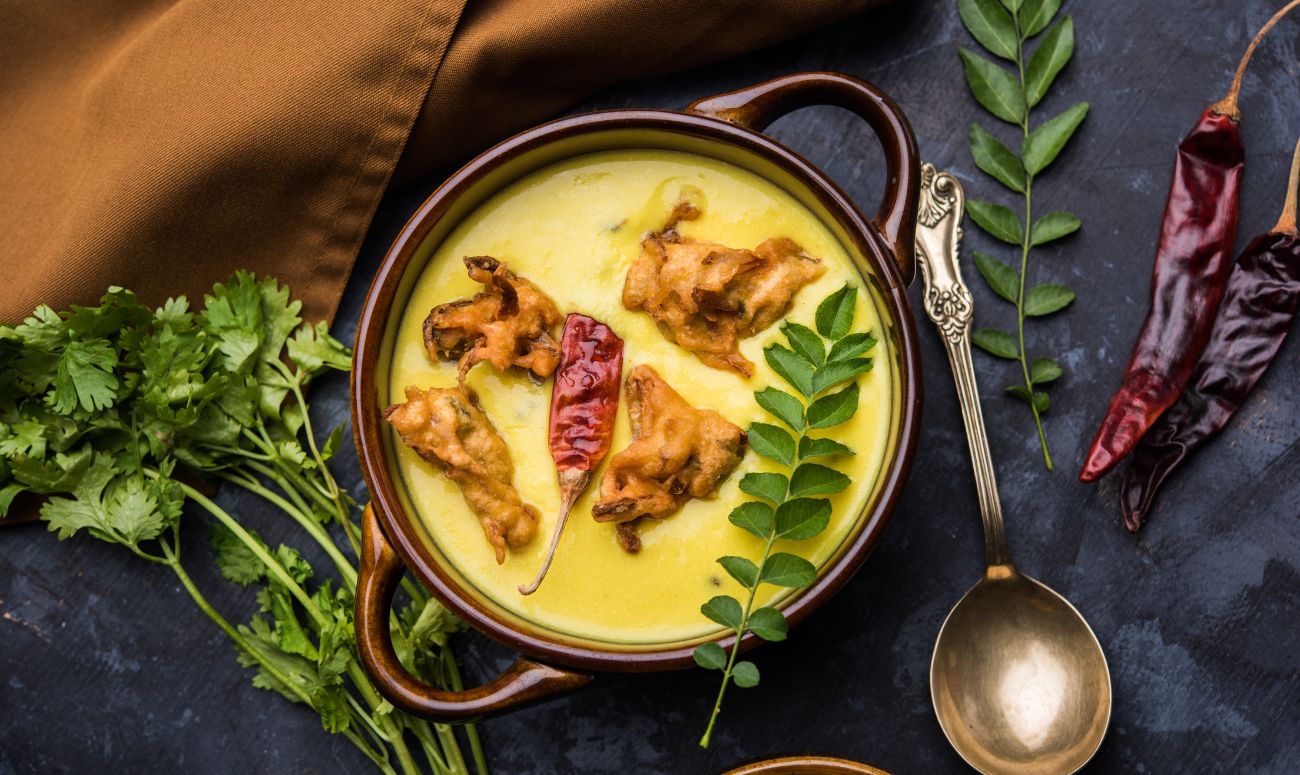 Ingredients:  
For Curd Slurry 
1.5 cups full fat yogurt
3 cups water
½ teaspoon red chilli powder
½ teaspoon turmeric powder
1.2 teaspoon garam masala
1 generous pinch asafoetida (hing)
1 to 1.5 teaspoon salt or to taste
8 tablespoon gram flour (besan)
For Pakora 
1 cup thinly sliced onions
1 cup gram flour
½ teaspoon red chilli powder
½ teaspoon garam masala
½ teaspoon carom seeds (ajwain)
2/3 to ¾ teaspoon salt
½ cup water
Mustard oil for frying
For Kadhi 
1/3 cup chopped onions
1 tablespoon chopped ginger
¾ to 1 tablespoon chopped garlic
8 to 10 fenugreek seeds (methi)
2 green chillies
2 dry red chillies
1 teaspoon cumin seeds (jeera)
1 generous pinch asafoetida (hing)
8 to 10 curry leaves
2 tablespoons mustard oil
Method:  
For Curd Slurry 
In a bowl, add the yogurt and whisk until smooth.
Add gram flour, red chilli powder, turmeric powder, garam masala powder, and salt to the whisked curd.
Stir and mix everything well.
Add 3 cups of water and stir again until there are no lumps.
You can also use a blender to get a smooth, runny batter.
For Pakora 
In a bowl, add the gram flour and carom seeds, red chilli powder, garam masala powder, and salt.
Then, add 1 cup of thinly sliced onions. Combine everything and set aside, covered, for 30 minutes.
Once the onions have released their water into the mixture, add water accordingly to create a thick batter.
Heat oil for deep frying and let it become medium hot. Then, add a spoonful of the pakora batter to the oil.
When the pakora is partially cooked, flip it over. Don't crowd the pan.
Fry until crispy and golden.
For Kadhi  
In another pan or kadhai, heat mustard oil. Make sure to use a large-bottomed pot so the kadhi doesn't spill.
Temper the oil with cumin seeds, fenugreek seeds, and asafoetida. Allow the cumin seeds to crackle and the fenugreek seeds to change colour. Fry the mix on low flame so that it doesn't burn.
Add the chopped onions and sauté for 3 minutes on low to medium-low heat. Then, add chopped ginger, garlic, and green chillies. Sauté for another minute.
Now, add the curry leaves, dry red chillies halved or broken with the seeds removed. Sauté for a minute on low heat.
Next, add the curd slurry and stir everything well.
Increase the flame to medium and bring the kadhi to a boil. Keep stirring so that the bottom doesn't get browned. This should take around 14 to 16 minutes to cook.
After the kadhi comes to a boil, lower the heat and simmer for another 6 to 7 minutes to thicken the kadhi.
Finally, add the onion pakora to the kadhi and stir gently.
Serve with steamed rice.  
Recipe Courtesy: Dassana's Veg Recipes
3. Dahi Kebabs  
A simple and creamy kebab recipe that doesn't feel as hot and heavy on the stomach, Dahi kebabs have a crisp and flaky texture on the outside and are moist and delicious on the inside. It's one of the perfect Indian summer recipes served with fresh mint chutney or mint yogurt sauce.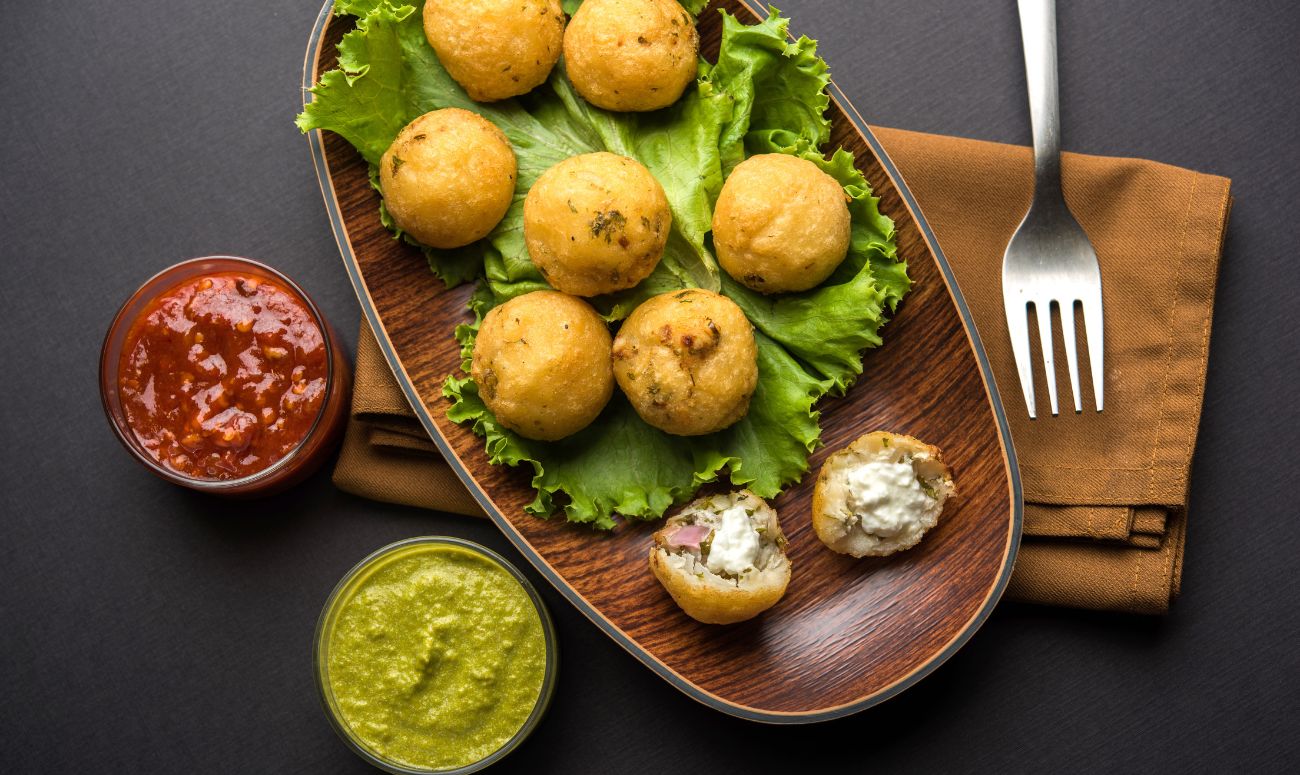 Ingredients:  
3 cups yogurt
1 cup paneer, grated
3 tablespoons finely chopped onions
1 inch finely chopped ginger
2 chillies, chopped
2 tablespoons cashews, chopped
½ teaspoon cumin powder
½ teaspoon garam masala
¼ teaspoon pepper powder
½ teaspoon salt
2 tablespoon coriander, finely chopped
2 tablespoons besan (gram flour)
1 cup breadcrumbs
Neutral oil
Method:  
First, take 3 cups of yogurt and tie it in a clean white cloth.
Place a heavy object on top to strain out the excess water for at least 4 hours.
Transfer the hung curd into a large bowl.
Add the paneer, onion, ginger, chillies, and cashews.
Then, add the cumin powder, garam masala, pepper powder, and salt. Add the coriander before whisking everything well.
Add the gram flour and continue mixing until the mixture is smooth.
Take small ball-sized portions of the mixture and form them into kebabs.
Roll in breadcrumbs and then freeze for an hour or until it turns slightly firm.
Now, deep fry the kebabs in oil, keeping the flame on medium.
Once the kebabs are golden brown and crisp, drain them off.
Serve with green mint chutney.  
Recipe Courtesy: Hebbars Kitchen
4. Puliyogare – Tamarind Rice 
A South Indian delicacy known for its long shelf life, Puliyogare or Puliyodharai is a tangy-spicy tamarind rice recipe that is relished any time of the year. The word 'Puli' means sour and the flavour usually comes from tamarind or kokum.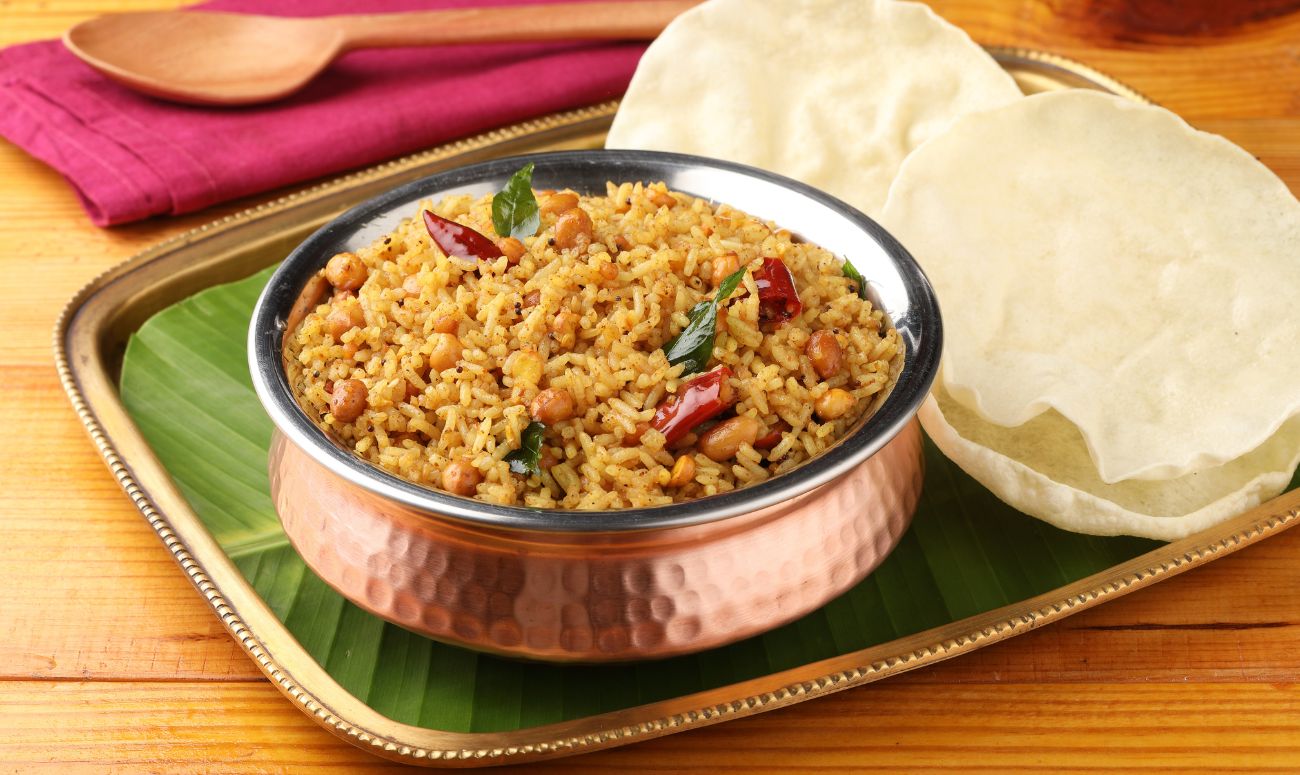 Ingredients:  
For Pulikachal (Spice Mix) 
2 teaspoons tamarind paste
½ teaspoon jaggery
¼ cup raw peanuts, roasted
Salt to taste
Water, as needed
2 tablespoons chana dal (Bengal gram dal)
4 dry red chillies
3 teaspoons methi seeds (fenugreek)
1 teaspoon whole black peppercorns
For Seasoning  
1 tablespoon mustard seeds (rai)
3 dry red chilli
1 tablespoon chana dal (Bengal gram dal)
½ teaspoon asafoetida (hing)
1-1.5 teaspoon turmeric powder
8 curry leaves
5 tablespoons sesame oil
Method:  
Soak the tamarind in water for at least an hour and extract the juice.
Dry roast the chana dal, red chillies, methi seeds, and whole black peppercorns until it turns golden brown. Cool them completely before mixing into a fine powder.
Heat oil in a heavy-bottomed pan, add the mustard seeds, red chillies, and allow it to crackle and roast for a few seconds. Add the tamarind extract, turmeric powder, salt, curry leaves, and asafoetida. Add enough water to make it thin and allow it to boil for at least 20 minutes or until it reduces in half.
Once the mixture has reduced, add the jaggery, ground spice powder and allow the mix to boil for another 5 minutes or until it starts to thicken.
Turn the heat off and cool the pulikachal before adding the roasted peanuts. Keep it aside.
For the Puliyogare, mix the pulikachal with steamed rice in small quantities depending on how tangy or spicy you want the rice to be. Allow the rice to rest for at least 30 minutes before serving.  
Recipe Courtesy: Archana's Kitchen
5. Mango Lassi 
Summer calls for a sweet and thick lassi that acts as a luxurious respite from the humid weather. And what better way to add some flavour to the traditional lassi than with tangy and sweet seasonal fruit that spells summer in a glass?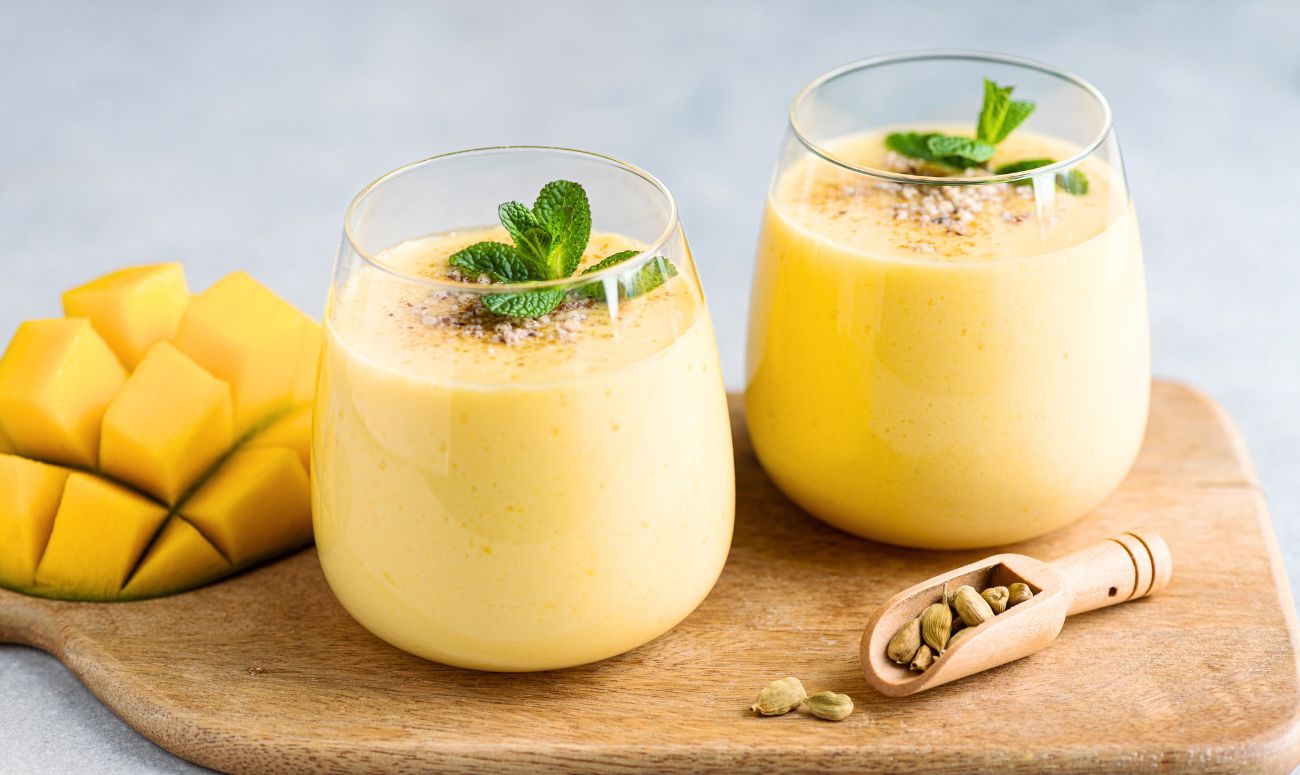 Ingredients:  
1 cup yogurt
½ cup whole milk
2-3 mangoes
1 teaspoon ground cardamom
4 teaspoons honey or sugar
Ice
Method:  
Thoroughly wash the mangoes and remove the pulp.
Add the mango pulp, yogurt, milk, ground cardamom, sugar, and ice into a blender and blend on high speed until smooth and frothy.
Serve in chilled lassi glasses and garnish with pieces of mango.  
Recipe Courtesy: Simply Recipes
6. Pistachio Kulfi  
Nothing is more reminiscent of summer than an ice-cold kulfi freshly brought out from the iconic kulfi mould. And if you can recreate the same taste from the comfort of your home, you'll be able to capture nostalgic moments from your childhood. One of the Indian summer recipes you just have to try!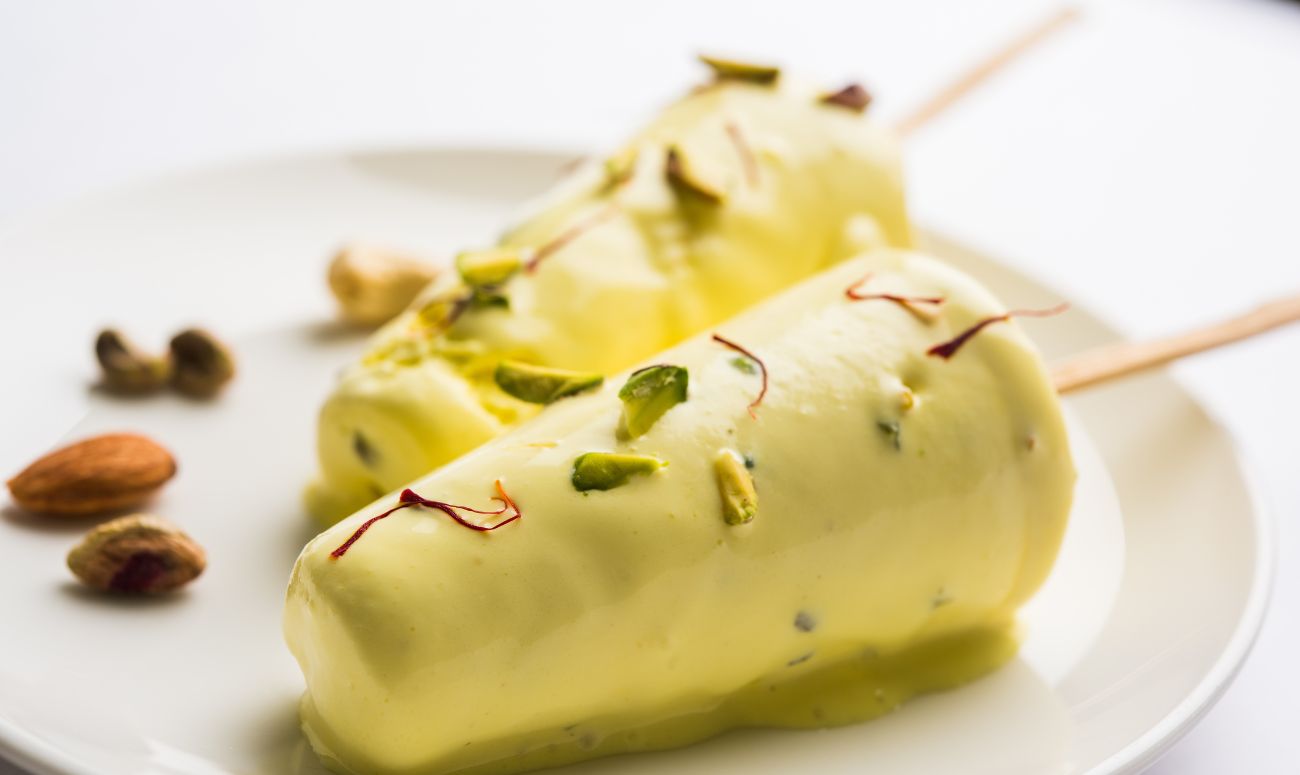 Ingredients:  
3 cups milk
1 ½ tablespoon cornstarch
3 tablespoon sugar
1 cup heavy whipping cream
¼ teaspoon cardamom powder
15-20 pistachios, roughly chopped
1 can condensed milk
2-3 drops green food colouring, optional
Method:  
In a heavy-bottomed pot, add milk, cornstarch, and sugar. Give it a good mix so that there are no lumps.
Bring the mixture to a boil on medium-low heat.
Stir in the cream, cardamom powder, and pistachios and bring to a boil. Keep simmering while stirring to avoid the milk from sticking to the pot.
While the milk simmers, make sure to mix the layer of cream that comes on top and also scrape the sides.
Keep repeating until the mix mixture reduces to half in volume and thickens.
Then, add the condensed milk and green food colouring before mixing well.
Switch off the flame and let the mixture cool completely.
Once cooled, pour in kulfi moulds and refrigerate for 6-8 hours.
To serve, just hold the moulds under running water for 10 seconds and the kulfi should slide out.
Garnish with chopped pistachios sprinkled on top.  
Recipe Courtesy: Shweta In The Kitchen
These recipes will ensure that your body is cool, and your energy levels are stable to combat the heat. And what better way to embrace the season than to consume seasonal produce that celebrates the bounty of summer? Happy Cooking!  
Read More: How To Effectively Relieve Stress As A Manager?
Like & Follow ThinkRight.me on Facebook, Instagram, Twitter, Pinterest and Telegram to stay connected.