13 Year Old Becomes One Of The Youngest Gold Winners In The Olympics
At 13 years old, skateboarder Momiji Nishiya of Japan just became one of the youngest gold medal winners ever at the Olympic Games. She took home the Gold medal for Japan along with two other girls on the podium, who are also teenagers. Rayssa Leaf of Brazil won who took silver is also 13. Funa Nakayam, of Japan who clinched the bronze medal is also a teenager, being just 16 years old. "I welled up in tears because I was beyond happy," Nishiya said after her win, which took place in a nearly empty sports park. The youngest gold medalist ever was Marjorie Gestring, who dominated the women's diving competition at the 1936 Berlin Games at age 13 years and 268 days. Nishiya is approaching her 14th birthday. Heartiest congratulations to all the winners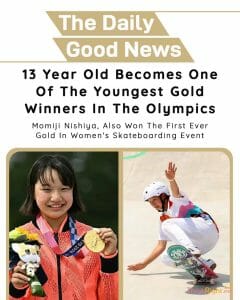 US Police Department Give Out Gift Cards Instead Fines For Broken Taillights
Imagine you're driving around with a broken taillight. You're stopped by the cop, but instead of being fined, you're being given a gift card?
Yes, that's what exactly is happening. Police in Denver, Colorado has designed a new program to improve public safety as well as the relationship between the police and those they serve and it's something everyone can get behind. Instead of issuing tickets, officers will now have the option to hand out $25 gift cards in situations where people are pulled over for minor "fix-it" violations. The program is a partnership with Advance Auto Parts which donated 100 $25 gift cards to the police department.
The Denver Police Department has already begun handing out the gift cards and the response has been very positive for all involved. It has to be a lot more rewarding for a police officer to shock someone with a gift card instead of ruining their day with a fix-it ticket. Kudos to the police officers for taking such a positive step!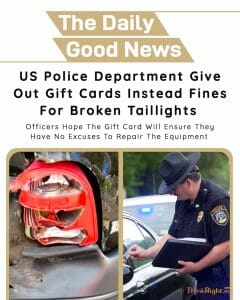 Finding Clean Toilets Becomes Easier In Hyderabad
Finding a clean washroom in busy urban areas of Hyderabad is still an issue for women. Even though the city has toilets for women in abundance, their maintenance is quite poor. An innovator from Vizag, Sushma Kallempudi felt that women suffered a lot due to the unavailability of clean toilets in Hyderabad. Deciding to take things into her hands. She designed the concept and submitted proposals to the GHMC, the State and Central governments and over to 50 corporate CSR wings seeking funds. These toilets are set up on electric auto-rickshaws. Each vehicle will be operated and maintained by a women. Next time you see any of these you know who to thank!
Billion Year Old Continent 'Zealandia' Discovered Under New Zealand
Scientists have known about Zealandia for tens of years, but were not able to define it as a continent. The chunk of land is located beneath the eastern side of New Zealand's South and Stewart Islands. A study was conducted by geologist Rose Turnbull. The study involved crushing down 169 samples of rock and sorting the grains in order of density and magnetics, until all that remained was fine sand and zircon crystals. Turnbull was able to pick out thousands of zircons from the samples, in what she referred to as a 'full-on process'.
The crystals were extracted from rocks originating from the islands of New Zealand – despite Zealandia occupying a region of nearly two million square miles, these rocks are among very few parts that are visible above sea level. A new fragment was found and this newfound fragment of ancient rock may be part of the missing piece for Zealandia. The discovery 'ticks the final box', according to Turnbull. She told National Geographic: "We are sitting on a continent."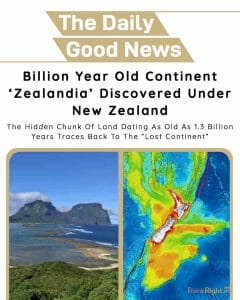 German Gymnasts Defy Conventions And Opt For Full Body Suits
No rules were broken but Sarah Voss's full body suit this week broke all conventions. Until now, women and girls have only covered their legs in international competition for religious reasons. Tow other teammates did the same last Friday during the Womens All Around Final. The German federation (DTB) said its gymnasts performing in the Swiss city of Basel were taking a stand against "sexualisation in gymnastics", adding that the issue had become all the more important to prevent sexual abuse.
"We hope gymnasts uncomfortable in the usual outfits will feel emboldened to follow our example," said Voss.
More power to them, and what better platform than the Olympics to voice your concerns!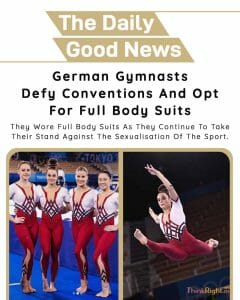 Read the previous week's good news here.