Gurdwara committee hands over donations to fund Covid hospital.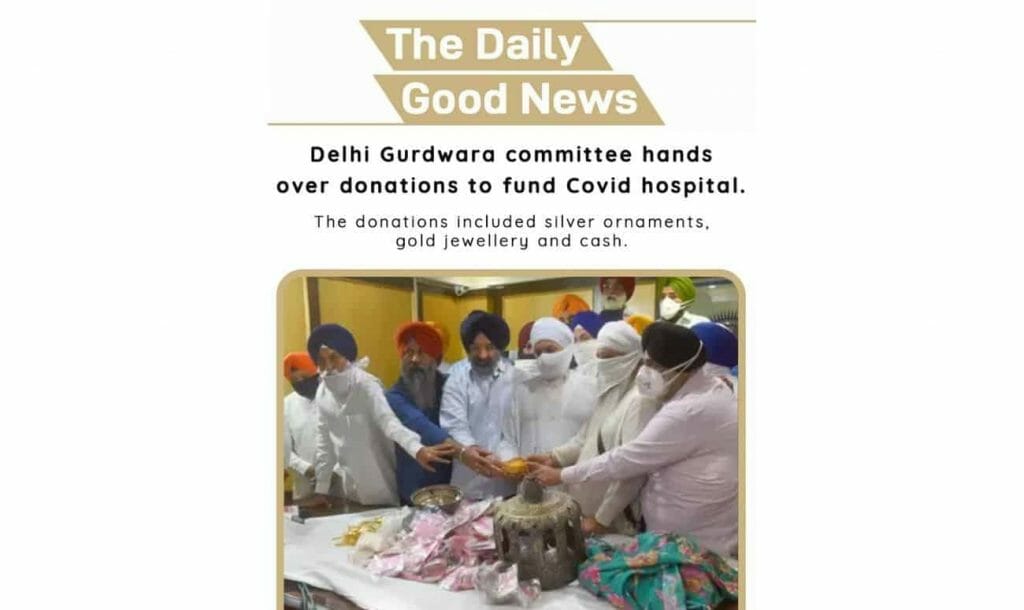 Gurdwara Management Committee on Wednesday, handed over gold, silver and valuables collected in donations over the last few years for building a new 125-bed Covid-19 hospital in Delhi.
Care centre will become hospital later. DSGMC president Manjinder Singh Sirsa and general secretary Harmeet Singh Kalka said the hospital, which they claim will be completed in record 60 days, will be conducted by Baba Bachan Singhji's team, with donations in the form of cash and valuables to be put to immediate use to fight the pandemic. The donations, which included silver ornaments, gold jewellery and cash, were laid out on a table before being handed over to the team.
"Delhi Sikh Gurdwara Management Committee is working to serve humanity as per the teachings of the Sikh Gurus. Our only motive right now is to save lives and lives are far more valuable than the gold we possess," said Sirsa.
Group of girls in Ranchi step up to provide food for the distressed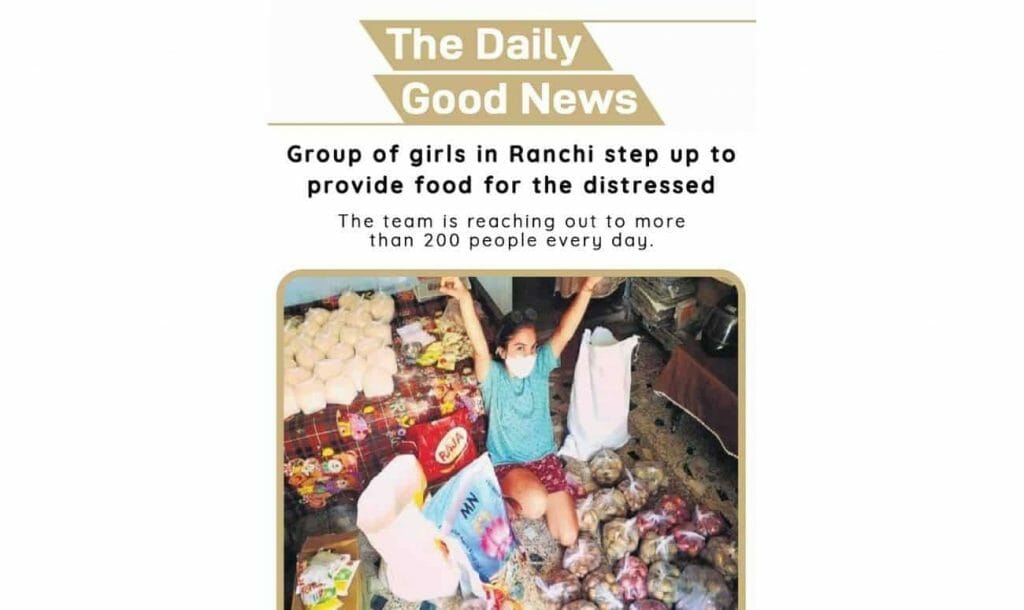 A group of young professionals in their twenties, most of them still pursuing studies, are providing cooked food and dry ration to the poor on the streets during the lockdown.
According to Prerna Kumari, the team leader, they are reaching out to more than 200 people every day. The 23-year-old works for a multinational company. She wanted to do something for society but was not getting a platform. She got to know about Vishalakshi Foundation through Instagram.
"Initially, there was no one to support me except my family. Later, a few people joined and today we are a group of 40 members out of which 20 are very much active," said Prerna. As most of them are still pursuing studies, they take out time from their schedule.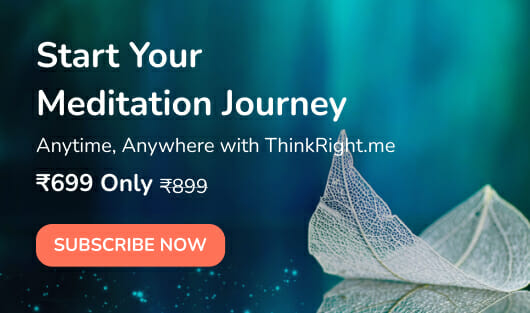 Funds are collected through social media which is utilised in purchasing raw material. The food is distributed in packets.
Kudos to these young women!
Indian School of Business alumni develop indigenous Oxygen plant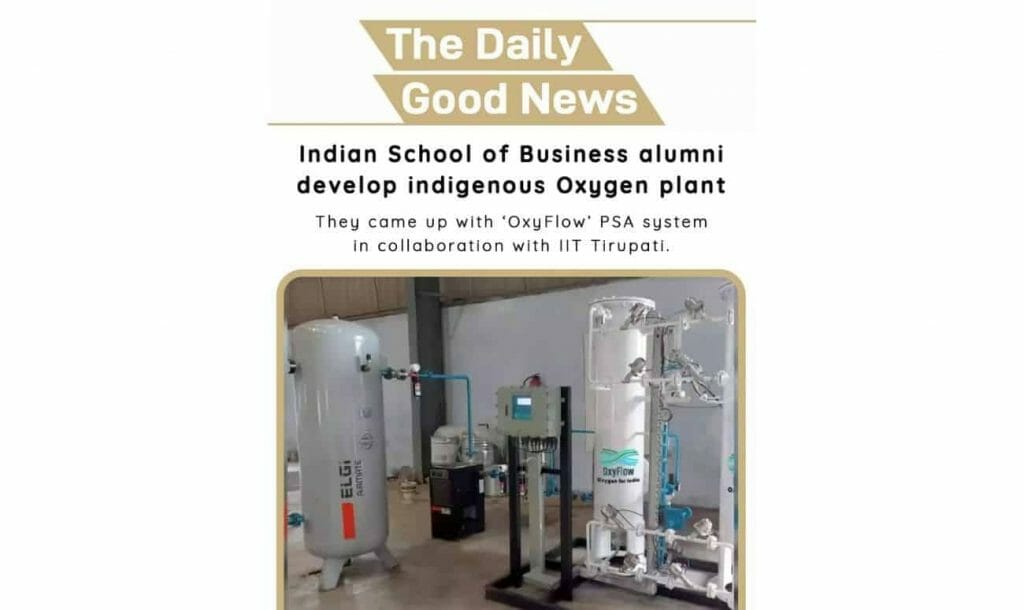 As the second wave of Covid-19 highlighted the severe shortage of the availability of oxygen as well as lack of Pressure Swing Adsorption (PSA) oxygen plants manufactured locally, three friends from Hyderabad — all alumni of the Indian School of Business — have come up with a completely indigenous way to assemble a PSA Oxygen plant using locally sourced equipment.
Prashant Manne, Sireesha Yadlapalli and Ashish Naredi came up with the 'OxyFlow' PSA system in collaboration with IIT Tirupati, and developed a functioning unit at Discovery Labs, an API manufacturing unit in Choutuppal, of which Manne is the CEO.
Residents pitch in with tea, coffee for medicos in Bengaluru government hospitals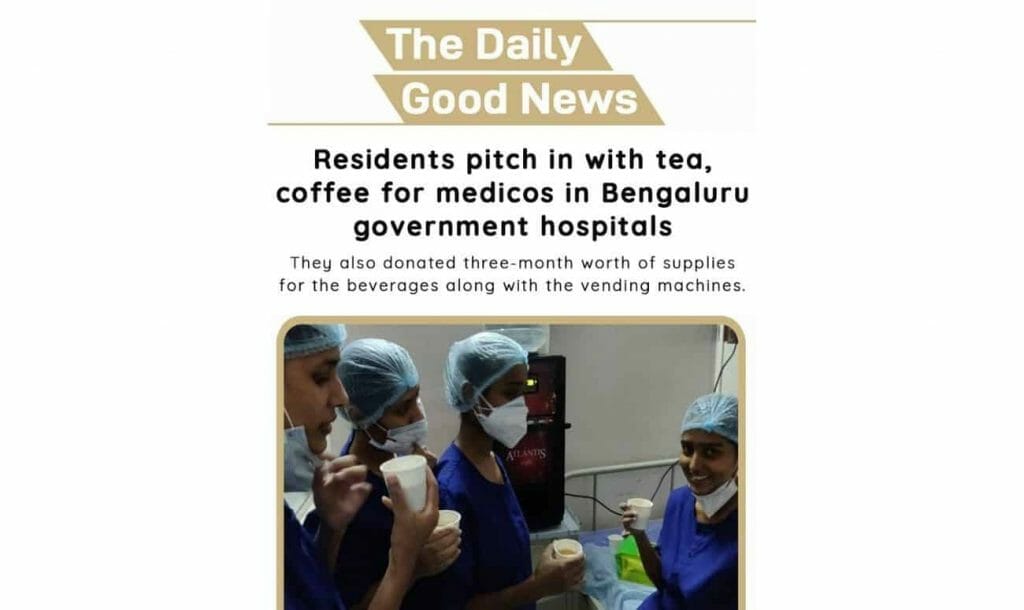 Thanks to a band of volunteers from apartments in Whitefield, harried medical staffers of five government hospitals in the city are getting the comfort of a cup of coffee or tea, which they can enjoy round-the-clock for free.
What is heartwarming is that the volunteers have also donated three-month worth of supplies for the beverages along with the vending machines. While Victoria, Bowring, and Jayadeva hospitals got one dispenser each, St John's Hospital received two. Each machine with 90 days of supplies works out to Rs 1.25 lakh.
The volunteers are looking for financial support to increase the number of hospitals they can cover in the future. Those interested can reach them at www.e-sevahub.com
Senior police officer leads the way to help needy in Maharashtra amid COVID crisis
The Covid pandemic is changing the way we look at various professions, especially the ones that have a straight-jacket definition, such as the police.
For many policemen, maintenance of law and order has also come to mean how you treat the needy; how you possibly stop a future crime by preempting a situation of want and converting it into empathy.
"The pandemic has presented an opportunity for the police force to reach out to the poor and needy," says IPS officer Dr Abhinav Deshmukh, Superintendent of Police, Pune (Rural). Dr Deshmukh and his team have distributed the ration and food packets to more than 5,000 people during the pandemic.
He says there are many people, particularly senior citizens, who had everything but emotional support. "The elderly have felt trapped in lockdowns. They couldn't even step out to get medicines out of fear. That's where we as the police have stepped in and provided emotional and mental succour. We created a helpline for senior citizens. We also formed a separate team to look after them," says the 2009-batch IPS office
This woman is just a call away to serve food to Covid patients in Vizianagaram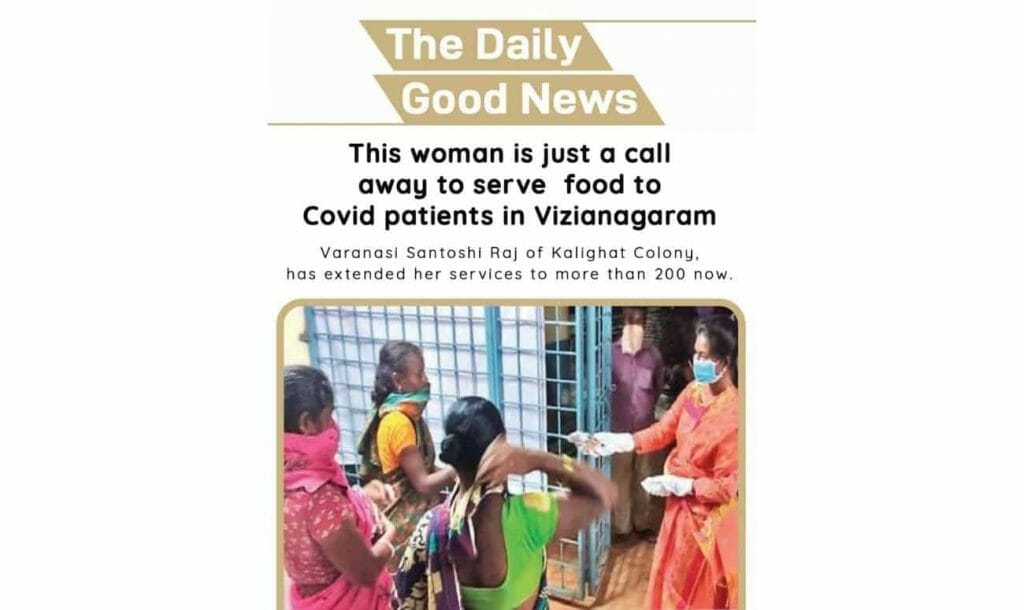 In a heartwarming gesture, Vizianagaram district Superintendent of Police B Raja Kumari prepared lemon rice at home at midnight and served it to migrant workers, who were walking for days without food. The SP received a call from a woman around 11:45 pm on Friday. She told her that she and fellow workers were hungry and had nothing to eat for the past one-and-a-half days.
"The fact that some poor women did not have food for days disturbed me. I called up my officers. They offered to take bread. In lockdown times, getting bread is also difficult at that hour. I know bread cannot appease the hunger of people starving for one-and-a-half days. So, I prepared lemon rice," Raja Kumari said.
Kudo to this lady!
Read more: 30 Body Positivity Quotes That Prove All Sizes Are Beautiful!
Like & Follow ThinkRight.me on Facebook, Instagram, Twitter, and Telegram to stay connected.