Gujaratis are known to have a sweet tooth, so much so that almost everyone from Gujarat adds a pinch of sugar to their vegetables and dal too. So, when it comes to sweets, the general perception is that they would be made extra sweet. However, it's a totally different scenario when it comes to the winter sweets of Gujarat.  
Most of the sweets made during winters in Gujarat are loaded with a variety of warming spices, ghee, dried fruits, edible gum and methi seeds. Eaten in small quantities, these nutrient-rich sweets send the warmth right up to the toes. Lentils form the base of these sweets and they can be had any time of the day as a mini-meal. Methi or fenugreek seeds contain a good amount of fiber and minerals, including iron and magnesium. Edible gum is said to boost stamina and immunity and also adds a crunch to the sweets.  
People from Gujarat believe that all the health benefits of these sweets last throughout the year and so they make sure to consume them in good quantities while the winter lasts.  
Adadiya Pak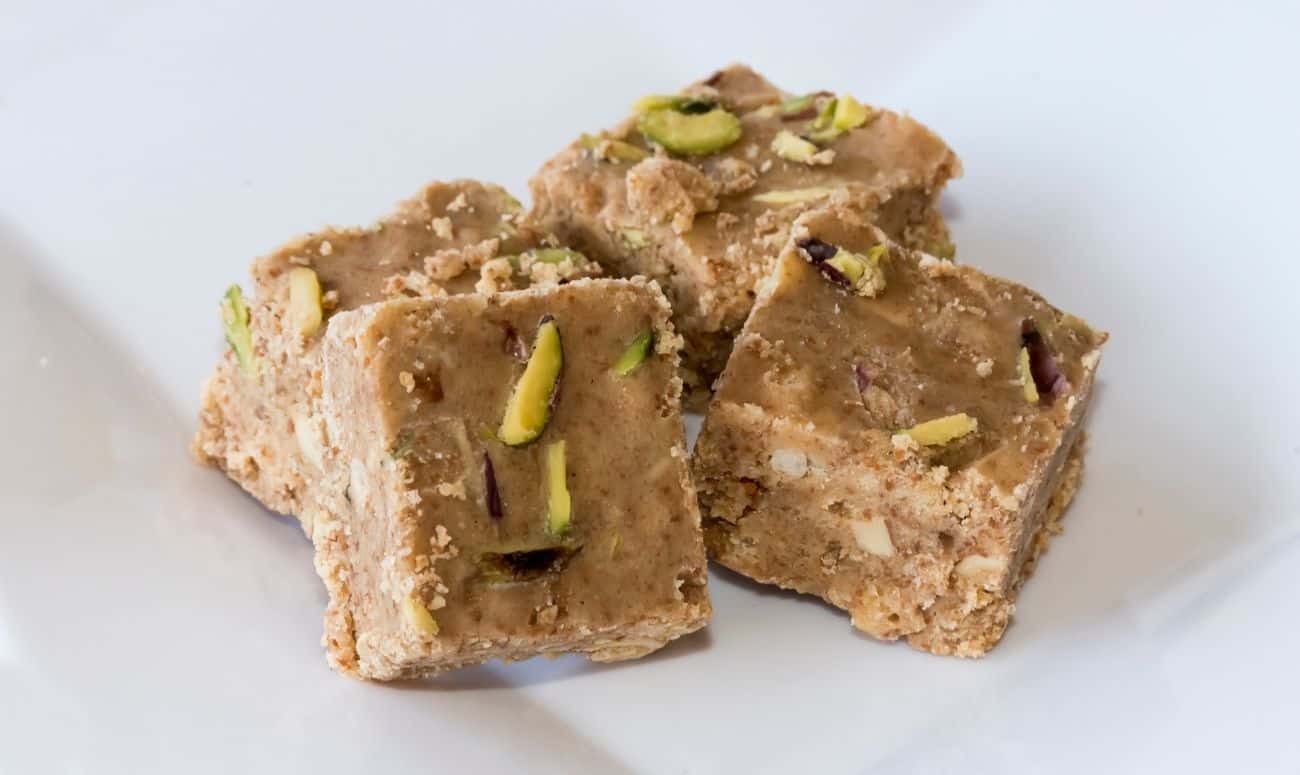 Ingredients:
1 cup ghee
1 cup split black lentil flour
¼ cup milk
2 tablespoons edible gum
¾ cup sugar
¾ cup whole milk fudge, crumbled
2 tablespoons ground dried ginger
2 tablespoons desiccated coconut
½ teaspoon ground cardamom
½ teaspoon ground cloves
½ teaspoon ground nutmeg
½ teaspoon ground pepper
½ teaspoon ground long pepper root (pippali)
1 tablespoon almond slivers, to garnish
1 tablespoon pistachio slivers, to garnish
Method: 
1. Heat the ghee in a wide non-stick pan over medium-low heat. 
2. Place the lentil flour in a bowl. Add the milk and 3 tablespoons hot ghee to the flour and mix well. Leave to soak for at least 2 hours. Sieve to remove the lumps. 
3. Place the sugar with 1 cup of water in a pan and cook to make a syrup of single thread consistency. Leave to cool. 
4. Add the edible gum to the remaining ghee and fry for a few seconds until it blooms. Remove from the pan with a slotted spoon and set aside. Crush the gum into a coarse powder. 
5. Add the sieved mixture to the ghee in the pan and fry until the mixture is fragrant and changes colour. Add the crumbled milk fudge and sauté until it turns pale gold. 
6. Transfer the mixture to a bowl. Add the powdered edible gum and the rest of the ingredients, except the almonds and pistachio slivers, and mix well. Stir in the sugar syrup. 
7. Grease a 15-cm (6-inch) square or round baking pan. 
8. Pour the lentil mixture into the pan and press down firmly into an even layer.  Sprinkle the almond and pistachio slivers all over the top, pressing them down gently into the mixture. Cut into squares when cold and set.  
Methi Laddoo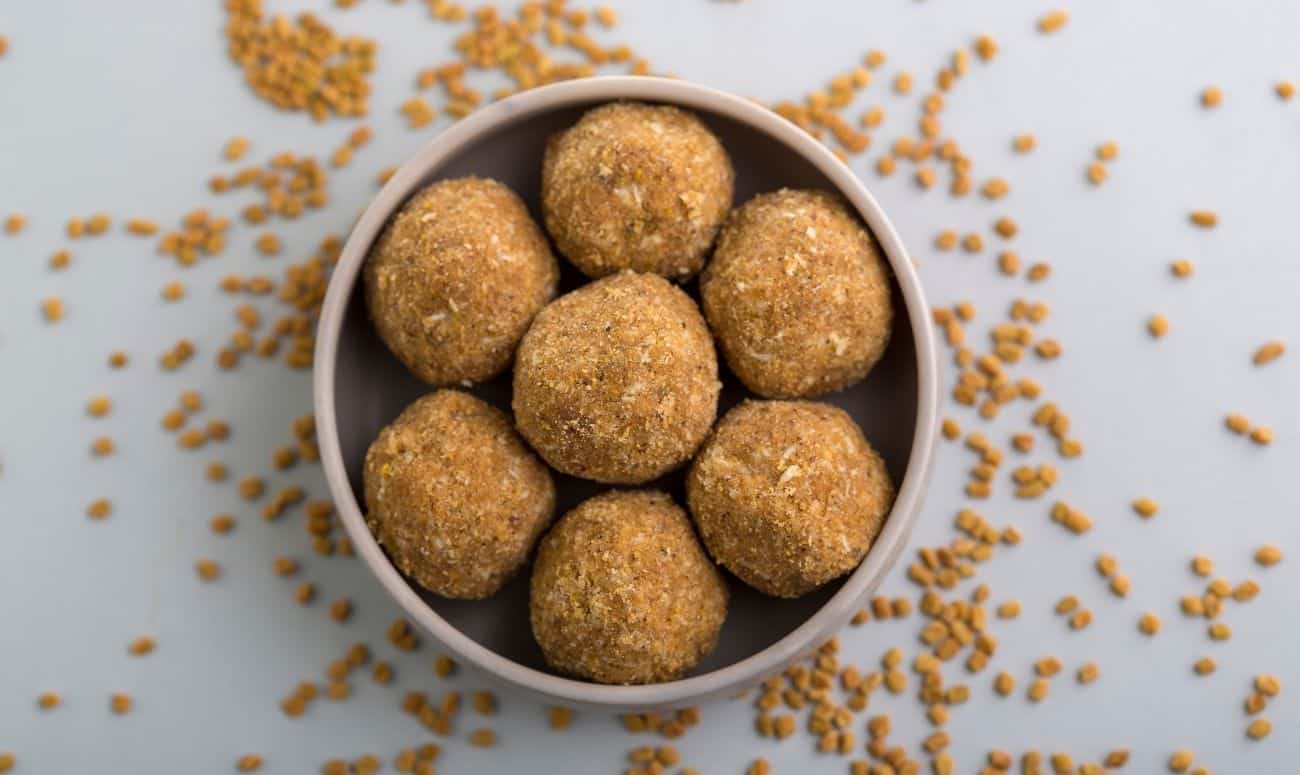 Ingredients:
2½ cups ghee
2 tablespoons natural edible gum crystals, fried
2½ cups whole-wheat flour
1 cup dried fenugreek seeds, ground
1 tablespoon halim seeds (garden cress)
2 teaspoons ground dried ginger
½ teaspoon ground cardamom
2 tablespoons almonds, chopped
2 cups finely powdered sugar
2 tablespoons white poppy seeds
Method: 
1. Heat the ghee in a heavy-bottomed pan; add the edible gum crystals and fry until they puff up. Remove and set aside. To the same pan add the wheat flour and cook on low heat for 5–7 minutes until aromatic. 
2. Add the fried edible gum; mix well and crush it with the back of the spoon. Cook for 3 or 4 minutes on low heat, stirring continuously until the mixture turns golden brown. 
3. Remove from heat; add the fenugreek seeds, halim seeds, ground ginger and ground cardamom and mix well. 
4. Add the almonds and sugar and stir until the sugar dissolves. Leave to cool. 
5. Divide the mixture into lime-sized portions and shape each portion into a ball. Roll each ball in poppy seeds to coat evenly on all sides. 
6. Store in an airtight container. 
Dr. Deepali Kampani is a digital content specialist who weaves health and food through her pen. 
Read more: 8 Effective And Easy Exercises For Busy Moms
Like & Follow ThinkRight.me on Facebook, Instagram, and Telegram to stay connected.