India is a land of great biodiversity and as a result, it is also an agricultural powerhouse. It is one of the largest producers of milk, pulses, wheat, rice, vegetables, cotton, spices and groundnuts. For a country that is largely dependent on agriculture, harvest is an important event and is celebrated almost like a festival. Along with celebrating the agricultural produce, it is also a time for being thankful to nature for its abundance.  
Given the difference in climate, different crops are harvested at different times. Most of the harvest festivals in India fall around mid-January at the same time when an important astronomical change happens in the solar system. The Sun begins its Northward journey that marks the end of the winter solstice. This period is considered auspicious and celebrated along with harvest. 
Harvest Celebrations Across India 
Different harvest festivals celebrated across India include Lohri, Makar Sankranti, Pongal, Bihu, Baisakhi, Onam, Ugadi, Vishu, Nuakhai, Gudi Padwa, Basant Panchami, Nabanna, Agera, Wangala, Dree and Holi.
The Significance Of Lohri 
Lohri is celebrated by the people of Punjab on the 13th of January, which is believed to be the longest night of the year. The name Lohri comes from 'loh' meaning light and warm fire. The main highlight of Lohri is the ancient tradition of lighting the bonfire and gathering around it. People circle the fire, singing and praying to the Fire God to bless them and the land with abundance and prosperity.  
They sing songs and throw peanuts, til (sesame), jaggery, puffed rice and popcorn in the bonfire.
Lohri marks the harvest and sowing of sugarcane, and therefore sweets made using jaggery like Gajak and Revdi are key items of the Lohri celebration. Festive foods special to this occasion include sarson ka saag, makki di roti and til gur rice. 
Revadi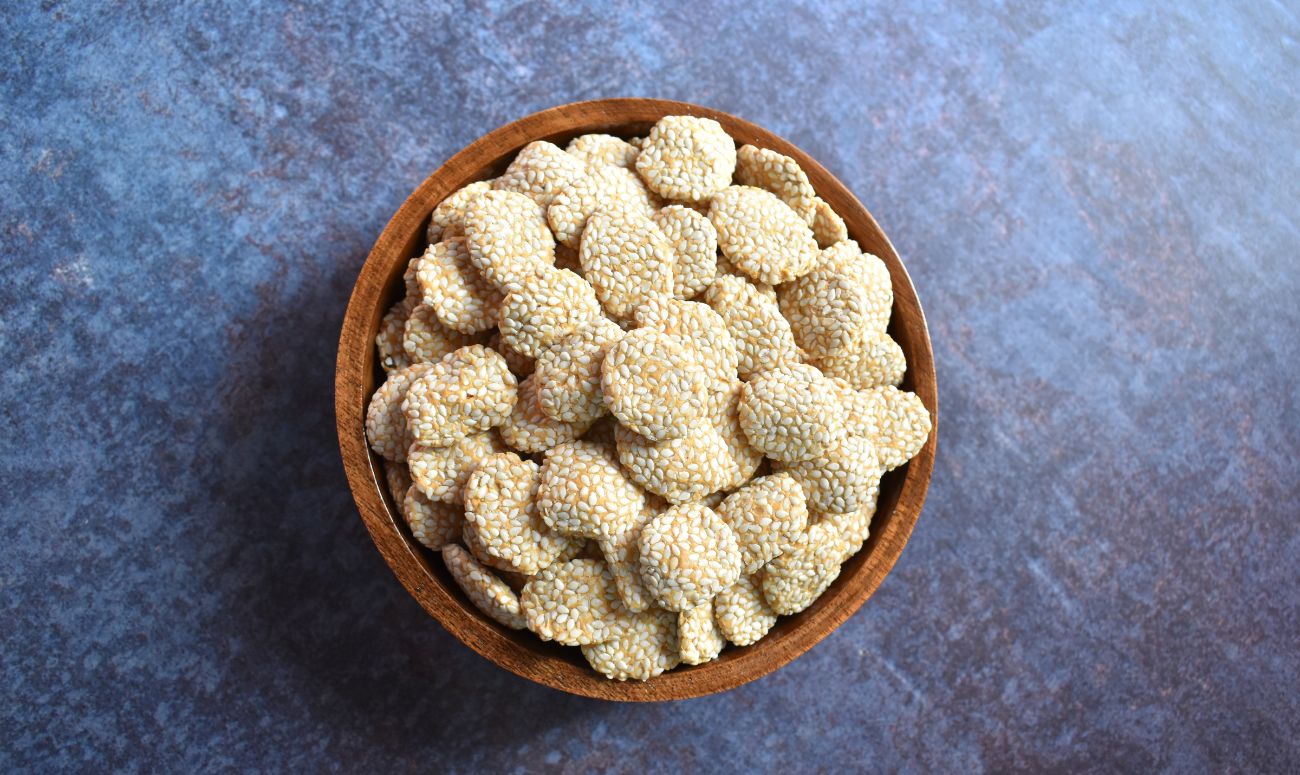 Ingredients 
¼ cup white sesame seeds  
1½ cups sugar
¾ cup water
¾ teaspoon salt
¾ cup corn syrup
1 tablespoon rose water 
1 teaspoon cardamom powder
1 tablespoon ghee
Method 
1. Dry roast white sesame seeds in a heavy-bottomed pan for 2-3 minutes on medium-low flame. Keep aside. 
2. Combine sugar, water, salt and corn syrup in a deep heavy-bottomed pan and place it on medium flame. Add rose water and cardamom powder. Keep stirring only till the sugar dissolves. Cook until the syrup turns bubbly. 
3. Pour it on a silicone mat and spread it evenly. Allow it to cool for one minute. Using a spoon, gather syrup towards the centre of the mat. Keep mixing until it slightly cools down to thicker consistency.  
4. Grease your palms with clarified butter and start kneading. Pull and fold. Repeat until the mixture turns creamy-white. 
5. Keep 2 tablespoons of sesame seeds aside; spread the rest on the mat. Incorporate them into the dough by pulling and folding. 
6. Divide the dough into six portions. Using your palms, roll out cylinders of ½ inch thickness. Cut ¼-inch disks out of each cylinder. Shape them into balls and flatten them by gently pressing them between your palms. 
7. Coat the disks with the remaining sesame seeds and store them in an airtight container.  
The Meaning Of Makar Sankranti 
Makar Sankranti or Uttarayan is the oldest and most colourful harvest festival in India. 'Makar' means the 'Capricorn' sun sign, and 'Sankranti' means movement, which translates to 'the transition of the sun to the Capricorn sun sign'. 
Makar Sankranti is considered a very auspicious day in the Hindu calendar as it marks the beginning of a period full of light. In North India, it is celebrated as the harvest festival with the lighting of bonfires, carnivals, songs, dances, kite flying, and rallies. Thousands of people across the country take a holy dip in the waters of various rivers on this day, since it is considered to be auspicious and believed to bring good fortune. 
One of the most well-recognized traditions of Makar Sankranti is the flying of kites across Gujarat and other parts of the country. On the day of Uttarayan, til (sesame seeds) and gur (jaggery) play a very important role in various rituals that are performed across the country. 
Til Laddoo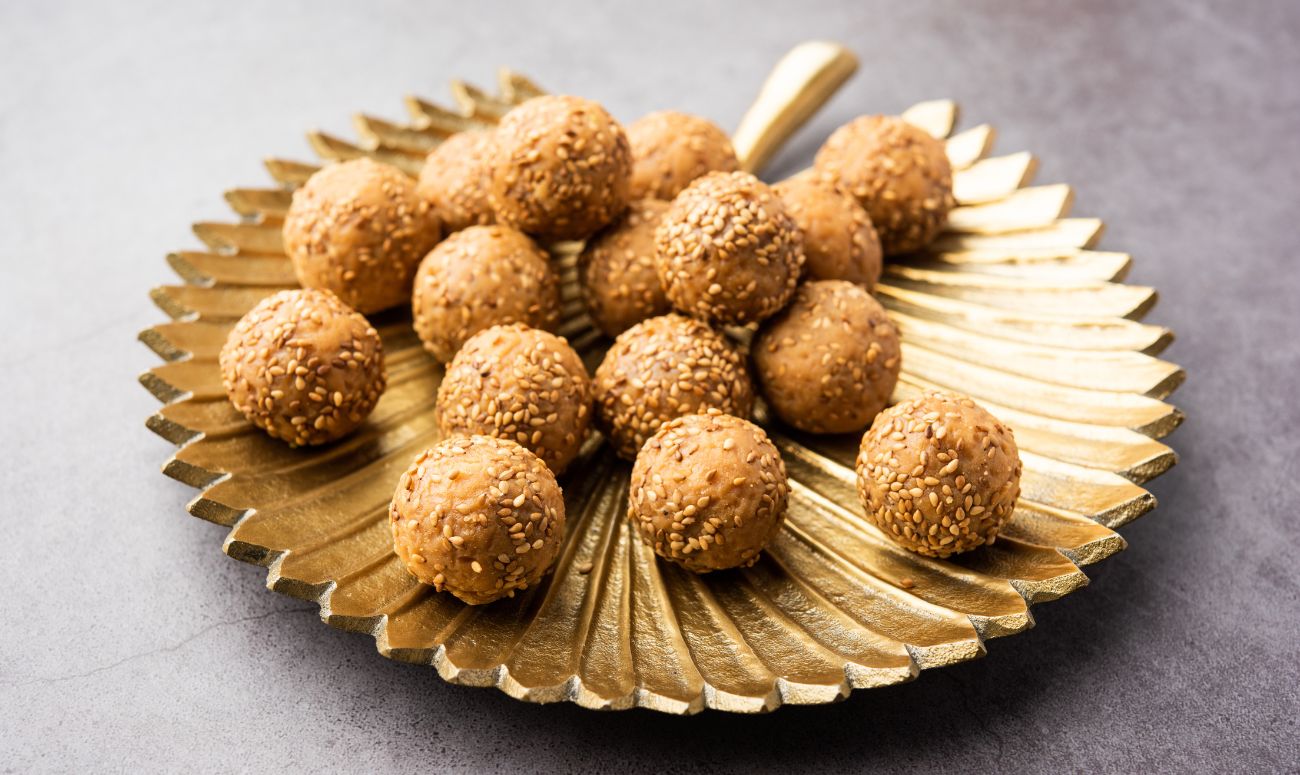 Ingredients 
½ cup sesame seeds
4-5 cardamom pods
1 tablespoon ghee
½ cup grated jaggery
1 teaspoon milk
Method 
1. Roast the sesame seeds in a heavy-bottomed pan over medium heat until fragrant. Set aside to cool. 
2. Grind the sesame seeds and cardamom seeds together. 
3. Heat the ghee in a heavy-bottomed pan; add the jaggery and cook, stirring until it melts. Do not let the jaggery boil. 
4. Add the ground sesame mixture and the milk. Stir briskly to mix well. Remove from heat and leave to cool slightly. 
5. While still warm, roll small quantities of the mixture into balls. If the mixture is too dry, add a teaspoon of milk to moisten it.
The Celebration Of Pongal 
Pongal is a harvest festival celebrated by the Tamil community for four days. The first day is devoted to Lord Indra, the Rain God; the second day is considered most auspicious when newly harvested rice is cooked with milk as Pongal and offered to Sun God; the third day is for cattle worship; and, the fourth day is celebrated by cooking and serving traditional coloured rice. 
The word 'Pongal' literally translates to 'boiling over' and therefore when the rice and milk cook, they are allowed to boil over, which is seen as a symbol of prosperity and a bountiful year ahead. People gather around the stoves and when Pongal boils over, they blow conches and chant 'Pongal o Pongal' as an expression of joy. 
Sakkarai Pongal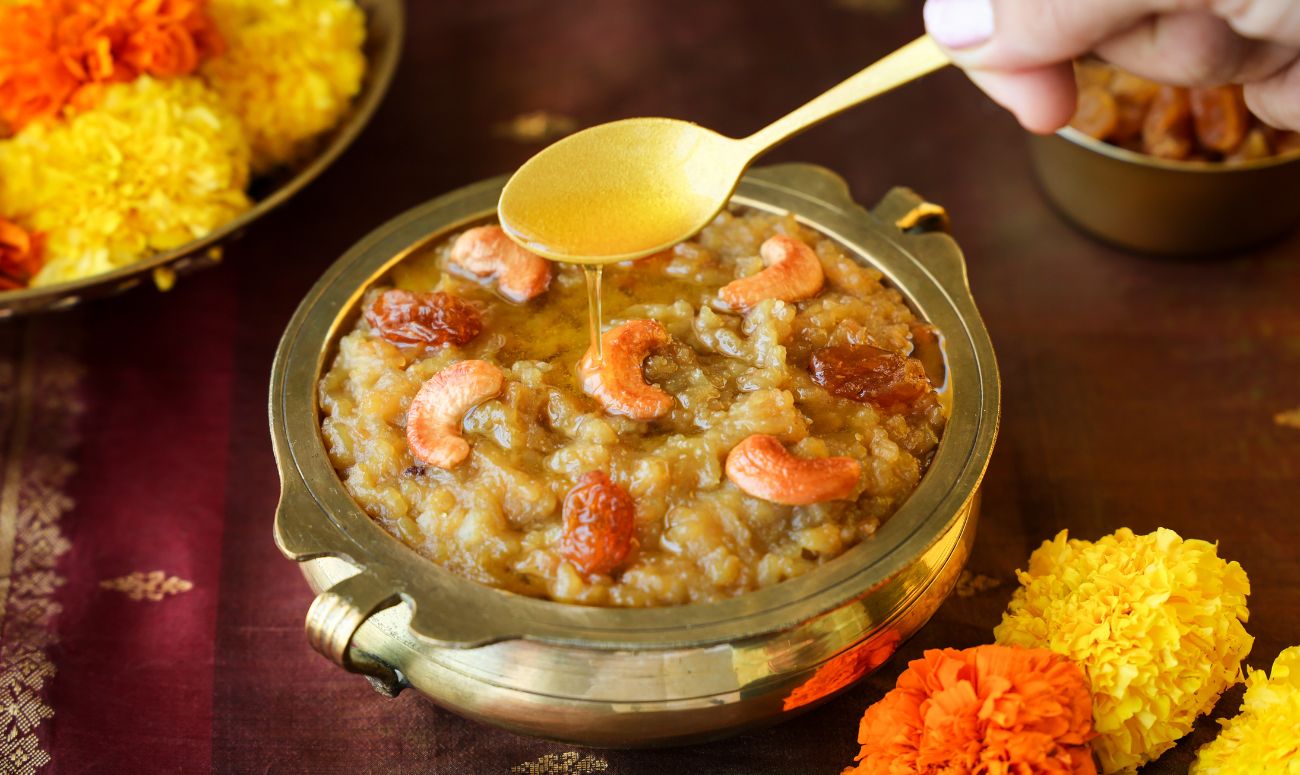 Ingredients 
1 cup short-grain rice
½ cup split mung beans
2 cups milk
1 cup water
Pinch of salt
1½ cups grated jaggery
4 tablespoons ghee, divided
10 cashew nuts
12 raisins
Seeds of 3 cardamom pods, crushed
Method 
1. Soak the rice in water for at least half an hour and drain it. Dry-roast the split mung beans on a hot skillet until fragrant. Pour the milk and water into a heavy-bottomed pan and bring to a boil. Add the rice, roasted beans and salt and cook on low heat until the rice and beans are soft. 
2. Add the jaggery and cook, stirring, until completely dissolved. Stir in 2 tablespoons ghee and continue cooking on low heat, stirring occasionally.  
3. Heat the remaining ghee in a small frying pan; add the cashew nuts and raisins and sauté for a minute. Add to the pan of cooked rice and beans with cardamoms and stir to mix.  
The Festival Of Bihu 
Bihu is the most important festival in Assam. There are three Bihu festivals celebrated in a year, each one coinciding with a distinctive phase in the farming calendar.  
Bhogali or Magh Bihu is the harvest festival and marks the end of the harvesting season. Since the granaries are full, the celebrations involve a lot of feasting and eating.
On Uruka, the day before Magh Bihu, men go to the field and build a makeshift cottage called Bhelaghar with the hay of the harvest fields and light the bonfire or Meji. They prepare food and there is community feasting everywhere with people singing Bihu songs, beating Dhol or playing games.
The next morning, they take a bath and burn the main Meji. People gather around the Meji and throw Pithas (rice cakes) and betel nuts into it while offering prayers to the Fire God.  
Til Pitha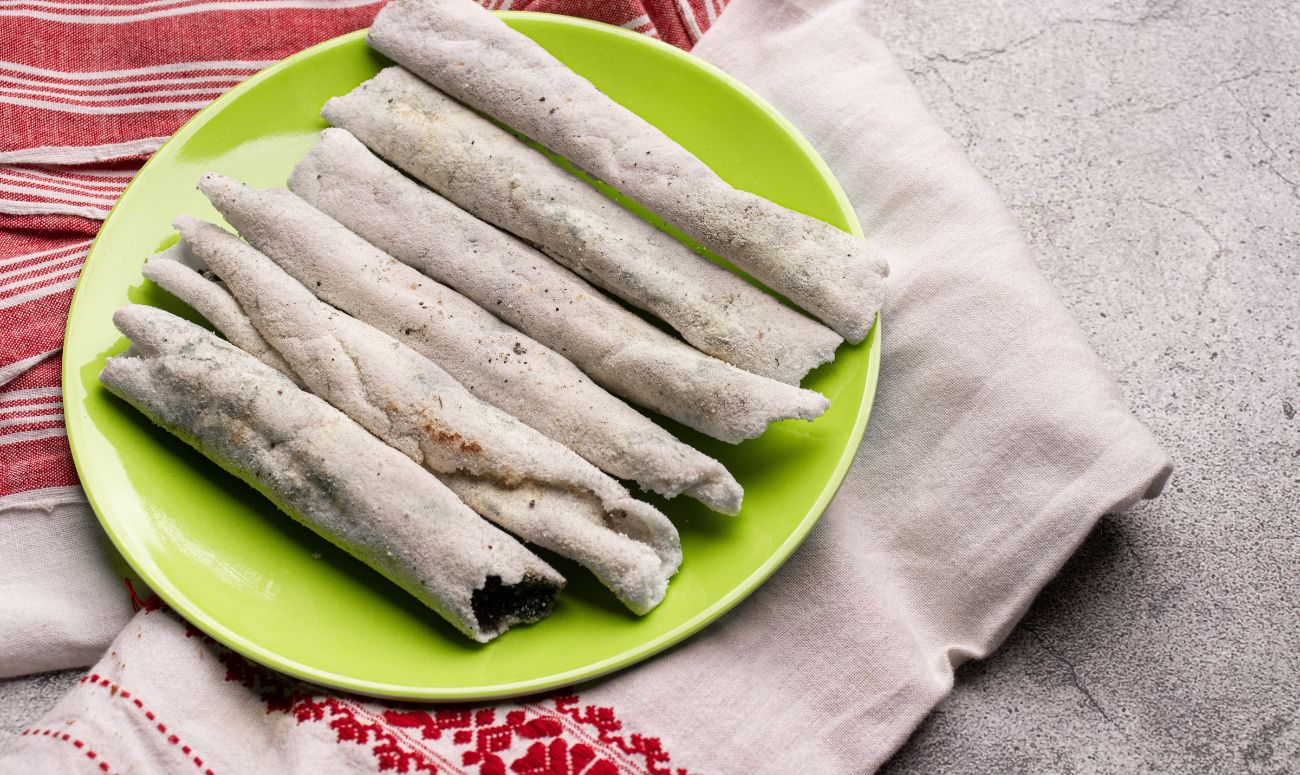 Ingredients 
2 cups glutinous rice (bora saul)
½ cup black sesame seeds
½–¾ cup grated jaggery
Method 
1. Soak the rice in water overnight. Drain and spread out on a clean kitchen towel to dry. Grind to a fine powder and store in an airtight container. 
2. Roast the sesame seeds in small quantities on a hot griddle until crisp. Allow cooling completely. Combine the grated jaggery and sesame seeds in a bowl. 
3. Heat a griddle and spread a ladleful of ground rice on it to form a 4-inch circle. Spread some sesame seeds and jaggery mixture in the centre of the circle. The ground rice will firm up as it cooks. Roll up gently to enclose the sweet filling. Cook for a few seconds longer until firm, but still white. Move the rolls to the edges of the griddle as you cook the rest of the rolls, so they continue to firm up and set. Serve either warm or cool and store in an airtight container once completely cooled. Reheat gently before serving. 
Dr. Deepali Kampani is a digital content specialist who weaves health and food through her pen. 
Read More: How To Set Healthy Boundaries as A Youth 
Like & Follow ThinkRight.me on Facebook, Instagram, Twitter, Pinterest and Telegram to stay connected.