9-Year-Old raising 51,000 for COVID care, youngsters spraying disinfectants in public spaces, students setting up a tele-clinic for COVID patients, and much more.
By ThinkRight.me
May 30, 2021
4
MINS READ
In home isolation? All-women group 'Naarisena' is here to help COVID-19 patients
A group of four women under the moniker Naarisena has been serving nutritious meals to Covid-19 patients in home quarantine in Kakinada. Naarisena, mooted during the outbreak last year, also helps poor Covid patients, and serves food to 90 people every day in the city. "Apart from food, we also deliver medicines to Covid-19 patients who are alone or poor. We do not charge them for our services," one of the members said. Lavanya Samayamantry, Padmaja Gogireddy, Padmaja Koduri, and Bhanu Maddala are assisted by Varsha Pichikala and Anasuya Paningapalli in their initiative. Started by Latha Chowdary Botla of Hyderabad a year and a half ago, Naarisena has since spread to different parts of Andhra Pradesh and even Bengaluru.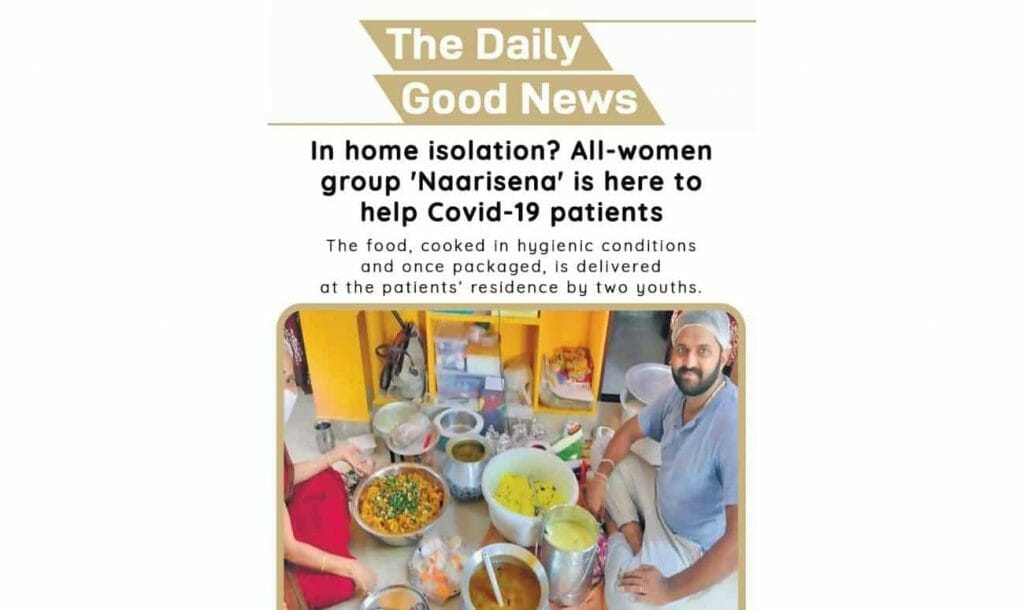 Tamil Nadu's Thanjavur district have come together and created an 'Anbu Suvar'
The residents of Kumbakonam town in Tamil Nadu's Thanjavur district have come together and created an 'Anbu Suvar' or a 'Wall of Kindness', reports News18. Located at Sarankabani Koil Sannidhi street, it has been filled with 100 rice packets, biscuits, and packaged bottles of water that anyone can take for free during the lockdown. Kudos to all these good samaritans!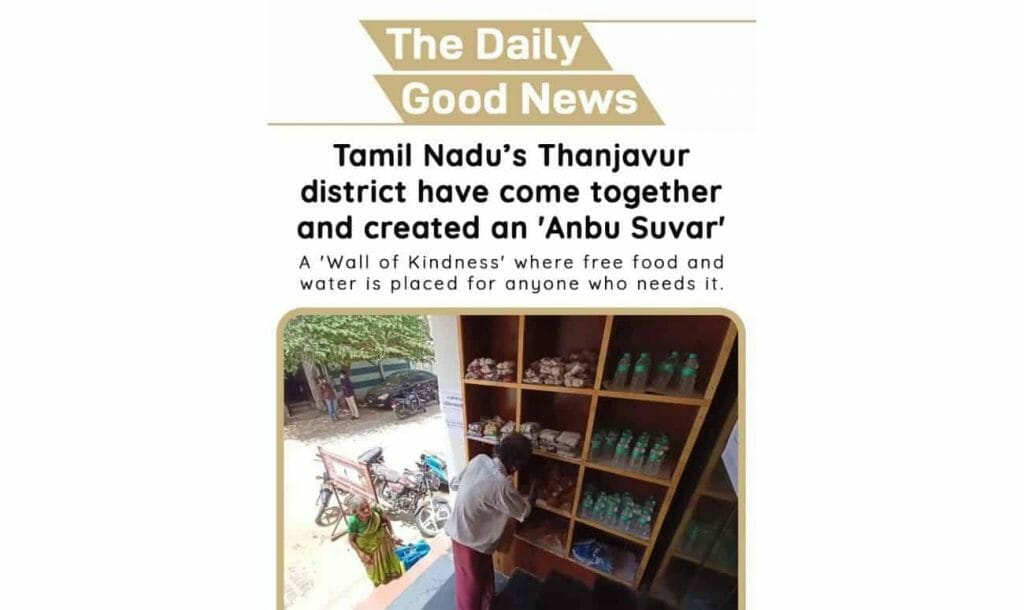 This 55-year-old Surat doctor is treating patients despite his disability
Bhacca is a neurosurgeon, and the fourth generation of the family that has dedicated itself to serving the needy. He suffered from a major accident while pursuing his medical degree, because of which his body remains bent at waist at almost 80 degrees whether he is standing or walking. Keeping all his hardships aside, he is doing his duty and charging just Rs 20 as consultation fee. Which is easily waived off for many of those who cannot afford to pay it. His clinic is in the Shahpore, the historic Parsi community residential area in Surat. For some, service comes before money, and Dr Sarosh Bhacca is the finest example!
These two youngsters are sanitising public places in Davangere City, Karnataka
Carrying a bag of disinfectants, and a pump spray on their back, this duo sets out early morning to disinfect public areas in the city. So far, they have sanitized about a dozen areas, as well as 4 houses of COVID patients. They both follow all safety protocols, wear a triple mask, face shield, and gloves. "We finish our work before people start commuting on roads. This is just a small token of respect to the society," said Soujanya. They both are students and go back home to attend their online classes after the completion of their sanitization work. The world needs more people like Soujanya and Rudresh, who selflessly serve mankind!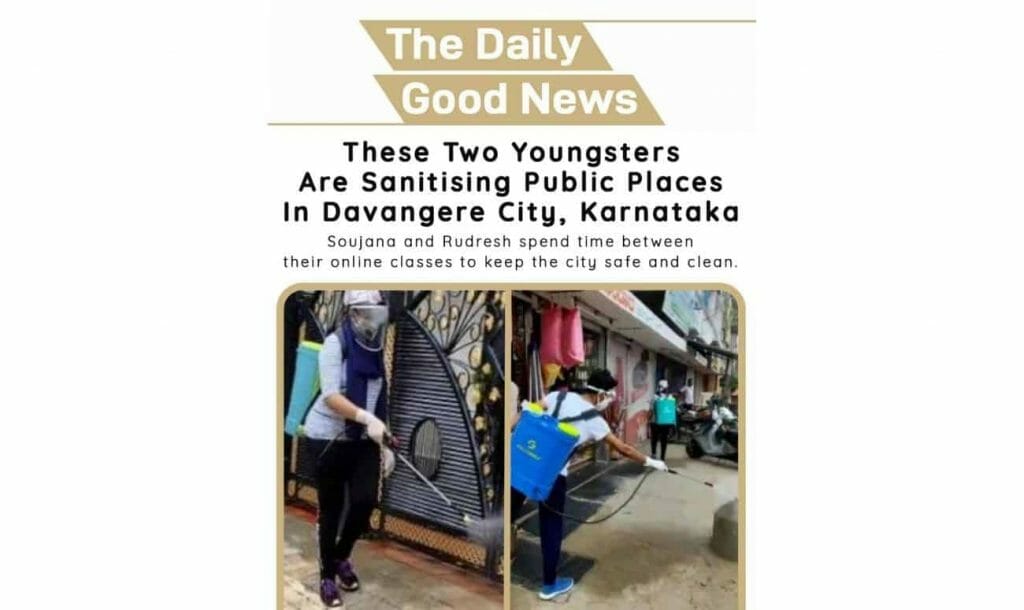 Students set up a free tele-clinic 'Hello Doctor' for COVID patients in Karnataka
The State Committee of the student organisation AIDSO began this initiative on May 22, where people with COVID symptoms can call for assistance. 35-40 are working pro-bono, and about 4,000 students have split up into various teams that are dedicated to help those in need. For now, two sessions of one hour each will be held from Monday to Saturday (9-10 am and 4-5 pm) and three sessions (10-11 am; 12-1 pm; 5-6 pm) will be held on Sundays, where patients can call ask their doubts and queries and get answers from experts. For appointment call on: 9164220387, 9035762866, 8951824630, 9538627750, 8880744437, 9632127094. Reach the ground team on: 7760161751. Kudos to all these students and doctors for stepping up in the need of the hour!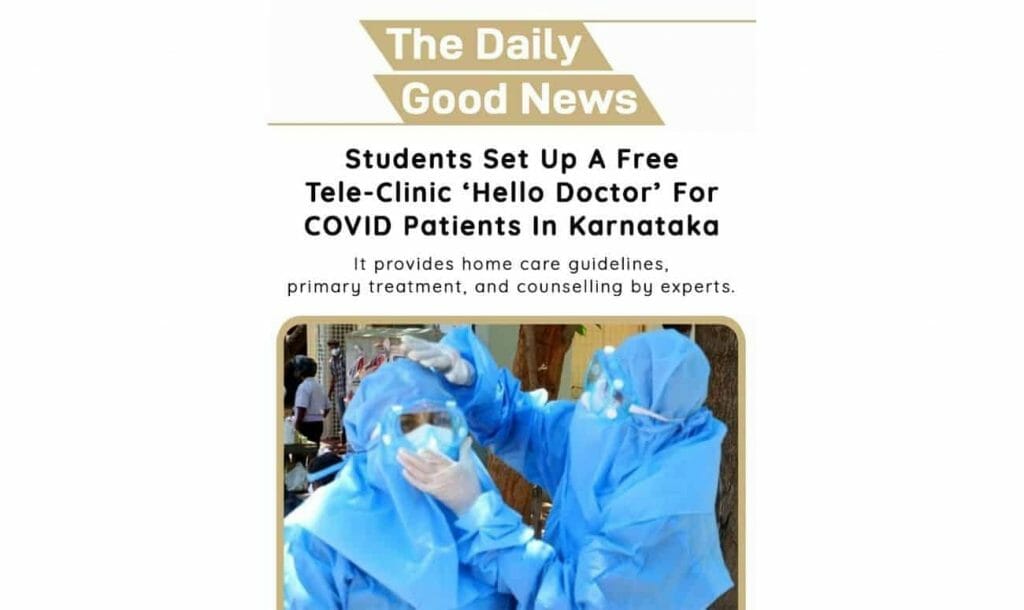 9-year-old kid raises Rs 51,000 through online chess tournament, donates for COVID care
When him and his entire family was infected with COVID, Adhiraaj saw his family members struggling for medicines, oxygen concentrators, and hospital beds. When they all recovered, Adhiraaj's aim was to help those troubled by COVID. With the help of his coach, he organised an online tournament, where 100 people participated. It was up to the participants to donate, where 25 people made their contributions. All the sum collected was then forwarded to Hemkunt Foundation. In an earlier effort, this little wonder had also collected over Rs 2 lakh to help poor children pay their school fees when their families faced financial problems due to the lockdown. Kudos to this tiny do-gooder!
Social media to the rescue of this poor kid in Telangana
A Twitter user by the name of Robin Zacchaeus spotted him outside Gandhi Hospital, Hyderabad. The boy said he was begging because his mother was unwell. Upon asking, the boy agreed to join a welfare home, instead of staying on the streets. After which, Robin urged people to help him and even shared his contact details. His post got a lot of traction, with many people including the Minister For Municipal Administration & Urban Development, Industry & Commerce, Information Technology, K.T Rama Rao came forward to help him and one other boy to get them a welfare home. Social media has recently been a boon to many, including these little boys!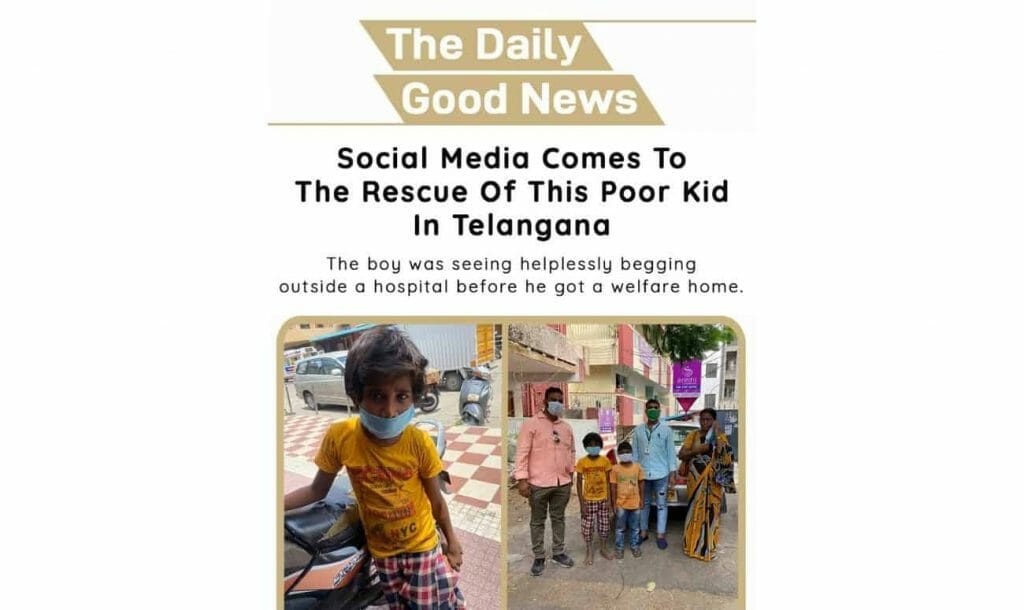 Stay tuned for more good news next week.
Until then, stay safe and stay indoors.
To read last week's round-up click here.
What's Your Reaction?
आपकी प्रतिक्रिया?