These delicious meals will surely fix your homesickness.
By Rhea Shah
October 23, 2020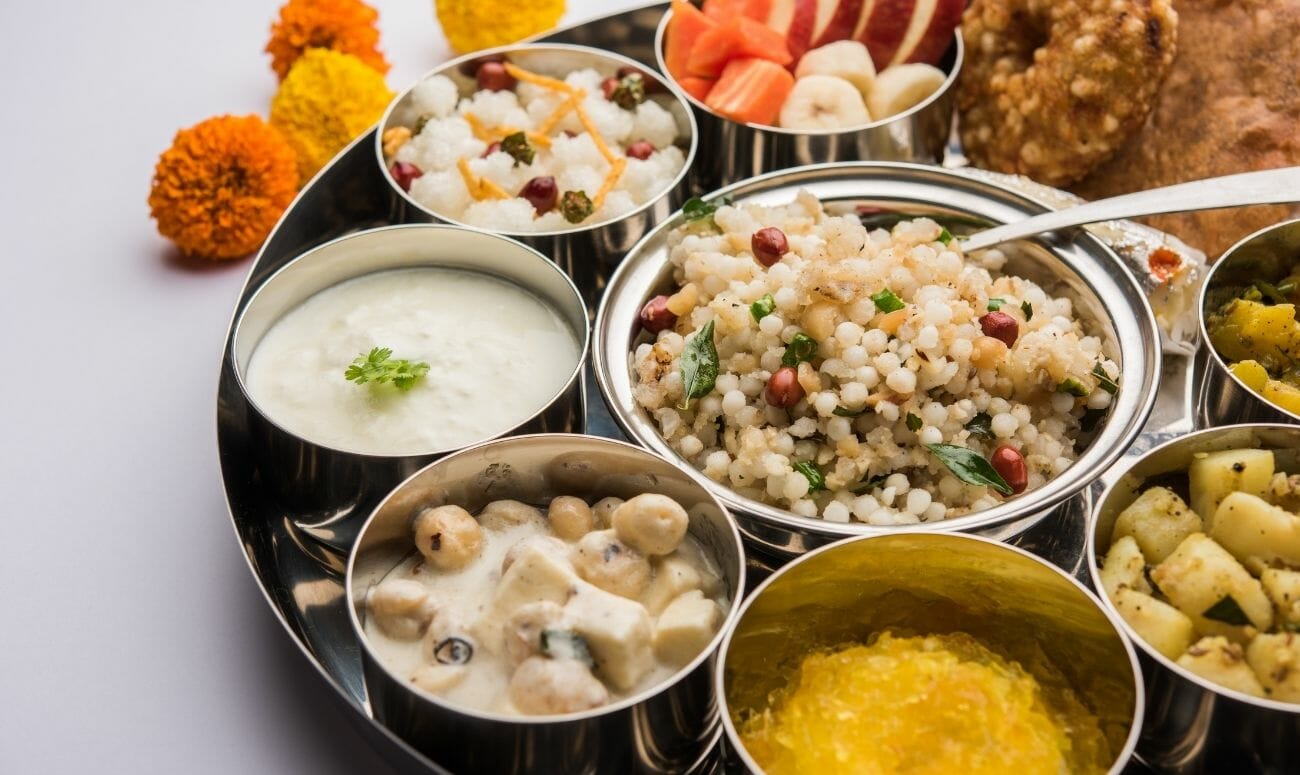 2
MINS READ
Dussehra is celebrated with great pompous across India, from 'Ravan Dahan' in North India, to fasting and festivities in the South. And when there is a mention about festivals, how can we not talk about food! A typical Dussehra morning would begin with the family sitting and sharing 'jalebi fafda,' 'sabudana khichdi,' or 'aloo puri,' right?
If you're missing being back at home this year due to the lockdown, then these special Dussehra meals will surely transport you back to your loved ones!
Rajwada Thal – BKC (Mumbai)
The Navratri meal at this restaurant is a medley of spices and flavours. The dishes are exclusively prepared with 'vrat special' ingredients to meet the demands of those on a fasting spree. With an assortment of pakoras, puri, gravy dishes, drinks, and desserts, the 'Upvas Thali' at Rajwada Thai is a wholesome meal to savour during Dussehra.
Must try: Rajasthani Thali, Dal Baati.
You can place your order here.
Punjab Grill – Janpath (Delhi)
The thali at Punjab Grill includes dishes like Khasta Arvi Chat, Chironji ki Dal, Dahi wale Aloo, Kaddu ki Sabji, Aloo Singhara, Dahi Vada, Samak ka Rice, Sabudana Papad, Rajgira ki Puri and more that'll keep your belly happy and full.
Must try: Kaddu ki Sabji, Aloo Singhara, Dahi Vada, Samak ka Rice.
You can place your order here.
Kota Kachori – Koramangala (Bengaluru)
Whether you want to have a quick snack or order in a good meal for Navratri, Kota Kachori aka Falahaar (they're basically the same brand) is the place for you! Simple and homely, their Sabudana dishes – Khichdi, Vada and Dahi Vada – are a must-try here. They also have a range of sweets for your sweet tooth!
Must try: Laccha Rabri, Hing Kachori, Aloo Kachori.
You can place your order here.
Krishnavillasam, Adyar (Chennai)
Popular for its South Indian cuisine, Krishnavillasam needs no introduction. Munch on their wide range of vegetarian fare and try their unique authentic dishes to make your Dussehra special!
Must try: Kadala Curry, Vazhapoo Vada, Semiya Payasam.
You can place your order here.
Let food bridge the gap between you and your loved ones this Dussehra!
Read more: What Is Sattvic Food And The Science Behind It?
Like & Follow ThinkRight.me on Facebook, Instagram, and Telegram to stay connected.
What's Your Reaction?
आपकी प्रतिक्रिया?