The gift-giving season has finally arrived, with the air getting cooler and the drinks getting warmer. From holiday parties to bright festive décor, and shopping for presents, this is the best time of the year to bring joy. But for some, finding the perfect present is never easy, no matter how well you know the person you're shopping for. It gets harder to come by unique gift ideas year after year. To help you find a lovely gift for those special people in your life, we've rounded up the most mindful holiday gift options for 2022.
We've covered everything from the best gifts that'll impress your self-care-loving best friend and the coolest presents for the men in your life to trendy gifts that'll wow children and adults alike.
21 Holiday Gift Ideas That Elevate The Everyday
For the one who loves self-care
Disguise Cosmetics Rainbow Glow Oil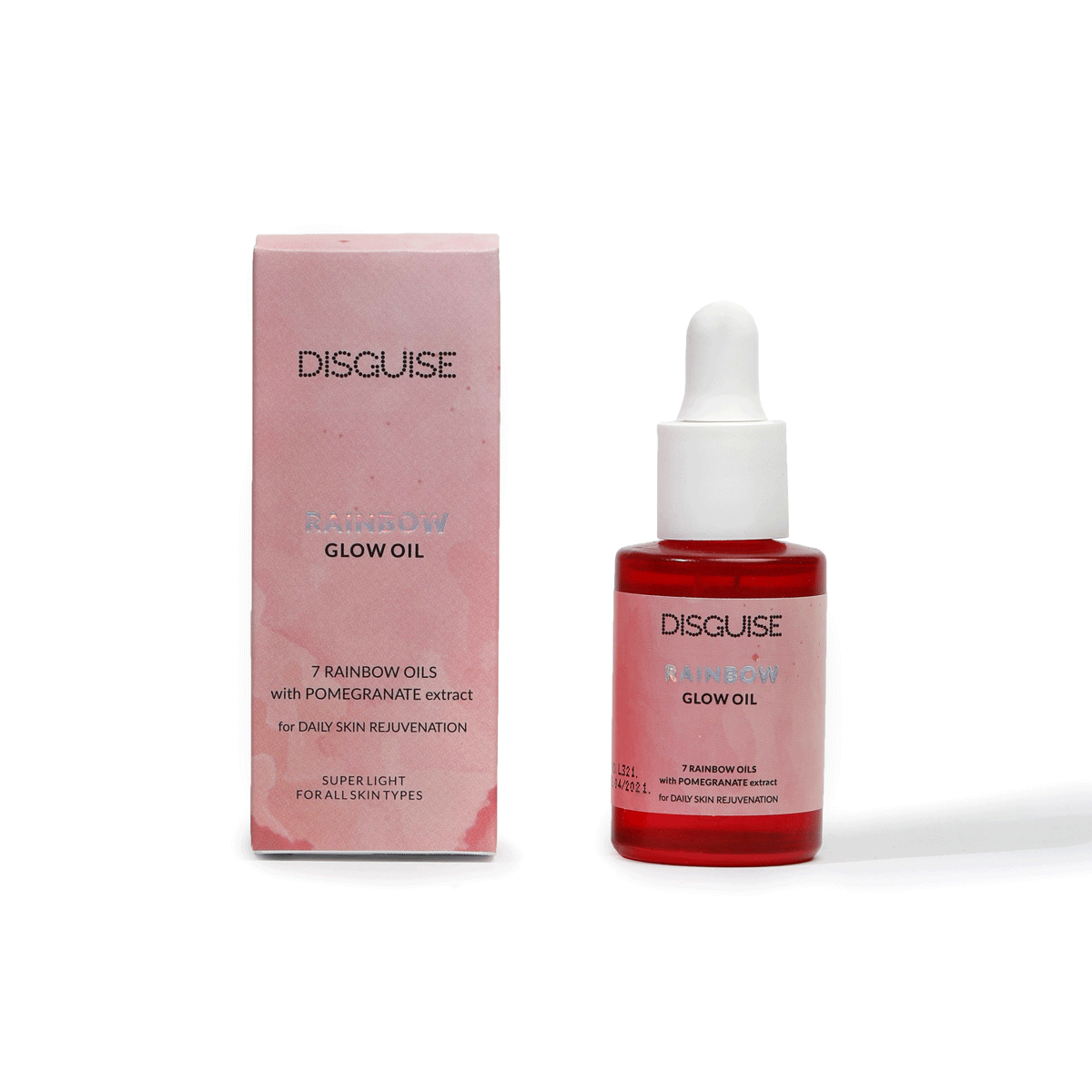 The ultimate choice for anyone who loves skincare, this nourishing glow oil is one of the standouts by Disguise Cosmetics. It contains a blend of different oils that are carefully sourced and selected to be suitable for all skin types. The Rainbow Glow Oil features a blend of 7 oils and pomegranate extract. Thanks to its lightweight yet hydrating consistency, this oil works beautifully on all textures with the formula being loaded with clean and nourishing ingredients.
Price at time of publication: Rs. 700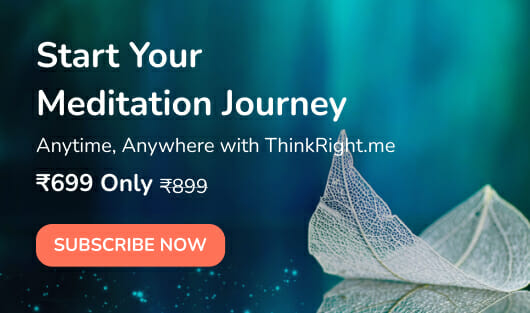 Buy it here.
Pahadi Local Saffron Mountain Mist
This gentle and hydrating spray-on skin-soothing mist comes brimming with the rarest botanical Saffron from Kashmir and encapsulates the essence of dewy mountain mist in a bottle. It leaves the skin oh-so-hydrated and smooth while also boasting anti-bacterial and anti-inflammatory properties that help slow down signs of skin ageing.
Price at time of publication: Rs. 800
Buy it here.
Skivia From House Of Clovia Haircare Range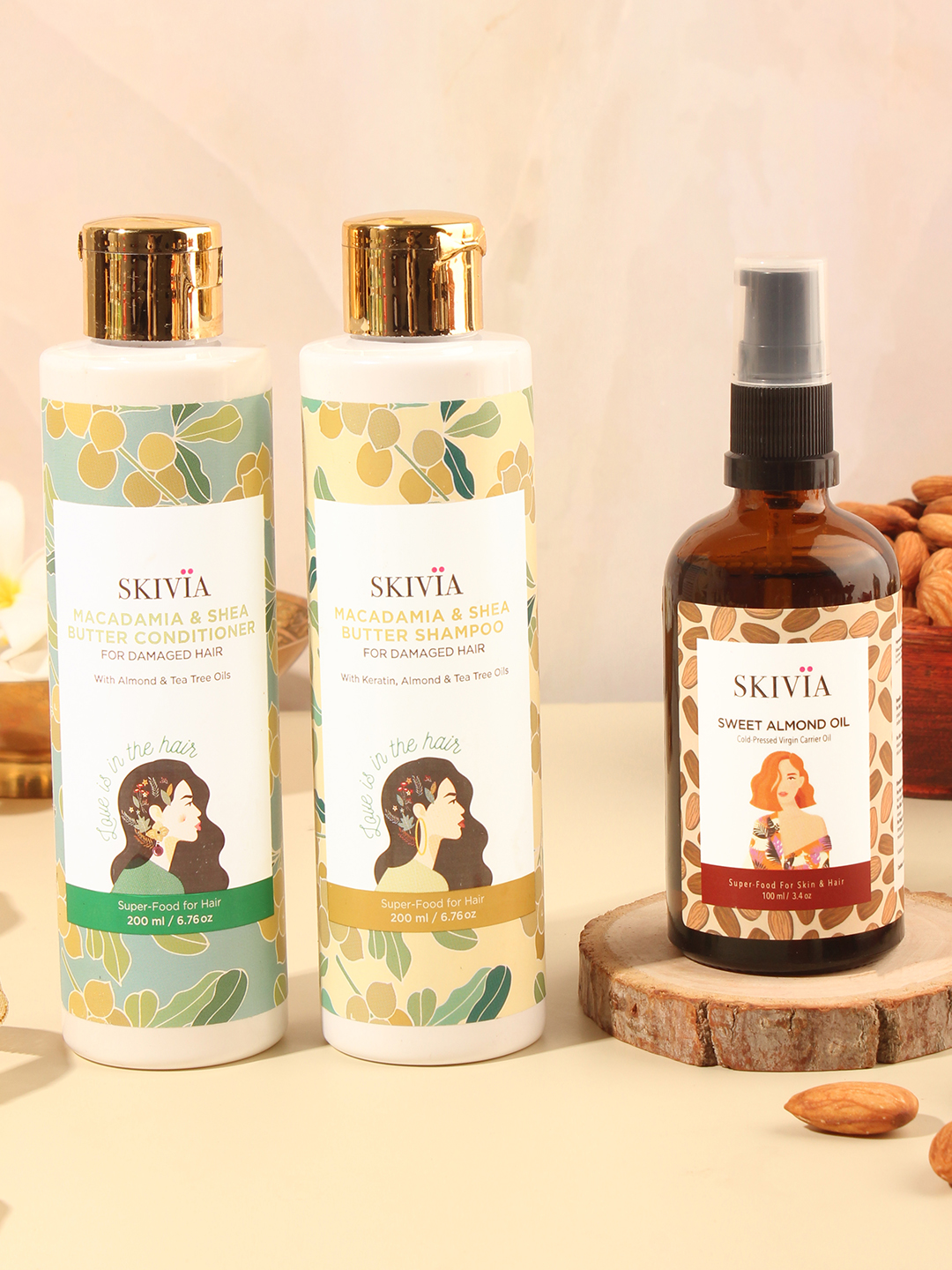 For those whose hair has an ever-changing mood, this Skivia from House of Clovia haircare range can be an absolute blessing. Winters can be harsh for the hair but thanks to this wunderkind, they'll be thanking you for hydrated and super moisturised hair. Skivia's naturally infused, chemical-free products focus on scalp care with ingredients full of superfoods for hair to solve every day as well as specific beauty needs.
Price at time of publication: Rs. 1897
Buy it here.
iORA Prebiotic Day Cream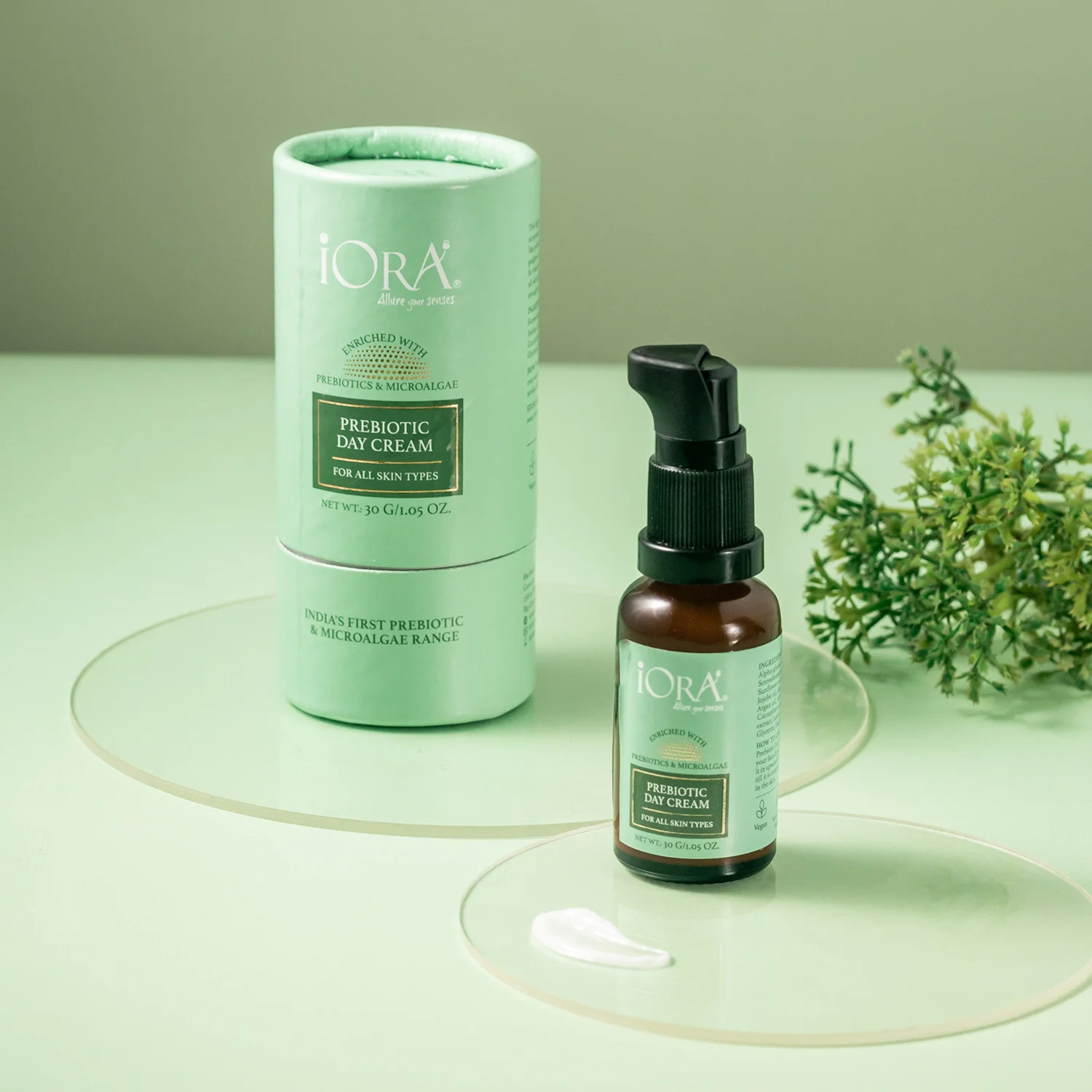 For the one who appreciates the finer things in life, this luxurious self-care must-have day cream by iORA, a luxury brand focusing on prebiotic skincare makes for the ultimate gift. Full of superfoods that rejuvenate tired skin, this restorative day cream acts as the ultimate base under makeup and is the perfect addition to include in the daily rotation for healthy, glowing skin.
Price at time of publication: Rs. 1100 – Discounted Rs. 990
Buy it here.
For the one who loves to entertain
IDR Stoodeoh Tablemats and Candle Holders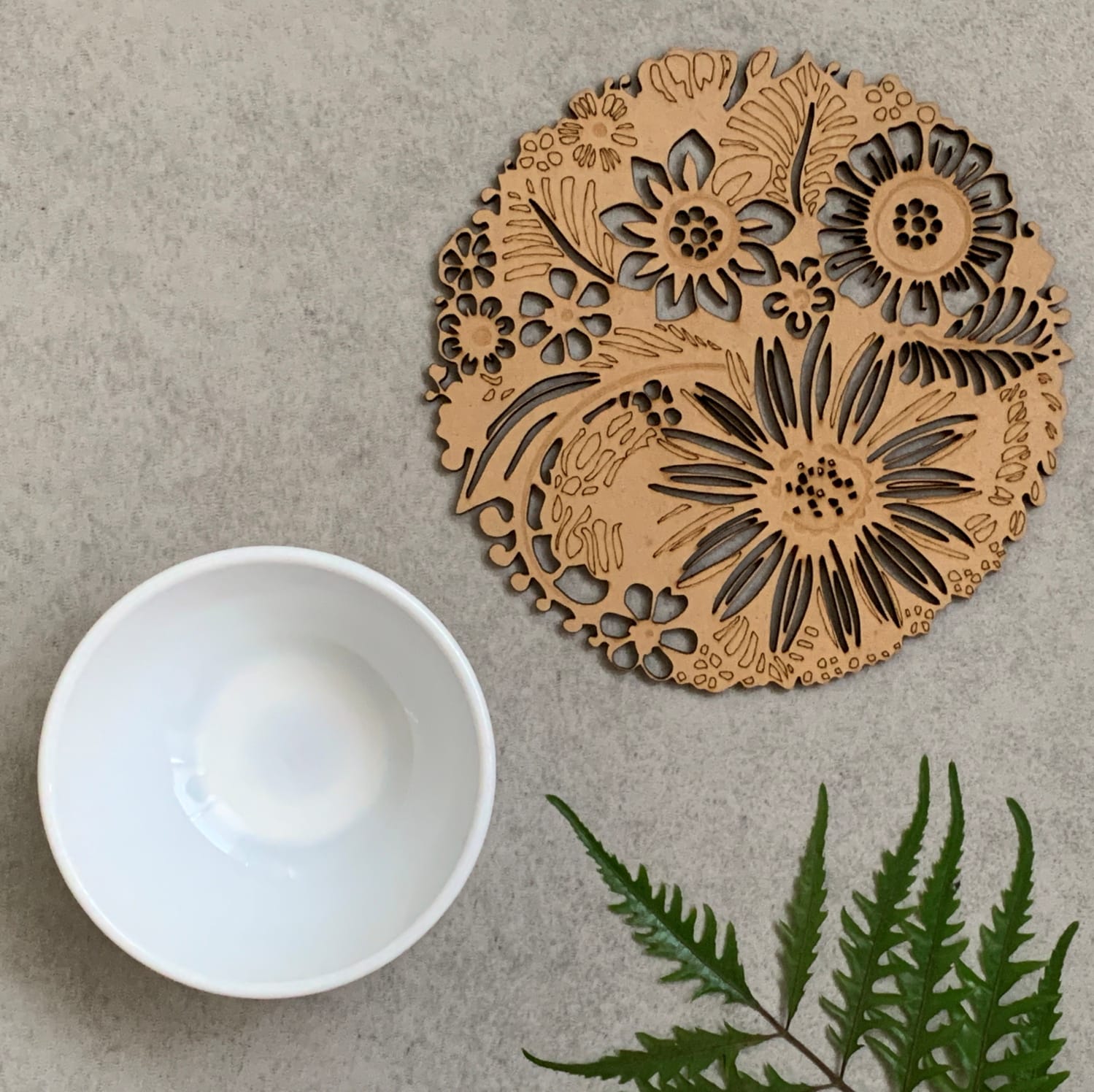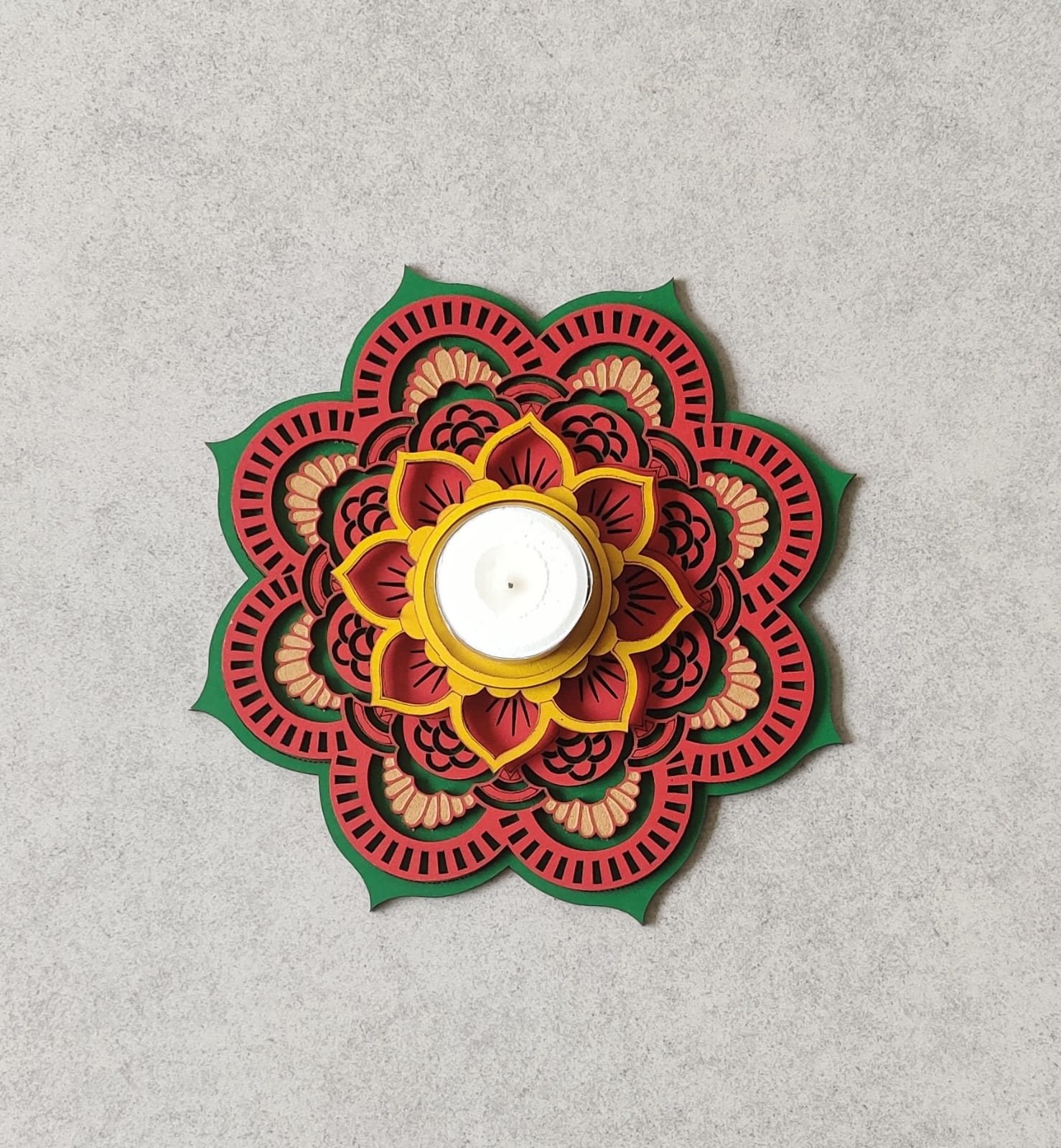 The holiday season often includes a lot of hosting, full of lively get-togethers and fun family gatherings. Do your giftee a favour by gifting them these quirky, wooden tablemats and coasters by IDR (Imagine, Design, Render) Stoodeoh so they can have the prettiest tablescape when entertaining. These individually designed tablemats and candle holders crafted with keeping the beauty of details in mind will surely wow guests at any dinner or brunch party.
Price at time of publication: Diya – Rs. 620 + shipping, Dining Mat – Rs. 400 + shipping
Buy it here.
Urban Platter Christmas Gift Box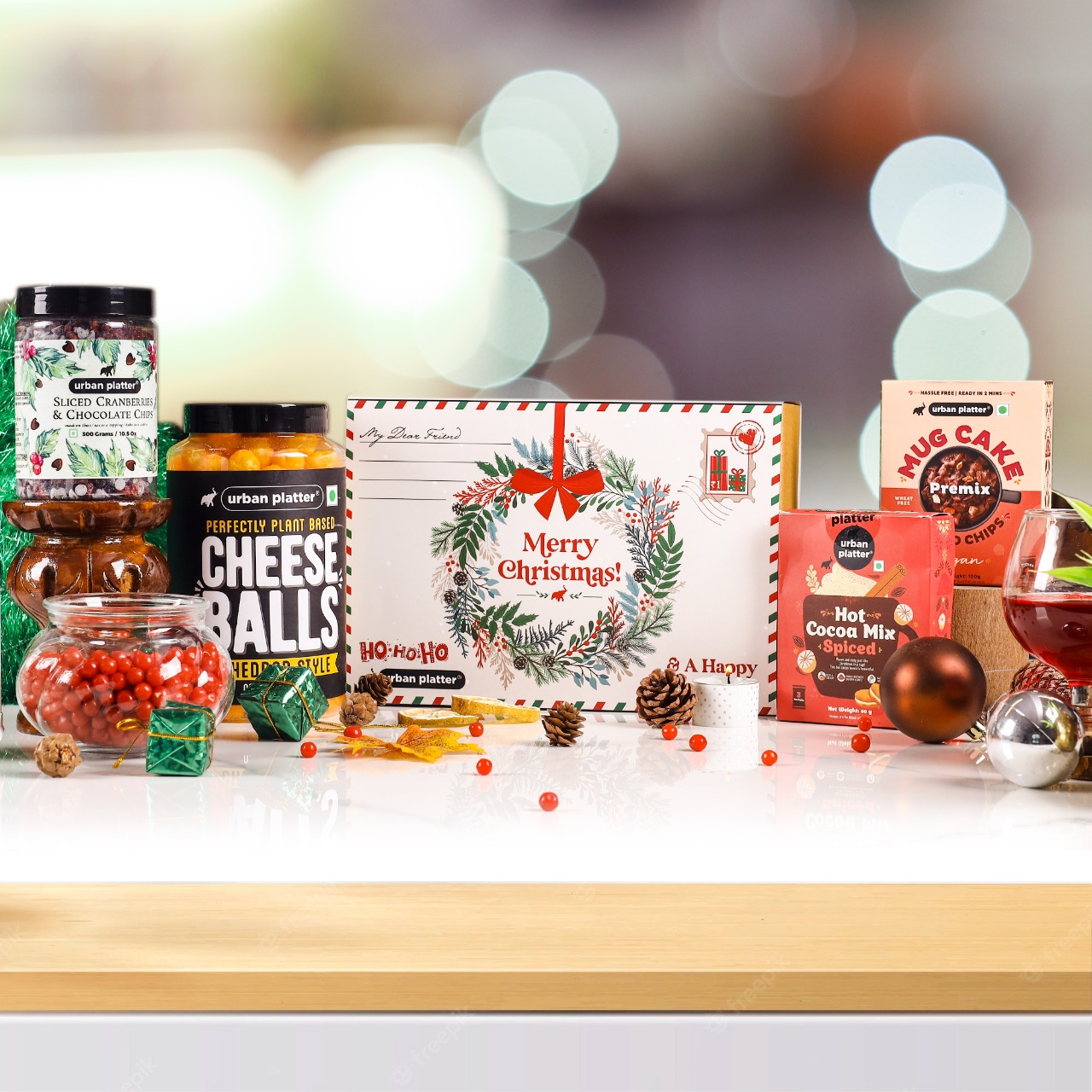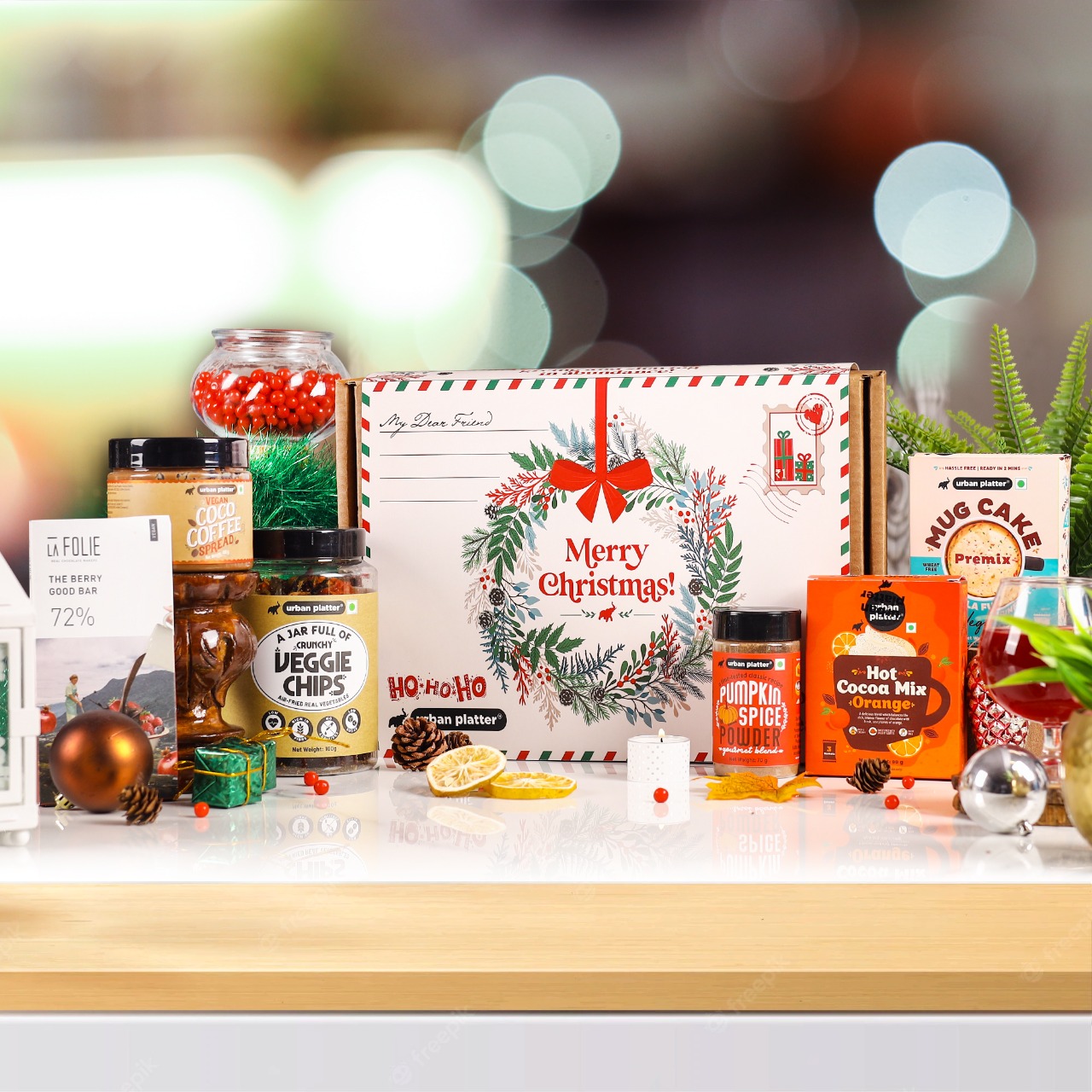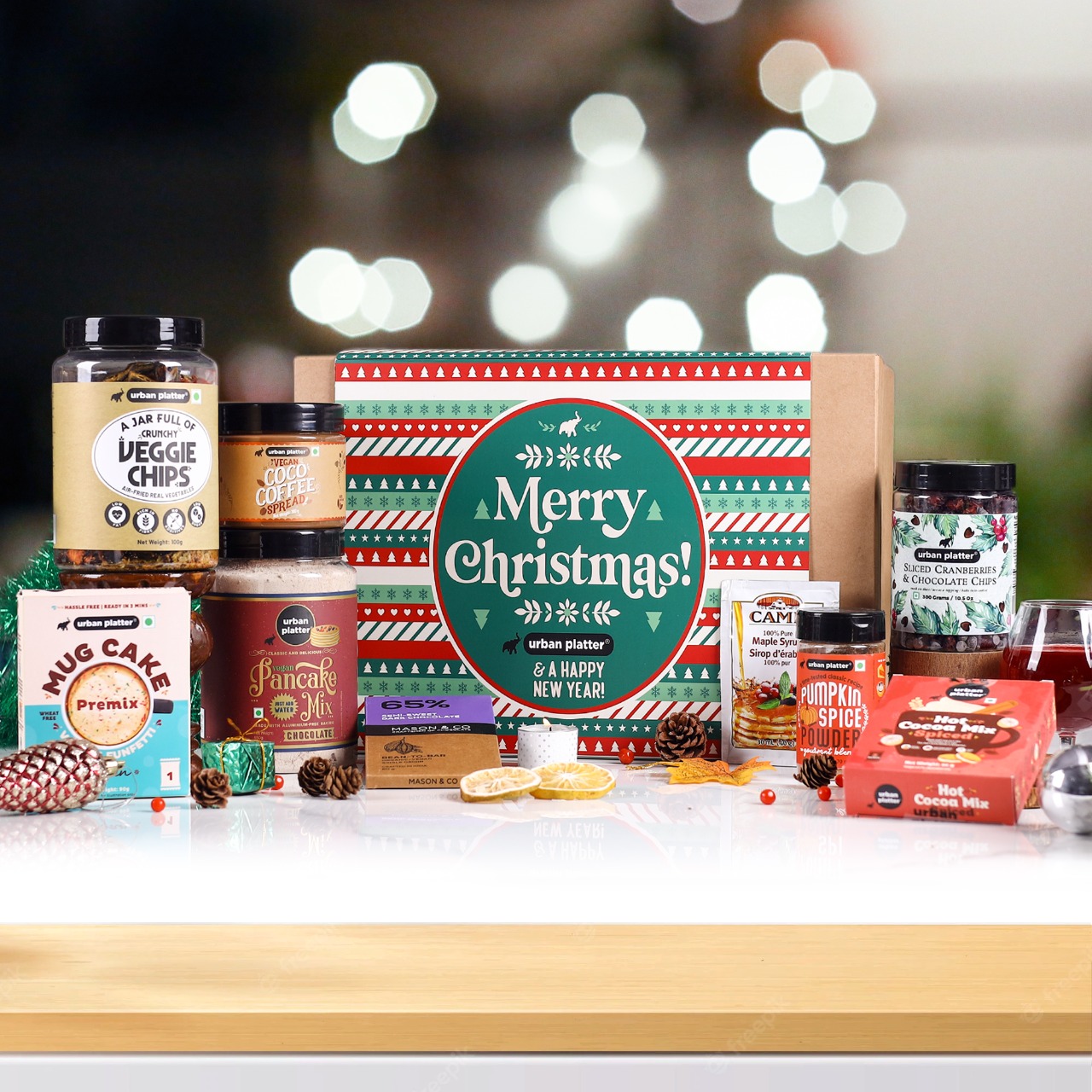 Take their gastronomical levels to the next level with this gleeful assortment of products perfect to enjoy not just during the holiday season but all through the year. Food is the key to one's heart. And a curated box full of goodies like hot cocoa mix, mug cake premix, pumpkin spice powder, veggie chips, coco coffee, and much more will definitely open your giftee's heart.
Price at time of publication: Rs. 750, Rs. 1450, Rs. 2450
Buy it here.  
Thevasa Ceramic Homeware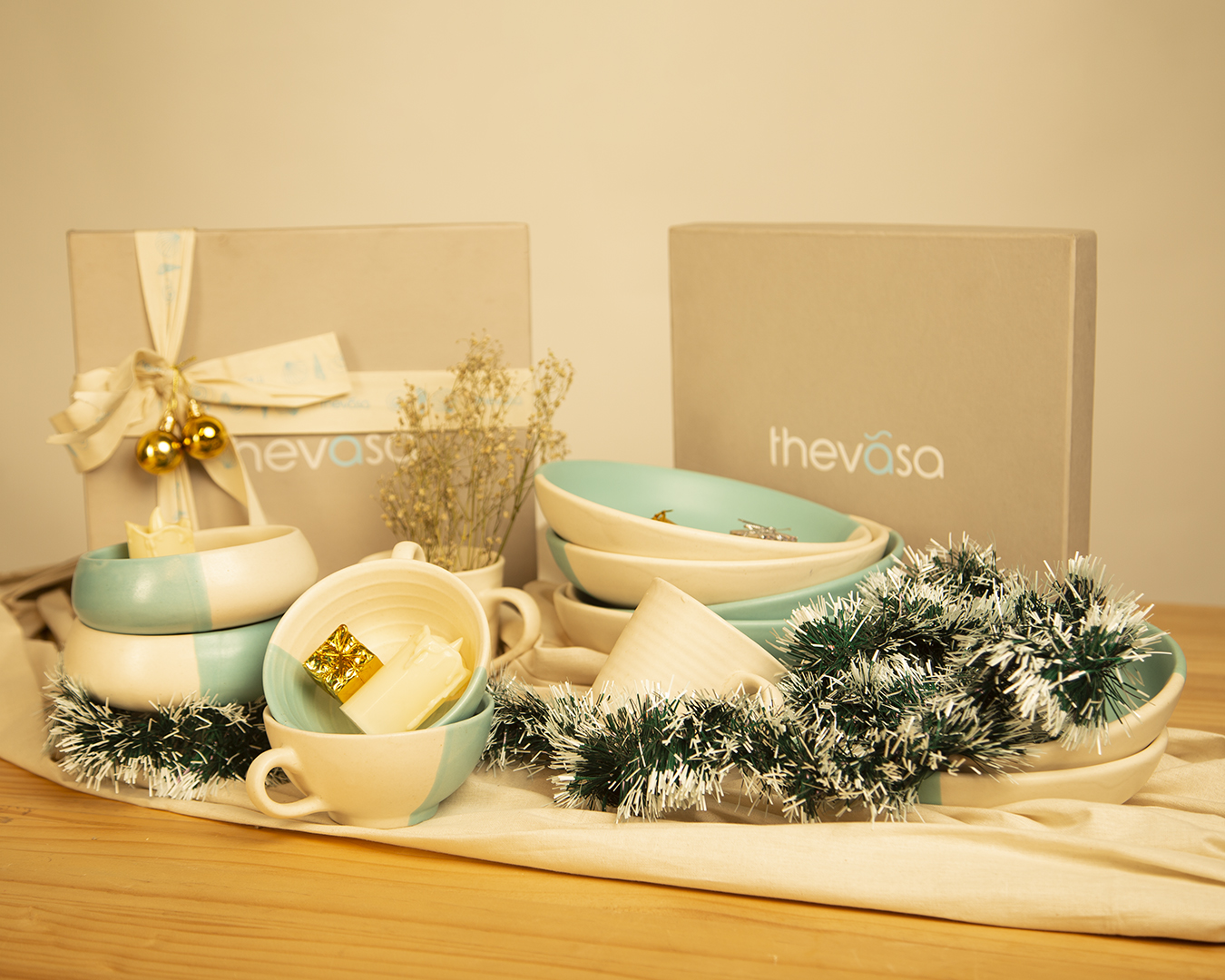 Thevasa, an Indian handicrafts company offers options with modern designs that are authentically merged with our artforms and traditions using a more ethical and ecological technique. The collection has exquisite bowls, cups, plates, and more in stunning contrast hues of pastel pink, delicate blue, and earthy orange all created by experienced artisans. The amazing collection offers lovely designs, perfect for the host who loves to entertain. Each gift set in this collection is painstakingly made by talented artisans to evoke any occasion and catch people's attention.
Price at time of publication: Starting from Rs. 1490
Buy it here.
The Green Bowl Terrarium Bowl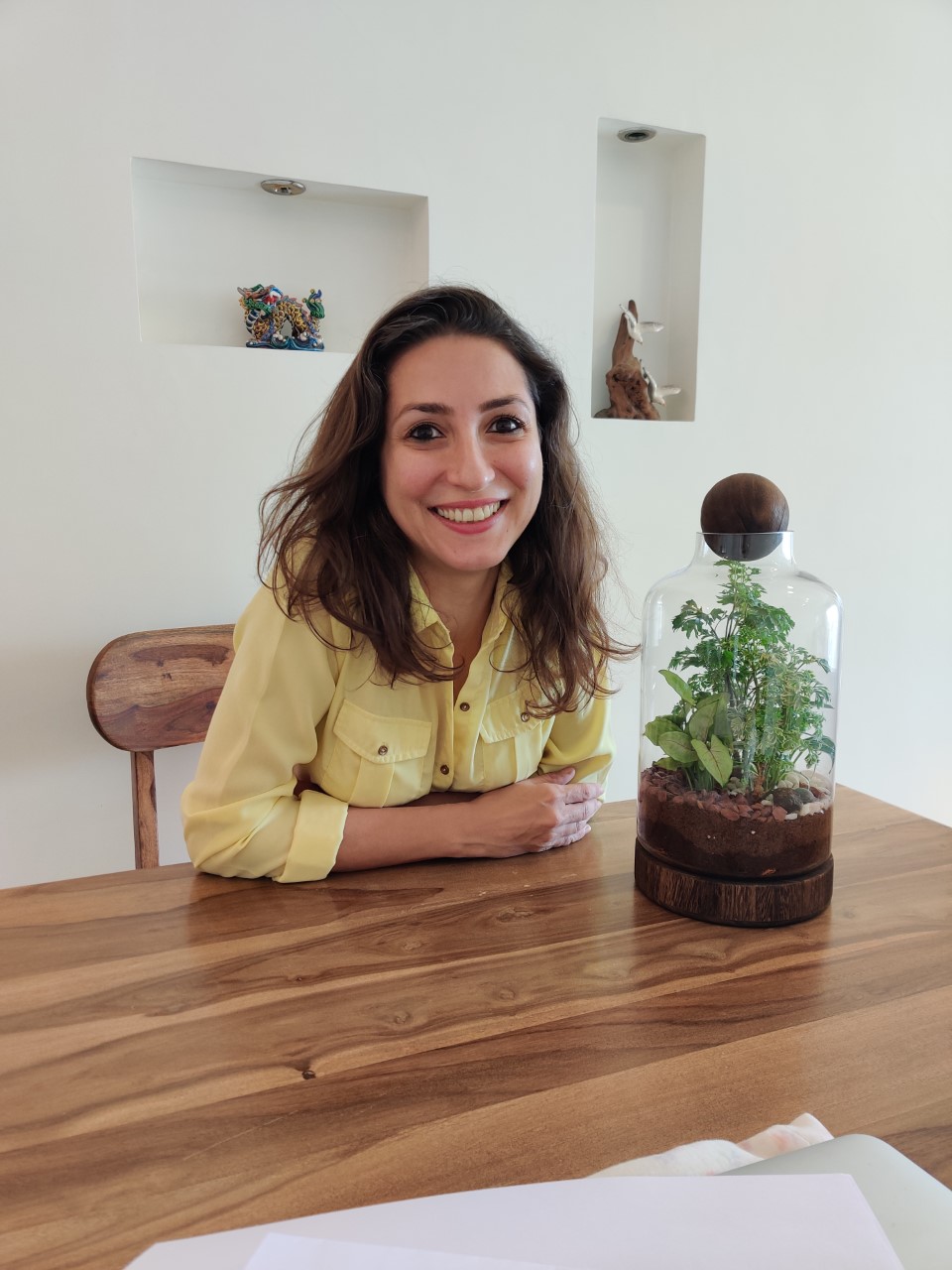 A terrarium bowl makes for such a lovely, meaningful gift since they'll get the opportunity to make the plant grow and watch it flourish. As one of the first to introduce the concept of terrariums in the city, The Green Bowl, started by Leah Umrigar, has a wealth of experience with all kinds of people as well as plants. Each piece is designed as a living piece of landscape that makes for the ultimate conversation starter.
Contact 9820186254 or email them on thegreenbowlindia@gmail.com to place your order.
Taco Cat Goat Cheese Pizza & Trophies – Board Games by Bored Game Company
What began as a small family business run from home has turned into one of the top distributors of board games in India. These two board games are great for when you have guests over or just when you want to enjoy a family night together and make for the perfect entry point for younger players to get into the hobby.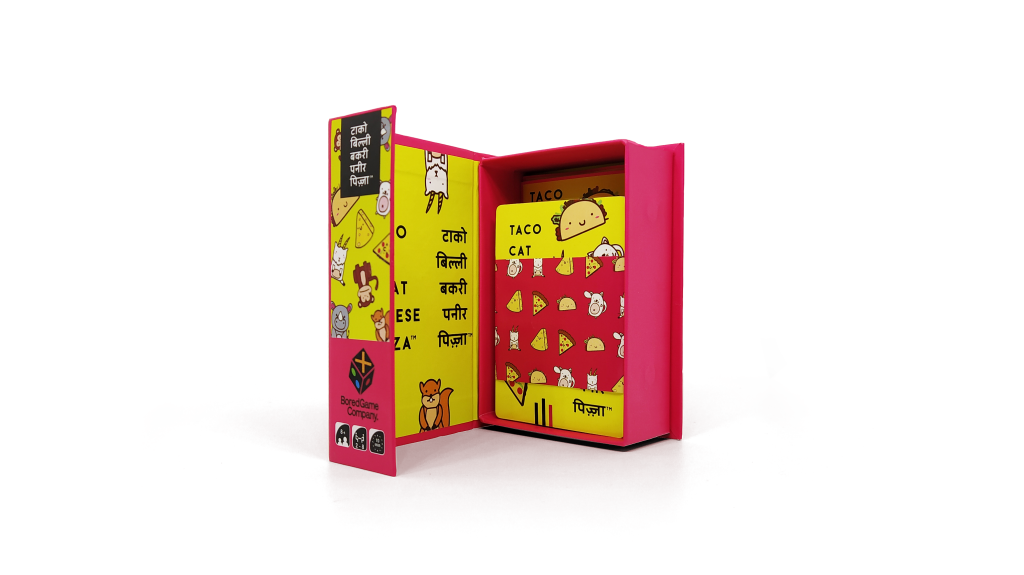 Taco Cat Goat Cheese Pizza is filled to the brim with hand-slapping mayhem where each player places a card from their hand face up into the community pile while saying taco, cat, goat, cheese, pizza, in the player sequence. When the card matches the mantra — boom! — everyone slaps their hand on the deck, with the last one to slap picking up the cards. Whoever rids themselves of cards first wins!
Price at time of publication: Rs. 599 – Discounted Rs. 549
Buy it here.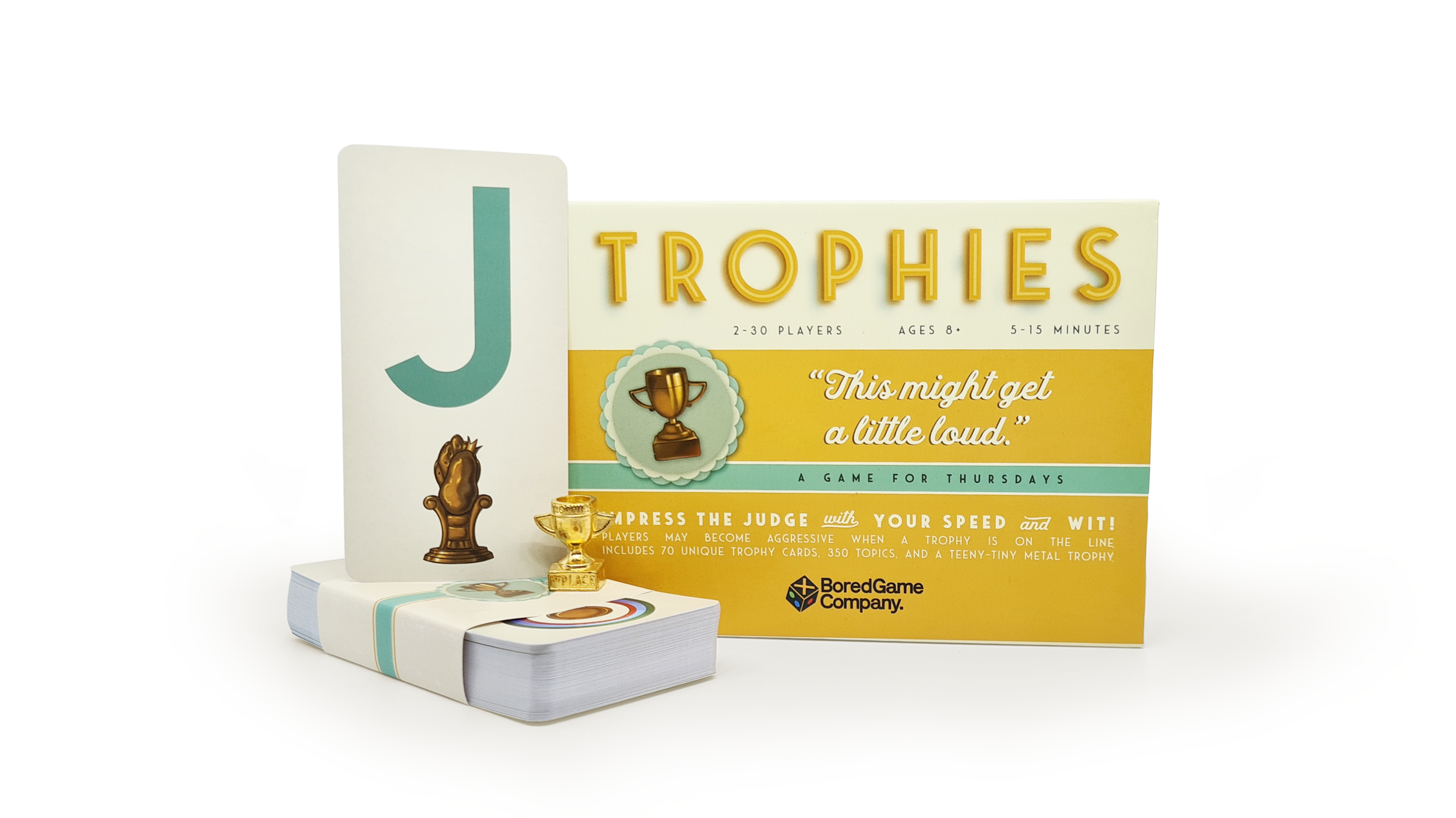 Trophies is a creative quick & light 2 to 30-player game for ages 8 and above that plays in about 15 minutes. In the game, the judge holds the deck, reads a topic from the back card, and shows the group a random letter on the front card. Be the first to say a word that matches the topic and the letter, and you win a trophy card! The player with the most trophies wins the game and gets to hoist the tiny metal trophy high above their head in triumph! The person who "tried their best" gets a participation trophy.
Price at time of publication: Rs. 1499 – Discounted Rs. 1199
Buy it here.
For the one who loves their office space
Purple Pony Ceramic Planter
Plants are such an incredibly thoughtful gift. They warm up the room, they make people smile and they add a touch of vibrancy to any space. For the workaholic who loves their space, this adorable ceramic planter is hands down the better, longer-lasting option as it doesn't take up a lot of desk space but adds a little life to an otherwise monotonous atmosphere. And it doesn't hurt that it looks equal parts sculptural objet d'art and functional yet practical.
Price at time of publication: Rs. 999 – Discounted Rs. 799
Buy it here.
Nestasia Glass Travel Teapot Set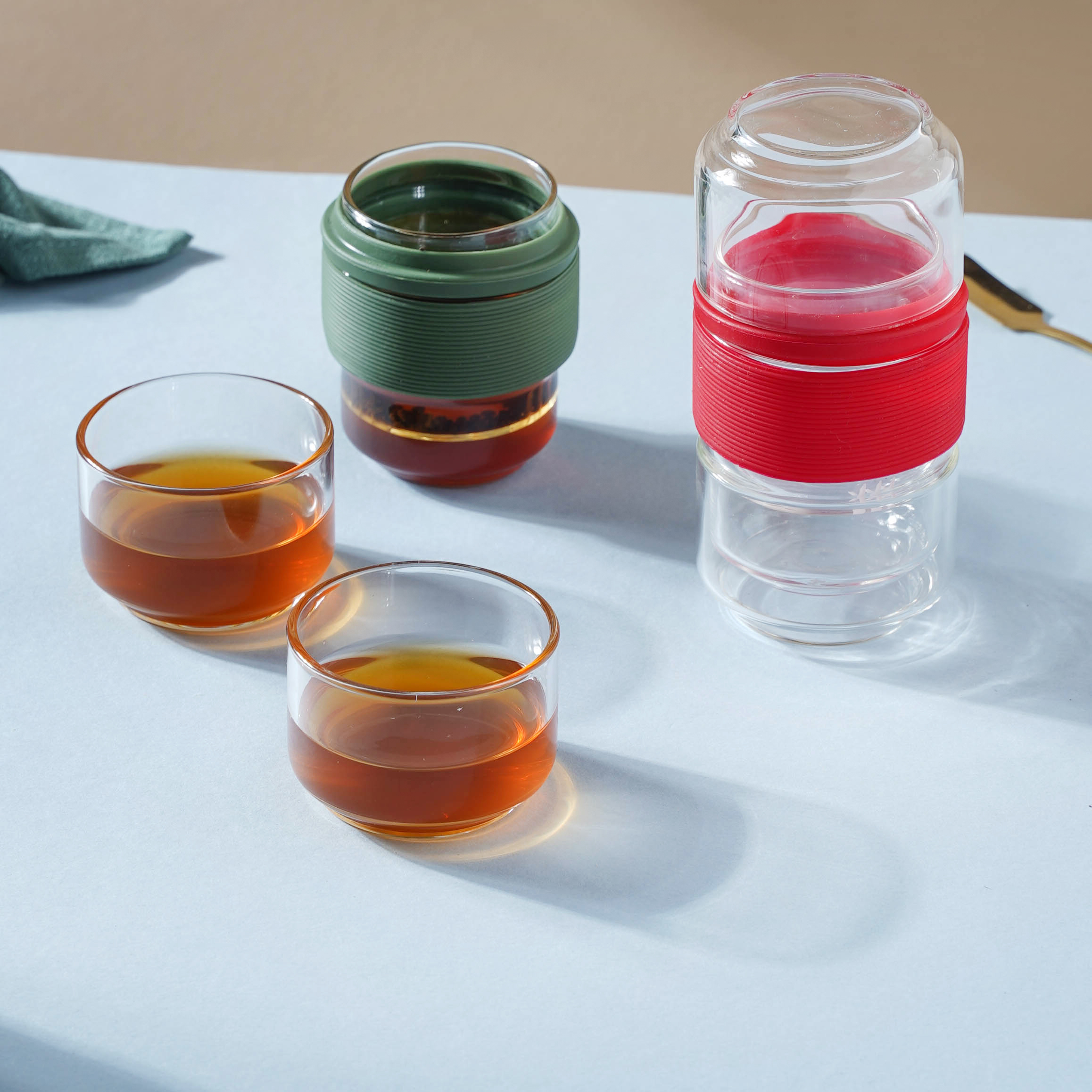 Take the guesswork out of tea making with this glass teapot set that travels wherever your giftee goes. All they have to do is steep tea in just the right temperature for the perfect brew. If your person is a tea-lover, there's not a more tea-lightful gift that you can bless them with. It comes in two colours and with two travel-perfect cups so they and their partner can enjoy a perfectly warm cuppa wherever they are.
Price at time of publication: Rs. 1300 – Discounted Rs. 1050
Buy it here.
Unigen Unidock 310 – 3 in 1 Wireless Charging Pad
Tangled cords are a universal and absolute nightmare for anybody but especially for a workaholic who has no time to even look up from their task list. This 3-in-1 Qi wireless charger by Unigen is the perfect solution for when your giftee needs different products to be charged together, providing a charging output of 2.5W for iWatch, 5W for Airpods 1 / 2 / 3 / Pro, 5W / 7.5W / 10W / 15W for iPhone 13 / 12 / 11 / XS / X / 8 series and other Qi-enabled devices.
Price at the time of publication: Rs. 3,999 or Rs. 1,599
Buy it here.
Moarmouz Dual Wireless Bluetooth Speakers
Music lover or not, anyone with good taste would love these Moarmouz Dual Wireless Bluetooth Speakers that serve as the perfect sound system for entertaining podcasts as well as soothing meditations. Integrated with Bluetooth v4.1 technology, you can seamlessly pair your smartphone without any glitches. The total power output of the Moarmouz speaker system is 10W (5 W for each satellite speaker).
Price at the time of publication: Rs. 5,999 – Discounted Rs. 3,999
Buy it here.
For the one who loves all things sartorial
Kanelle Luxury Perfume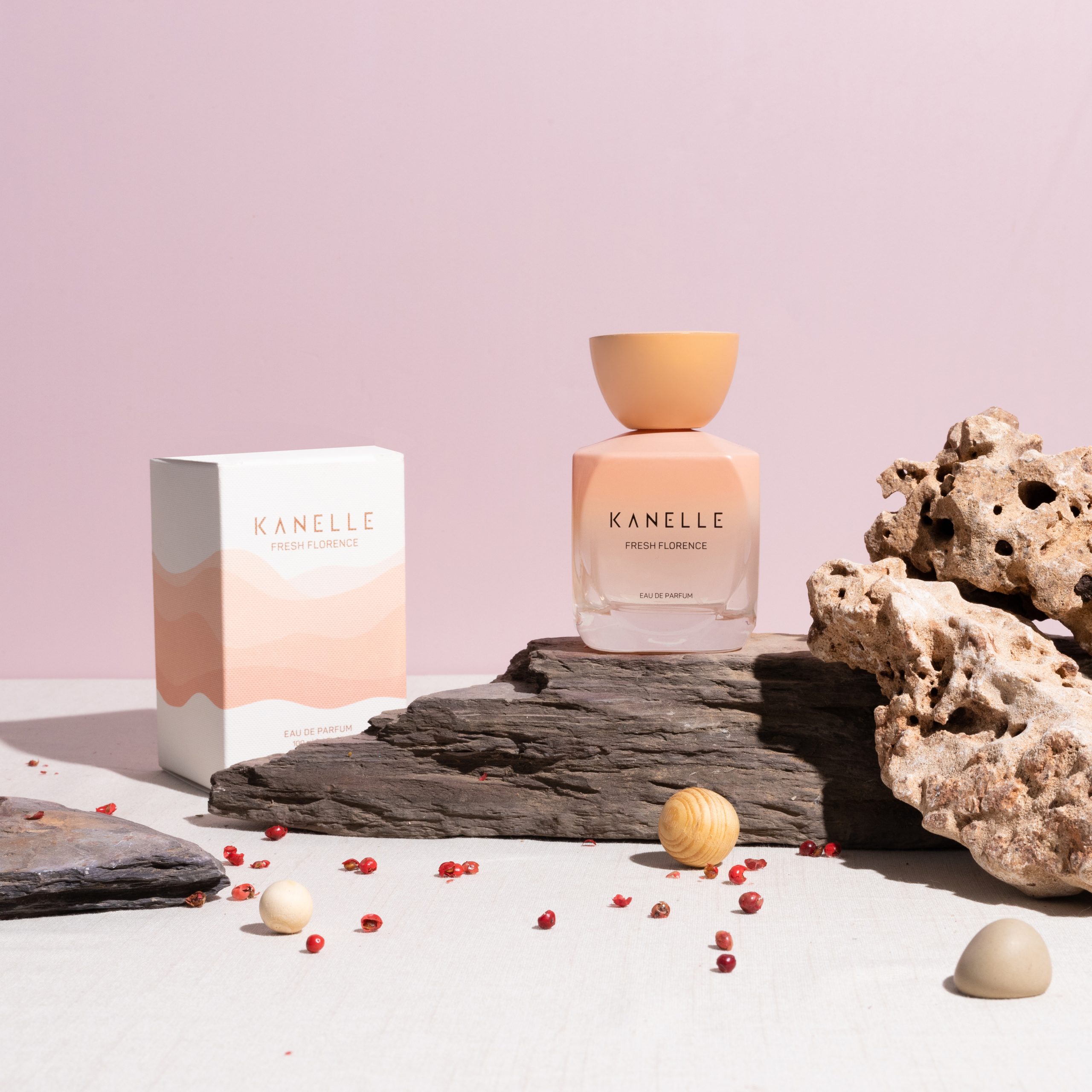 Scent is the king of the scenes. Smells have the power to transport us to a different time and place and gifting someone a luxurious fragrance means every time they put it on, they'll be reminded of you, and the warmth and joy you emanated when picking the gift out. When choosing a scent, you need to consider their personality and what they like and these luxurious options from Kanelle will help you capture their authenticity, independence and free spirit seamlessly.
Price at time of publication: Rs. 2799 – Discounted – Rs. 1400
Buy it here.
Urban Monkey Unisex Sunglasses
It goes without saying that a great pair of sunglasses is a wardrobe essential. The fashionista on your list will absolutely adore these sunnies from Urban Monkey and you can't go wrong with these classic round ones. Suitable for those with a prescription, these come with UV 400 protection, a polarised lens, and a nickel-free stainless-steel frame.
Price at the time of publication: Rs. 1650
Buy it here.
Amama Jewels SubRosa Detachable Ear Spikes
Perhaps you have jewellery lover on your list? If so, they'll love these detachable ear spikes by Amama Jewels. Precisely handcrafted and dressed in 22kt gold plating, these ear spikes have the SubRosa motif engraved on them. This treasure will prove to be an astute investment in your giftee's repertoire as it can be easily styled in multiple ways and can be worn for any and every occasion.
Price at the time of publication: Rs. 5,000
Buy it here.
Nivedita Saboo Couture
During this time of the year, if all they want for the holidays is gorgeous new clothes, then gift them these intricately designed pieces by Nivedita Saboo Couture. The end of the year comes with a lot of holiday parties and weddings to attend, and this luxurious sartorial collection serves as the perfect gift for someone who loves dressing to the nines and being the star of the party.
Price: On Request
Buy it here.
Lodi Shoes Footwear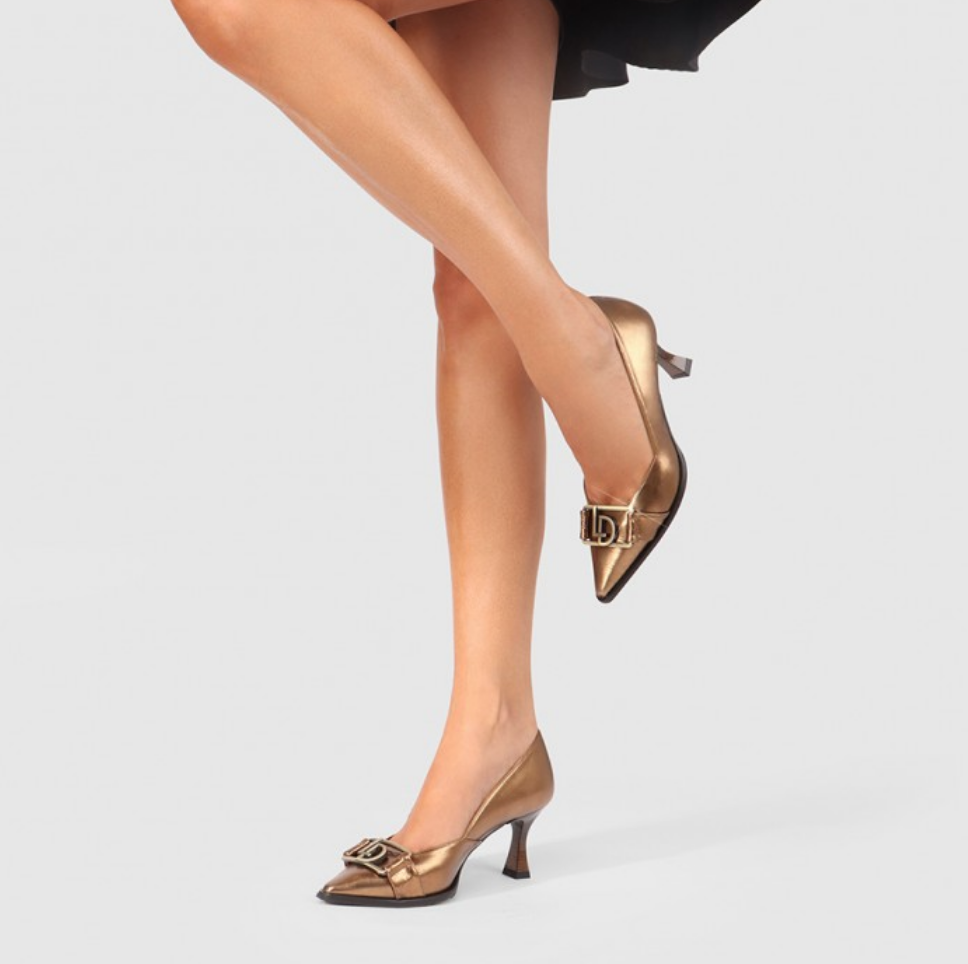 Scene-stealing shoes pair perfectly well with gorgeous attire, after all, it's the ultimate way to bring the whole outfit together. If your giftee is someone who's ready to embrace dramatic dressing this New Year, then a pair from Lodi Shoes is the perfect gift for them. Whether for Christmas parties or at-home celebrations – Lodi Shoes has the right pair for every occasion. The exceptional creations are very popular among fashionistas in Spain & now India. High-quality workmanship, beautiful design, and a very good fit make Lodi Shoes a must-have in shoe closets.
Price: On Request
Buy it here.
For the home chef
House of Ekam Papaya Oven Mitts Set Of 2
These charming mittens are worth the splurge and are so cute to gift to someone who loves to experiment in the kitchen. They're 100% handmade in India and block printed with vibrant papayas on them. They are hand quilted and come with a hook to hang them, making them easily accessible for whenever your giftee is whipping up delicious delights.
Price at time of publication: Rs. 499 + Rs. 100 COD
Buy it here.
The June Shop Peach Print Kitchen Apron
Help your home chef friend get their hands and not their clothes dirty with this adorable peach print apron by The June Shop. Plus, this will come in handy when they're indulging in a sweet baking marathon for the holidays. The quality of the material is immaculate, creating the perfect combination of comfort, practicality, and style.
Price at the time of publication: Rs. 999 – Discounted Price: Rs. 599
Buy it here.
Wishing Chair Little Hearts Measuring Cups – Set Of 4
Of course, any baking enthusiast will put these measuring cups to good use, and they make for such a sweet addition to their bank of bakeware. Wishing Chair's playful handpainted ceramic measuring cups come in four different sizes; 1 cup, ¾ cup, ½ cup, and ¼ cup and are made of durable stoneware with darling little hearts on them.
Price at time of publication: Rs. 1050
Buy it here.
Upscalio-owned Hestia Nutri-Wave 6-in-1 Function Oven Cum Air Fryer
New-gen chefs know the beauty of air fryers and this 6-in-1 function oven cum air fryer cuts down on the harmful effects of oil frying without cutting down on the taste and quality of the food. From crunchy fries and delicious cakes to chewy cookies and beyond, anything and everything can be made in this oven cum air fryer that comes with apt settings and adjustable temperatures.
Price at time of publication: Rs. 9,999
Buy it here.
These lovely gift ideas will make your giftee the happiest this holiday season. Save this gift guide and we promise you'll be awarded the best gift-giver badge at every Secret Santa or New Year party. Happy Gifting!
Read More: 10 Words To Bring Christmas Joy To Your Family
Like & Follow ThinkRight.me on Facebook, Instagram, Twitter, Pinterest and Telegram to stay connected.