Your wedding day is one of the most memorable days of your life. But imagine your wedding day becoming so memorable, it becomes a part of family lore for years to come. This happened to one such newly-wed bride and groom. This couple can tell you how to make your wedding unique and unforgettable
Post wedding hassle
After their wedding, the bridal couple was driving past Bogota, New Jersey, when their car got trapped in floodwaters. Though stranded, they were fortunate their car doors and windows were shut, so water could not enter the car.
Police to the rescue
When the Bogota Police Department heard their predicament, they immediately sent Officer Michael Laferrera to the rescue. The officer arrived to find the flood waters reached the car headlights. Officer Laferrera manoeuvred his car close to the couple's car and climbed onto his roof. He helped the bride and the groom, into his vehicle, through the sunroof on their car. The police department vehicle was better equipped for the floods than the bridal couple's car.
The daring rescue
The bride, handed her shoes to the officer before he pulled her through the sunroof. The couple stayed dry throughout their ordeal since their doors and windows were tightly sealed. In an interview with Northjersey.com, Sgt. Geoffrey Cole from the Bogota Police Department, said, "They're in pretty decent spirits considering everything that happened." Officer Michael confirmed this was definitely "a first" for his career.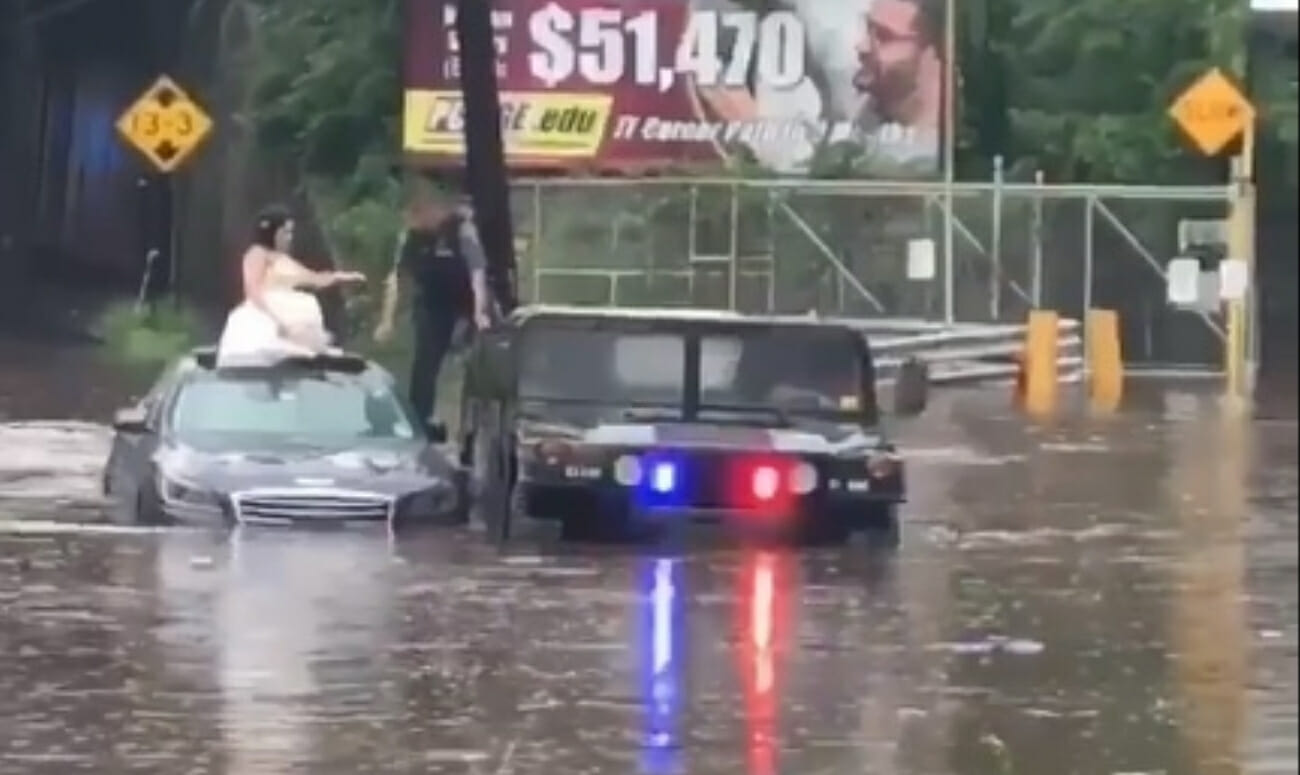 The video
The Bogota Police Department shared footage of the rescue on Facebook. The video gained immense popularity and was shared among thousands of people. The police department post read, "Unfortunately, due to the quickly rising flood waters, this bride, her new husband and wedding party friends, got a rough start on things. The fortunate thing is we were able to help them through their first rough patch. Obviously, their day has not gone as planned, so let's congratulate them on their wedding and give them best wishes for a lifetime of love and adventure, starting now!!"
The bride and groom may not have had an auspicious start to their marriage but it sure was a memorable wedding day. Hopefully, their future together will be less of a roller coaster.
READ MORE: MEMORABLE WEDDING DAY FOR A COAST GUARD