Let's break it down: 90% of visible aging of the skin is due to prolonged exposure to the sun. If you're not applying (and reapplying) your sunscreen every day, all those retinol face serums, niacinamide creams, and anti-wrinkle solutions are inconsequential. Regardless of your skin tone, sunscreen should be one of the most important steps in your skincare routine as it lowers the chances of developing skin cancer and keeps your skin healthy, glowing, and nourished. On top of that, protecting your body against sun exposure is just as essential as protecting your face.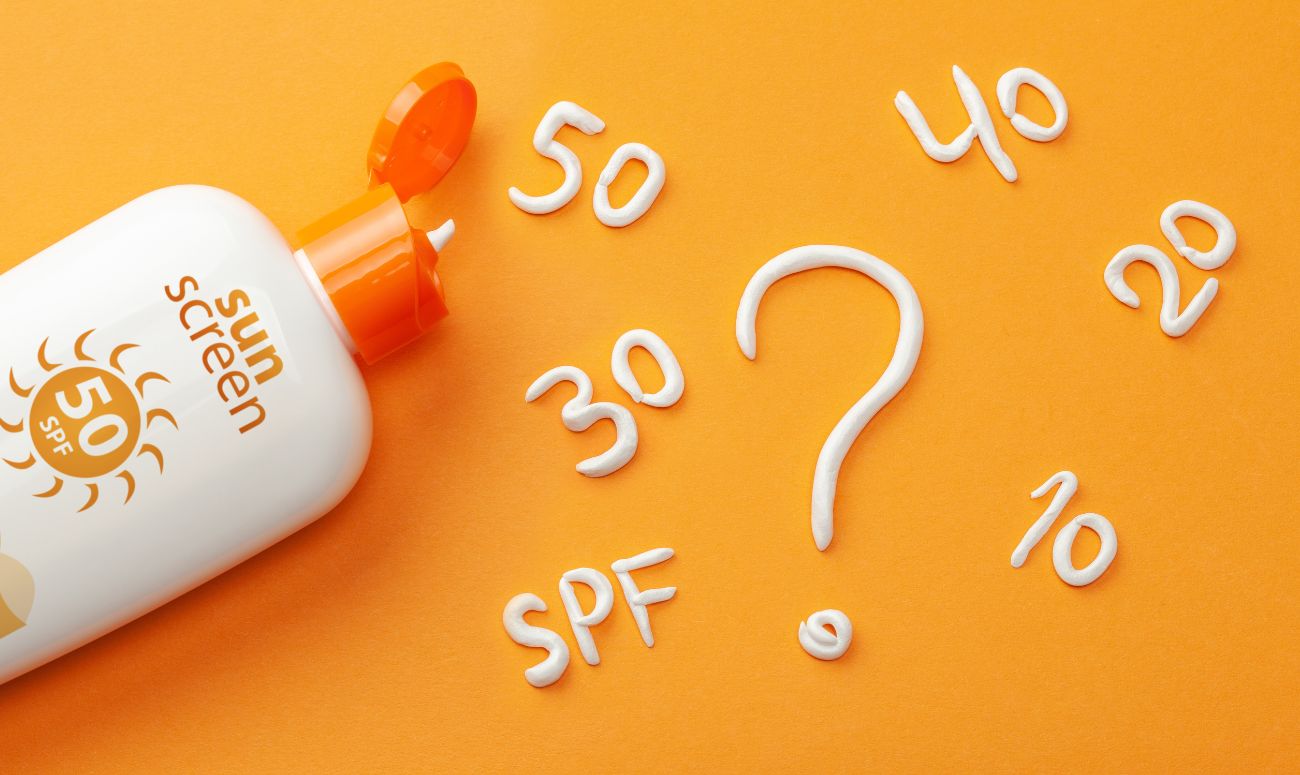 For those who aren't particularly fans of creamy, lotion sunscreens that are tedious to apply all over the body, a generous spritz of sunscreen spray can be the answer to your white-cast-free and broad-spectrum protection dreams. The convenience and lightweight, airy application of spray sunscreens make it very easy to reapply, anywhere and anytime. But how do you go about choosing the right one for your skin type?
How To Choose The Right Sunscreen?
What is your SPF number?
First things firsts, you need to keep in mind, the higher the sun protection factor (SPF), the higher the protection against UVB rays. SPF 15 sunscreens filter out about 93 percent of UVB rays while SPF 30 filters out 97 percent and SPF 50 filters out 98 percent. The key is to wear SPF 30 minimum.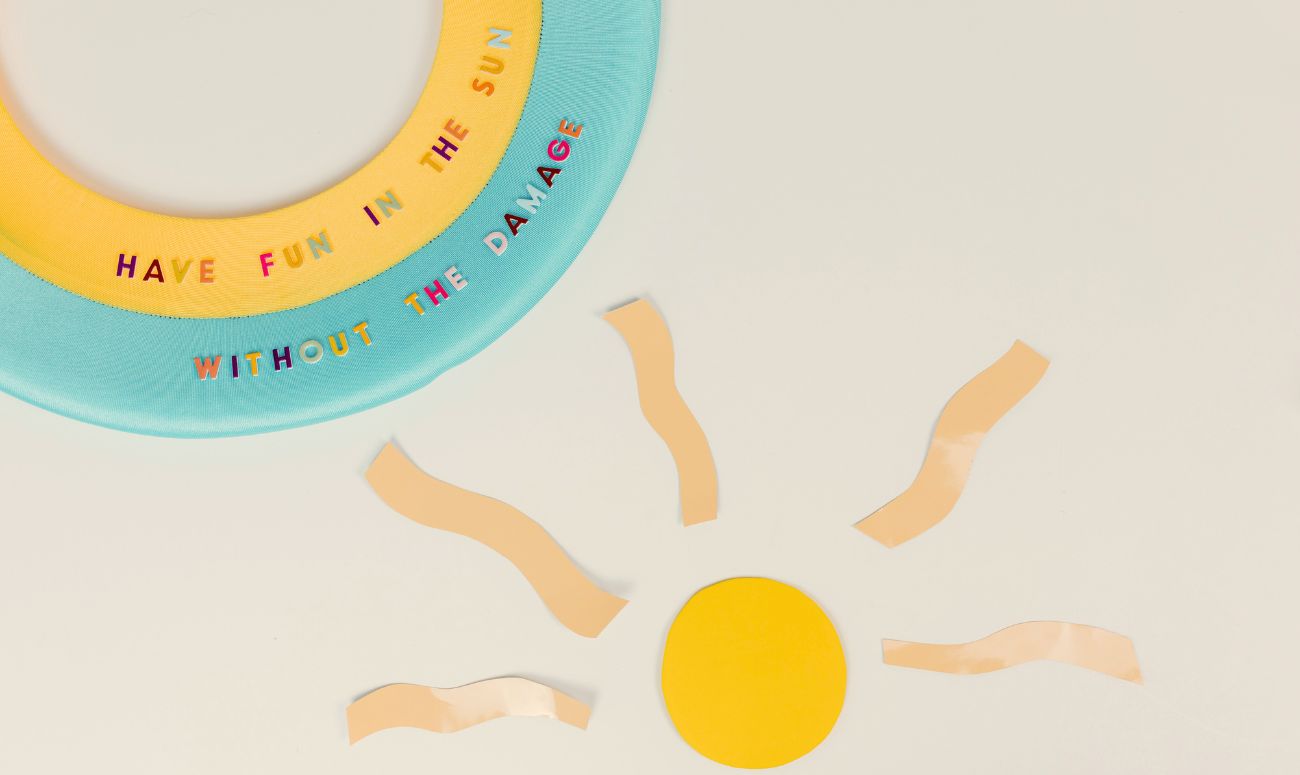 Are UVA and UVB the same?
Now, for the UVA rays, we're sure you've always wondered what PA +++ means on the sunscreen bottle. A PA rating is done by a Japanese testing protocol to measure the protection against UVA rays (the aging kind). PA +++ is the highest UVA protection grade offered.
Should you stop wearing sunscreen with oxybenzone?
Oxybenzone is an organic compound derived from benzophenone. The chemical absorbs the sun's UV rays when applied to the skin, so that the harmful rays cannot penetrate the skin and do damage.
However, some evidence has shown oxybenzone to be a potential hormone disruptor, but the studies are not directly comparable to humans. It is also known to cause a photoallergic or irritant reaction. Apart from being potentially dangerous to humans, oxybenzone has a negative impact on our ocean life as it damages coral, causes reproductive issues in fish, damages sea urchins, and accumulates in the tissues of dolphins.
Water resistant or waterproof?
Water resistant means the sunscreen will work for 40 to 80 minutes post getting wet or sweating. Whereas waterproof implies that water does not affect the efficacy of the sunscreen. FDA regulations rebuke waterproof claims made by sunscreen brands as all sunscreens are affected by water.
Is A Sunscreen Spray Effective Enough To Protect You From The Sun?
All sunscreens, from lotions and creams to gels and sprays are as effective and safe as each other. However, sunscreen sprays are significantly more convenient as they're easier to apply, making them an easy choice. The efficacy of sunscreen lies in the proper application.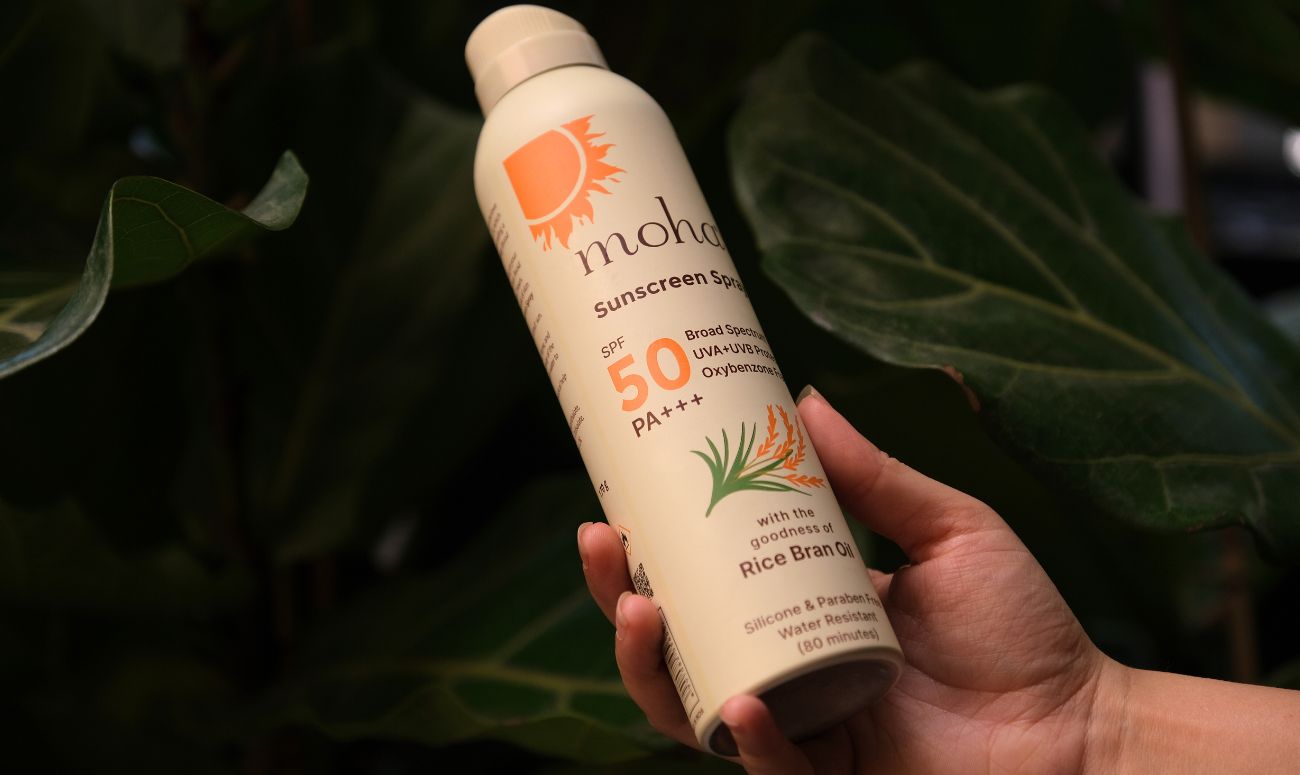 The moha: Sunscreen Spray with SPF 50 UVA+ UVB PA+++ protection comes in a sunny, pale-yellow-hued bottle with a subtle and minimal design. The formula has a weightless mist-like consistency with the goodness of rice bran oil. Rice bran contains high levels of Vitamin B and E and is great for hydration and anti-aging. It also has squalene, which helps maintain our skin's protective barrier. Apart from providing anti-aging properties, it also protects our skin from environmental pollution and UV rays.
Apart from having all of the above-mentioned benefits, the spray makes it easier to apply and fully cover the skin in sunscreen. However, the nozzle took a bit of pressure to use evenly. It offers 80 minutes of water resistance and broad-spectrum protection, making it perfect for those who engage in outdoor activities and those who travel during peak sunshine hours. Personally, I found the formula a little greasy for my skin as I have oily skin and haven't used it on my face, but the spray dries off into a glossy finish in a few minutes' time. I still refrain from putting this on top of body moisturiser as that would make my skin oilier.
It has a pleasant fragrance which is not too overpowering and makes for the perfect product to carry in your summer tote for beach days or days when you're spending too much time in the sun and need a quick re-application.
How To Apply Spray Sunscreen?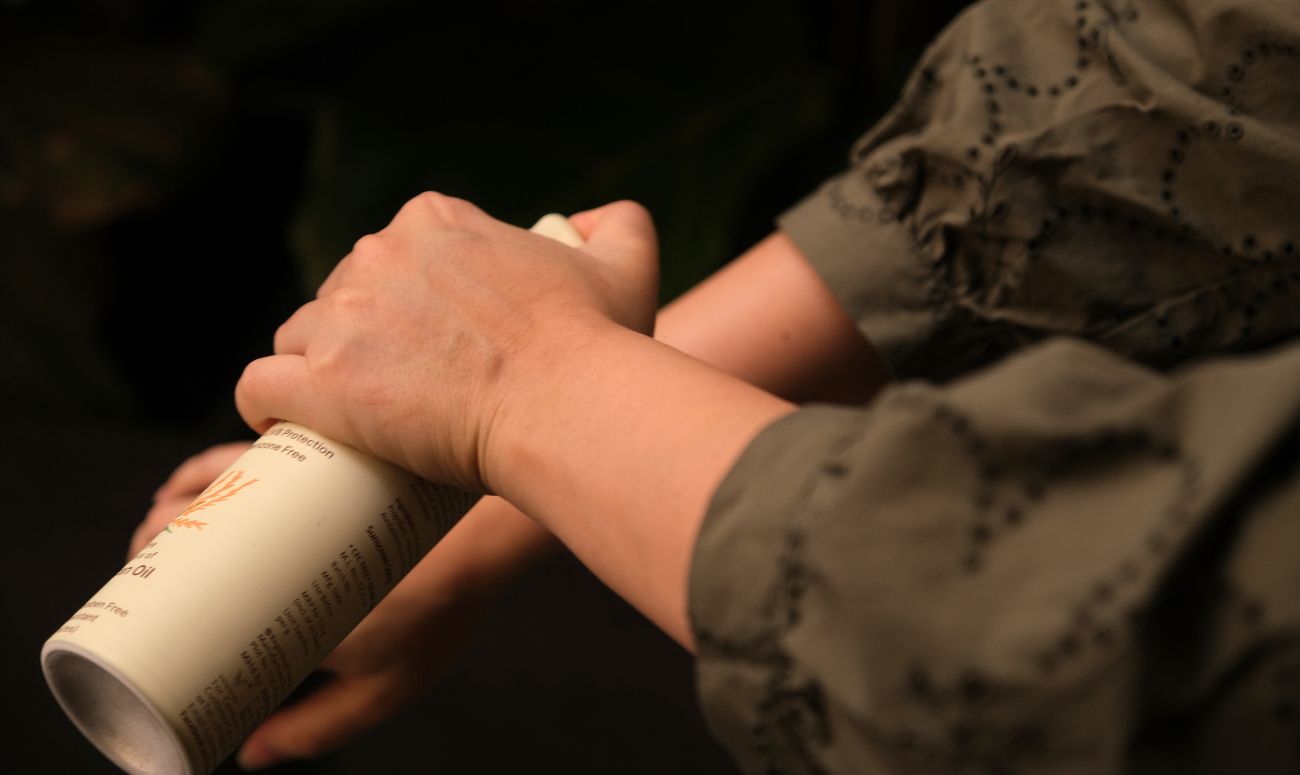 As mentioned, the key to sunscreen efficacy is proper application. Make sure that you always shake the bottle well and then spray it close to the skin, so it doesn't go anywhere else. Rub the sunscreen into your skin for even application. Avoid inhaling the sunscreen especially when you're applying it to your face.
Also, always apply the sunscreen 15 minutes before going into the sun to ensure proper absorption and remember to apply to commonly ignored areas like ears, lips, back of the neck, hands, and feet.
Regardless of the type or brand, you need to reapply sunscreen every 60 to 90 minutes. And wear it every single day, even when you're indoors.
What worked best?
The packaging is gorgeous, minimal yet summery.
The spray is very convenient to use for reapplication.
The formula sprays evenly across the skin.
What could be better?
The formula is a bit too greasy on first application.
The nozzle needs some strength to use.
A travel-friendly bottle would've been easier to carry for reapplication.
Read More: What Is Toxic Positivity? Are You Unknowingly Practicing It?
Like & Follow ThinkRight.me on Facebook, Instagram, Twitter, Pinterest and Telegram to stay connected.