Luxurious, soft, beautiful, there are so many adjectives to define this lovely fibre; it simply falls beautifully and enhances your overall personality. However, it comes at a price as it's produced in small quantities. But, have you actually given a thought to how it's actually derived? Conventional silk is quite cruel to the silk worms while organic silk is considered a better option. Here's more on one of the most sought-after fabric of all times.
Did you know, this natural fibre dates back to about 4th millennium BC originating in China? The opening of the Silk Road in about first millennium BC took it to other places such as Japan and other parts of the world. Quite popular amongst all, silk is known for its durability, softness, the ability to keep you warm in winter and cool in the summers. Besides, it's hypoallergenic, light and comfortable to wear while blending well with dyes.
This fibre consists of animal protein fibres that are produced by insects while they build their cocoons. About 130 tons of silk is produced the world over and China naturally is at the top; it produces about 80 percent of it. This is closely followed by India, which is at about 10 percent. Korea, Japan, Vietnam, Thailand, and Uzbekistan too produce silk while Brazil is a major producer as well.
Inhuman way of deriving silk
In the past few years, the production of silk has come under scanner by environmentalists and animal rights activists alike. This is because of the method used to derive the fibre.
Basically, there are two types of moths from which silk is derived, the mulberry silk moth and the Bombyx mori (another silk moth). The conventional process though is harmful to the insects. The silkworms are made to lay as many eggs as possible in an artificial environment. Before turning into a butterfly, the caterpillar spins upto 3,000m silk thread pupating inside the cocoon. In the natural process, the cocoon and the silk thread are destroyed during hatching by the butterfly. In the conventional process, to prevent this, the silkworms are killed by boiling the cocoons in water. Due to this, the silk fibres do not break but the silkworm dies. This way, the silk is processed into thread, which gets woven into different fabrics as well.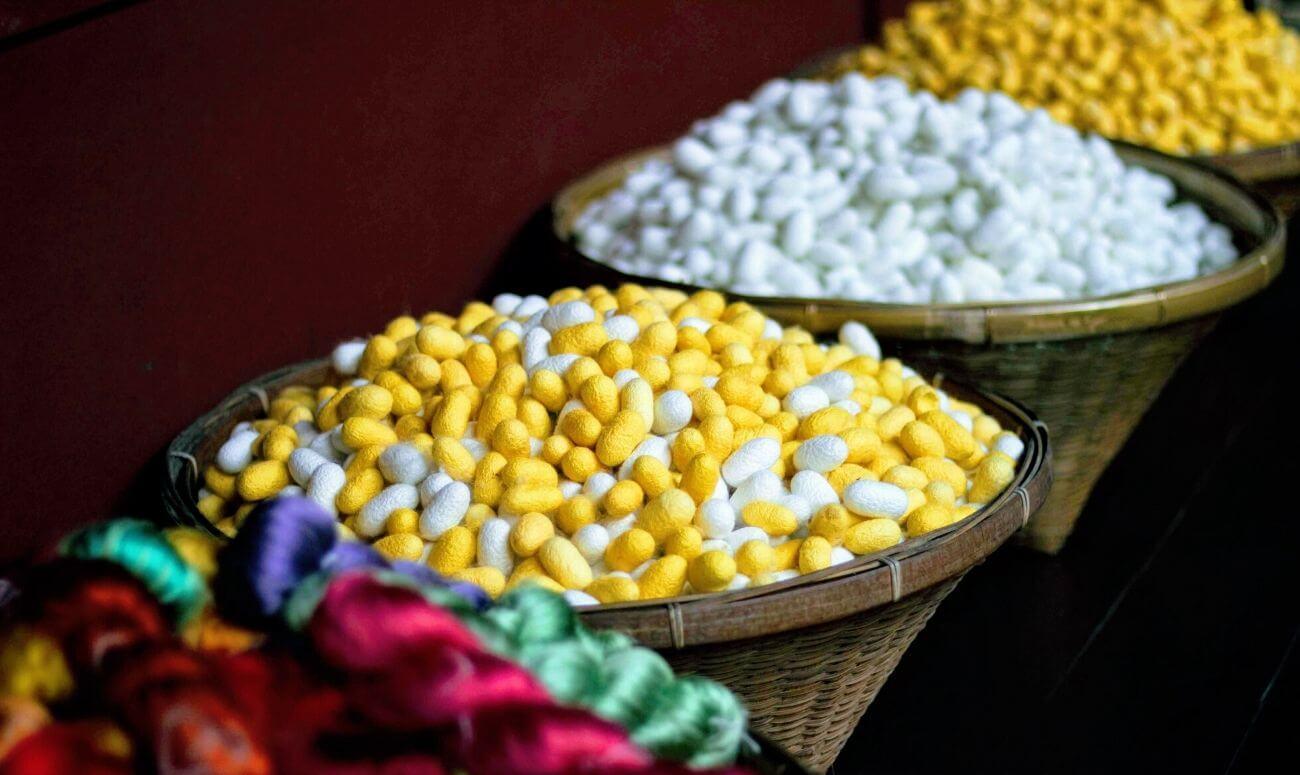 Organic silk
So, is there an option to conventional silk then? And, if conventional silk harms the ecosystem and life, is organic silk a better option? It may seem so; however, the process of production of the two is the same. Apparently, one cocoon holds only a small amount of silk and about 2,500 silkworms are required to produce about one pound (about 453 gm) of raw silk.
The production of organic silk and the finished cloth essentially eliminates the use of insecticides, pesticides or harsh chemicals. The process itself is longer than the commercial method. And, its production is far less than traditional silk, which itself is less than 0.2 percent of the total textile fibre market. Organic silk, on the other hand, constitutes a very tiny percentage of that. Since the production of organic silk is so small and even controlled, the raw material it creates is in smaller quantities too.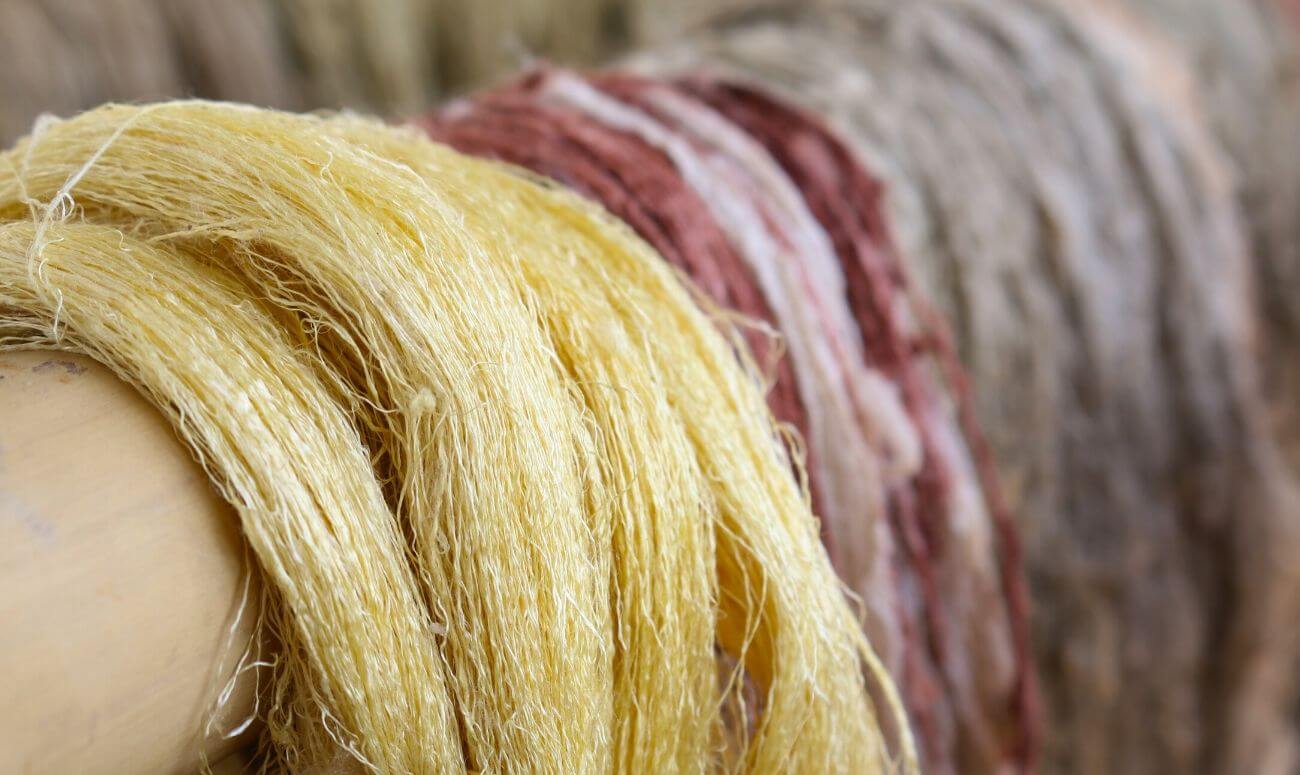 Ahimsa or Peace or Vegan silk
However, there's something called 'Ahimsa Silk', also known as 'Eri Silk', to combat the cruel methods of conventional and organic silk. Ahimsa silk believes in non-violent methods of silk breeding and production. In this process, wild silk moths are bred over domestic ones and the silkworms are allowed to hatch from the cocoons. Later, they turn into moths and then butterflies before unwinding the thread from the cocoon. The entire process though, lasts for 2-4 weeks slowing down the production of silk but saving many lives.
Besides, just like organic silk, no harmful chemicals or pesticides are used on trees where silkworms grow. Instead, the entire tree is covered with a net to protect the caterpillars and leaves from other birds and insects. This method is considered the most cruelty-free in producing silk.
Designers opt for Ahimsa silk
While hardly any big brands adhere to ethical sourcing of silk for their garments, there are a number of designers who have chosen to use cruelty-free silk for their creations. Designers such as Wendell Rodricks, Vinayak Couture by Asha and Gautam Gupta, Anavila Misra, Priyanka Ella Lorena Lama (P.E.L.L.A), and Divya Ahluwalia, (founder designer of AKIRA MING) use only Ahimsa silk for their collections. Designers Abraham & Thakore too have, in the past presented a line using Eri silk.
A Tamil Nadu-based label, Shubham Sarees creates beautiful vegan silk sarees that are light-weight, soft, and the collections evolve every few weeks. Besides these sarees are also easy on your wallet. They are crafted out of vegan silk, which is a man-made fibre that is woven and processed to resemble pure silk sarees.
So, the next time you gloat over that gorgeous silk scarf or the beautiful silk Kanjeevaram saree, spare a thought for the lives destroyed into making that garment.
Read More: 5 Women Who Are Making This World A Better Place
Like & Follow ThinkRight.me on Facebook and Instagram to stay connected.
ThinkRight is now available on Telegram. For handpicked stories every day, subscribe to us on Telegram