Building a summer wardrobe can be very tricky to do without the right direction; you could end up overwhelmed, spend money on things you don't need, and in the end wonder, how will you ever style this into an entire outfit? The solution is to look for capsule-worthy pieces that can go from season to season while you style them in new, imaginative ways. Plus, if you're new to the world of sustainability, capsule wardrobes help you reuse what you already own while adding pieces that are a style investment.
Summer, the season of all things sunny, also brings with it a lot of heat, sweat, and just plain old discomfort. To combat the heat, you need to be armed with easygoing pieces that feel breezy and comfortable enough for you to wear all day long. Below, you'll find 9 staple summer style pieces that can take you from season to season with ease.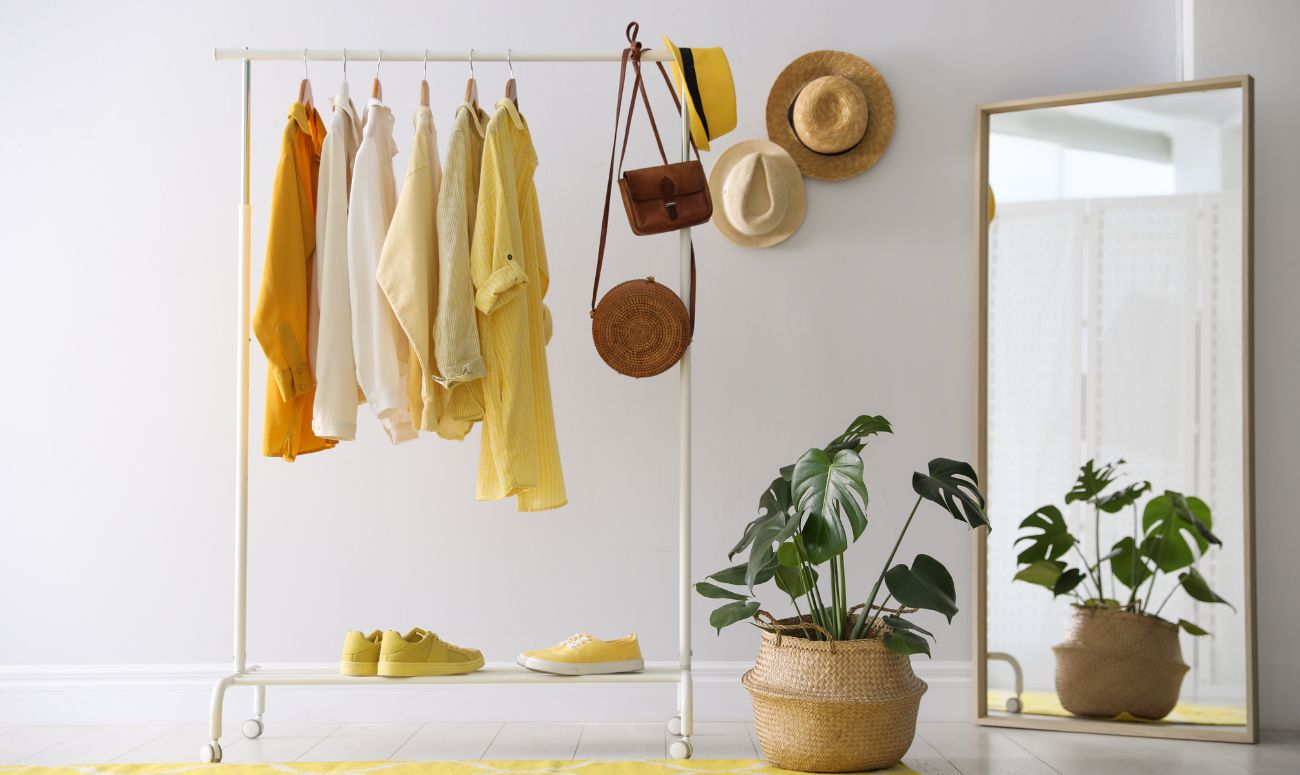 9 Summer Style Staples You Need In Your Wardrobe
1. White Cotton T-shirt  
We're not starting off too exciting, but a white T-shirt is a wardrobe must-have for everyone. The most versatile piece in your closet, this tee can go from summer to winter and back again, all the while looking fabulous. You can pair it with jeans, trousers, skirts, under maxi dresses, and never go wrong. This easy-going piece can be warm-weather workwear while also being the perfect outfit for weekend book clubs.
Fabric Spotlight
Cotton is perfect for all climates as they keep you cool and comfortable throughout the year. They absorb sweat and keep us safe from bacteria and infections that are common during the heat.   
Recommendations
Amala Earth 100% Cotton T-Shirt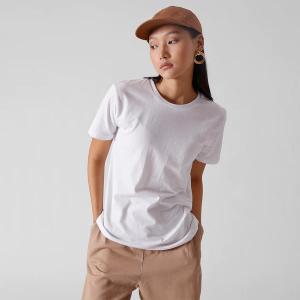 Shop here.
One Less Organic Cotton T-Shirt – SNOW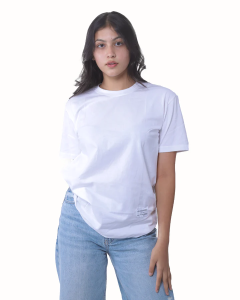 Shop here.
2. Linen Button-Down Shirt
A linen button-up shirt is another versatile wardrobe essential that keeps you cool in the summer and warm in the winter. It adds a touch of polish to easygoing outfits by letting you channel business-casual for work and beyond.
Fabric Spotlight
Like cotton, linen absorbs moisture and dries quickly, always keeping you sweat-free and dry. Being a breezier fabric than cotton, linen is the ultimate summer staple as it's extremely breathable and doesn't cling to the skin.
Recommendations
Saphed Chaukor Linen Oversized Shirt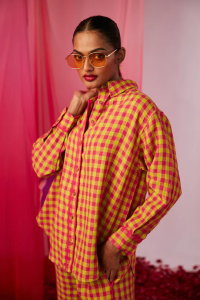 Shop here.
Rareism Striped Linen Collared Top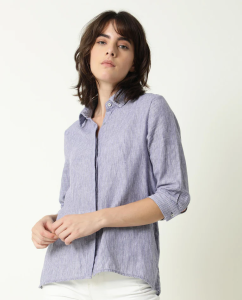 Shop here.
3. A-Line Khadi Midi Skirt  
An A-line midi skirt in neutral hues is perfect to take you from meetings to supper evenings on long summer days. This silhouette is universally flattering and uber-chic and keeps you cool and comfortable at the same time. Plus, it'll easily transition into the next season.
Fabric Spotlight
Hand-spun fabric made from cotton, silk, or wool, khadi or muslin is a delicate and finely woven fabric that feels soft on the skin. The sustainable fabric is highly breathable, hypoallergic and cooling to the skin.  
Recommendations
The Summer House Valeria Sustainable White Skirt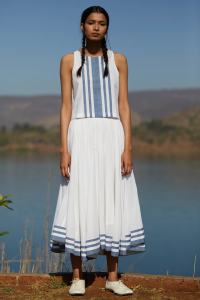 Shop here.
Tjori Ivory Sand Color High Waist Asymmetrical Khadi Flare Skirt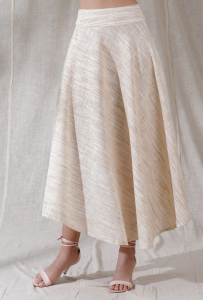 Shop here.
3. Mulmul Kurta  
Being accustomed to the Indian summer comes with the knowledge of adding sartorial options that go beyond shirts and trousers. One of them is breezy printed kurtas that can be paired with jeans, slacks, salwars, churidars, skirts, and palazzos alike. Complete the look with a pair of jhumkas and juttis or kolhapuris and you're ready to take on the heat.
Fabric Spotlight
A soft and fine weave of cotton, mulmul is a 100-year-old fabric that is perfect for harsh summers. As it gets softer and softer with every wash and easily absorbs moisture, you'll keep coming back to this fabric thanks to its airy, light, and breathable qualities.  
Recommendations  
Cottons Jaipur Lush Pink Hydrangeas Kurta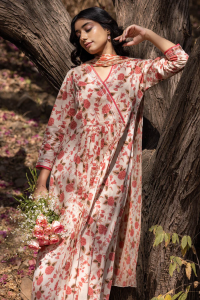 Shop here.
Mulmul Organza Jankia Lime Kurta With Mulmul Cotton Jankia Lime Pant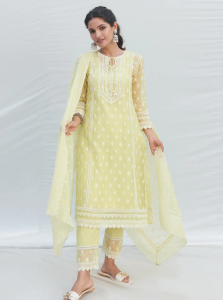 Shop here.
5. Silk Printed Summer Dress 
When it's hot and sweaty, there's no better option than a pullover dress that doesn't confine and makes it easy to move around. There's no need to worry about how to style it, just throw on a pair of summer sandals and you're good to go. Or add a pair of platform heels if you need to dress it up.
Fabric Spotlight
Modal, a lightweight version of the iconic silk fabric, doesn't trap body heat like many other fabrics, making it perfect for summer. The fabric allows the skin to breathe and is almost 50% more absorbent than cotton, being the ultimate sustainable fabric that goes from season to season.  
Recommendations  
True Browns Pink Bandhani Printed Silk Drop Shoulder Dress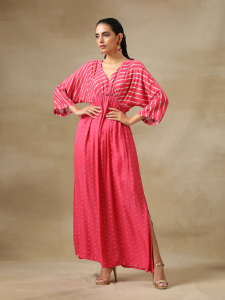 Shop here.
Pinklay Jannat Indigo Kaftan Maxi Dress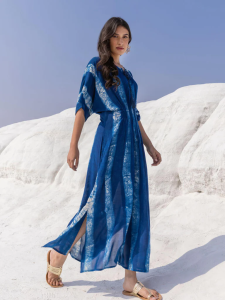 Shop here.
6. Poplin Wide-Leg Trousers  
There's something so refreshing about summer trousers that break away from the monotony of black and charcoal. Lay the foundation of your wardrobe for the season with movement-friendly wide-leg pants that emulate summer. Paired with minimalist tops that let the pants shine, this staple piece will take you from office to outdoor meetings and beyond, even working to make a weekend appearance.
Fabric Spotlight
Poplin is a crisp and lightweight fabric that has a natural drape, making it perfect for workwear as it doesn't crease easily. The durability and sleek look make it an easily transitioning staple for all-year-round events.  
Recommendations  
Happi Space Gilli Pants In Palm Print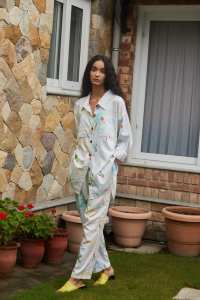 Shop here.
Originate Light Pink Poplin Pleated Pants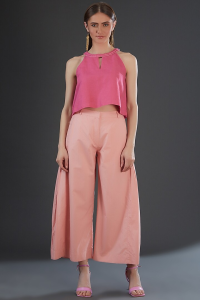 Shop here.
7. Jute Espadrilles 
Whether you're opting for slide-on or strappy, a pair of sleek and minimalist summer sandals act as the anchor to any outfit. From dresses to trousers to denim and beyond, classic espadrilles offer a simultaneously relaxed and luxurious look that's appropriate for the beach as well as the office or events.  
Fabric Spotlight
Espadrilles are the comfiest summer shoes as they're very breathable and lightweight, making them perfect for long strolls and on-your-feet days at the office. Since they're made of jute, they stretch and take the shape of your feet with a few wears, making them even more comfortable when you take them from season to season.  
Recommendations  
Pari Pari Environment-Friendly Diego Espadrilles Sand Haut Platform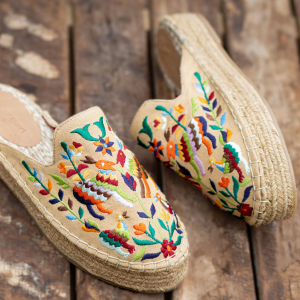 Shop here.
Cai Tan Jute Wedges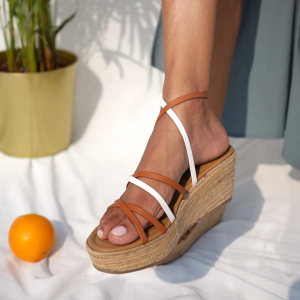 Shop here.
8. Crochet Tote Bag   
No longer a thing of the past, crochet bags are coming back in trend front and center as we recreate a fresh fabrication of this nostalgic must-have. Spun with daisies and flowers and colours galore, this eye-catching addition to your summer wardrobe with surely pay off in seasons to come. Plus, a carry-all tote never goes out of style. This season, it'll be perfect for your summer essentials, while in the next, it'll carry your autumn must-haves.
Fabric Spotlight
Seen as a warm, winter essential, many don't realise that crochet can be utilised in the summer as well. Cotton crochet totes are the perfect shopper bags for summer as you can throw in anything and everything in it and they can also be easily cleaned.  
Recommendations  
Magic Needles Handmade Crochet Market Bag – Pink, Yellow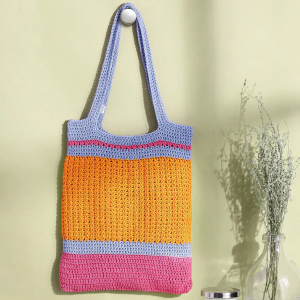 Shop here.
Itihasikala United Urbane Bag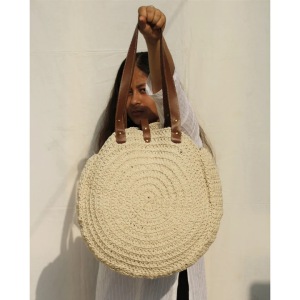 Shop here.
9. Summer Sunnies (Honourary Mention) 
There's absolutely no better way to finish off a stylish summer look than with some chic sunglasses. And while the trends keep rotating, the most iconic pair will always be the one that suits your face shape best. So, whether those are a pair of aviators or wayfarers, or you like to rock a pair of cat eye shades, express your personality by finishing the look with a classic 'you' pair.
Recommendation  
Sunglassic Marlton, Brown Polarized TR90 Square Sunglasses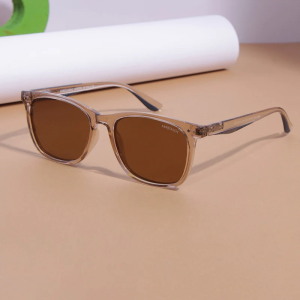 Shop here.
The Tinted Story Rimless Rectangle Tint Sunglasses (UV400 Protection)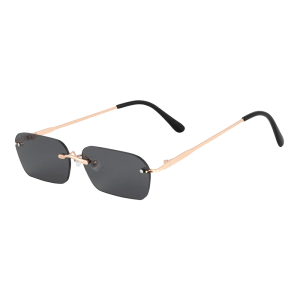 Shop here.
These are the essential items that can set the tone for your summer wardrobe. This capsule can help you work with your existing pieces and build versatile outfits that can bring work for different events and settings. Don't be afraid to experiment and remember to have fun. Happy Summer!  
Read More: 5 Easy Recipes Using India's Most Cherished Fruit – Mango
Like & Follow ThinkRight.me on Facebook, Instagram, Twitter, Pinterest and Telegram to stay connected.