Tom Hanks, the Hollywood superstar and his wife Rita Wilson had both contracted COVID-19 earlier in March and had spent weeks in isolation in the Gold Coast city, Queensland. And while they were recovering Tom Hanks received a rather heart-warming but also a very downcast letter from Corona De Vries, an eight-year-old Gold Coast resident.
When Corona De Vries found out that the actor was in his city sick and recovering from the virus. He wrote a letter to the superstar, asking him how he and his wife were doing and wishing them well. He went on to explain how after the COVID-19 pandemic outbreak his life has become difficult as his classmates had started calling him coronavirus and how miserable and angry he felt.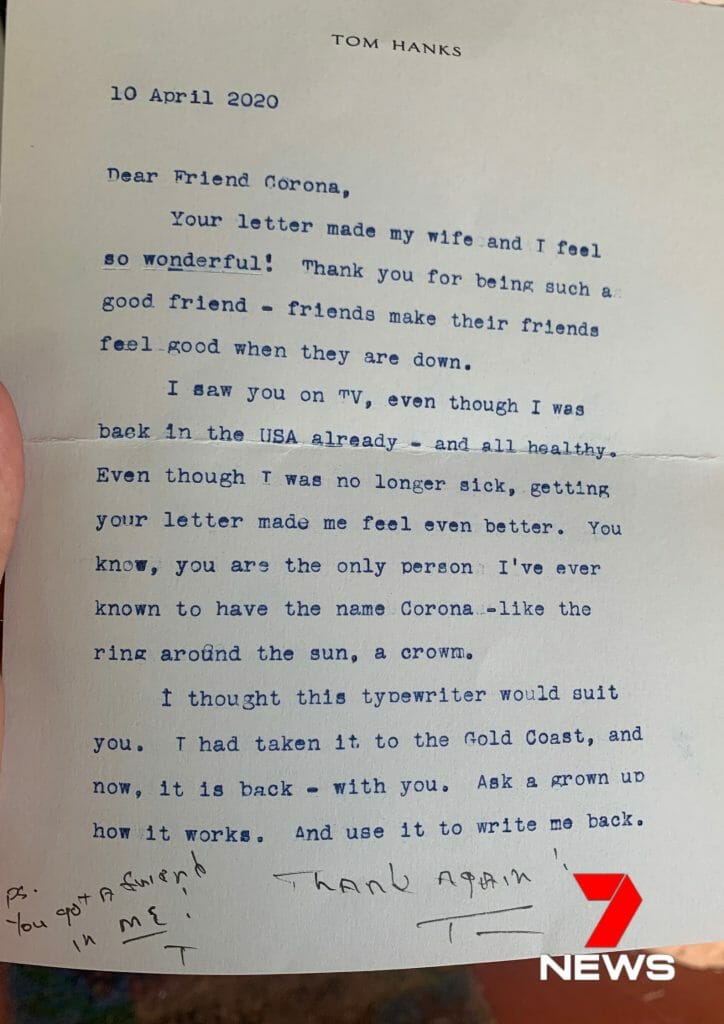 Hanks sent a very warm and iconic reply to this kid's letter. He mentioned how he had seen De Vries on TV and how good and special he and his wife felt after receiving his letter. He addressed the letter to, "Dear Friend Corona". He also mentioned how he had never before met anyone named Corona, which refers to the ring that surrounds the sun like a crown. 
The actor typed out the letter on his vintage Corona typewriter. He had taken the typewriter along with him to Gold Coast and felt that it was the perfect thing to do to type out the letter to Corona on that typewriter. He mailed the letter along with the typewriter to De Vries saying that it would "Suit him" with instructions on how to use it, "ask a grown up how it works, and use it to write me back."
The sweetest thing in the letter was when at the bottom he scribble in hand, "You got a friend in me," iconically referring to his character Woody for the Toy Story movies.
ThinkRight is now available on Telegram. For handpicked stories every day, subscribe to us on Telegram
Read more: Landscapers Create A Perfect Social Distancing Park
Like & Follow ThinkRight.me on Facebook, Instagram, and Telegram to stay connected.