India is one of the most drought-prone countries in the world. There is water scarcity in many semi-arid regions. Residents of a residential complex in Sholinganallur in Chennai, decided to harvest rainwater in a sump.
WHY IS WATER CONSERVATION ESSENTIAL?
Water conservation is crucial to alleviate water shortage in the country and entails limited usage and saving water for future requirements.
SOME IMPORTANT BENEFITS:
1. Minimizes the effects of drought and water scarcity
2. Meets the increasing demand for water
3. Reduces groundwater contamination
4. Helps preserve the environment
5. Makes water accessible for recreational purposes
IMPORTANCE OF RAINWATER HARVESTING
97% of earth's water is salty and unsuitable for drinking. Fresh water comprises 2.5-2.75% out of which 1.75- 2% is locked in ice caps and less than 1% is potable. Rainwater harvesting (RWH) provides a feasible solution to this problem. It replenishes groundwater, which can be used for agriculture, industry, and human consumption. RWH technology is viable in an urban setting by collecting run-off from a structure and storing water for later usage.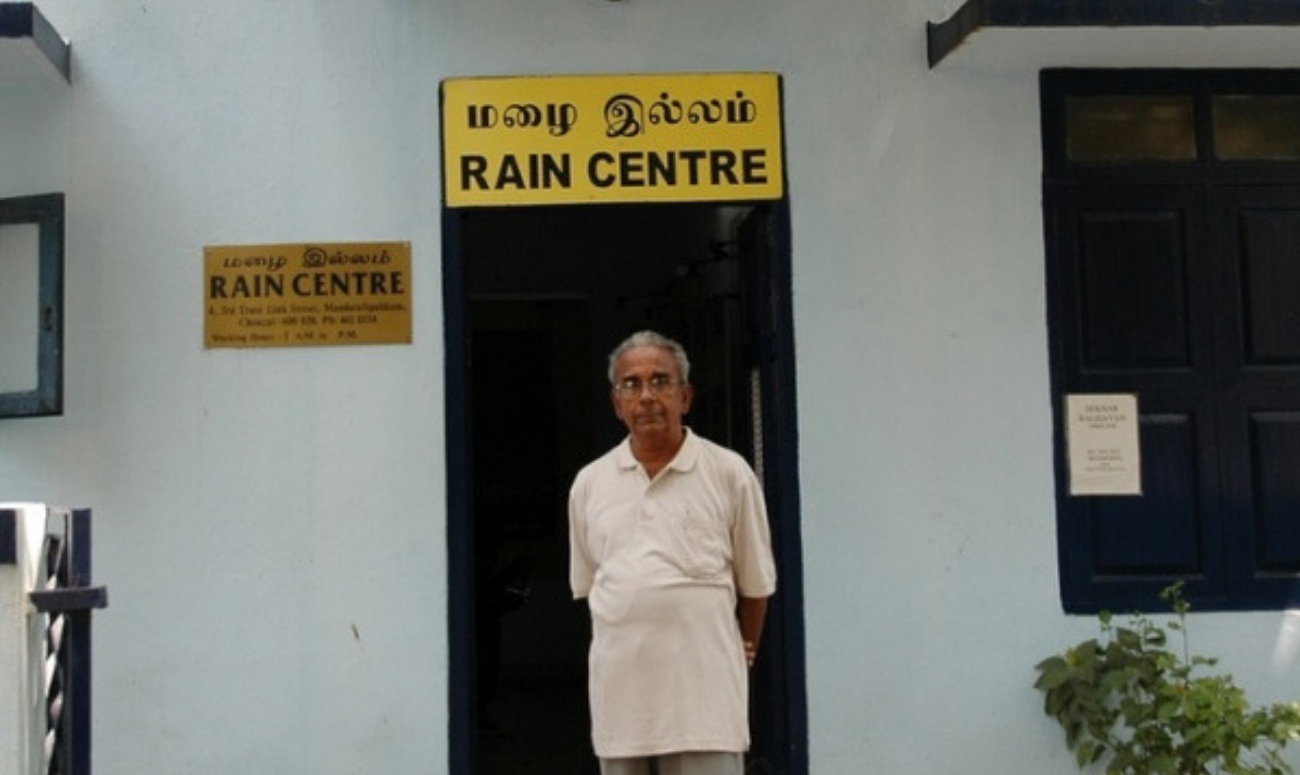 FINDING A SOLUTION
The Chennai apartment complex decided to undertake RWH as a solution to water shortage. In an interview with Times of India, Harsha Koda, secretary of Sabari Terrace Residents' Association, explained how the structure works. It was planned in phases. In the first phase, rain pipes from fifty-six terraces carried rainwater into two tanks where sedimentation took place, clearing the run-off water from dirt particles. In the second phase, the tanks deposited water into an underground sump, with a capacity of one lakh liters. The water was routed to a treatment plant, where it was recycled and rendered safe for use. It was then redistributed to local water sources. Koda adds, "Only last month all the four blocks were connected to the sump. In the three days cumulatively, it would've rained for three hours. But that was enough to fill our sump." Koda's wife, Prabha, conceptualized the design for the water reservoir, which was finalized by experts from the Rain Centre. According to Dr. Sekhar Raghavan, a conservationist at the Rain Centre, "A harvesting system has to be cleaned before every monsoon, if not twice a year. Or it would be useless as dirt and silt clog it."
SUPPORT FROM RESIDENTS
Fifty-six apartments from the four blocks of Sabari Terrace Complex participated in the RWH drive. Rain pipes channeled water from the terraces into an underground water sump. After three days of rain (October 29th to 31st), they stored 1 lakh liters of water in the reservoir. The residents have been active crusaders of rainwater harvesting since 2017. There is a plan to build a larger sump. They have begun constructing RWH structures in different phases. In the last year, the total expense of laying pipelines cost Rs. 2.5 lakh of which the association saved Rs. 50,000/- in water cost. The project has reduced their dependency on Chennai 'metro water' – the urban groundwater supply network of Chennai.
THINKING RIGHT
The residents of this Chennai apartment complex have 'thought right.' Their initiative to save water is to be admired and emulated. It is hoped more people adopt such measures to save water and make every drop count.
READ MORE: AUTO DRIVER MAKES DELHI SAFER FOR WOMEN AT NIGHT