You will not know these kids. Aadi, Parth, Rachit, Shourya, Shruten, and Vinayak, Pune kids, who have developed a traffic robot called "Roadeo". And identifying the importance of traffic rules in our daily life, Pune Traffic Police Roadeo has commissioned Roadeo to help with their traffic chaos. So, from January 15 this robot will be a huge help to control the chaos that people involve themselves in, while on Pune roads.
The story behind Roadeo
This project is the brainchild of SP Robotics Maker Lab, a lab that trains people on Robotics and encourages them to make robots themselves. These boys took all this very seriously and this is their first commission. Sandeep Gautam, the Head of the Lab is very enthusiastic that the robot shall be a major help to the Police and so he has handed over this robot to them. If all things go well, there will be more commissioning in the future.
Through a 16′ video screen, the robot shall relay simple instructions. Presently the robot is relaying instructions such as "Wear a helmet", "Do not jump a signal" and so on. It also shows traffic signs as necessary. It trundles, it does not walk or stride. So, it may just be stationed at busy spots and encourage people to do the right thing and thereby create lesser chaos.
In a way, it is already a success, being the first of its kind initiative anywhere in this country.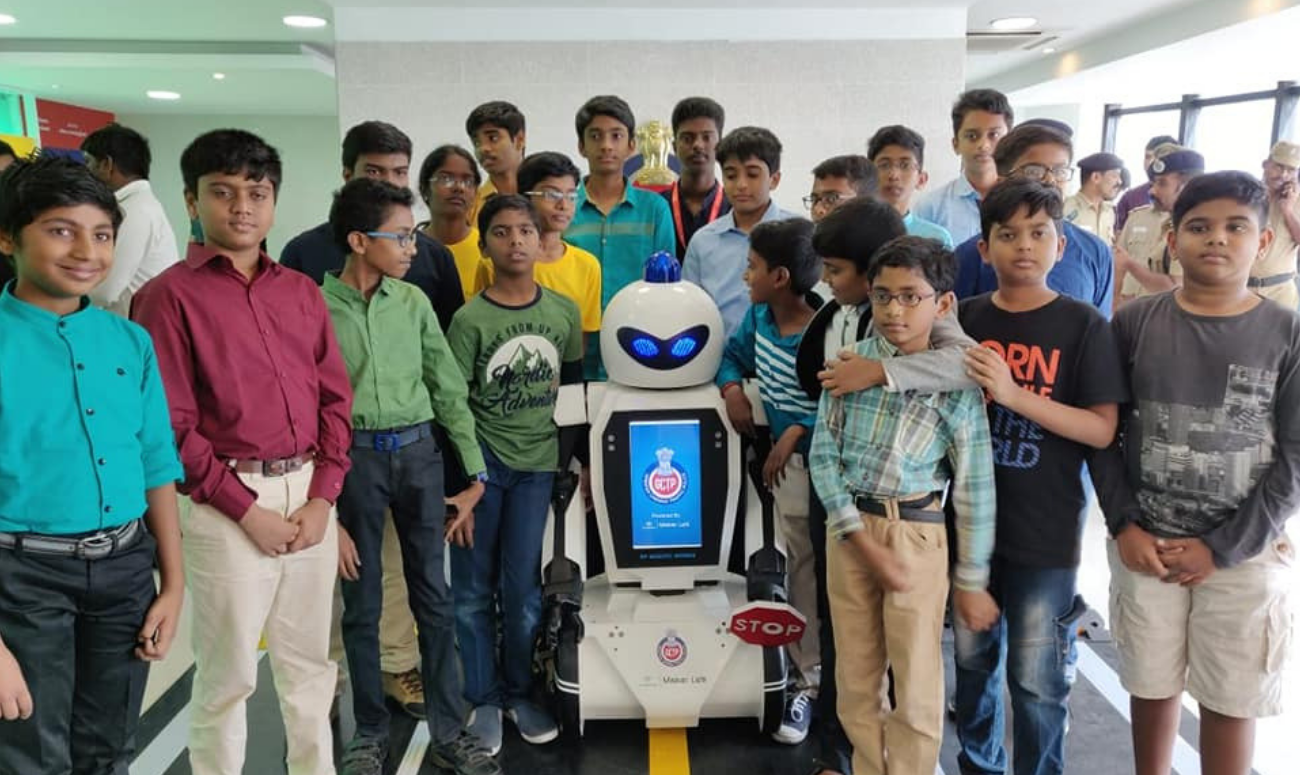 Role of Roadeo in conveying the importance of traffic rules in our daily life
Despite knowing the importance of traffic rules in our daily life we witness traffic rules being flouted all across the country, in metros, in cities, and in smaller towns. Very few people really can drive with all the traffic rules in mind. On an average day, one can see hundreds without helmet anywhere in a town. One can see people speeding, overtaking and cutting lanes. These lead to ghastly accidents. But no one seems to learn. The traffic police can only do so much. Traffic laws are made to be flouted by the people, so is the popular joke going around for too long. People battle with their cars and bikes on the streets.
There are too less traffic police on roads. In desperation, they have created flying squads who too get stuck in miles of jammed traffic in some cities and become worthless. Some cities like Bangalore and Mumbai are now famous for their traffic chaos. Jokes and memes have repeatedly made the rounds. Corporations and state governments stoically smile when questioned about this.
Some cities have made citizen appeals, one-way streets, walkway plazas, and BRT lanes but all to no avail because traffic in India is primarily cultural chaos and it needs strict policing and adherence to laws.
So, we need a fresh new approach to traffic systems in the country. Traffic robots, maybe, are the way to go. Maybe, they could solve a cultural riddle. It remains to be seen.
Maybe, they would not be shouted at, by motorists, on a tough day!
Image: Facebook- SP Robotic Works
Read More: THREE QUESTIONS THAT BRING PURPOSE TO YOUR LIFE!
ThinkRight.me, Your Emotional Fitness App! You can now download and subscribe to the App here. Like & Follow on Facebook to stay connected.