"Wahan jaake dekho, aapko lagega hee nahi India hai."
Indians are infamous for using this line whenever we see a mind-blowing place. Although, there is some truth to it because these seven destinations are so beautiful, they will give you an international experience closer to home!
Gurudongmar Lake – Sikkim Vs Jokulsarlon Lake – Iceland
Gurudingmar lake in Sikkim very much resembles Jokulsarlon lake in Iceland. Apart from being is among the 15 highest lakes in the world (located at an altitude of 5, 430 meters) Gurudongmar Lake is also believed to have healing properties. The best time to visit is between November to June.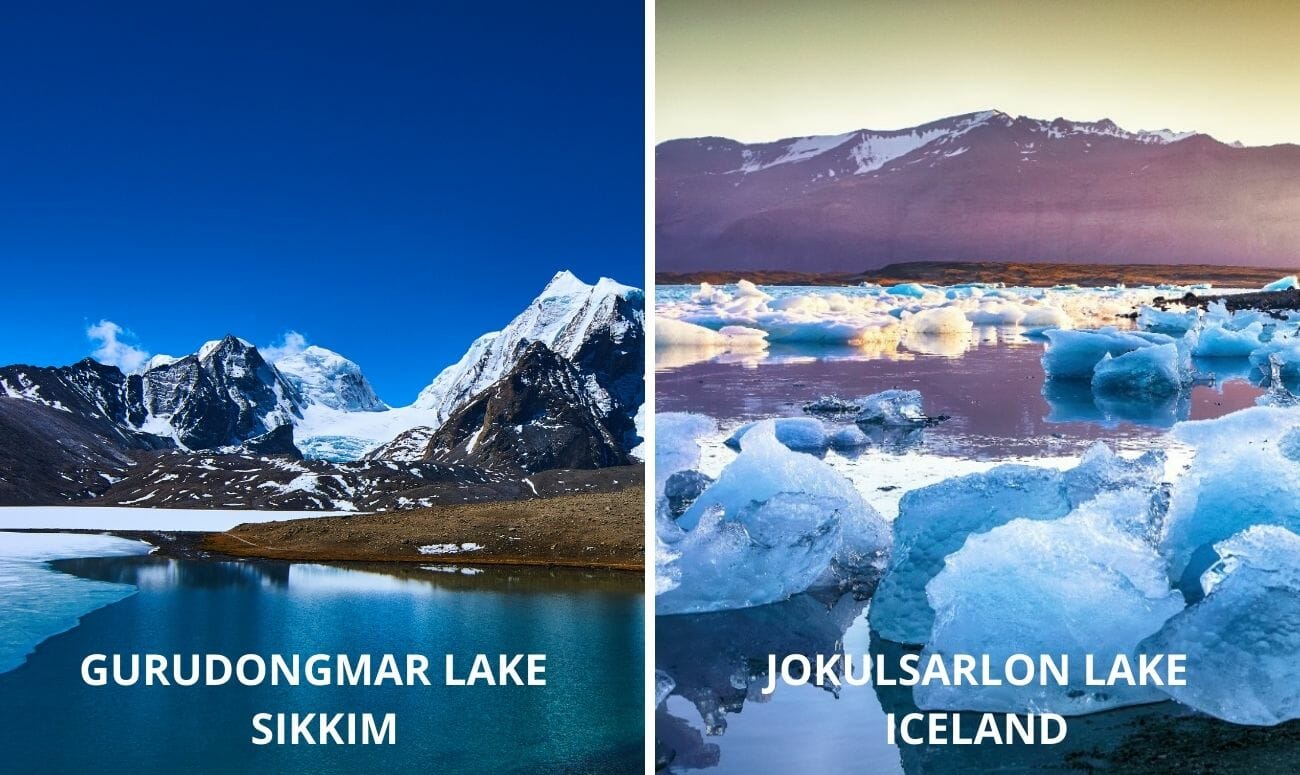 How to get there:
If travelling by flight, Bagdogra airport is the nearest and you can take a cab from there to Lachen. If travelling by train the nearest station is New Jalpaiguri.
Where to stay:
Gurudongmar lake is 3-4 hours drive from Lachen, therefore a night stay in Lachen after arriving is recommended. We recommend opting to stay in one of many lodgings and homestays available for the best experience.
Tulips in Srinagar Vs Tulips in Amsterdam
Tulips are the classic flowers that symbolise deep care and affection. And visiting a Tulip plantation with your loved ones is the perfect vacation. The Tulip garden in Srinagar is at par with the Tulips in Amsterdam. With the gentle breeze and the serenity of nature, it transports you to a mesmerising fairyland. Though the Tulip garden is a one day picnic there are many other places to visit in Srinagar, like Pari Mahal and Dal Lake.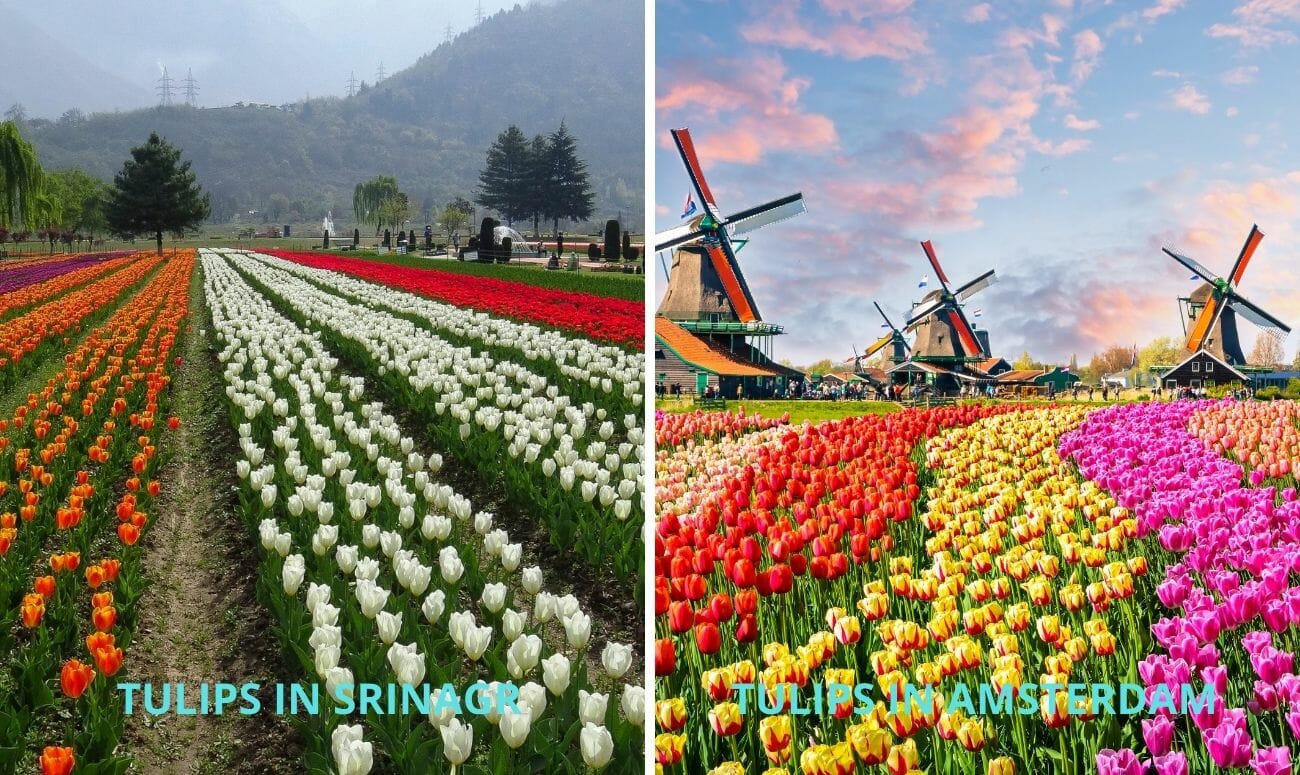 How to get there:
If you're travelling by train you can get down at the Srinagar station and then get a cab to reach the Tulip Garden.
Where to stay:
While you enjoy the beauty that Srinagar has to offer you can stay in a houseboat! Houseboat New Suzan on Dal lake is the perfect place to lodge.
Gulmarg – Kashmir Vs Switzerland
Gulmarg is already a major tourist attraction in India. If you are looking for a place to beat the heat, this is it. The scenic view of snow-clad mountains and little read and brown cottages will not disappoint you. It looks like a perfect little town in Switzerland that we see on Christmas cards.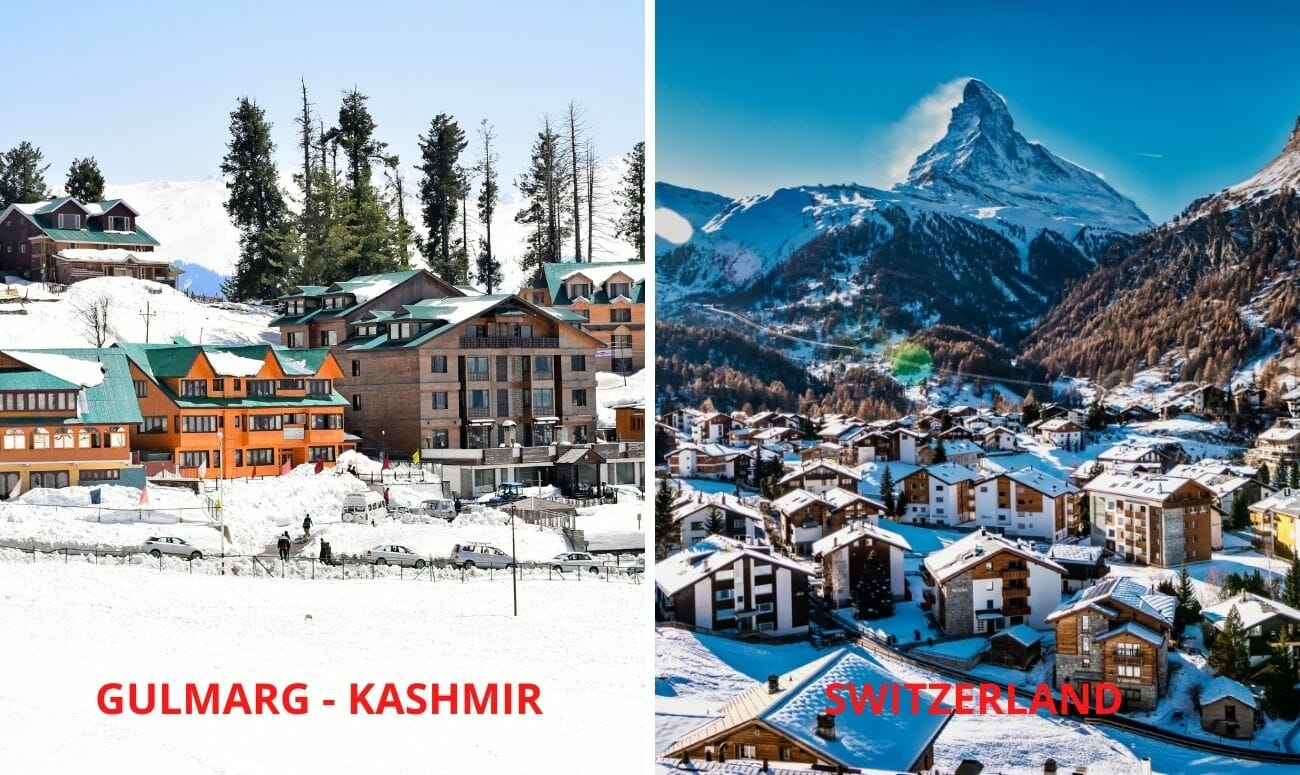 How to get there:
If travelling by flight the nearest airport is Srinagar and from there you can either take a bus or a cab to Gulmarg. By train the nearest station is Jammu.
Where to stay:
There are many hotels, resorts and lodges in Gulmarg, Gulmarg Meadows and Highlands Park are our favourite.
Andaman and Nicobar Islands Vs Phi Phi Islands – Thailand
Just like the Phi Phi islands, from all the adventure activities like snorkelling, surfing, scuba diving, or enjoying the diverse flora and fauna to lying in the beach and sun bathing, Andaman and Nicobar islands have it all. The best time to visit the islands is between October to May.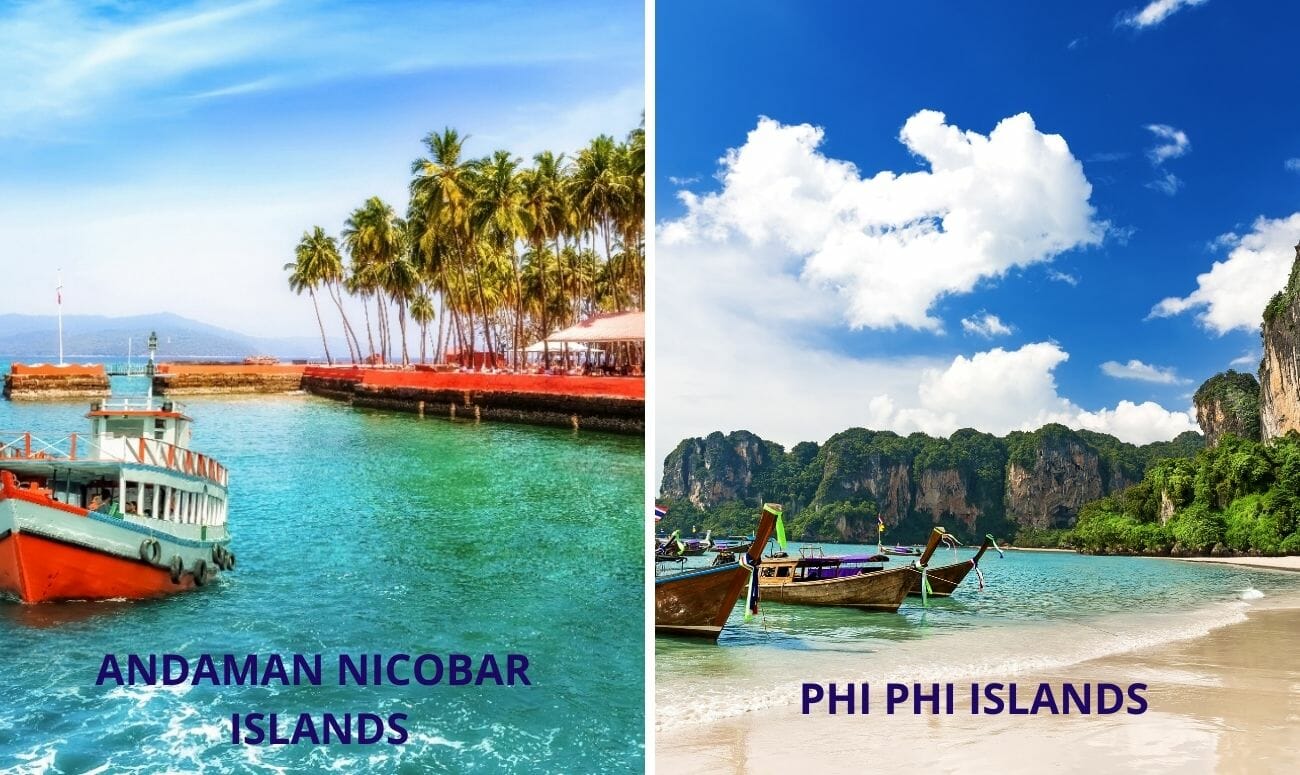 How to get there:
You can board a direct flight from mainland India to Port Blair, the capital city of the Islands. If you want to travel by ship, only government-run cruises operate, 3-4 ships depart from Kolkata and Chennai every month and one from Vishakapatnam.
Where to stay:
There are many hotels, resorts, shacks and camps available to stay, you can opt in for any that fit your budget and ideal stay.
Chitrakote Falls Chhattisgarh Vs. Niagara Falls
Chitrakote Falls is 95 ft high and is the widest waterfall in the country. The falls are breathtakingly beautiful and closely resemble the Niagara Falls. The best time to visit and see the waterfall in its full glory is from July to October.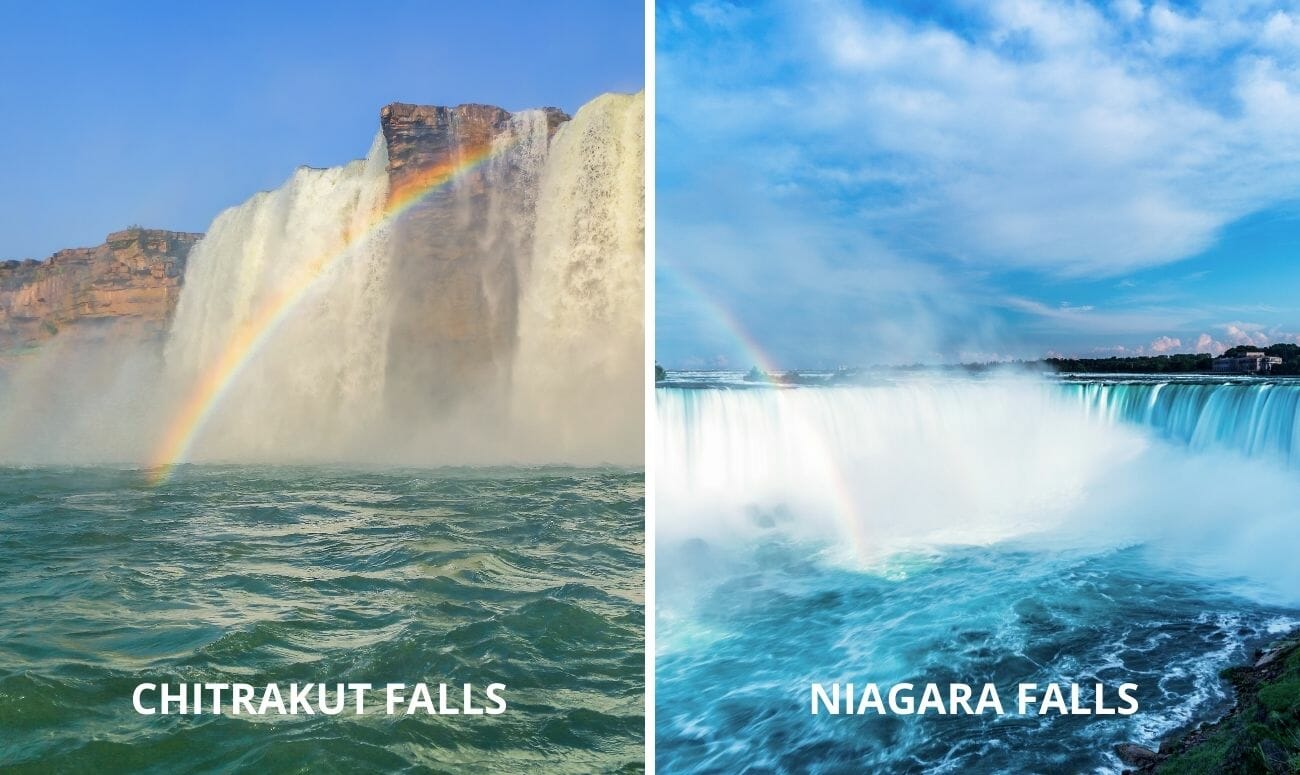 How to get there:
Train is the best way to travel, and the nearest railway station is Jagadalpur from where you will have to take a cab.
Where to stay:
There are many hotels and resorts near by our favourite is the The River Front Resort.
Coorg – Karnataka Vs. Scotland
The lush green hillsides of the Wester Ghats are very similar to sprawling ranges of Scotland. This area receives the maximum rainfall in India and is a must visit for all the monsoon lovers. The best time to visit is between October to May.
How to get there:
The nearest airport is Mangalore, you can also take a train. If you are going with friends especially off the monsoon season a road trip is the best.
Where to stay:
There are many villas and cottages that you can book for a comfortable and memorable stay.
Kasol Vs. Little Israel
Not just the place but the culture and the traditions of Kasol also resemble that of Israel. There is a major Israeli population in Kasol. The fog covered hillsides seem like a piece of heaven in the mornings and during sunsets. Kasol is one place in India that must be in everyone's bucket list.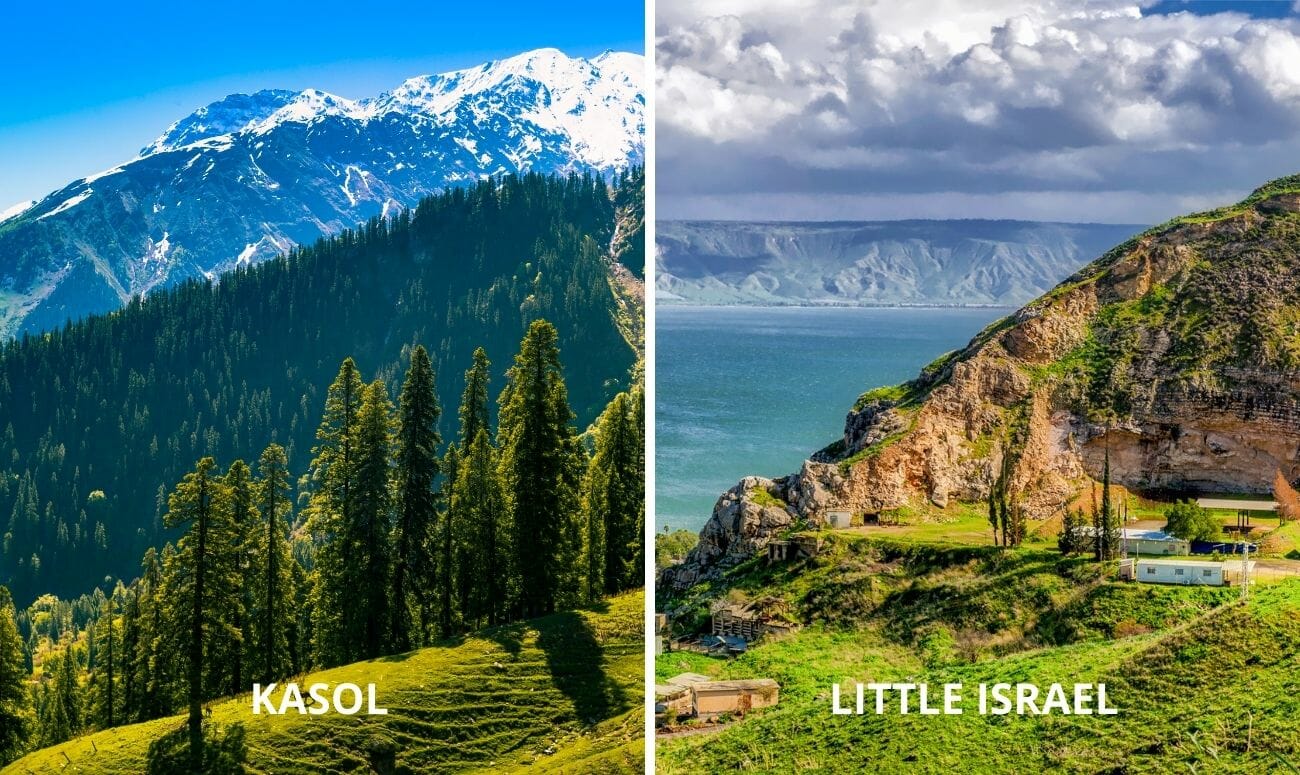 How to get there:
Kullu Manali also known as Bhuntar Airport is the nearest from Kasol, from there you can either hire a cab or bike for rest of the way.
Where to stay:
For the best experience either opt in for a homestay or book one of the many wooden cottages that are available for rent.
No more waiting for international travel plans! Start exploring these mesmerising destinations in India.
Read more: 10 Quotes To Read When You're Sad
Like & Follow ThinkRight.me on Facebook, Instagram, and Telegram to stay connected.