There's no better feeling than crossing off items on a to-do list. And while everything has gone virtual these days, there are a few wonderful benefits of incorporating good old-fashioned pen and paper into your daily routine. Using a planner in 2023 will enable you to reach success in a productive and organised manner, making habit-tracking easy to help you achieve your goals. Planners and journals are beneficial for everyone; whether you're working from home, commuting to work, balancing work and kids, or running your own thing.  
Finding the best planners may seem more complex than you think with options galore. But we're here to help you find the best pick, according to your style, preference, and personality.  
10 Best Planners For 2023
1. Indē Wild 2023 Planner Floral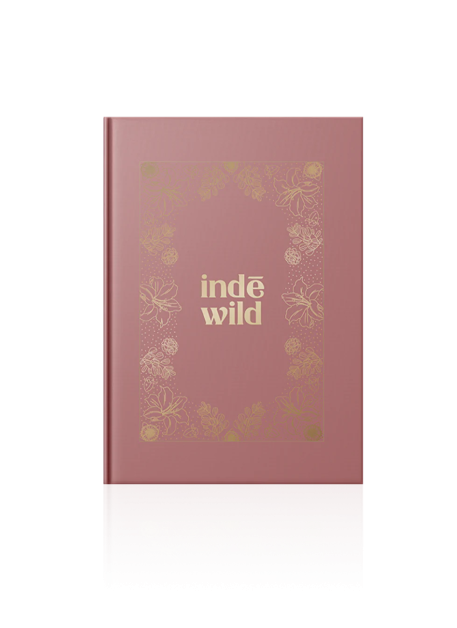 This limited-edition planner from Indē Wild, influencer Diipa Büller-Khosla's brand comes in a gorgeous muted mauve colour with a floral adornment on it. With 264 pages, this delicate-looking planner is perfect for busy moms trying to juggle work and play or boss women looking to conquer the world.  
Buy it here.
2. The Messy Corner Personalised Celebrating You 2023 Planner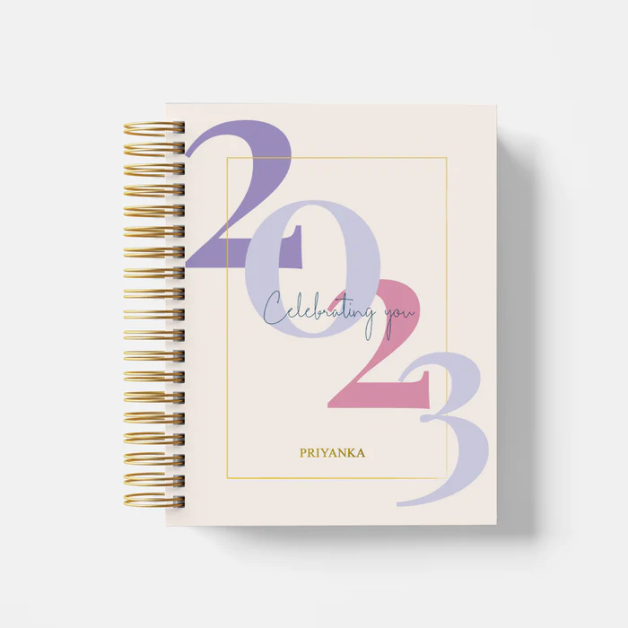 Get to work on this year's goals with a personalised 2023 planner meant to celebrate YOU and your dreams. Featuring gold wire-o binding, gold foiling accents, a hardbound cover, and monthly tabs, this journal can help you track your expenses, habits, books you read, songs you're loving and so much more.  
Buy it here.
3. Odd Giraffe Summer Bloom Planner  
Planners are essentially wellness tools that help you not only stay organised but also clear your mind and make you feel less stressed. This cottagecore one by Odd Giraffe is perfect for aesthetic-lovers who adore a dash of colour and style.  
Buy it here.
4. Alicia Souza The Ultimate 2023 Wiro Planner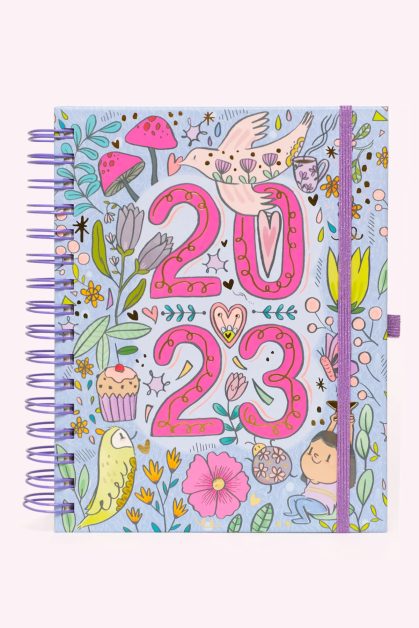 Who can resist the cute doddles that 'happiness illustrator' Alicia Souza draws? Her feel-good illustrations translate into an adorable planner with micro wellness trackers, textured pages to reduce ink bleed, and two pockets (front and back) to keep your notes organised. You even get a cute sheet of stickers to adorn your phone case, laptop, or anything you please.  
Buy it here.
5. Factor Notes Little By Little Planner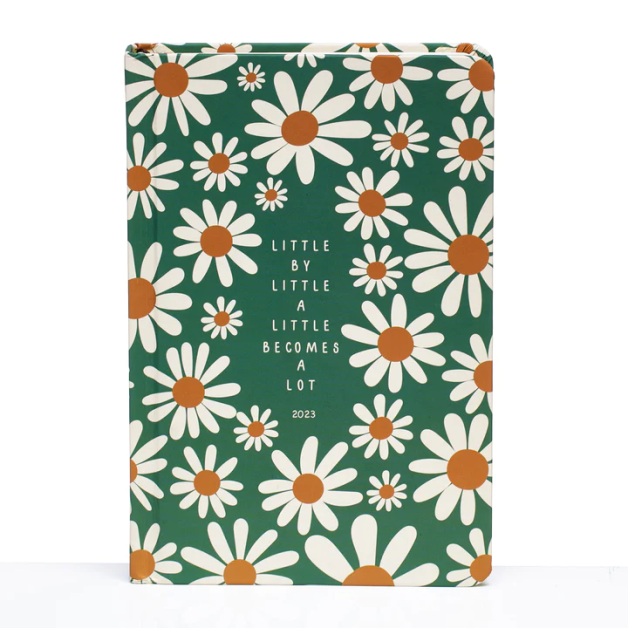 Dress up your desk space or the interiors of your work bag with a gorgeous floral dream planner. This planner boasts a colour-happy print that'll uplift your spirits, especially when you're having a terrible day. The features include a monthly budget tracker, self-exploration prompts, monthly affirmations, mood trackers, workout/period trackers, monthly reflections, meal planning prompts and so much more.  
Buy it here.
6. Daily Objects Space Blue Array Organiser With Planner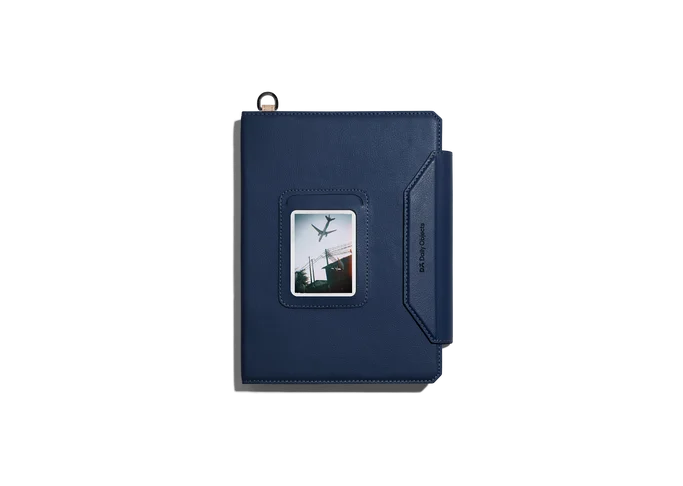 A multi-purpose and minimalist dream, this versatile planner and organiser is perfect for the go-getter. Organise your cables, pens, cards, bills and much more while staying on top of your tasks and calender events. This chic planner also offers an assigned space in the front to hold personal polaroids and quote cards to remind you to stay grateful every day.  
Buy it here.
7. The June Shop Limited Edition Undated Planner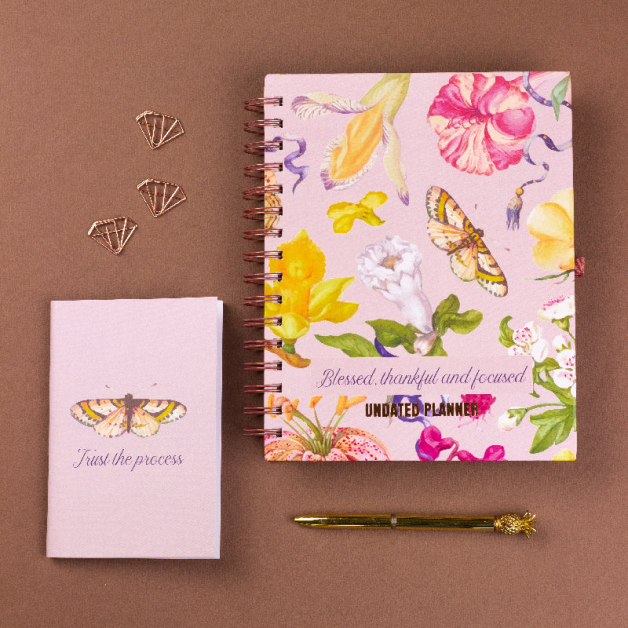 Treat yourself to a limited-edition planner by The June Shop that comes in three versions, Blessed, Thankful & Focused. Pick your affirmation for the year and enjoy being the leader of your life with a planner that comes with accented gold tones, laminated elements, and a rose gold binder that brings the style.   
Buy it here.
8. The Journal Lab Find Your Balance Planner   
Take this opportunity to write down all your goals in The Journal Lab's Find Your Balance Planner to avoid falling behind this new year. This mindful planner cum journal is a minimalist's dream and is thoughtfully designed to help you become your best self and improve your quality of life.  
Buy it here.
9. Amala Earth Daily Planner Diary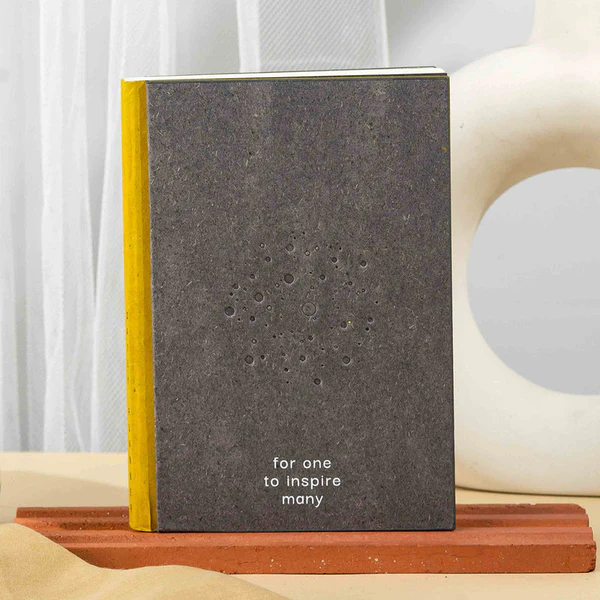 Get down to business with a classic yet modern banana cotton planner made with pages extracted from banana pseudostem and cotton rags from local textile factories. Easily chart out every aspect of your life with precision and manually fill in particulars that may otherwise be lost in the chaos.  
Buy it here.
10. The Tall Elephant 2023 Planner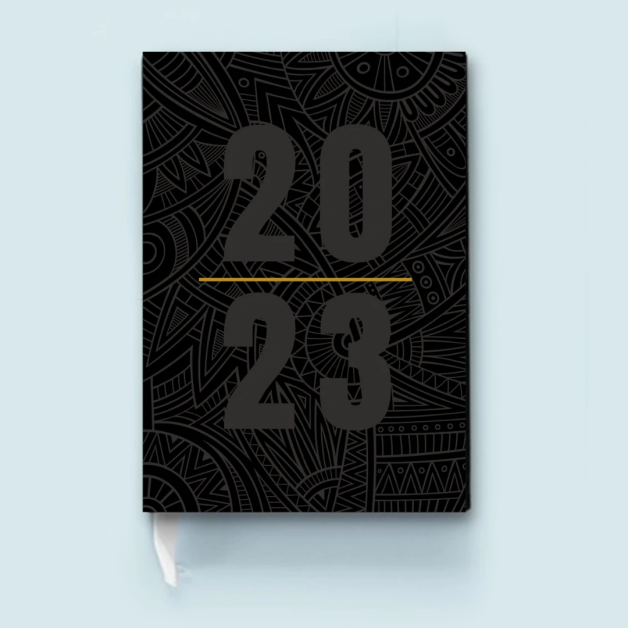 Stay incredibly organised and methodical with your work with The Tall Elephant's 2023 Planner. Manifest your bucket list, write down the things that inspire you, plan your goals for the year and track your habits and wellness to stay productive and on track.  
Buy it here.
There's something so therapeutic about disconnecting from the internet and getting back to the simpler things in life. Having a place to jot down all your thoughts and events will give you a much-needed break from all your devices. Pick the one that suits your personality best and have the best year you could ever hope for.  
Read More: The Importance Of Adapting To Change In Life While Being Mindful
Like & Follow ThinkRight.me on Facebook, Instagram, Twitter, Pinterest and Telegram to stay connected.