The skin takes a beating during harsh winters. As the seasons change, your skin and body requirements change as well. Our skin tends to get sensitive during colder weather, giving birth to problems like dryness, redness, inflammation, and flakiness. The transition can be painful but one of the most satisfying and practical skincare options is homemade face masks and most of the ingredients are already available in your fridge or pantry.
Not only are you taking the time to put the self in self-care by pampering yourself with a mask, but you're mindfully choosing ingredients selected by the person who knows your skin best: you. A few things that you should refrain from applying to your face are lemon juice and apple cider vinegar due to their high acidity as well as spices like turmeric and cinnamon. And before you apply a homemade face mask to your face, always do a patch test first to ensure that it's safe.
Now that you're up to date with the dos and don'ts of DIY masks, let's look at 5 recipes that will make your skin glow.
5 Homemade Face Masks To Try At Home
1. Papaya Face Mask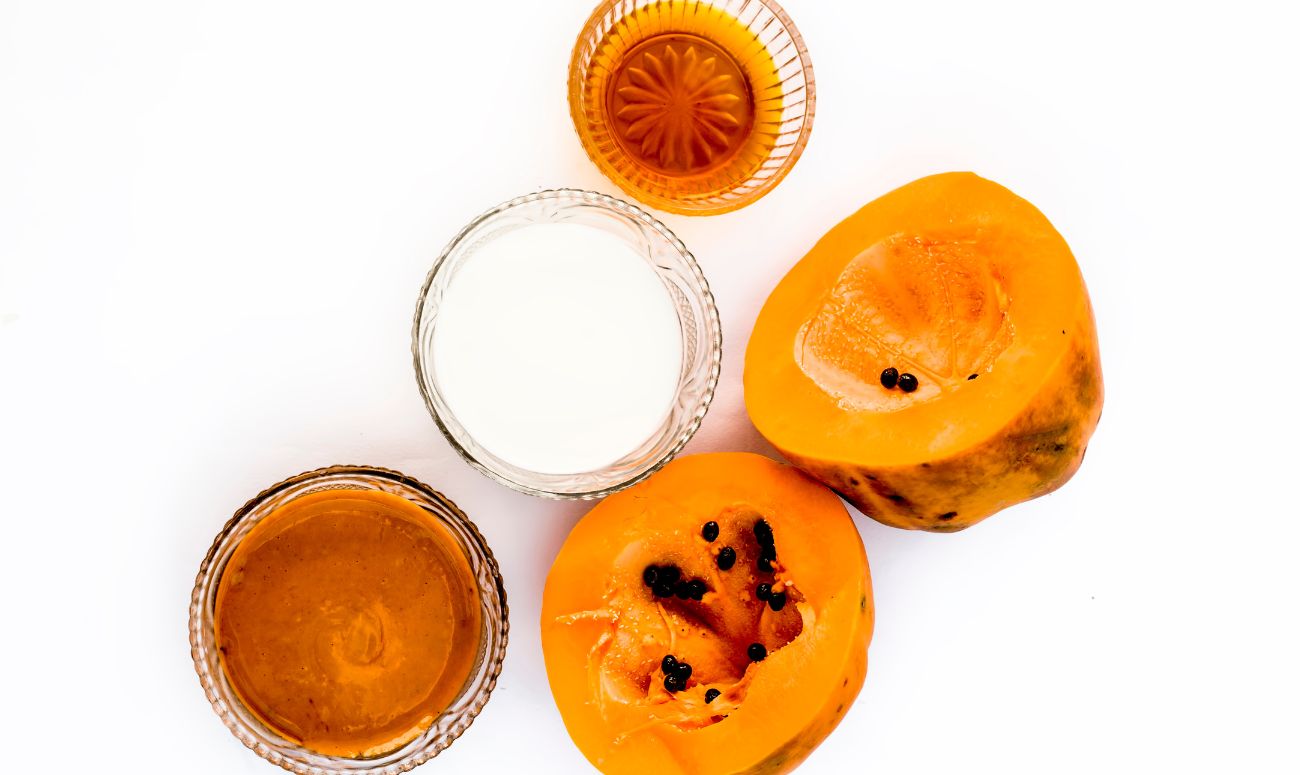 How to make:
Mash ½ a cup of ripe papayas and mix it with a tablespoon a tablespoon of honey.
Add two tablespoons of fresh milk to the mixture.
Apply the mask to your face and neck and let it dry for 15-20 minutes.
Wash with lukewarm water.
Follow up with a hydrating face serum and moisturiser.
Benefits:
Papaya is extremely hydrating as it is a natural moisturiser that clears pigmentation, lightens sports and heals acne. It also helps with inflammation and irritation. Papaya is also rich in an enzyme called papaid which increases collagen production and contains vitamins A, C, and E that help nourish the skin while slowing the ageing process.
Perfect for: All Skin Types
2. Coffee Face Mask
How to make:
Mix 1 tablespoon of coffee grounds, cocoa powder, honey, and milk together.
Apply to your face and neck and keep for 20 minutes before washing it off.
Follow up with a hydrating moisturiser.
Benefits:
Coffee reduces acne and helps stimulate blood flow. It also evens the complexion and decreases puffiness. Cocoa powder is rich in antioxidants and helps repair damaged skin. Together they work wonders as they limit the impact of free radicals that damage the skin while restoring the skin's healthy appearance.
Perfect for: Combination Skin
3. Honey and Rosewater Face Mask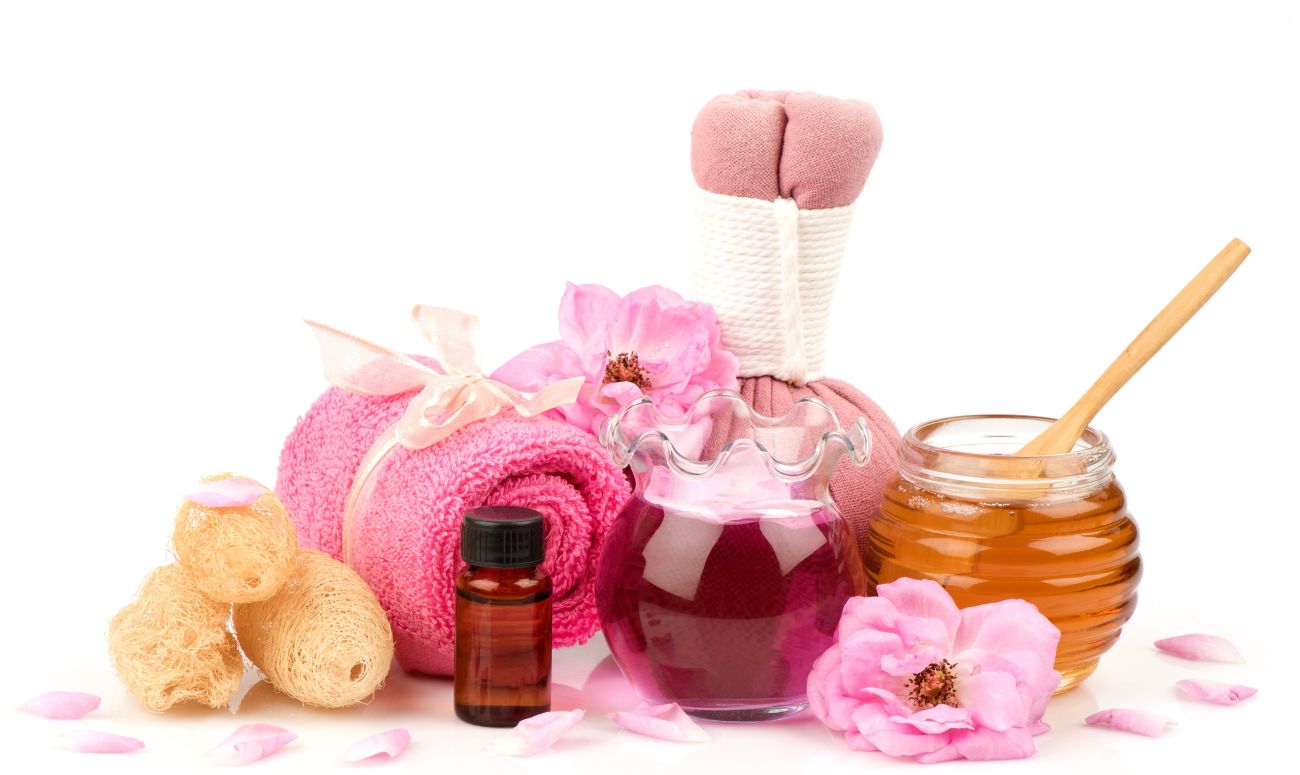 How to make:
Mix 3 tablespoons of rose water with ¼ cup of honey and apply it to your face.
Keep for approximately 15 minutes before washing it off with cold water.
Benefits:
While it seems simple, honey is one of the best moisturisers your skin could get. Applying plain honey for five to 10 minutes and then washing it off with warm water can do wonders for your skin. It helps reduce scars and keeps the complexion radiant and glowing. It's also a natural cleanser and exfoliates the skin to detoxify impurities.
Perfect for: Oily & Acne-prone Skin
4. Aloe Vera and Cucumber Face Mask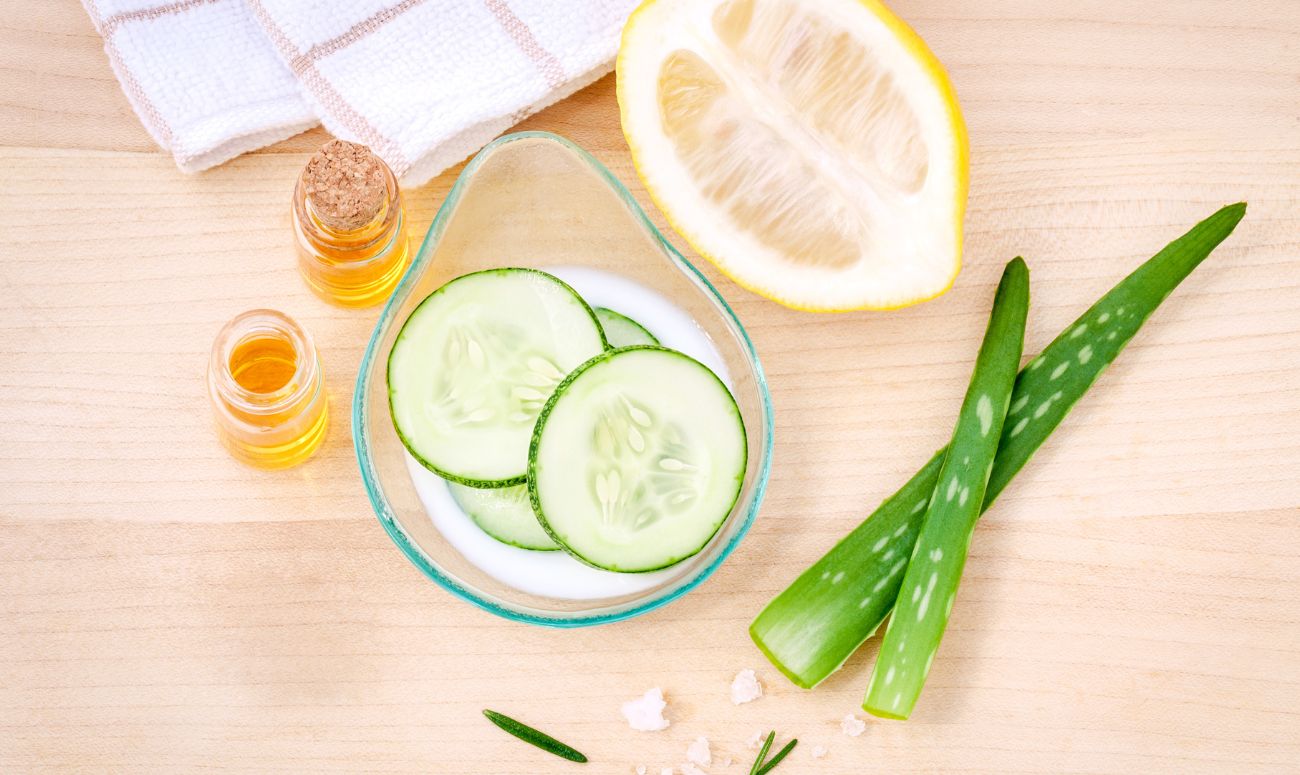 How to make:
Wash and roughly chop one cucumber, keeping the peels.
Blend them into a puree and add to a bowl.
Whisk aloe vera gel into the mixture. Add enough to create a thick consistency.
Next, blend the mixture again to turn it into a paste. You should get a gooey consistency this time.
After cleansing your face, apply the mask on a completely dry face and leave until it dries.
Wash it off with cold water.
Benefits:
Cucumber is full of Vitamin K which reduces skin discolouration, while the vitamin E in it heals broken and acne-prone skin. Cucumber juice is also an astringent which removes excess oil from the skin and makes it tight and supple. Aloe is great for hydrating the skin and restores balance into your skin.
Perfect for: Oily Skin
5. Multani Mitti and Curd Face Mask
How to make:
Take a tablespoon of curd and add a tablespoon of multani mitti to it.
Mix the ingredients until you get a fluffy consistency.
Apply to your face and neck and let it sit for 15-20 minutes, until dry.
Rinse with cold water and pat your skin dry.
Follow up with a hydrating moisturiser.
Benefits:
Multani mitti is great ingredient to get rid of dead skin cells, excess dirt, and oil. It brightens the skin and evens your skin tone while removing impurities and blemishes. It also prevents acne and has absorbent properties that help remove excess oil from the skin. Apart from all of this, multani mitti, when mixed with curd can do wonders for dry skin as it improves elasticity and moisture.
Perfect for: Dry Skin
Did we inspire you to get creative in the cosmetic kitchen? Beat the winter blues and treat your dry and flaky skin by indulging in a nourishing face mask that serves as the ultimate self-care routine when paired with a warm cup of hot chocolate. Happy Masking!
Read More: How Does Meditation Help Increase Your Attention Span?
Like & Follow ThinkRight.me on Facebook, Instagram, Twitter, Pinterest and Telegram to stay connected.