With the festive season over, and thankfully the weather holding up here's a list of 5 things that you can do in Mumbai.
Knesset Eliyahoo Synagogue:
In the bylanes of Kala Ghoda, South Bombay stands tall and proud Jewish temple of Knesset Eliyahoo Synagogue. Built by Jacob Sassoon as early as around 1884, the iconic building underwent 20 months of restoration. The newly renovated, 135-year-old synagogue looks majestic and isn't blue anymore. The building has Minton Tile flooring, stained glass windows and larger than life chandeliers that were shipped from England. If you're ever in town, this place is definitely worth a visit.
Ranwar, Bandra:
In Bandra West, lies a small village called Ranwar. The village dates back to 1716. Wear your most comfortable shoes and head for a stroll down the village. If you stay off the main road you will come across bungalows you have never seen before and old temples which are still very much standing. It is believed that the Ranwar square has wells where apparently at one point of time gold was hidden from Arab pirates. A must visit if you are into Portuguese culture and architecture.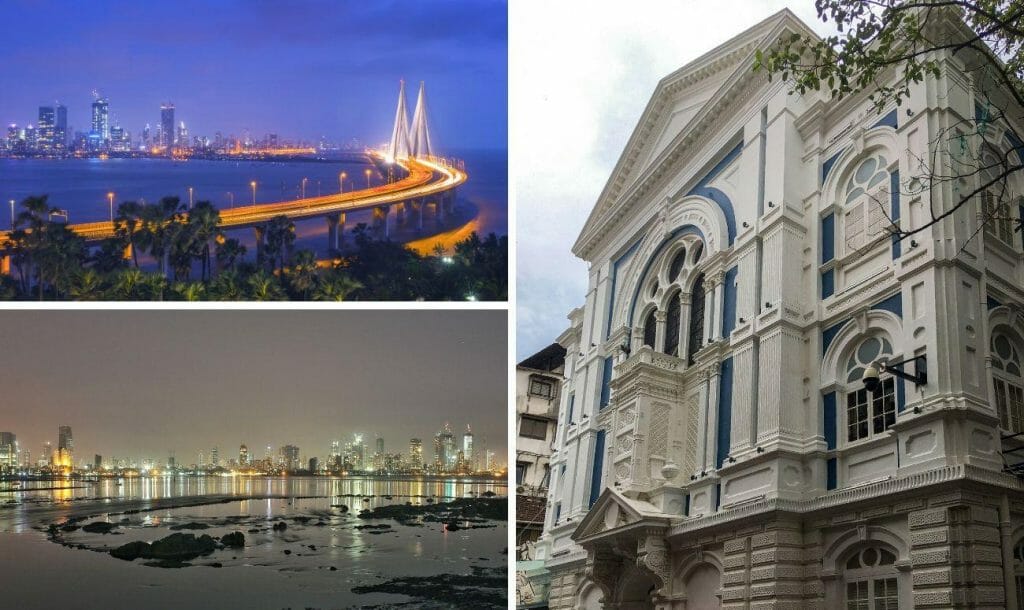 Malabar Hill:
On the top of Malabar Hill is a park away from the city's fast life. Overlooking the sea and the southernmost part of Mumbai is the Hanging Garden of Mumbai which also has the famous "Old Woman's Shoe". Best time would be to visit the garden during sunset and end your day looking at Chowpatty beach and the receding crowd.

Golfa Devi Mandir, Worli:
The 800-year-old temple is one of Mumbai's best kept secrets. Legend says that the name "Mumbai" comes from the village goddess Mumba Aai. The temple was built in the honour of goddess Amba, and it is believed that till date the fishermen of the visit the temple and seek permission from their deity before they leave for the sea. Maybe, a visit to the temple can help you with your clouded thoughts?
Marine Drive:
This is one place where you will find people from all walks of life – young, old, locals and tourists gather here to catch the sunset every single day. The "Queens Necklace" as fondly as it's known is a 4-kilometre stretch where all you need to do is just sit. And breathe. The best part, you can get food delivered right where you are. Yes, all major food delivery apps will deliver! So, sit back, gaze at the stars and let this wonderful city take over your senses.
Read more: How To Make Your Weekend More Productive?
Like & Follow ThinkRight.me on Facebook and Instagram to stay connected.