The world of desserts goes far beyond your standard pie and pastries. Come summer, the need for something cool, refreshing, and sweet rides up a notch, and rightfully so. And mindful eating encourages us to indulge in an intentional manner without depriving ourselves of the sweeter things in life, dessert included. So, this summer, we're opting for healthier no-bake desserts that make a great alternative to traditional ice cream.
6 Easy, No-Bake Desserts To Beat The Heat
1. Peanut Butter Cookie Bars
These peanut butter cookie bars are the ultimate dessert mashup featuring a chewy peanut butter cookie base topped with a creamy cacao layer. They're sweet, rich, and decadent, and so easy to make that you'll stock up on them for when the sweet cravings strike.
Ingredients:
Cookie Layer  
½ cup plus two tablespoons creamy peanut butter
¼ cup plus 1 tablespoon melted coconut oil
¼ cup plus 1 tablespoon maple syrup
2 teaspoons vanilla extract
½ teaspoon sea salt
2 ½ cups almond flour
1 cup chocolate chips
Cacao Layer  
1 ½ cups roasted & chopped walnuts
2 tablespoons cacao or cocoa powder
¼ teaspoon sea salt
10 soft medjool dates
2 tablespoons water
Flaky sea salt for sprinkling on top
Method:  
Line an 8 x 8 inch baking pan with parchment paper.
Stir together the peanut butter, coconut oil, maple syrup, vanilla and sea salt until mixed well.
Sift the almond flour and mix to combine. Fold in the chocolate chips before pressing the mix into the pan.
Place the pan in the freezer to set while you prepare the next layer.
In a food processor or mixer, add the walnuts, cacao powder, sea salt until combined. Then, add the dates and pulse. If the mixture is too thick, add 2 tablespoons of water.
Smooth out the layer on top of the cookie dough and sprinkle with sea salt.
Freeze for 30 minutes before slicing into bars.
Recipe Courtesy: Love & Lemons
2. Mini Chocolate Cheesecakes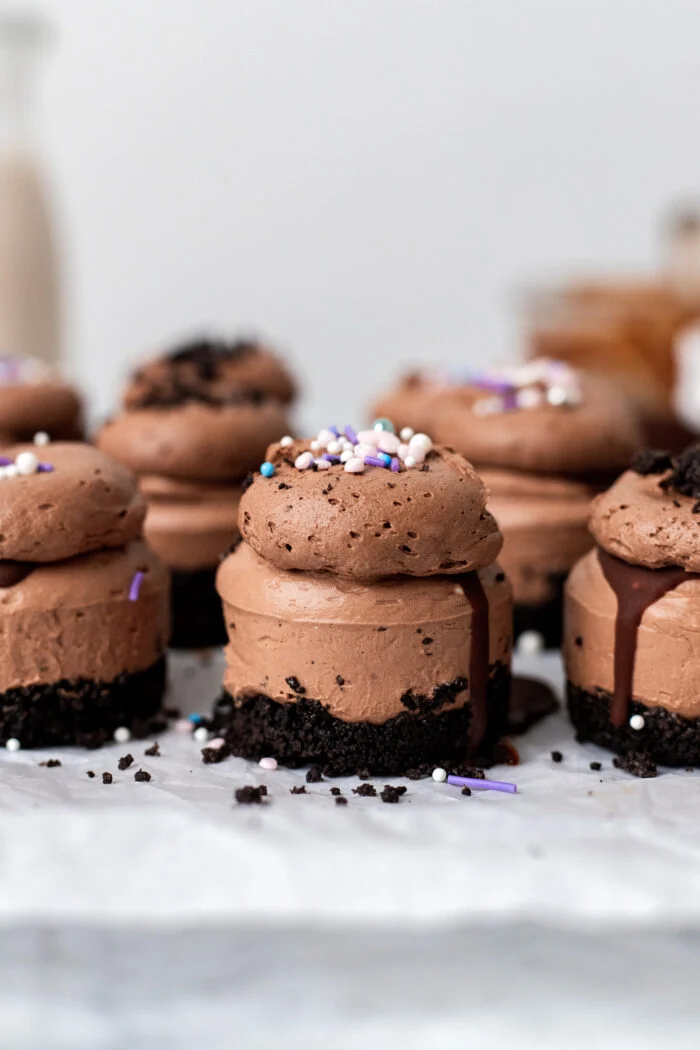 Would you believe it if we said you could make cheesecake in just 20 minutes? This no-bake dessert is the perfect mix of the classic New York-style cheesecake and a decadent cookie and has only 8 ingredients.
Ingredients:  
Cookie Crust  
10 Cookies (depending on your preference)
4 tablespoons vegan butter, melted
Cheesecake  
1 1/3 cups vegan cream cheese, room temperature
1/3 cup dairy-free yogurt
1/3 cup vegan cream
1/3 cup chocolate, melted & cooled to room temperature
¼ cup sugar
2 tablespoons cocoa powder
Toppings  
½ cup chocolate ganache
Crushed cookies
Method:  
Grease the pan with oil or line a muffin tin with liners.
In a food processor, pulse the cookies and melted butter until it forms a fine crumble. Press the mixture into the bottom of the muffin tin and place it into the freezer to chill.
In a bowl, add cream cheese, yogurt, and cream and whisk until smooth. Then, add melted chocolate, sugar, and cocoa powder.
Fill a large piping bag with this cheesecake mixture and pipe it into the muffin tin liners.
Freeze for 20 minutes before covering it with a pan and chilling it for another 1-2 hours to prevent freezer burn.
Rope in the kids and top the individual cheesecakes with toppings of choice.
Recipe Courtesy: The Banana Diaries
3. Blackberry Mousse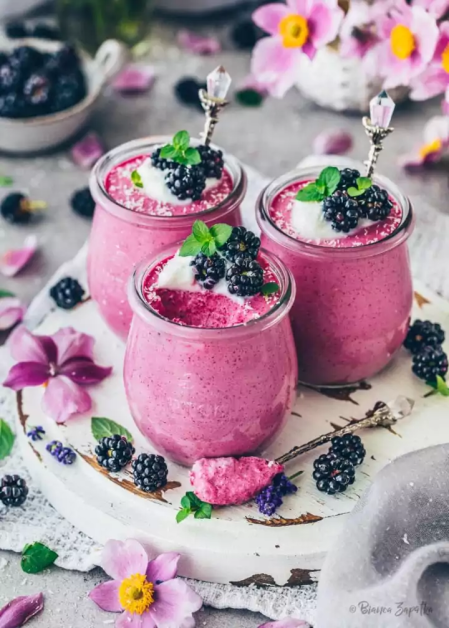 Berries are synonymous with summer and making this easy blackberry mousse will be the most fun Sunday activity you'll be doing in the kitchen this summer.
Ingredients:  
300 g blackberries, frozen or fresh
1 lime, juiced
200 g dairy-free yogurt
¼ cup raw cane sugar
1 teaspoon vanilla extract
½ cup coconut cream
1/3 cup water
1 teaspoon agar agar powder
Toppings 
Fresh blackberries
Desiccated coconut
Mint
Method:  
Heat the blackberries in a saucepan until soft and saucy. Then, pass it through a sieve into a bowl to strain out the seeds.
In a mixing bowl, whip the coconut cream until peaks are formed. Set aside.
In another bowl, add yogurt, sugar, vanilla, lime juice, and blackberry juice until smooth.
In a small saucepan, stir the agar powder into 1/3 cup of water. Once the powder is dissolved, boil the mixtures while stirring. Let it simmer for 1-2 minutes while stirring constantly.
Mix the agar mixture into the blackberry cream and then fold in the whipped coconut cream. Work fast so that the agar mixture doesn't turn lumpy.
Divide into jars and let it set for 1 hour at least.
Top with toppings of choice.
Recipe Courtesy: Bianca Zapatka
4. Caramel Slices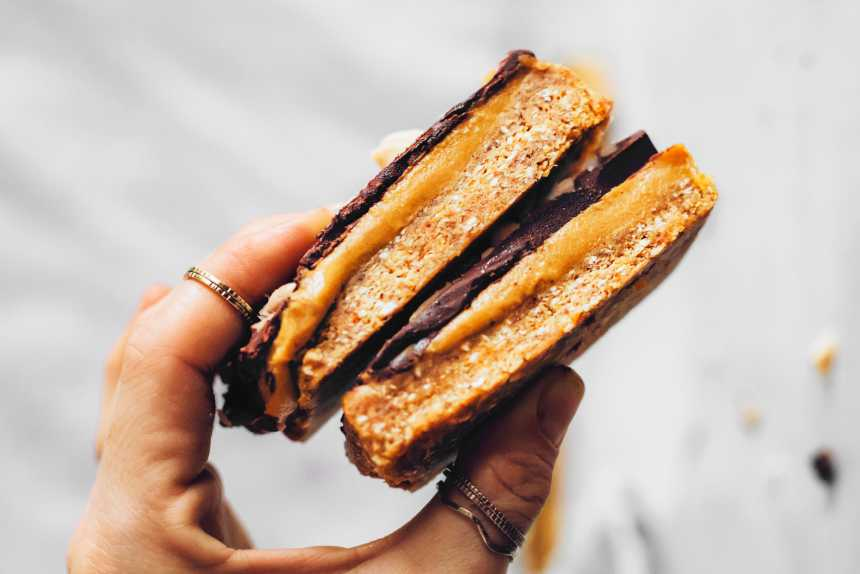 These melt-in-your-mouth summer treats are perfect to make with ingredients already present in your kitchen. They're small and adorable, and the kids can be involved in the process, making for a fun summer activity.
Ingredients:  
Cookie Layer 
1.5 cups oat flour
½ cup almond flour
1/3 cup dates, pitted & soaked
3 tablespoons full-fat coconut milk
Date Caramel  
1/3 cup almond butter
1 cup dates, pitted & soaked
4 tablespoons almond milk
1 teaspoon vanilla extract
½ teaspoon sea salt
Chocolate Layer  
1 cup dark chocolate, melted
Topping 
Almonds, crushed
Coarse sea salt
Method:  
Into the food processor, add the drained dates, coconut milk, and pulse until a smooth paste is formed.
Add almond flour, oat flour, and pulse a couple of times before transferring into a lined baking dish. Spread into an even layer.
Next, blend 1 cup of dates and almond milk until smooth before adding the rest of the ingredients required for the caramel.
Add the blended mixture on top of the cookie layer and spread evenly. Cover and freeze for at least an hour.
Lastly, pour the dark melted chocolate over the set mixture and sprinkle with sea salt and crushed almonds. Cover and freeze for another 2 hours before cutting into slices.
Recipe Courtesy: Nutriciously
5. Pistachio and Rose Halva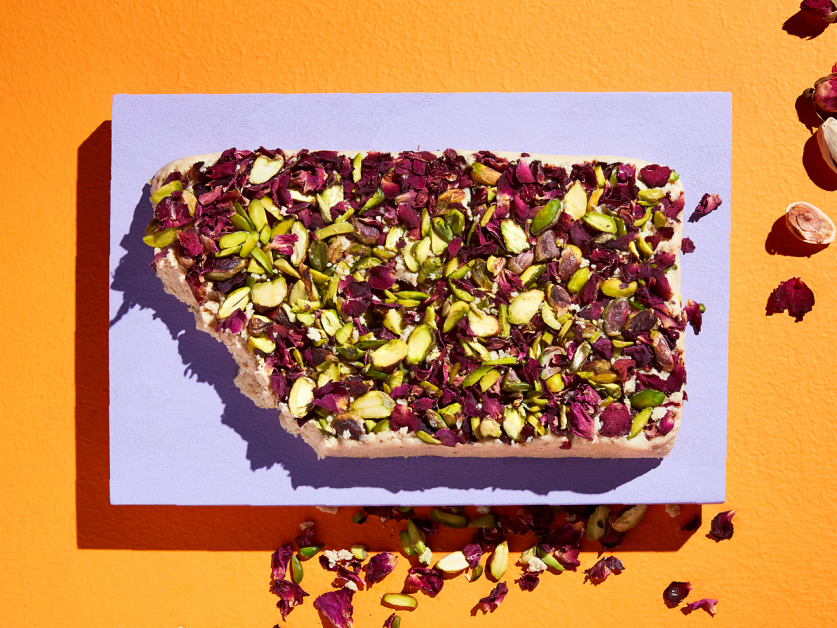 The next time you want to have a festive treat that's not as decadent and rich as pedas and traditional barfis, try this no-bake vegan version of halva that brings a massive dose of flavour and colour to the table.
Ingredients:  
1 cup coconut milk powder
¾ cup icing sugar
¾ cup well-stirred tahini, room temperature
1 tablespoon rosewater
¼ teaspoon salt
¼ cup coarsely chopped roasted pistachios
¼ cup food-grade dried rose petals, crumbled
Method:  
Line an 8 x 4 inch loaf pan with parchment paper.
Combine coconut milk powder, icing sugar, tahini, rosewater, and salt in a bowl until a dough is formed.
Sprinkle pistachios and rose petals on the bottom of the pan before layering the tahini and rosewater mixture on top. Press firmly until an even and smooth layer is formed.
Freeze for 2 hours before lifting the halva out and flipping it over.
Slice into squares and serve.
Recipe Courtesy: Chatelaine
6. Key Lime Pie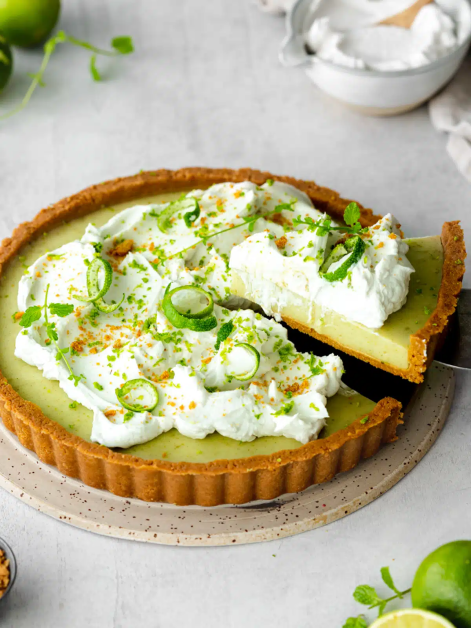 Summer demands a burst of fresh and zingy flavours and this key lime pie is the most refreshing summer treat that comes together in just 8 main ingredients. Pull out this easy-to-make recipe when you want to impress the guests or have volunteered to bring a dessert to the next dinner party.
Ingredients:  
22-24 cookies (digestive biscuits, graham crackers, Biscoff)
½ teaspoon sea salt
7 tablespoons vegan butter
1 cup lime juice, freshly squeezed
2 tablespoons lime zest
2/3 cup castor sugar
0.4 cup corn starch
2/3 cup soy milk or plant-based milk
½ teaspoon matcha powder
¾ cup chilled, canned coconut milk
Whipped Cream 
2 cups full-fat frozen canned coconut milk
2 ½ tablespoons arrowroot powder or corn starch
Method:  
Grease a 9" tart tin with oil or butter.
Pulse the cookies and salt in a food processor until crumbled. Add the butter and blend again until a dough is formed.
Press this mixture into the base of a pan and freeze.
Zest the limes and then juice them before passing the juice through a fine-mesh sieve.
Add corn starch, sugar, and soy milk to a saucepan and whisk until it's smooth.
Add the lime juice, zest, and coconut milk and whisk again, bringing the mixture to a boil. Reduce to medium heat and cook for 5-8 minutes, stirring continuously until the mixture thickens.
Take it off the heat and pass it through a fine mesh sieve into a large bowl. Let it cool before pouring in top of the cookie mixture. Freeze for another 2-3 hours until set.
For Vegan Whipped Cream  
Whip 2 cups of full-fat frozen canned coconut milk until peaks form.
Sift in the powdered sugar and arrowroot powder and whisk again for 1-2 minutes until combined.
Add on top of the tart and serve. Enjoy!
Recipe Courtesy: Addicted To Dates
Read More: 10 Simple Ways To Work Out Safely During The Summer
Like & Follow ThinkRight.me on Facebook, Instagram, Twitter, Pinterest and Telegram to stay connected.