Antarvedi woman represents India at UN ocean forum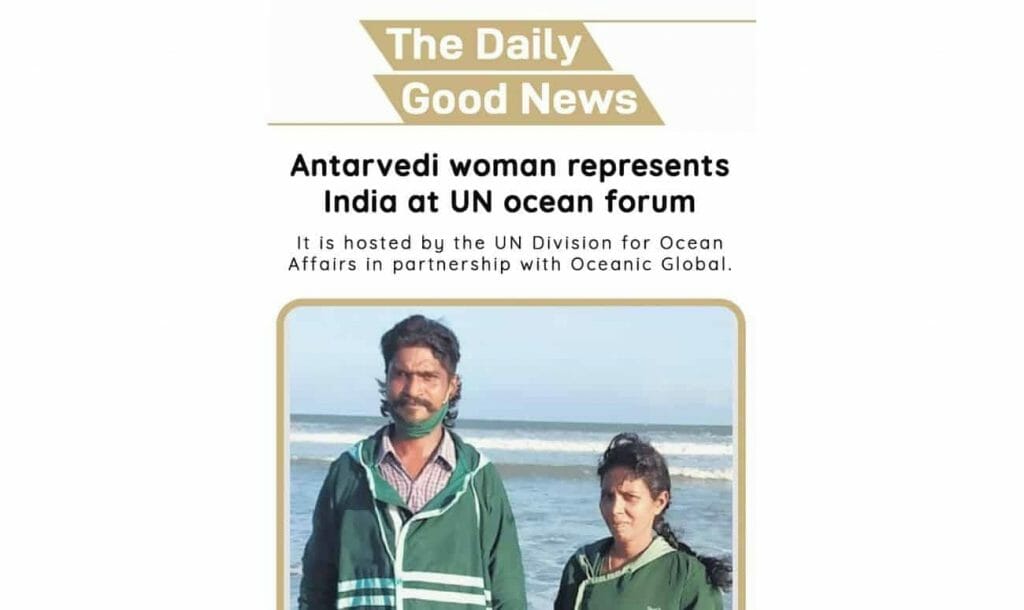 Deepika Tadi, a resident of Antarvedi in East Godavari district, had a rare opportunity to represent India on the global platform and share the story of her village's contribution in reducing ocean plastic pollution as part of 'Antarvedi Zero-Waste Initiative'. The programme is hosted by the United Nations Division for Ocean Affairs and the Law of the Sea, Office of Legal Affairs, in partnership with Oceanic Global.
The 40-year-old woman is a member of the Antarvedi Zero-Waste Initiative. It has been launched by Green Worms, a waste management company headquartered in Kerala, in association with Smart Village Movement, an organisation working towards the betterment of India with a goal to collect plastic waste from coastal areas, temples, and other places.
"Never thought I would get an opportunity to represent India. I am glad that I could address these issues on a global platform as everyone needs to understand and be aware of these issues," she said.
Maldives Is Building A Floating City To Respond To Rising Sea Levels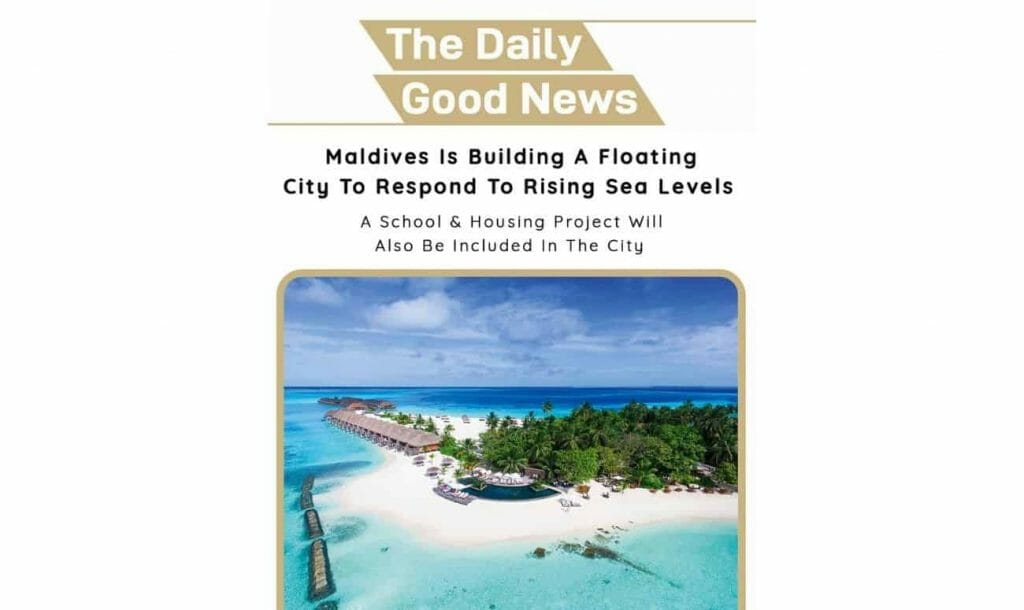 A Dutch planning and architecture firm is working with the Maldives to create a 200-hectare floating city. It's modeled on the structure of coral reefs and powered by green energy to help fortify the nation against climate change. Averaging less than 1 meter above sea level, the Maldives, a collection of 25 atolls in the Indian Ocean, is the lowest-lying nation on Earth and at a real risk of becoming uninhabitable as the planet warms. Fortunately, with 300 years of Dutch know-how in controlling their wet environments, Dutch Docklands is working with the Maldives government to create a solution. Planned to drift upon a 200-hectare warm water lagoon just a 10-minute boat ride from the capital of Malé, the Maldives Floating City (MFC) will be built along a flexible grid and surrounded with larger islands to act as a wave and water breaks. Rather than industry or agriculture, the Maldives is powered by tourism, and the hexagonal, modular building segments are inspired by the rich corals that attract the visitors that fuel the country's economy. The island will include its own power grid, a school and a proper housing plan.
In A First, Women Rangers Patrol Nanda Devi Forests at 14,500 Feet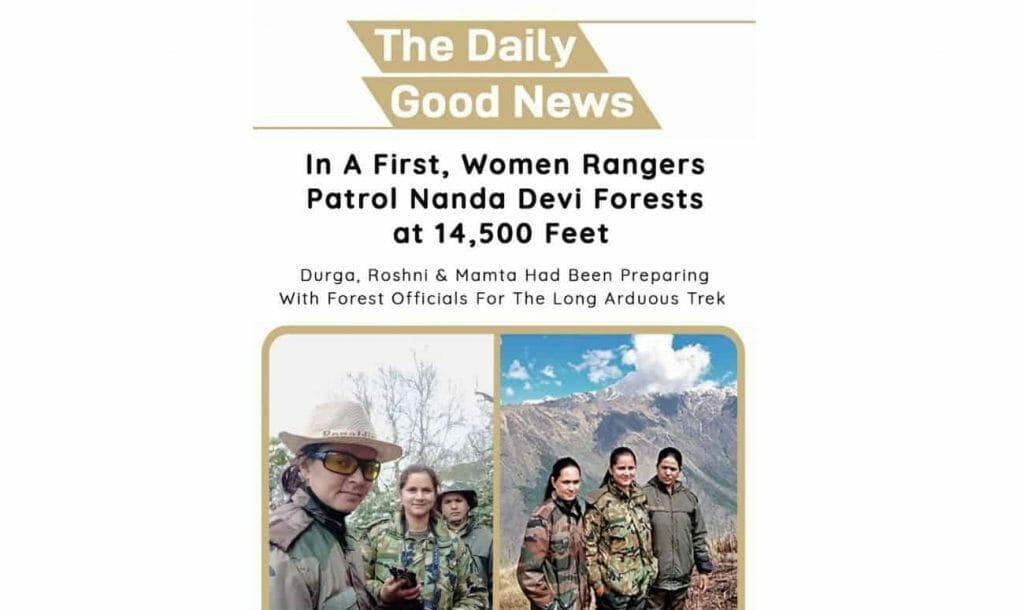 Durga Sati, Roshni Negi and Mamta Kanwasi are the new women trailblazers of India.
Last week, they became the first women guards to be deployed in the forests of the country's second highest mountain, Nanda Devi, over 25,000 feet high.
"We patrol the mountains to protect rare animals-like snow leopards, Himalayan bears and blue sheep-and plants-Himalayan viagra and thousands of medicinal herbs. There is always the threat of poachers, even at these altitude.", said Mamta.
Their deployment came about with a chance conversation and initiative on their part. Women forest guards would usually go up to Laata, at 11,150 feet, but would be asked to not go further.
On June 1, they started from Laata and trekked to Bhelta (11,800 feet), where they stayed the night. Then, they went to Lata Khark (12,800 feet) and then, onwards to Jhandidhara (13,800 feet). They returned to Lata Kharak, from where they went to Dharasi (14,500 feet), their final destination.
Both Durga and Mamta have been forest guards for 12 years. While Mamta has a two-year old daughter at home. Durga has three kids.
Durga added, ""We, as human beings, have exploited our environment the most. Now, it is our duty to come forward and save our forests, however difficult the circumstances."
More power to these lovely women!
India's First Medical Delivery Drone To Start From June 18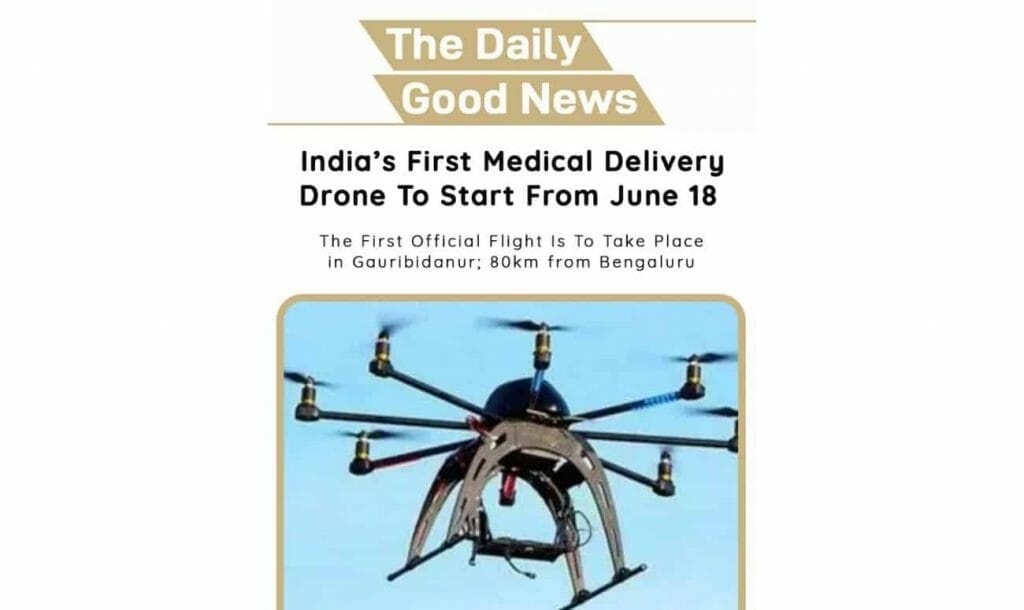 India's first official medical drone delivery experiment is scheduled to begin this week in Gauribidanur, some 80 km from Bengaluru.
The pandemic led to delays but now having secured all clearances the first set of trials will be carried out for 30-45 days, beginning June 18. Noted cardiac surgeon Dr Devi Shetty has backed the trials and Narayana Health will be partnering with the consortium, providing medicines that will be used for transport during the trials. The consortium will use two variants of its drone- MedCOPTER and TAS on-demand delivery software called RANDINT-during the experiment.
Here's to hoping that the experiment goes well and successful!
IIT Kanpur Professor Appointed Honorary Member Of WHO Body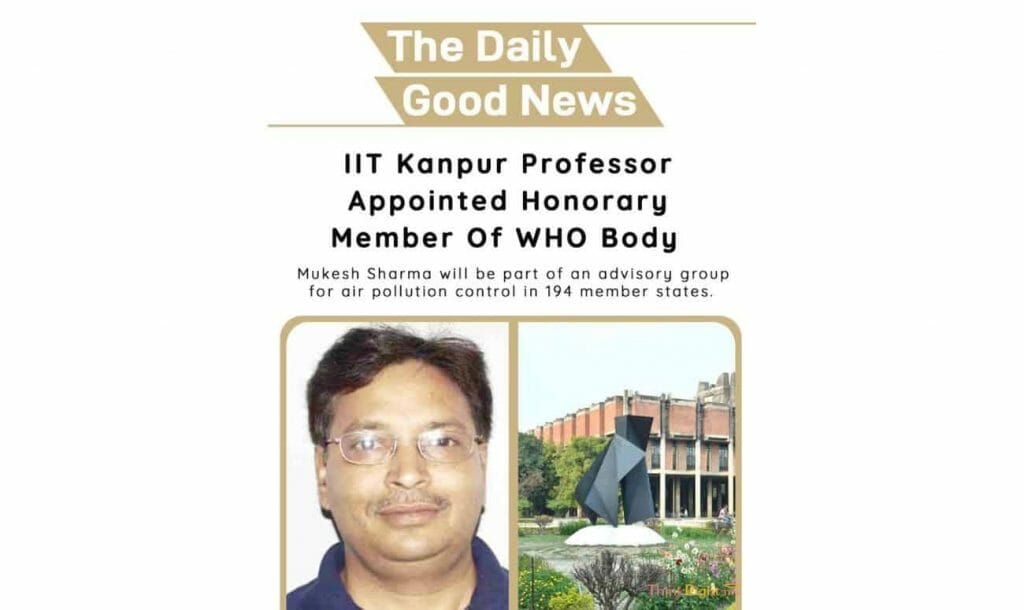 Mukesh Sharma, a professor of IIT Kanpur has been appointed as an honorary member of the World Health Organization (WHO) Global Air Pollution and Health-Technical Advisory Group (GAPH-TAG). "Members of the Technical Advisory Group are selected across the globe and appointed by the Director-General, WHO," the communique issued on Friday said.
Sharma has been associated with WHO, Geneva, International Council for Clean Transport, Clean Air Asia United National Environmental Program, Bangkok, and the World Bank. Mukesh Sharma will be part of the WHO advisory group on interventions/policies for air pollution control in 194 member states.
Student From UP Received 100% Scholarship To Stanford University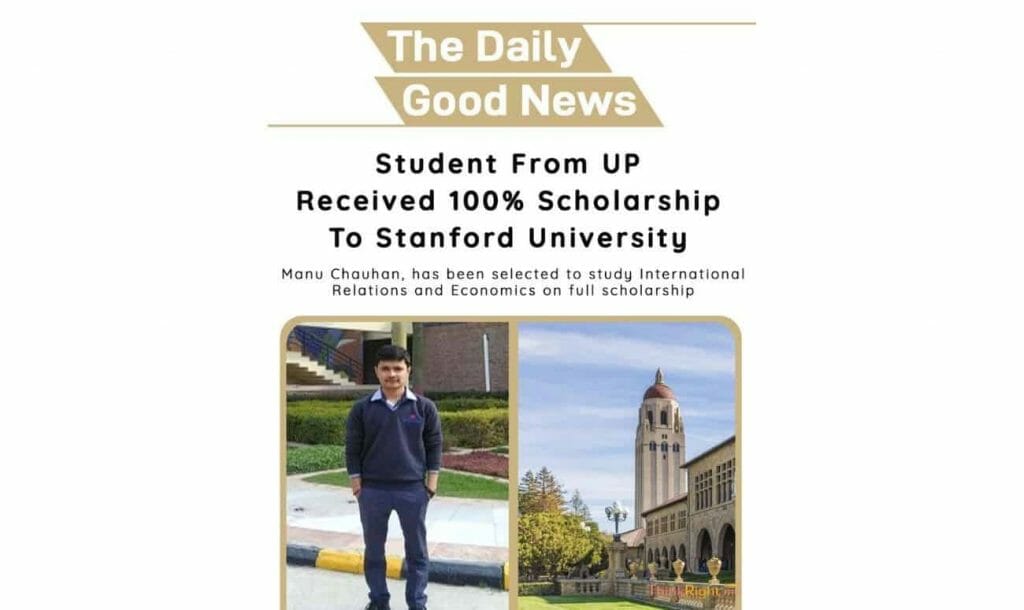 Coming from a poor background where his father toiled as a salesman, struggling to fulfill the necessities of the family, Manu is the only child. Manu was able to secure admission to VidyaGyan, where only 250 students are selected out of the approximate 250,000 applicants every year.
Manu Chauhan belongs to a poor Akrabad Village and has been selected at Stanford University to study International Relations and Economics on 100 per cent scholarship. He will be joining in August end. Manu aspires to take up a job with the UN after completing his studies. We wish him all the luck!
A First, Odisha Government Allows The Recruitment Of Transgender In Police Forces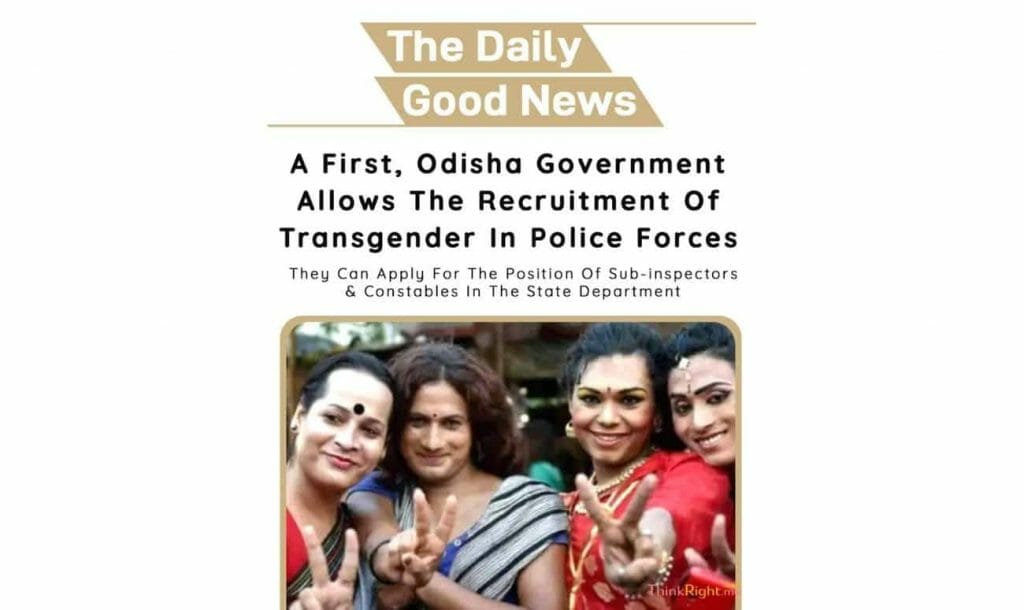 Welcoming the decision, Meera Parida Chairman, All Odisha Transgender Welfare Association said: "We thank the Chief Minister and Home Department for taking this decision towards gender equality and the development of the Transgender Community. This step will not only boost their confidence but will also change the perception of the society towards transgender persons."
The Odisha Kinner and Third Gender Mahasangh, a transgender body, has also welcomed the decision of the Odisha Police and thanked Chief Minister Naveen Patnaik.
"For the first time, a public advertisement has been issued seeking application from transgender people in government jobs in the state. Including the transgender people in the force will not only boost the confidence of the community, but also change the society's perception towards transgender people," Mahasangh founder president Pratap Kumar Sahu said.
In 2014, the Supreme Court had recognised the transgender community as the third gender and ruled that they have equal privileges over the fundamental rights enshrined in the Constitution. The Parliament has also enacted the Transgender Persons (Protection of Rights) Act, 2019 to provide the community equal rights akin to other human beings.
Cheers to the leadership of Odisha state.
Read previous week's news here.