CK Narayana Panicker academic struggles did not deter him from contributing to the printing cost of textbooks for tribal kids in Idukki district While food and shelter are primary needs, education is just as important and should not be ignored. Despite this, in a fast-paced technology-driven world, this basic need is still a distant dream for some kids. This is why, the action of some generous people, stands out as a beacon of hope.
Financial crunch
As a child, 89-year-old C K Panicker was forced to quit studying because he couldn't afford to buy textbooks. He did not allow history to repeat itself and when he realized the need for funding to print textbooks for Idukki's tribal children, he generously contributed to offset the cost. Instead of harbouring bitter feelings, he decided to ensure their education did not suffer.
Treating adversity as a learning curve
People who go through hard times do not always show a positive attitude. However, the choice is theirs whether or not to let adversity destroy their soul. Panicker could have been indifferent to the needs of others, but despite his unfortunate fate, he opened his heart and mind to help the less privileged.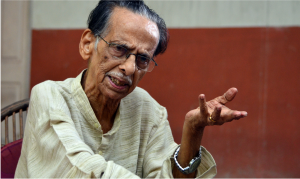 Reaching out to the tribal kids in Idukki district
A local Malayalam daily newspaper, Mathrubhumi, alerted Panicker to the requirement of learning material for kids in Idukki district. Edamalakkudy village's government tribal lower primary (LP) school was short on funds to print the manuscript of a textbook titled Idamalakkudi Gothra Padavali. As a remote tribal village, the tribe does not have a script, so the book is written in the spoken language of the Muthuvan tribe, using the Malayalam script. The Mathrubhumi article requested financial aid. Panicker reached out to the publication, and the rest is history.
A kind man with a large heart
Panicker donated a sum of Rs 40000 to facilitate the printing of the textbook for the tribal kids at the LP school. A follow-up article expressed gratitude from the headmaster, R Ravichandran for Panicker's generous deed. This is not the first time Panicker has helped those in need. He has always gone that extra mile to make lives better, whether it is extending financial aid to cancer patients or reaching out to a native bitten by stray dogs. He keeps the lamp of kindness burning bright.
Panicker's shortcomings taught him to recognize the lessons of hardship. It honed him and made him praiseworthy. People like him are a blessing and an example for others to follow.