Compassion towards animals is indicative of a person's character as Paul Crowell showed by his acts of kindness to street dogs of the homeless. In fact, kindness towards all animals goes a long way. Dogs return kindness with undying love and loyalty and in some cases become lifelong companions. Our hearts melt when we read how nurture and care for animals. Paul Crowell's story does just that and is a reflection of his inherent goodness.
A guardian angel
To call San Francisco resident, Paul Crowell, a guardian angel of street dogs belonging to the homeless, will not be an exaggeration. Crowell is a staunch animal lover. Each day, as he walked to work, his heart broke when he witnessed the miserable condition of the homeless struggling to make a living, along with their street dog companions. Since Crowell worked for a dog daycare and boarding facility, he hit on a solution to help his doggie friends. Instead of wasting the surplus food he began retrieving it from the garbage and delivering it to the homeless canines. People started calling Crowell "the doggy food man", as he fed the dogs regularly.
A determined samaritan
Crowell's compassionate gesture was terminated when a new company took over the facility and refused to allow Crowell access to the excess food. Their attitude upset Crowell because not only did feeding the dogs bring him joy, but he loved doing it and it benefited the dogs. Crowell did not give up. Determined to continue feeding the dogs, in 2015 he launched a GoFundMe campaign, to raise funds for dog food.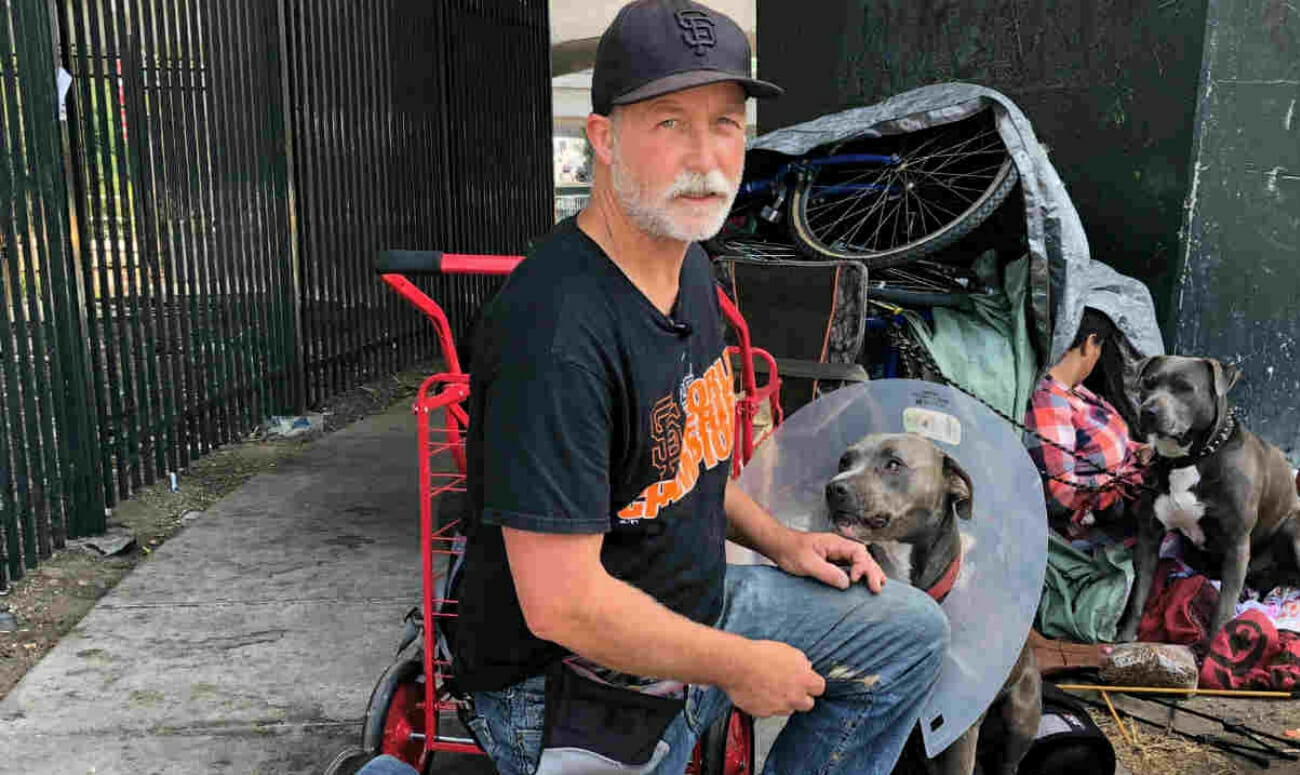 A social media campaign
Crowell uploaded pictures of homeless and underfed puppies on the campaign page and on social media. As donations started coming in, Crowell opened Project Open Paw, an organization formed with the aim of caring for the homeless animals of San Francisco. Feeding the canines costs about $200 to $300 every week. And does not include a visit to the vet which costs an extra $200. Crowell provides vet care for 40-50 dogs, feeling like their "Poppa."
Supporting the homeless
Luckily for Crowell, many people decided to support his cause. The GoFundMe page has received over $98,000. Crowell hopes to raise enough money to open a facility to take care of homeless dogs when their owners are arrested, killed or sent to rehab. Crowell says the dogs give the homeless people hope, love and a determination to carry on. Sometimes the dogs are the only support system for the homeless. Crowell is determined to reunite dogs with their owners after they are released.
People like Crowell show us it's not necessary to be rich to bring about change in the world. Even ordinary citizens with love for the oppressed can make a difference. A little courage and determination make change inevitable. Crowell made his project into a bigger venture instead of being hindered when he was refused permission to feed the dogs surplus food. He leads by example. If only more people would follow in his footsteps!
READ MORE: PLANTING GOODWILL BY TRANSFORMING A WASTELAND