Being socially conscious at the age of 9 is unheard of, but Jai Aswani was moved. Along with brother Preet, who was only 5 back in 2012, he started a social initiative, Born To Win that aims to make a difference to society.
The year 2012 was pathbreaking for both Jai and Preet. They had joined a humanitarian class called 'Look n Learn'. "It was the Diwali month, where they told us not to burst crackers. They even told us that if we don't burst crackers we will receive a gift," begins Jai. So, they went back home and shared this with their mother. She in turn encouraged them by saying that they would receive a double gift and if they convince their friends, she would gift them too.
They began their journey from here and one initiative followed another. "During the first year, we went door-to-door in our apartment block telling them about not bursting crackers. People shooed us away, shut the door in front of our face but we didn't give up. We convinced five families and celebrated Diwali in an orphanage and old-age home," narrates Jai.
Then, in 2013, the second year, their school appreciated their initiative and their principal supported and felicitated their efforts. They were sent to each class to share about their initiative, and posters were put up on the notice board felicitating them.
During 2014, the third year, more than 88 families supported and encouraged us. "During 2015, the fourth year, Chennai Runners Kilpauk Striders (CRKS) supported us and we were invited to various schools, organisations. This was followed by a t-shirt signature campaign, where more than 3,000 children pledged not to burst crackers," Jai fills us in.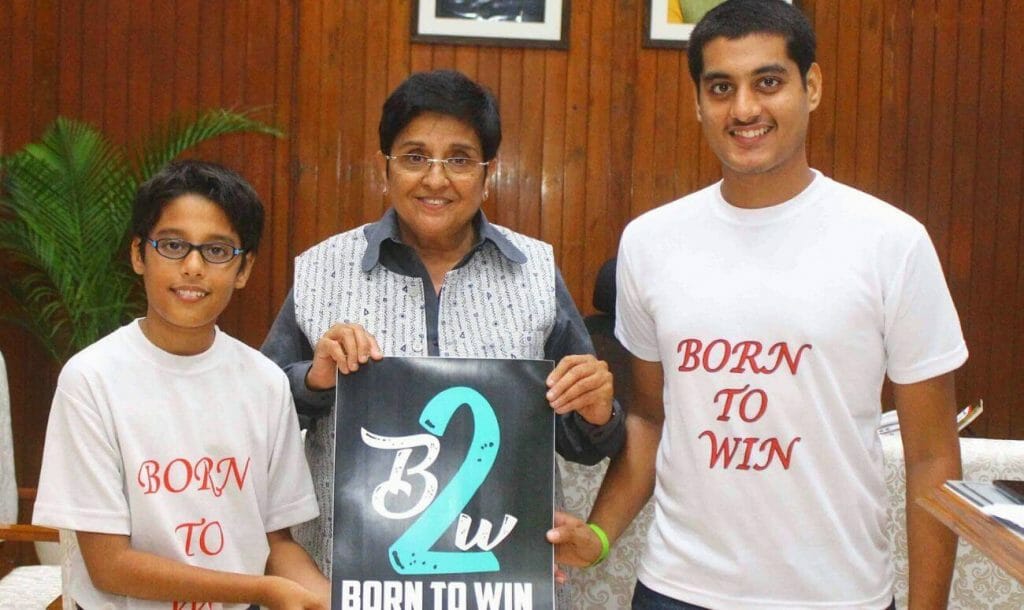 Dr Kiran Bedi, the Lt. Governor of Puducherry was instrumental in inspiring the two. "In 2016, the fifth year, Dr Kiran Bedi Ma'am advised us to run many more initiatives under Born To Win umbrella," says Jai. Dr Bedi launched the logo of Born To Win this year and the NGO got registered officially about six months ago.
In 2017, the sixth year, the brothers also organised a walkathon with Dr Bedi, in Puducherry of about 7km. In this, more than 2,000 school children pledged not to burst crackers.
Under their initiative, in 2018, which was the seventh year, they did a Save Animals campaign where posters were put up in stores, malls, requesting not to burst crackers. The campaign also spread awareness about how animals are affected because of the noise. This was covered widely by the media.
During the eighth year, in 2019, their theme was Your Planet Needs You. Here, instead of using charts and boards they used cloth bags to spread awareness. This was via a walkathon in Chennai, of 1, 3 and 5km, where children held the cloth bag with the message about not bursting crackers.
Rise For Rice initiative
The Rise For Rice initiative started in 2018 and focused on donating food to the underprivileged. Explaining about this initiative, Jai explains, "Our mission was to collect 5 tons of rice and to distribute to various orphanages and old-age homes. In a month we went to various locations in Chennai such as malls, bookstores, schools, and apartments. We collected 6 tons of rice in just one month and distributed to various old-age homes and orphanages."
Dr Amar Prasad Reddy, Chairman, Entrepreneur Council India, had a function, where they were felicitated by the Health Minister of Tamil Nadu, Dr Vijaybaskar 2018.
Carry Your Own Cloth Bag
Their latest initiative that started in December 2018 is about cloth bags. They collected bedsheets from various hotels; these were converted into cloth bags, which was done by various self-help groups, NGOs and specially-abled women. The hotels ensured that the bedsheets were cleaned and ironed before being sent.
"Friends and families paid for the stitching cost and paid the NGO directly. In one month we distributed 1 lakh cloth bags for free to local vendors and general public. We believe 1 lakh cloth bags equals to 20 lakh plastic bags less in one month," says Jai. This is an ongoing venture and continues even today.
The Indian Coast Guard, Andaman, extended their support by participating in this initiative as well. Officers went to their home to collect the cloth bags. Later, they gave these to the Wives Welfare Association who distributed cloth bags for free to local vendors in Andaman.
Besides, in 2020, Team National Social Service (NSS)from IIT-Madras too joined hands to take the initiative forward.
An IIT professor contacted the brothers and showed interest in their initiative. He approached the IIT-Madras NSS wing, which got involved with the teenagers' initiative. Jai organised a talk, Planet Needs You To Talk for the NSS team. The team was impressed and decided to collect bedsheets within the IIT-Madras premises on the last Sunday of every month. They give these to the NGO that stitches the cloth bags.
The lists of awards Jai and Preet have received:
The Abdul Kalam Eco Friendly Award 2019 (Jai)
Param Humanitarian Award 2018 (Jai)
Selection as part of the Government of India's Swachh Bharat Campaign (Born To Win)
The Rotary Young Achiever Award 2018-19 (Jai)
Young Innovator Award 2018, from the Women's Economic Forum (Jai)
Indian Coast Guard
Youngest (Jai) to receive CREST from the Indian Coast Guard in 2017 for various contributions to society.
Appreciation Letter from the Ministry of Tourism, Government of India 2020 (Carry Your Own Cloth Bag)
Juggling studies and social work
One would think it is difficult to juggle studies and their social work. The brothers do it effectively as they work on their initiatives only during weekends on Saturdays and Sundays. Also, their teachers and school support them completely. They have been felicitated a couple of times as well. "Every award or reward we receive is announced; they [the teachers and school] have encouraged and supported us in each initiative," Jai tells us.
Jai and Preet attribute their success to their parents. "Whatever I am today and all the achievements that has been that have been possible and eventually will be possible in the future is all because of my angel parents and the power above. My Parents have been a great pillar of strength, and support. I would like to thank my parents whole heartedly," says Jai.
As for resistance from anyone, Jai says, "It's ok to listen to a 'No'. Consistence is my success mantra."
Future plans
Their vision is to join hands with various organisations and corporates. With the help of their Corporate Social Responsibility (CSR) programmes, they would like to organise a Born To Win truck. This would go to different locations such as schools, colleges, apartments to collect bedsheets that would be converted into cloth bags.
This, of course would be done by NGOs, SHGs, specially-abled women. And would give them sustainable revenue.
"We also want to induct a Born To Win Club in schools, colleges and universities so that students can take their first step towards social responsibilities," finishes Jai.
With such great thoughts and initiatives, Jai and Preet inspire us to give back to society and in our own small ways.
ThinkRight is now available on Telegram. For handpicked stories every day, subscribe to us on Telegram
Read More: Unique Sustainability Challenge At Lakmé Fashion Week
Like & Follow ThinkRight.me on Facebook, Instagram, and Telegram to stay connected.