After extremely hot and humid summers, the people of Punjab look forward to winter and spring that falls between October and March. This is the time when seasonal produce is abundantly available and a variety of food is cooked in most households. Like all Indian meals, a Punjabi meal is also incomplete without a dessert. But the desserts made during winters are usually different. They are healthier and more nutritious and best had warm to comfort you on chilly wintery nights. Read on to know more about 3 such Punjabi winter desserts.
Gajrela or Gajar ka Halwa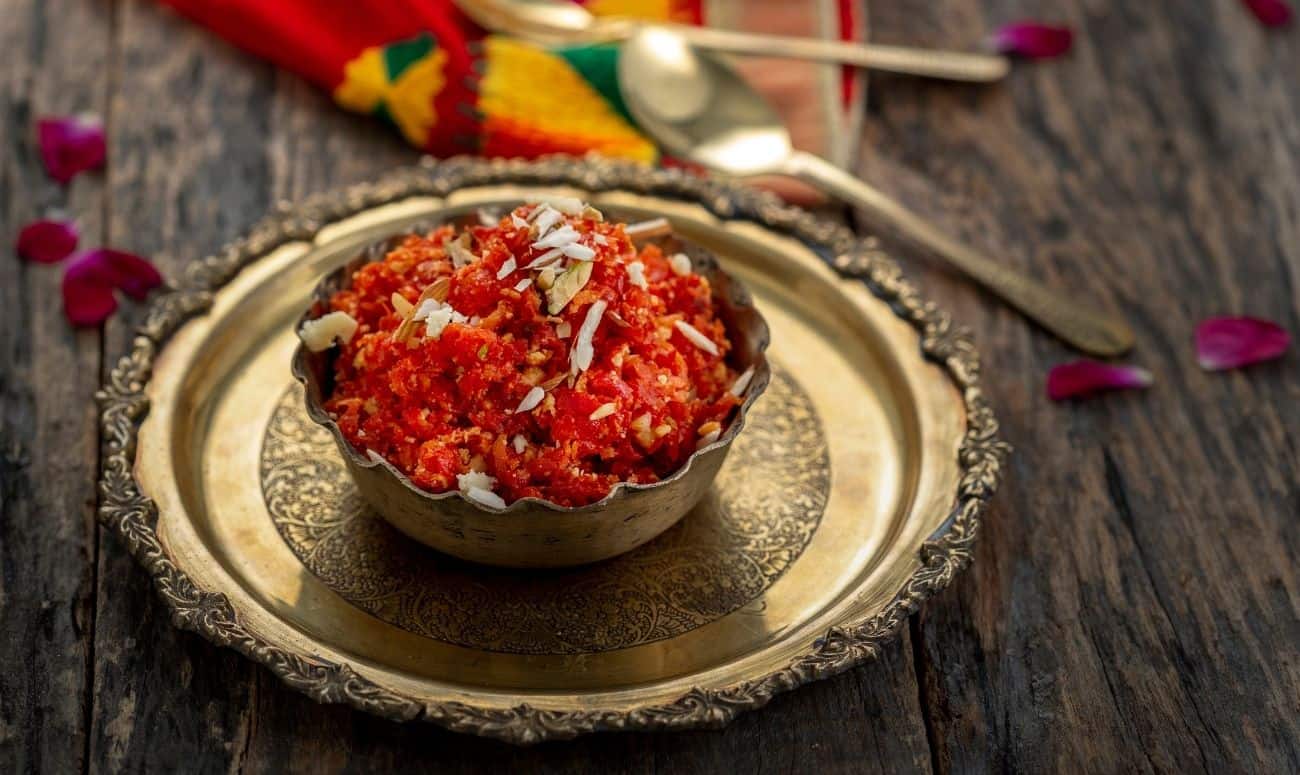 Gajar ka halwa or gajrela is such a popular dish in Punjab that it is sold on hand carts in the marketplace during winters. On a chilly evening amidst the endless food stalls, the mere sight of steaming hot gajar ka halwa brings instant comfort. For some, time comes to a halt as the first morsel enters the mouth, while for others it is sheer nostalgia. Fresh, juicy and long orange carrots throng the vegetable markets throughout winter and making halwa from them is almost a ritual in every North Indian household. Slow cooking is the key as it helps coax the flavours out of the ingredients and also gives the halwa the perfect texture.
Ingredients:
½ kilo carrots, peeled and grated
1 litre milk
1 cup sugar
3 tablespoons ghee
¼ teaspoon cardamom powder
1 tablespoon chopped cashew nuts
1 tablespoon almond slivers
1 tablespoon raisins
Method:
Heat the milk in a thick bottomed saucepan over medium heat. Keep stirring till it comes to a boil.
Add the carrots and mix well. Cook on medium heat, while stirring occasionally. Cook until the milk reduces and begins to thicken. This should take around 30 minutes.
Add sugar and cardamom powder. Mix well and keep stirring to avoid sugar from sticking to the bottom of the pan.
Add 2 tablespoons of ghee to the halwa and mix it well.
Heat 1 tablespoon ghee in a frying pan and roast the cashews and almonds until golden brown.
Add the roasted nuts to the halwa. Add raisins and cook for another 5 minutes over low heat.
Serve the gajar halwa warm.
Atte ki Pinni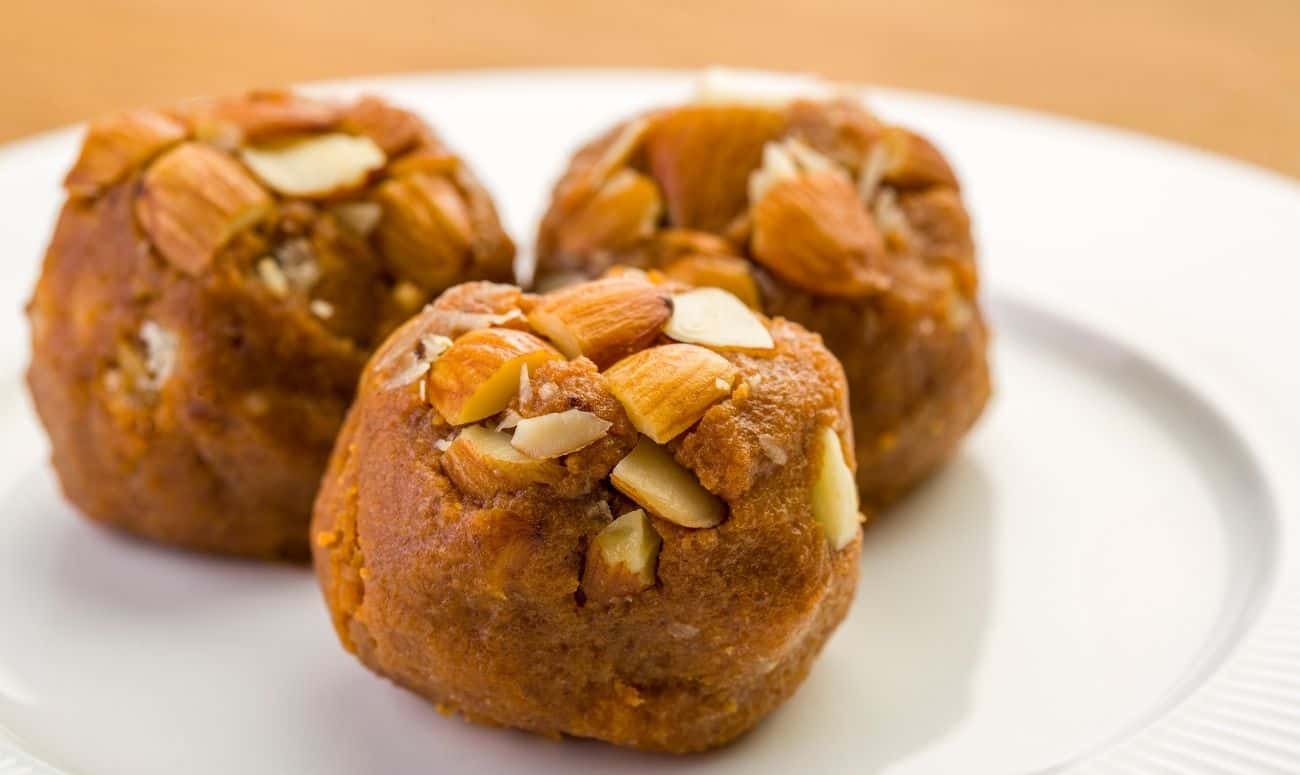 Atte ki pinni or sweet whole-wheat flour balls are a winter specialty in Punjab. Rich with body-warming nuts and ghee, they are considered a delicious bulwark against the cold. However, any celebration is just an excuse to make these almost instant treats. Every time there is a wedding in the winter, the halwais are scheduled to make coarse gram flour 'pinnis' before they start to cook the celebration meals. In India, there is a tradition of eating and distributing something sweet whenever there is some good news or before starting on something new. In keeping with this tradition, boxes of pinnis are distributed among family and friends along with the wedding invites.
Ingredients:
1 cup ghee
1 cup coarse whole-wheat flour
1 teaspoon ground cardamom
1 cup finely ground sugar
2 tablespoons coarsely ground almonds
Method:
Heat the ghee in a heavy-bottomed or non-stick pan over low heat.
Add the wheat flour and cook, stirring continuously, until fragrant and golden brown for about 8–10 minutes.
Remove the pan from heat and let the mixture cool down enough that it can be handled.
Add the ground cardamom, sugar and almonds and mix until the sugar dissolves.
Divide the mixture into lime-sized portions and shape each portion into cylinder. Store in an airtight container.
While serving, warm each pinni and then crush it lightly before serving.
Besan Panjiri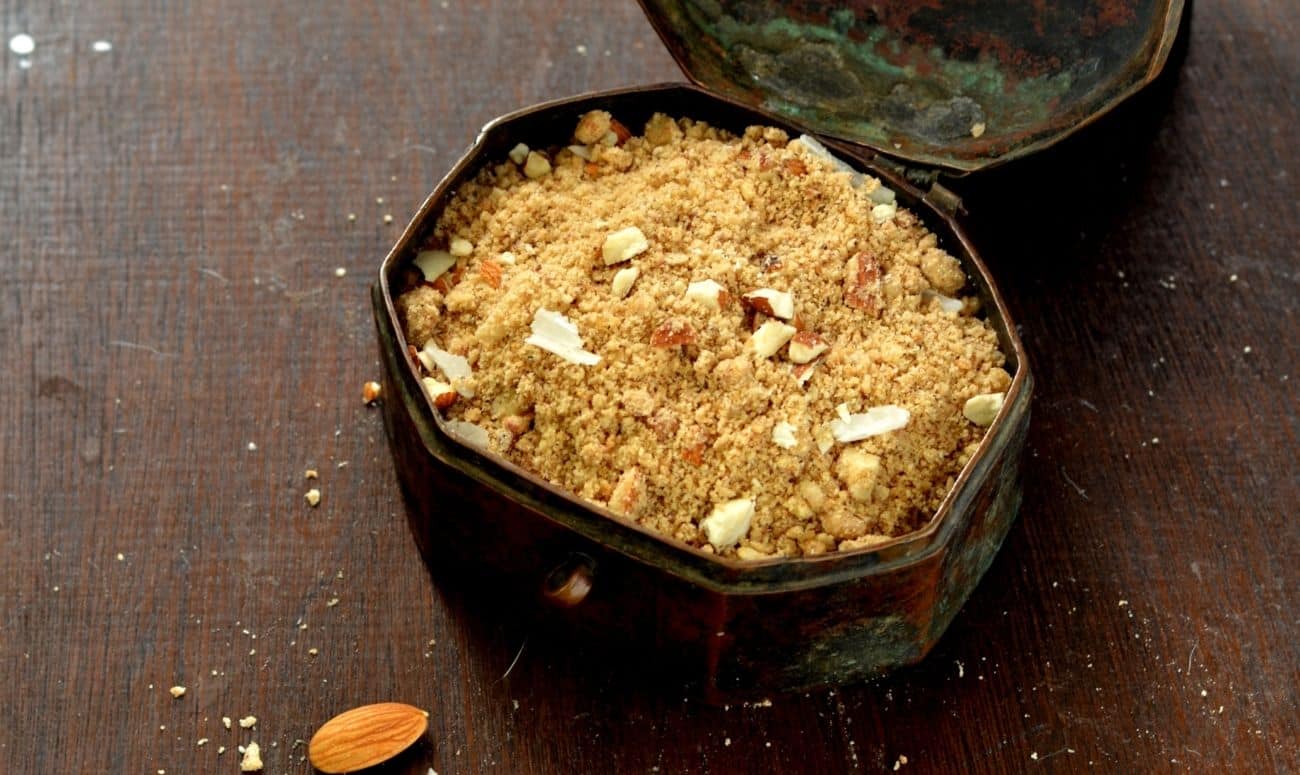 Panjiri is a north Indian dish that is eaten mainly in the winter season as it is known to help in keeping the body warm with its heat-generating ingredients. It is one of the heirloom recipes that has been passed on from generations. Panjiri can be made with whole wheat flour and semolina or with chickpea flour (besan). The flour is slow roasted in ghee and then mixed with healthy nuts. Besan panjiri is highly nutritious as it is rich in proteins, phosphorus, iron and calcium.
Ingredients:
½ cup ghee
1 cup besan
¾ cup powdered sugar
¼ cup roasted almonds, sliced
2 tablespoons whole pistachios, roasted
½ cup roasted makhana (lotus seeds)
¼ teaspoon cardamom powder
Method:
Heat ghee in a thick bottomed pan over medium heat. Add the besan and roast it over low heat, stirring continuously until it turns golden, becomes aromatic and attains a sand like texture.
Take the pan off the heat and add the sugar. Give it a gentle stir.
Add the almonds, pistachios, crushed makhana and cardamom powder. Toss the mixture well and store it in an airtight container.
While serving, heat the required amount of panjiri in a microwave.
Dr. Deepali Kampani is a digital content specialist who weaves health and food through her pen.
Read more: Bittersweet Wintertime Delights From The Heart Of Gujarat
Like & Follow ThinkRight.me on Facebook, Instagram, and Telegram to stay connected.