If I told you to imagine Mother Mary in a sari, or Jesus in a 'dhoti', would you be able to? What if I told you this is commonplace in India? These five churches put life into what I just said.
Santhome Cathedral Basilica, Chennai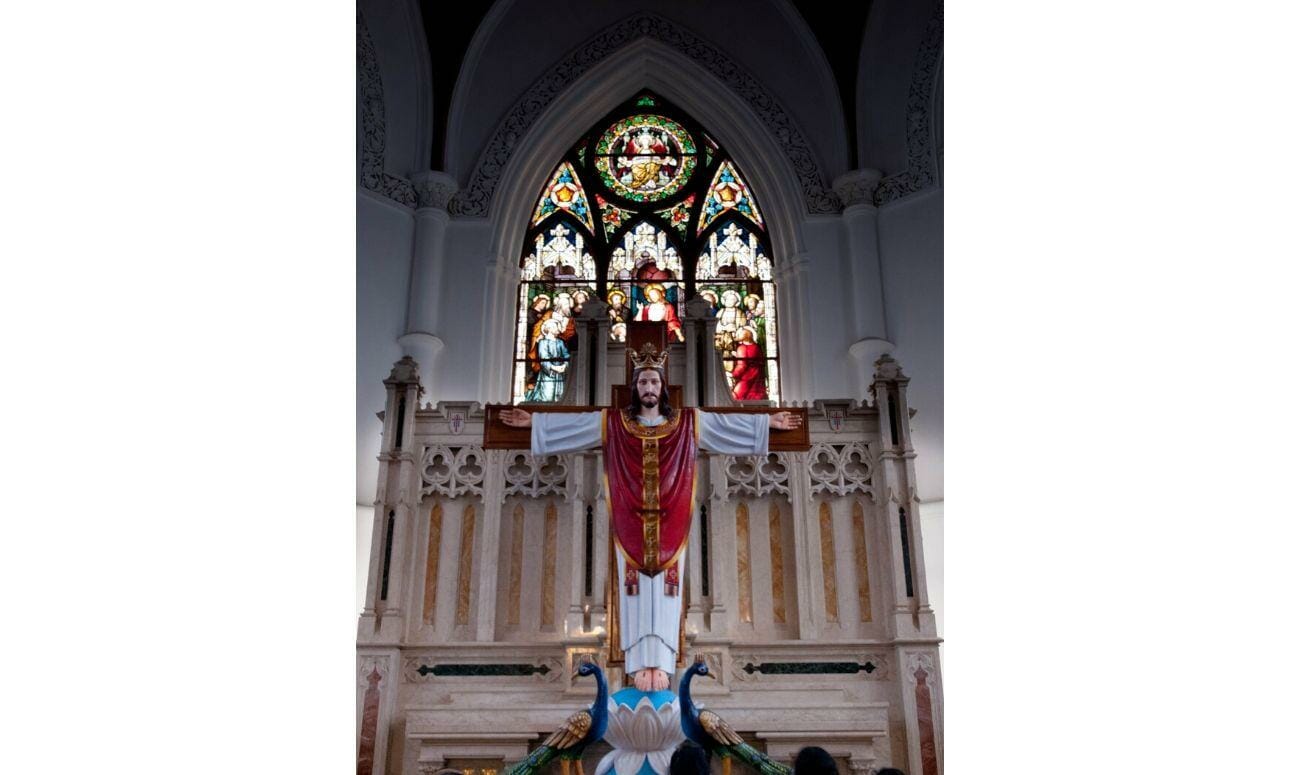 The shrine is built on top of its eponymous apostle, Saint Thomas' final resting place. It is a stunning piece of architecture that depicts a rich religious history. But what makes it a must-visit is the fact that here, Mother Mary is draped in a beautiful Kanjivaram saree and is standing on a lotus flower. Jesus too can be seen standing on a lotus with two peacocks on either side. One wouldn't expect such a sight in a church and would surely be taken by surprise.
Sacred Heart Church, West Bengal
One might mistake the shrine to be a Hindu temple at first, because of the strong elements of Hindu and Mughal architecture. Here, you'll see Mother Mary in a green sari with an infant Jesus. Not only this, what makes the church so indigenous are their rituals, which run parallel to the Hindu ones—worshippers squat on the floor, there are no pews here—the priest performs 'aarti' with an oil lamp and the stained glass windows show Biblical characters with Indian facial features, dressed in Indian clothes.
Marianist Church, Jharkhand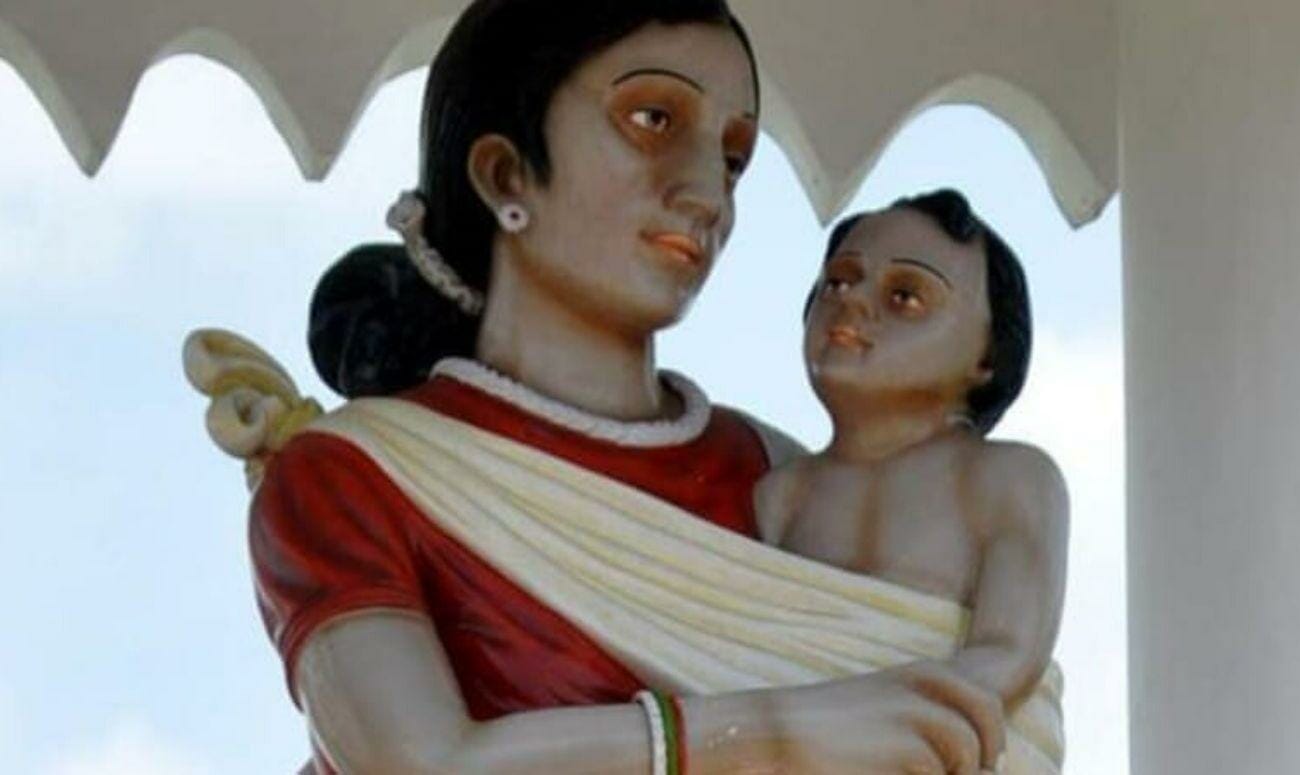 This place of worship potentially stirred a storm a couple of years ago. Reason being that the statue of Virgin Mary is shown dressed as a local tribal woman. Located about 15km from Ranchi, the leaders of this church installed the idol thinking that they were paying tribute to the local traditions. She is seen in a red-bordered white sari, red blouse, sporting a necklace, bangles and earrings, and holding baby Jesus in a cloth sling tied around her shoulder.
Churches In Meghalaya
The Khasi Christians in Meghalaya are trying to bridge the gap between church and the local culture. A number of churches here have embraced the local rituals, articles and expressions to the extent that Lord Jesus is dressed in traditional Khasi attire, which is a 'dhoti', a waistcoat and a headgear, and Mother Mary in a 'jainsem' (Khasi ladies' dress). A traditional Khasi ritual 'pyneh rngiew'—casting away evil­, is also introduced by some priests.
St. Mary's Basilica, Bengaluru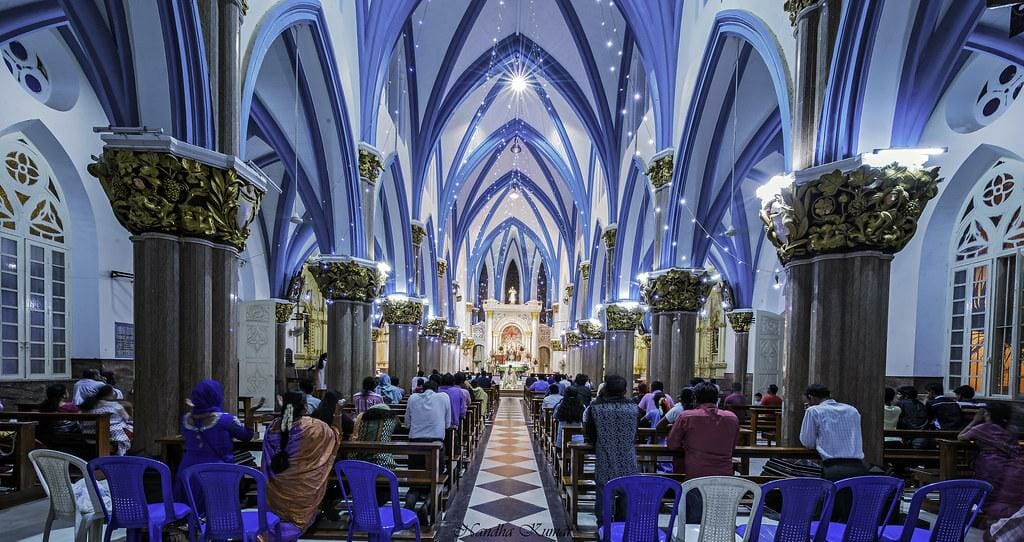 'Annai Arokiammarie', which translates into Our Lady of Good Health, is what Mother Mary is fondly referred to as here. Locals look up to the statue of Mother Mary holding Child Jesus in her arms as an object of veneration and a source of inspiration. And what makes it even more special is that along with being the oldest church in Bengaluru, the statue of Mary is draped in an elaborate sari, laced with gold thread and jewellery.
Years ago, Catholics would have been aghast at the sound and sight of conch shells blowing inside a church; but today no one bats an eyelid, and in the years to come these boundaries might be blurred even more.
ThinkRight is now available on Telegram. For handpicked stories every day, subscribe to us on Telegram
Read more: How Colouring Is Actually Therapeutic?
Like & Follow ThinkRight.me on Facebook, Instagram, and Telegram to stay connected.