Meal prepping your week of lunches and dinners in advance can help you embrace healthy eating habits this new year and save time and money in the process. It's a great approach to making delicious, homemade food that you'll want to eat every day, without having to worry about what to cook for your next meal. By putting the effort into practicing meal prep on a Sunday, you can get great meals on the table and save a lot of time amidst hectic work and chore-filled hours.   
Some Simple Ways To Meal Prep
Reheat Meals: You can batch cook full meals that you simply need to reheat later.  
Assembly Meals: You can assemble ingredients for a meal ahead of time, no need for cooking just yet, and freeze it for later use.  
Ingredient Prep: You can simply chop and portion things out and use these prepped components in different recipes throughout the week. 
Buffet Style: You can prep and cook ingredients ahead and mix and match to create a variety of different meals.  
Batch Prep: You can cook a single ingredient in bulk and base several meals around it.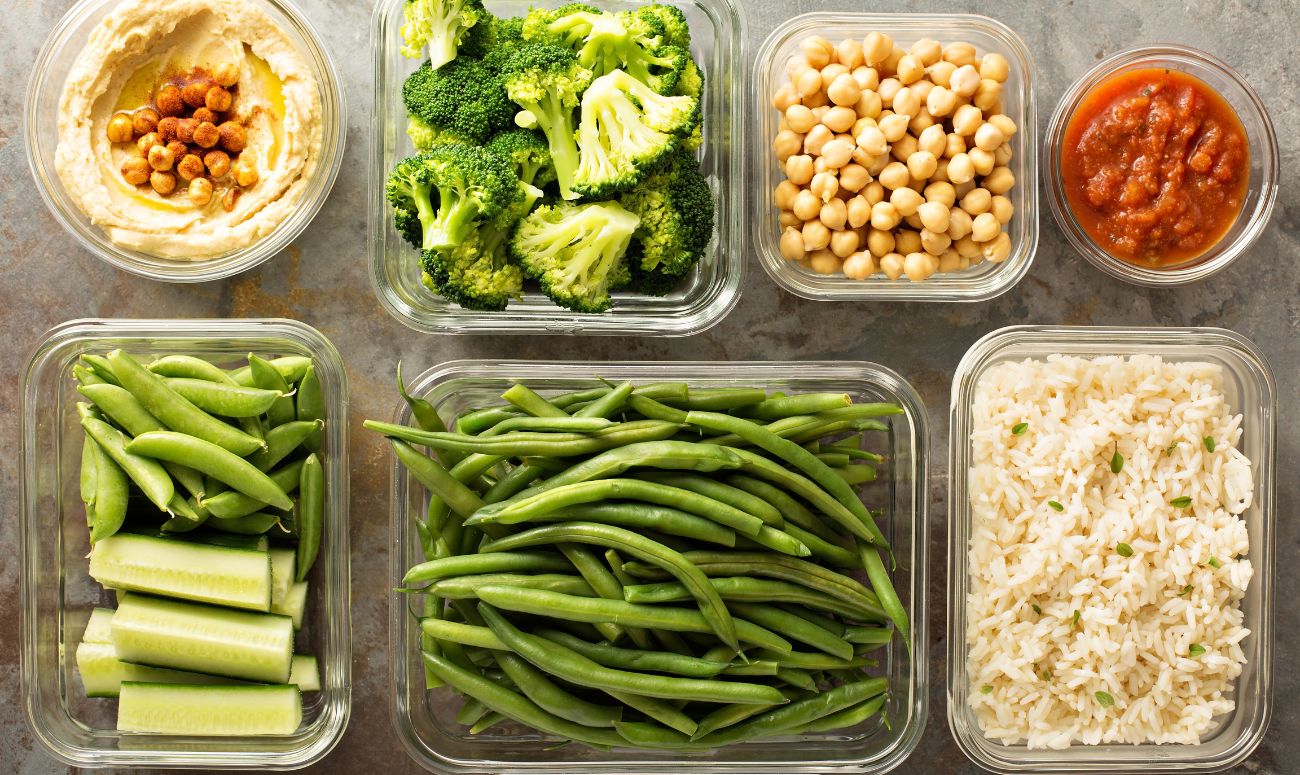 Benefits of Meal Prep
Save money
Save time
Reduce your stress
Eat healthier
Better manage your portion sizes
Create a better relationship with food
Get fitter
A Step-by-Step Guide To Meal Prepping 
While meal prep is the ultimate game changer when it comes to nutritious eating, we recommend that you start simple and small. No need to overwhelm yourself with something that's supposed to make your life easier. Start with one recipe or one set of meal prep bowls to grasp the concept and slowly you can work your way up to regular meal prepping.
Step 1: Make A Meal Plan
Even if at the end of this article you decide that meal prepping is not something you want to explore, having a meal plan makes life much easier as it saves time and reduces the stress of thinking about your next meal.
Start by writing out your dinners, since you can easily prep your dinners as next day lunches and have something different every night.
As you progress through the weeks, add breakfast and lunches if you'd like a little bit of variety to your meal plan.
And lastly, make a list of healthy snacks that you can add to the plan.
Step 2: Make A Shopping List
Go through your meal plan and write the ingredients required to make these dishes on the menu. Take inventory of what's already in your pantry and what do you need to go grocery shopping for. A tip that we'd recommend is to buy your groceries online to resist the urge to impulse buy unnecessary things.
Step 3: Start The Meal Prep
Now that you have everything for meal prepping, it's time to begin. Let's start simply by preparing your veggies first. Vegetables are the base for any dish and can easily be added to curries, rice bowls, salads, and much more. Determine how much you want to prep. Experiment with prepping for two to three days before attempting a whole week.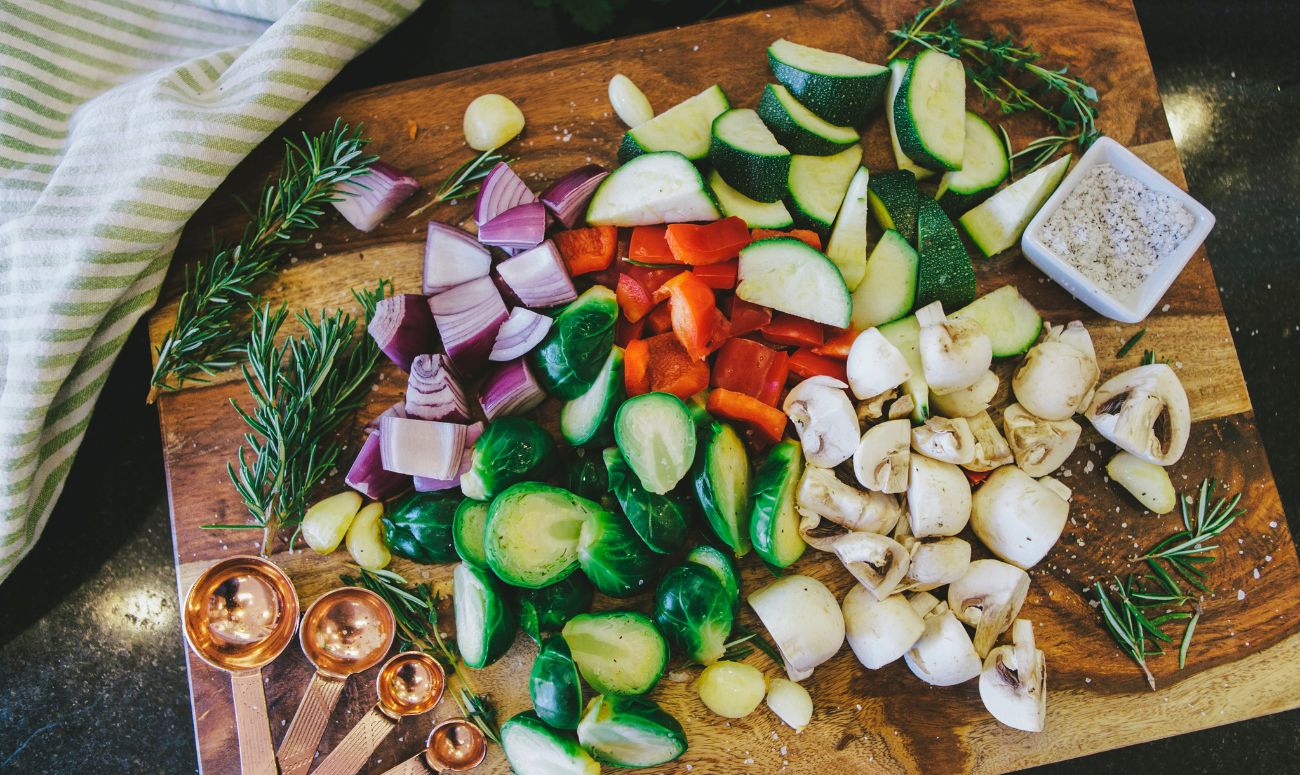 Next, start batch-cooking your carbs. This can either be rice, quinoa, or pasta, or you can make chapatis beforehand and freeze them.
Third, think of what protein you'd like to add to your meals. This could be prepping dal for the week or cooking chole or rajma that can last you two to three days. Other options are paneer, tofu, legumes, lentils, etc.
Step 4: Assemble
Now, it's time to portion things out. Whether you're making an entire meal or just one component, portioning out is one of the most important steps of meal prep so that you can easily grab your meal and head out the door.
Best Foods For Meal Prep
Frozen vegetables: These are already washed and prepped to be roasted, steamed or sauteed.  
Starchy vegetables: Potatoes, corn, green peas, beetroots, squash, turnips, sweet potatoes and more are healthy and filling.  
Stiff, fresh vegetables: Celery, carrots, bell peppers, radish and other crunchy vegetables are great for meal prepping beforehand.  
Sturdy greens: Leafy vegetables like spinach, cabbage, lettuce, collard greens, microgreens, etc. last longer in the fridge when stored well.  
Whole grains: Oats, quinoa, barley, and buckwheat are brilliant for breakfast, lunch, and dinner. 
Pulses: Chickpeas, lentils, beans, and peas are easy plant-based proteins perfect for any meal.  
Lean protein: Unflavoured Greek yoghurt, paneer, or tofu are healthy sources of protein.  
Whole fruits: Depending on the season, stock up on fruits that can easily be added as healthy snacks between mealtimes. You can have them by themselves or with homemade hummus or dip.  
Nuts and seeds: Almonds, walnuts, peanuts, pumpkin seeds, chia seeds and flax seeds are a great way to add a dose of nutritious and crunch to your meals.  
The benefits of meal preparation are worth the effort. You won't just save time and money, but you'll reduce stress, eat healthier, and have more time to spend the way you wish to. Remember, meal prep looks different for everyone. Experiment with the methods mentioned and find out what works best for you.  
Read More: 20 Powerful Affirmations to Make 2023 A Great Year
Like & Follow ThinkRight.me on Facebook, Instagram, Twitter, Pinterest and Telegram to stay connected.