India's MC Mary Kom won the sixth Gold medal in the World Boxing Championship and made a record. India's Olympics bronze medallist, Mary Kom outclassed Ukraine's Hanna Okhota by a unanimous 5:0 verdict, to emerge victorious in the light flyweight 48-kilogram category. It took three rounds to knock out her opponent and win the championship crown. This was Mary Kom's ninth appearance in the International Boxing Federation (AIBA) Women's World Championships. Mary Kom had defeated Okhota earlier in the year, in Poland.
MARY KOM'S JOURNEY
Mary overcame multiple drawbacks to gain momentum and achieve success in the Women's World Boxing Championships. Before the World Championship, Mary Kom tied with Katie Taylor of Ireland, with a five gold haul. The feisty Manipuri boxer had won five gold medals in 2002, 2005, 2006, 2008, 2010. She had also won a silver in her debut in 2001.
THE ROAD TO FINAL ROUND
Mary Kom beat North Korea's Kim Hyang-Mi in a tactically brilliant semi-final performance, to storm into the final round. She was dexterous, avoided the flurry of punches from her opponent and kept increasing her score. Her movements were quick and spontaneous, which is what eventually helped her defeat Hanna Okhota.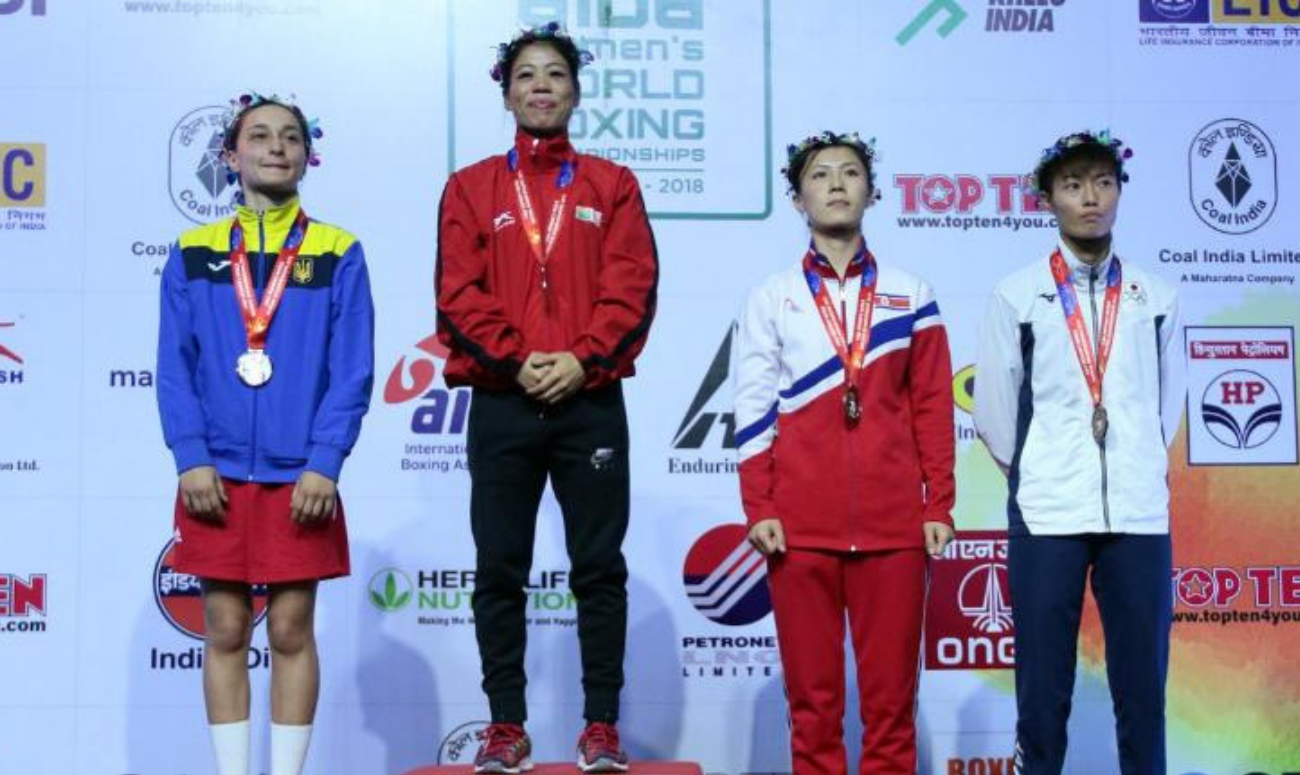 THE BOUT BEGINS
Co-incidentally, India's ace boxer entered her final bout on her 36th birthday. When Mary Kom entered, the arena resounded with fans chanting her name. She defeated Okhota in front of a packed K D Jadhav Stadium. In a post-match interview, Mary Kom told reporters, "I dedicate this gold to the nation and my countrymen." She also expressed gratitude to her coaches and support staff. At the end of the tournament, Mary Kom wrapped herself in the Tricolour. She thanked her fans for their "unstinted" support and said, "I am a little bit emotional today. There is no (48kg) weight category in the Olympic Games. Because of your love and support, I feel I will be able to qualify for the 2020 Tokyo Olympics. Four years ago, I was not able to qualify for Rio. I am still suffering from that." Mary created championship history by matching Cuban legend Felix Savon as the joint most successful pugilist in the men's and women's category.
MAKING THE NATION PROUD
India finished the Women's World Championships on a happy note with one gold, one silver, and two bronze medals. 21-year-old Sonia Chahal won a silver medal in the 57 kg category, after losing in her final bout to Wahner Ornella Gabriele of Germany. In the semi-finals, Simranjit Kaur and Lovlina Borgohain won bronze medals.
P.M Narendra Modi stated it was a proud moment for the Indian Sports.
A proud moment for Indian sports.

Congratulations to Mary Kom for winning a Gold in the Women's World Boxing Championships. The diligence with which she's pursued sports and excelled at the world stage is extremely inspiring. Her win is truly special. @MangteC

— Narendra Modi (@narendramodi) November 24, 2018
It is a proud moment for all Indians, and we at Think Right would like to Congratulate Mary Kom for her historic feat.
READ MORE: CHENNAI RESIDENTS SAVE ONE LAKH LITRES OF WATER
Image: The Times of India