On Makar Sankranti, the festival of kites, we see the sky dotted with different coloured 'Patangs'. On this day, scores of kites fill the sky, all trying to compete against each other. These kites never fail to awe us as we see them soar across the skies.  
Kite making is an art that has been passed down for generations, and like many other traditional arts it has also become scarce and is dwindling. We spoke to Ravindra Pal Singh, known as Pal uncle, a famous kite maker from Navi Mumbai. He learnt how to make the kites over 40 years ago when he was a kid. "I started because of poverty, my father wasn't rich, and we needed the money. One day as I was playing with my friends, I saw a colourful kite and wanted to buy it. My mother said that we couldn't afford it and that's when I decided to make my own kites. Initially, it took me 9-11 hours to make a single kite". The journey might have been slow for Pal uncle, but it has been a successful one. He learnt how to make kites and moved to Mumbai with big dreams, which he achieved over decades.  
The tradition of kite making isn't new in India, many believe that kites were first brought to India by the Chinese travellers, Fa Hien and Hiuen Tsang, but since then kite flying has become a part of Indian traditions. Though looking at the kites is delightful it takes as much effort, skill and time to make them.
When we asked him about the difference, he has seen in the industry over years he said, "When I initially started, I had seen entire families working together to create the kites, which takes incredible skill and talent by each member. But over years I've seen the family businesses dwindle, the kids of course have gone on to pursue their own dreams instead of learning the family art."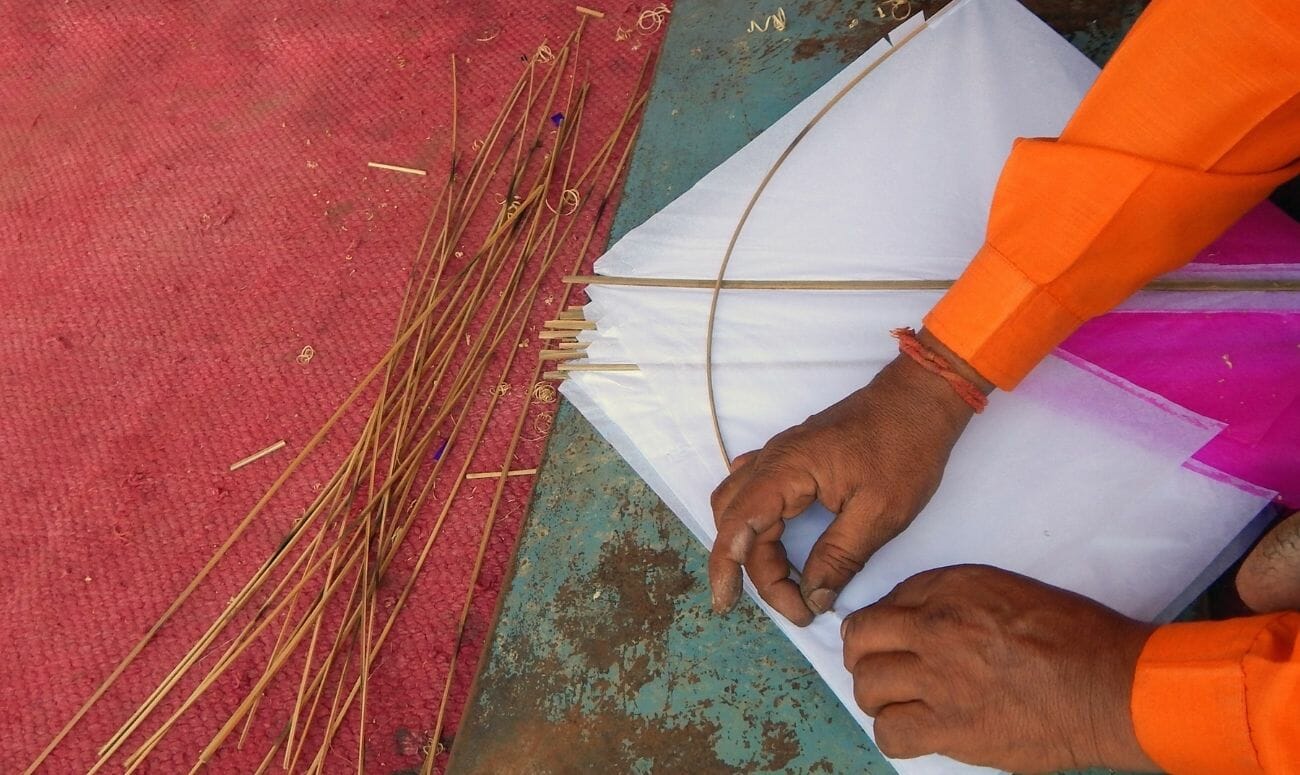 "I also have two children, a son and a daughter, both are on good posts and doing well in life". Over decades his kite-making business has grown and he has made profits in crores. Along with the kite making business, he has also grown a small real estate agency of his own in Vashi, sector 16. "Now I don't make kites because I need the money, I make kites because it's my passion. I do it because it's an art that helped me make my life and saved my family."  
When asked about what the future holds for the industry he said, "COVID and lockdown has impacted the industry severely and has forced many small makers and outlets to shut down or find other occupations." He also said that, "the traditional kite-making has been challenged by the factories for a long time now, and post-COVID it seems to have borne the hit better than the smaller businesses."
There is a certain sadness in Pal uncle's eyes as he says, "The only way to save the traditional kite-making industry is if new hands are trained in the trade, and if it's also integrated with the tools to reach broader audience that modern technology offers, or else sadly the industry will die a natural death."
We truly hope the art of kite making survives and is celebrated as much as the festival of Makar Sankranti itself.  
Read more: Lohri 2021: Do it right!
Like & Follow ThinkRight.me on Facebook, Instagram, and Telegram to stay connected