Onam is the harvest festival of Kerala and is celebrated every year for ten days. It marks the return of the legendary King Mahabali whose spirit is believed to visit Kerala every year during Onam. As part of the celebrations, people decorate their homes, make rangolis and dress up to meet and greet loved ones. The last day of Onam called Thiruvonam is when a grand feast called Onasadhya is prepared. Sadhya means banquet in Malayalam and it is the pride of every Malayali. 
What to Expect in an Onasadhya Meal? 
Onasadhya can have anywhere between 12 to 222 dishes. There may be some variation in the dishes in different regions. The most common 26 dishes served are include the following.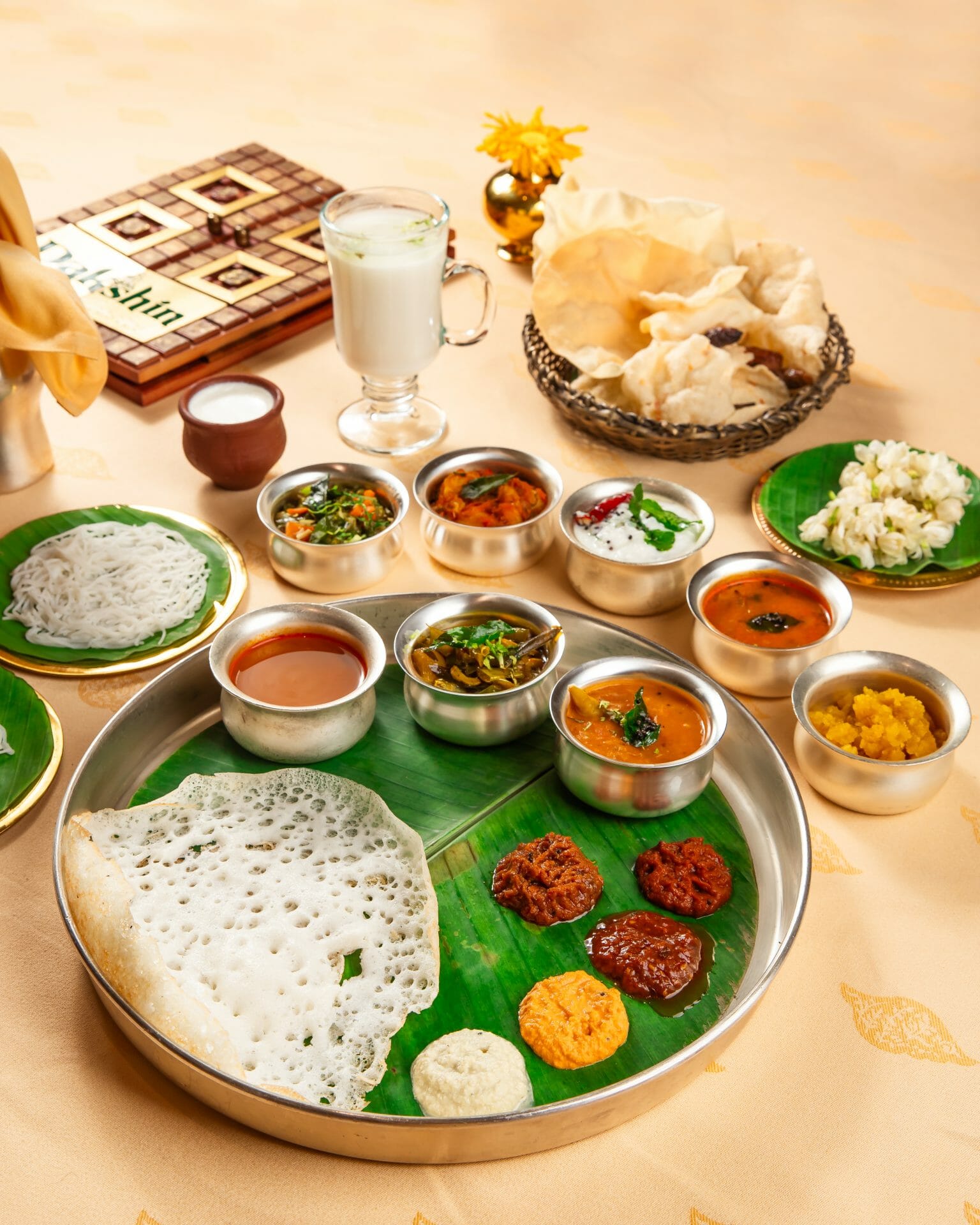 Uppu or salt is served at the start of the meal and can be used to adjust the taste as and when required during the meal.
Cheru pazham or small ripe banana is to be eaten on its own or had with payasam.
Chena mezhkkupuratti or yam is sliced into chips and fried in coconut oil.
Nendrakai nuruku or banana chips are made from Kerala's famous Nendram banana. For Onam, they are cut into quarters and fried.
Sharkara varatty are thick pieces of deep-fried raw banana coated with jaggery.
Pavakka kondattam is sundried bitter gourd that is fried in coconut oil.
Manga achar is a raw mango pickle with a tempering.
Naranga achar is a lemon pickle where lemons are soaked and cooked in a pickle marinade.
Nellika achar is a pickle made from fresh gooseberries.
Inji puli is a sour, spicy and sweet chutney made using tamarind, ginger and jaggery.
Kichadi is made by mixing boiled and pureed beetroot with curd and coconut.
Pineapple pachadi is a mixture of pineapple, curd and freshly grated coconut with a delicate tempering of mustard seeds and curry leaves.
Olan is a curry made with yellow pumpkin and red cowpeas that are cooked in coconut milk and topped with a drizzle of coconut oil.
Kootu erissery is a curry made with pumpkin, yam, raw banana and black chickpeas or lobia.
Cabbage thoran is finely chopped cabbage with a tempering of mustard seeds, grated coconut and dry red chillies.
Avial is the quintessential curry of Kerala made with a combination of locally grown vegetables slow cooked with curd and coconut.
Matta red rice is the classic Kerala rice that is served hot.
Nei parippu is plain toor dal (pigeon peas) simmered with ghee.
Sambar is the staple Kerala dish made with assorted vegetables in a base of toor dal and seasoned with ground sambar masala.
Kaalan is a yam dish made with a curd base and is slow cooked in a coconut paste with flavours of black pepper and cumin.
Pappadams are made from urad dal and deep fried before serving.
Rasam is a sour and spicy soup made with tamarind and black pepper.
Ada pradhaman is a dish made of thick rice flakes simmered in coconut milk along with jaggery, dry ginger powder and cardamom.
Palada pradhaman is a sweet dish made with tiny rice flakes and dried fruits that are cooked in cow milk.
Chakka pradhaman is a sweet dish made from ripe jackfruit, which is cooked twice- first with jaggery and then with coconut milk.
Parippu payasam is the most relished sweet dish made with moong dal, jaggery and coconut with a mild flavour of dry ginger powder and cardamom.
Orientation of the Dishes on the Banana Leaf 
Onasadhya is typically served on a banana leaf. While serving, there is a designated place for every dish on the banana leaf, however, there may be slight variation from community to community.
The banana leaf is placed horizontally with the wider side on the right-hand side of the person eating the meal. The upper half of the leaf is for sturdier dishes like pickles, chips and side dishes while the lower half is for rice and sambar varieties and pappadum. The narrower end on the left is for items eaten in small portions while the wider end on the right is for rice which needs to be mixed with other dishes.
Right Way of Serving and Eating an Onasadhya 
Onasadhya should always be served and eaten on a banana leaf that is laid on the floor. The use of banana leaf is based on the ancient principles of Ayurveda. When warm food is placed on a banana leaf, it releases an antioxidant called polyphenol that is absorbed by the food.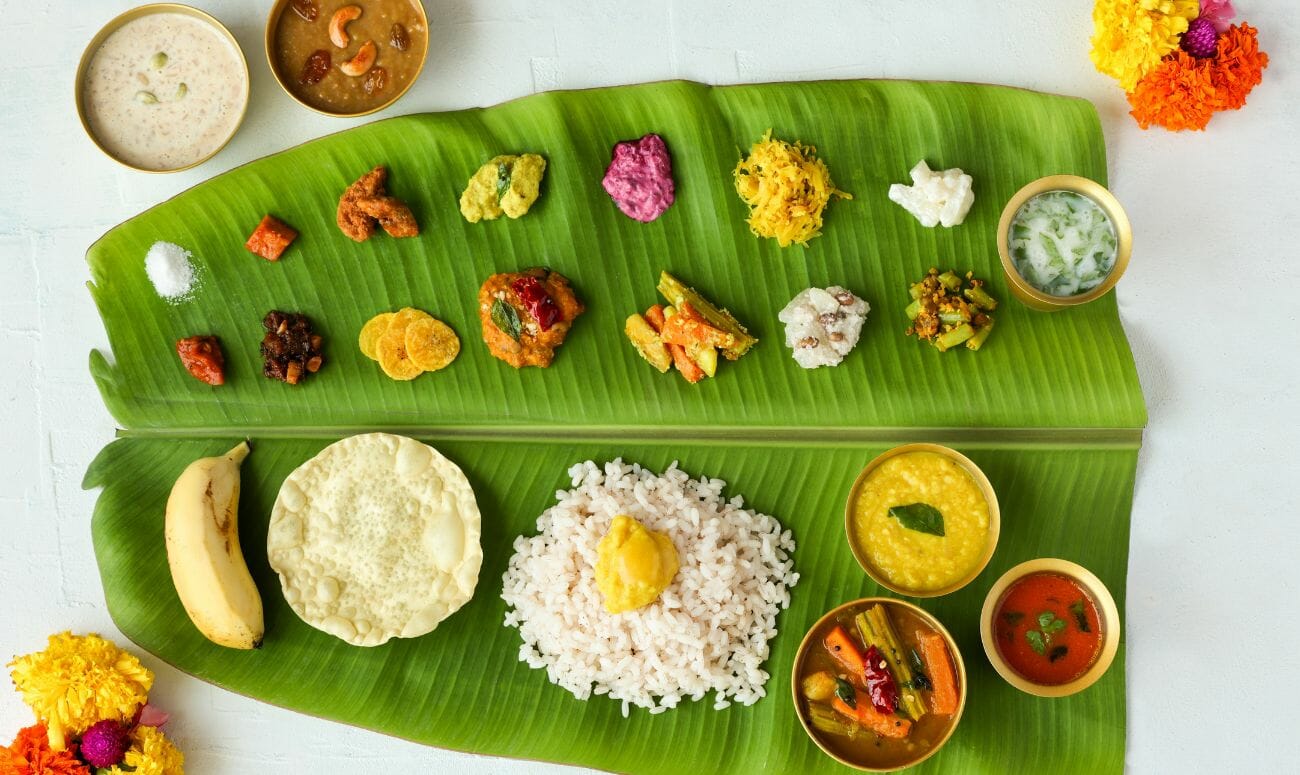 Traditionally one should sit on the floor in a cross-legged position to relish the sadhya. Once the banana leaf if placed, you should sprinkle some water on it and wipe it off. Sadhya meals should always be eaten with the hand and in a particular order to promote better digestion.
The dishes in a sadhya are served from left to right, however they should be eaten in the opposite direction. Rice is usually served after all the side dishes. The first morsel of a sadhya should be rice and parippu topped with ghee. After this each curry is served one at a time and eaten in courses along with the side dishes, pickles and pappadum.
Payasam, which is the dessert is had at the end along with mashed banana.
A sadhya feast concludes with drinking rasam or buttermilk that soothes the throat and aids digestion.
According to traditional customs, the banana leaf should be folded and closed towards you at the end of the sadhya.
Dr. Deepali Kampani is a digital content specialist who weaves health and food through her pen.
Read More: Daily Good News: Over 450 Women Labourers Receive Bicycles Under 'Power the Pedal' Campaign 
Like & Follow ThinkRight.me on Facebook, Instagram, Twitter, Pinterest and Telegram to stay connected.