Beetroot is a root vegetable loaded with nutrients, vitamins and minerals. Its vibrant reddish pink colour is due to the pigment betanin, which is also used as a colouring agent in natural dyes.
Eating beetroot and having beetroot juice provides a high amount of folates that help in blood-related disorders like anaemia and also improves heart health. Always choose beetroots that are dense to derive the maximum benefits from it.
Beetroots are tasty even in raw form due to their sweet and earthy flavour. While cooking, boil it with minimal water as overcooking beetroot reduces its nutrient value.
Beetroot hummus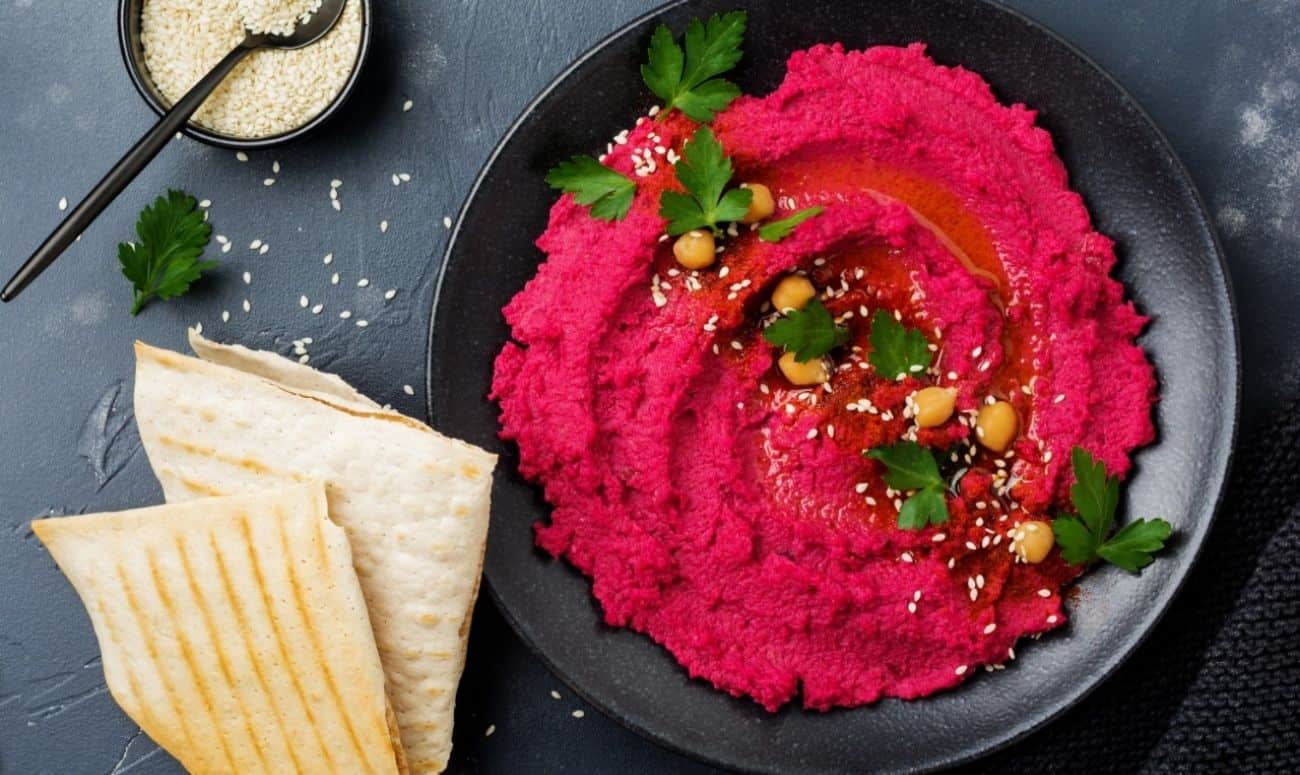 Ingredients:
1 cup boiled chickpeas
½ beetroot, boiled and chopped
2 tablespoon lemon juice
2 tablespoons olive oil
Salt to taste
Method:
Combine all the ingredients in a mixer jar. Blend the mixture until it attains a smooth consistency. Add 1 teaspoon of oil and blend it once again. Serve beetroot hummus with cucumber and carrot wedges or with nachos/tacos.
Beetroot vegetable cutlets (Indian Railway style)
Ingredients:
1 beetroot, peeled, boiled and grated
¼ cup blanched green peas
¼ cup grated carrot
3 potatoes, boiled and mashed
1 tablespoon ginger, chopped
3 green chillies, finely chopped
1 teaspoon red chilli powder
½ teaspoon chaat masala
½ teaspoon dried mango powder
1 slice of bread, soaked in water
1 tablespoon fresh coriander leaves, chopped
Salt to taste
½ cup maida
½ cup bread crumbs
Method:
Combine all the ingredients except maida and bread crumbs in a mixing bowl. Mix well so all the ingredients come together. Shape the mixture into oval-shaped cutlets. Heat oil in a frying pan. Dip each cutlet in a paste of maida and then roll it in bread crumbs. Drop them slowly in the oil and fry until cooked on both sides and golden. Serve warm with tomato ketchup.
Beetroot halwa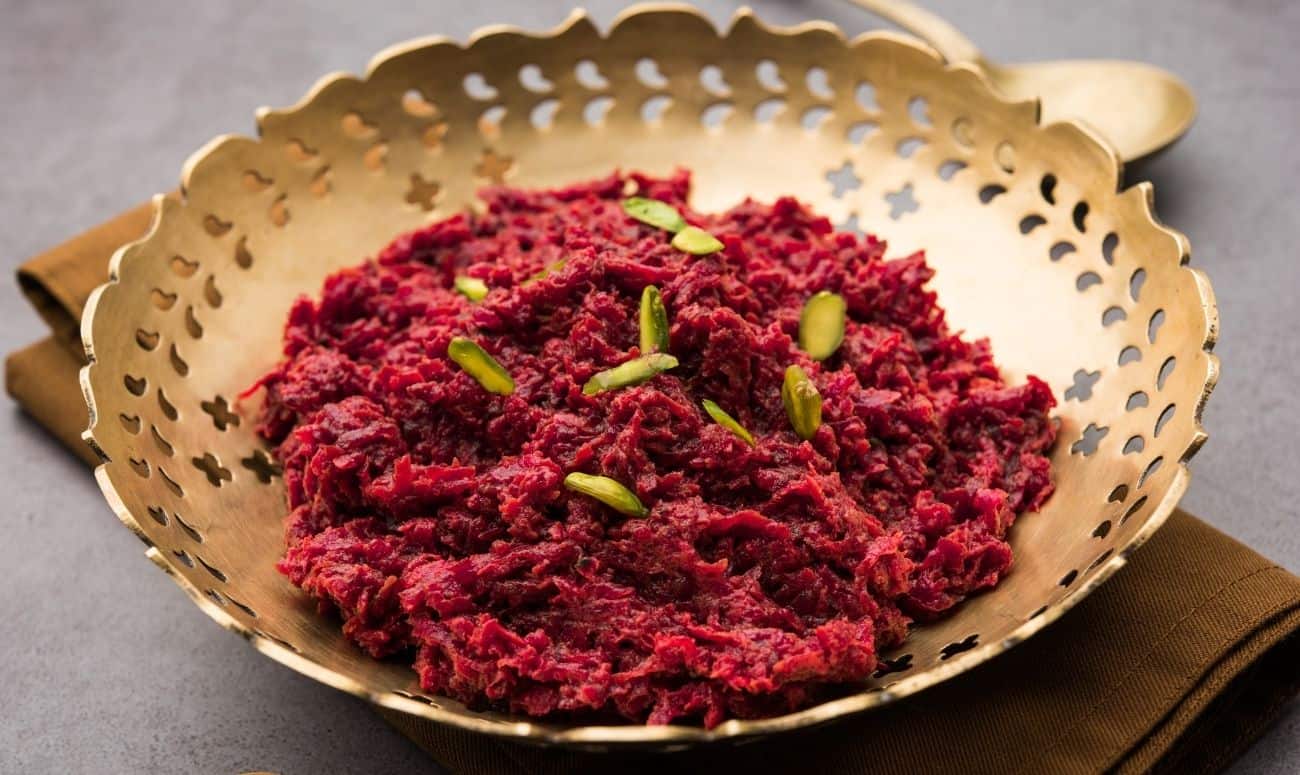 Ingredients:
4 tablespoons ghee
4 beetroots, grated
1 cup milk
½ cup khoya
½ cup sugar
2 tablespoons cashew nuts, chopped
½ teaspoon cardamom powder
Method:
Heat ghee in a thick-bottomed saucepan over medium heat. Add beetroot and cook for 5 minutes, stirring intermittently. Add milk and khoya and stir well. Cover the pan and let the mixture cook on low heat for 15-20 minutes. Cook until all the moisture is absorbed and beetroot is well cooked. Add sugar and mix well until all the sugar dissolves and ghee starts separating from the halwa. Add cardamom powder and cashew nuts and mix gently. Serve the beetroot halwa warm.
Beetroot chutney
Ingredients:
1 beetroot, peeled and boiled
1-inch ginger
2 dried red chillies
3 tablespoons shredded coconut
1 tablespoon tamarind paste
1 tablespoon oil
¼ teaspoon mustard seeds
¼ teaspoon urad dal
8-10 curry leaves
Salt to taste
Method:
Combine beetroot, ginger, red chillies, coconut, tamarind and salt in a mixer jar. Blend to a smooth paste. Add water if required. Heat oil in a small frying pan. Add mustard seeds, urad dal, red chilli and curry leaves. Once the spices start spluttering, add the tempering to the ground chutney paste.
Beetroot puri
Ingredients:
1 beetroot, peeled and boiled
1 cup whole wheat flour
1 teaspoon red chilli powder
1 tablespoon oil
Salt to taste
Method:
Puree the beetroot to a smooth paste using a minimal amount of water. Combine the puree with the remaining ingredients to make a soft dough. Add water if required. Make lime sized balls of the dough and roll out the puris. Deep fry in oil over medium heat until golden in colour. Drain the fried puris on absorbent paper. Serve immediately.
Dr Deepali Kampani is a digital content specialist who weaves health and food through her pen.
Read more: 5 Lessons That We Absolutely Love From Jay Shetty's Book, Think Like A Monk
Like & Follow ThinkRight.me on Facebook, Instagram, Twitter and Telegram to stay connected.