When Chef Manu Chandra announced that he'll be stepping down as partner at the Olive Group in August 2021, the food world was confounded, especially those who were never able to experience a meal there when he was around. But a mere six months later, Chandra revealed his grand plans for the future with new businesses and investments ranging from a catering company to a meat substitute company and a brand-new restaurant. "With Manu Chandra Ventures, we're aiming to be more people-forward as compared to being more product-forward. And of course, years and years of working with a company gives you a lot of experience and teaches you what to do right and what not to do," says the chef who's riding high on a successful restaurant launch and not to mention, having successfully headed the catering of the Inaugural Dinner at Cannes 2022.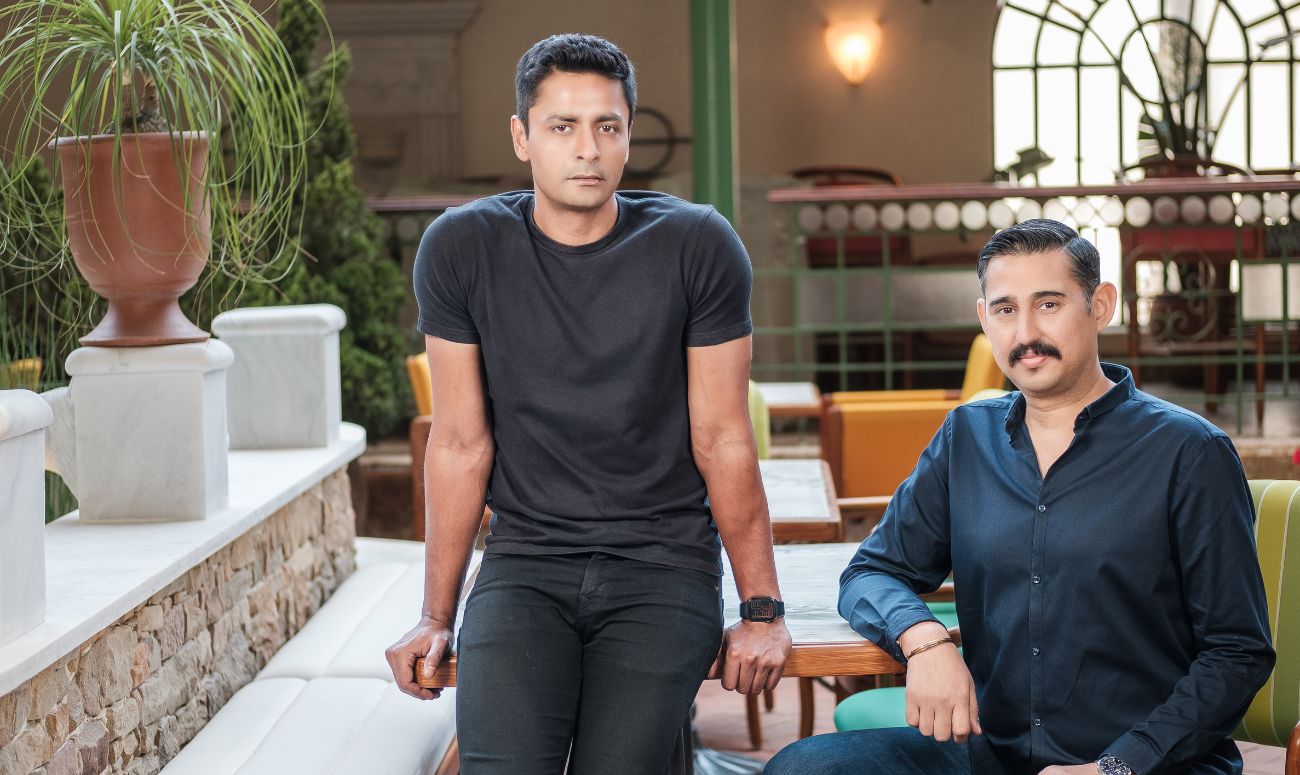 For a man who used to head iconic restaurants like Toast & Tonic, Monkey Bar, The Fatty Bao, Olive Beach, and Cantan, Manu Chandra has an oddly calm demeanor that resonates with you. He speaks with intention, clearly rolling each thought around in his mind before letting it slip out in his rich drawl. ThinkRight.me spoke with the celebrated chef on restarting after a successful tenure with the Olive Group and finding his footing with Manu Chandra Ventures and ample other culinary offerings.
ThinkRight.me (TRM): Tell us more about this incredible journey of yours, from being a Delhi boy to studying at the coveted CIA and working in celebrated kitchens in New York and then Norway with the Michelin-starred Chef Eyvind Hellstrom at Bagatelle, how has this melting pot of culture shaped your perspective towards cooking and food? 
Manu Chandra: You know, as the old saying goes, the more we experience things, the more we learn, and the more it shapes humans in what to do and what not to do. And I think my experience globally has essentially taught me that you pick up something from everywhere. Be it a very strong foundation at the CIA, which is a school that offers great education as far as fundamentals are concerned, and then being moulded by experiences working at different restaurants in different parts of many countries, you build on that foundation with the advanced knowledge that you attain and as I move forward, I continue building. It's a continuous process, learning never really stops, does it?  
ThinkRight.me (TRM): Having the opportunity to work with culinary masters and evergreen restaurants in some of the most wonderful places around the world, what are the biggest lessons you've attained in your experience? 
Manu Chandra: You can't rest on your laurels, which means you can't become famous and think that you're going to stay on top unless you keep at it, especially in the food space. It's not a movie that remains evergreen, once you make it, you can watch it anytime. Food is different, you're only as good as your last meal. In the restaurant space, it's so important to consistently drive innovation and it's important to consistently stay relevant. And you do that by not only reinventing yourself, but reinventing spaces, and that's what makes this entire exercise more sustainable.  
TRM: And how do you go about evolving with the times?  
Manu Chandra: I keep myself as educated with the times as possible. I constantly read; I constantly learn. As I said, one cannot stop learning, right? And if you are somebody who has experience backing you, if you have a strong skill set, it becomes easier to adapt to change as it becomes easier to try newer things. You know that when you try something new, you also come with the experience of being able to execute it at a certain level. And that's how you essentially remain relevant, and it's not restricted to the realm of food. It also extends to the bar, the design, the social media, it also extends to the marketing. I mean, I was never really very social media savvy, but we make some great reels now. All this contributes to being relevant in the larger sense. Our videos are more evocative because we understand aesthetics, our experience allows us to experiment. So, staying relevant is not the difficult part, it's about the willingness to change. If you are someone who is willing to change with the times whilst also holding onto the benchmarks that you set for yourself, it's easier to stay on top.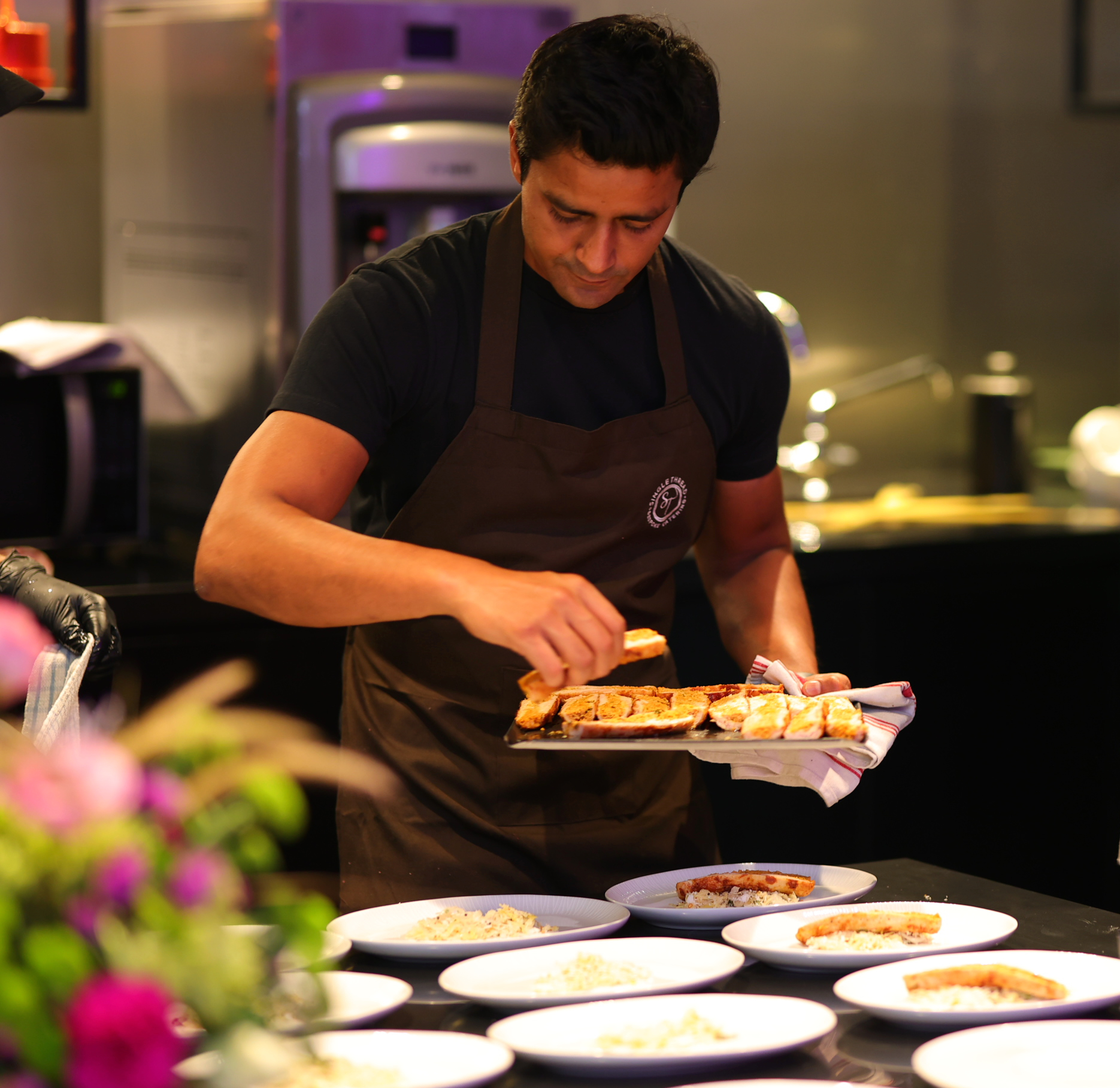 TRM: From being the youngest ever head chef at the Olive Group and spearheading iconic restaurants Toast & Tonic, Monkey Bar, The Fatty Bao, Olive Beach, and Cantan to now founding your own endeavour Manu Chandra Ventures, what are some of the key things that've changed and some that have remained the same? 
Manu Chandra: I don't think anything has changed. It's a new environment, a different company and I feel it's being run with more heart, with more focus on its people. What remains the same is the people who run it. And the idea of change goes back to your previous question, right? Evolution is not limited to a single element. Evolution is applicable to multiple things, especially to your way of thinking. With Manu Chandra Ventures, we're aiming to be more people-forward as compared to being more product-forward. And of course, years and years of working with a company gives you a lot of experience and teaches you what to do right and what not to do. Those learnings then get amalgamated into the way we run this company and I think that makes for a stronger business model.  
TRM: Has the pandemic changed your approach toward cooking and creating recipes? Do you think there is a way we can embrace sustainability in terms of food? If so, how are you being more mindful of food and the resources available to us going forward? 
Manu Chandra: I think after the pandemic, I embraced something called hedonism. Once the world opened back up again, people embraced a sense of YOLO (you only live once). They opened up their hearts and their pockets and said, "let's go out and party." And that's what we see from the hospitality perspective. You embrace that with open arms and generosity. You show the willingness to adapt to that sentiment and you cater to that.  
What happened during the pandemic was, of course, catastrophic, and enough has been written and said about it. I find that the human tendency is to collectively let go of adversity. It gets erased from our consciousness and we move forward. What remains in our minds now is essentially the remnants of that in a more positive way.
Sustainability and mindfulness around food is, I believe, an ongoing process. That conversation needs to be continuous. It doesn't need to be triggered by a pandemic. I spoke about it before the pandemic and it's something that I'll continue to speak about. Hopefully, there's never another pandemic perpetuated but we always need to be more mindful of how we can be more conscientious in our approach toward sustainability. We can't just give lip service to it. We need to be more proactive toward it and there are many ways of approaching it, but that's a wider conversation to have.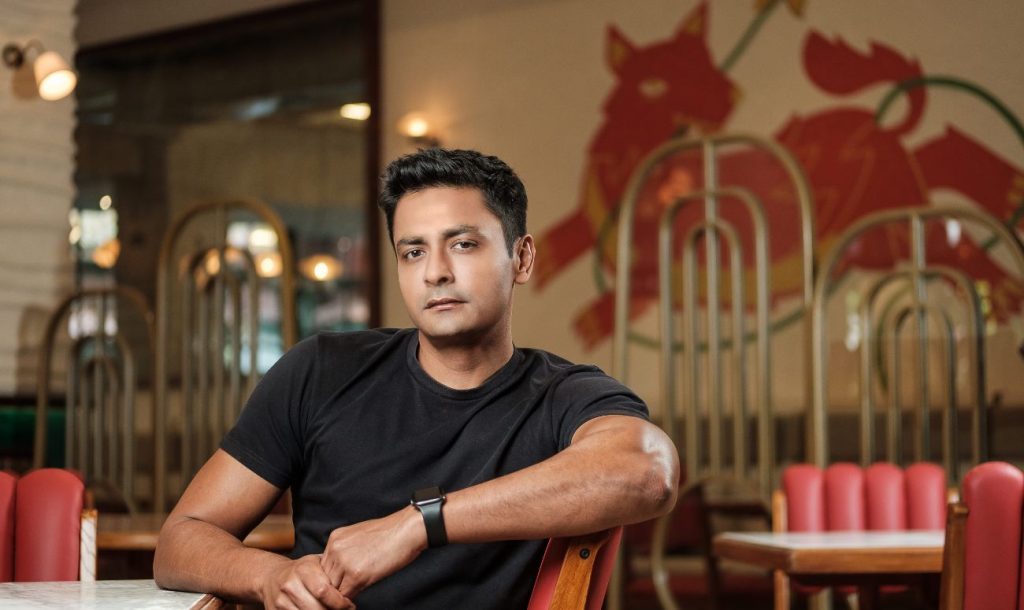 TRM: Just to understand your thoughts around it, what would you say mindful eating means to you? 
Manu Chandra: Mindful eating means that you eat as much as you need to. Conscious consumption, right? It's following the right way to eat which basically means you don't order out endlessly, you need to be able to make something nutritionally healthy for yourself. You don't need to eat meat three times a day, it's not necessary. I know there's access and I know there's e-commerce that feeds into it, but it's not a sustainable way of eating. You need to eat local, more biodiverse; you need to embrace more local vegetables, fruits, and grains into your diet. Your schedule of dining should be built around that. It shouldn't be about, "Can I get a 40% discount on this free app from the next biryani place?", that's not mindful eating. That is poor eating. It's not sustainability but a race down to the bottom as far as both health and the planet are concerned.   
TRM: Tell us about the 'behind-the-scenes' of cooking the inaugural dinner for Indian luminaries at the 75th-anniversary edition of the Festival de Cannes 2022 and then featuring Single Thread at the official India Pavilion at Cannes. What goes behind the preparation of representing India on such an iconic, international stage? 
Manu Chandra: Absolute chaos. (laughs) Of course, it was a great opportunity, but it was down to the wire. My team hadn't gotten their visas on time, and it was mayhem everywhere. I arrived there, prepping by myself, waiting for them to arrive, and they didn't arrive till one hour before the dinner. So, I had to do everything alone and that was a lot of work, but we pulled it off and with a lot of panache. In fact, I remember after the dinner, the general manager of the restaurant came up to me saying, "All of us were skeptical about how an Indian chef with an Indian team would come in and cook in our fancy restaurant but you guys outdid our own restaurant." And there's such a great sense of accomplishment and validation you know. This is what we do every day, it's just that the world sees us differently. 
TRM: Let's talk about Lupa, how did the idea for this progressive restaurant come about and why did you decide to call it Lupa?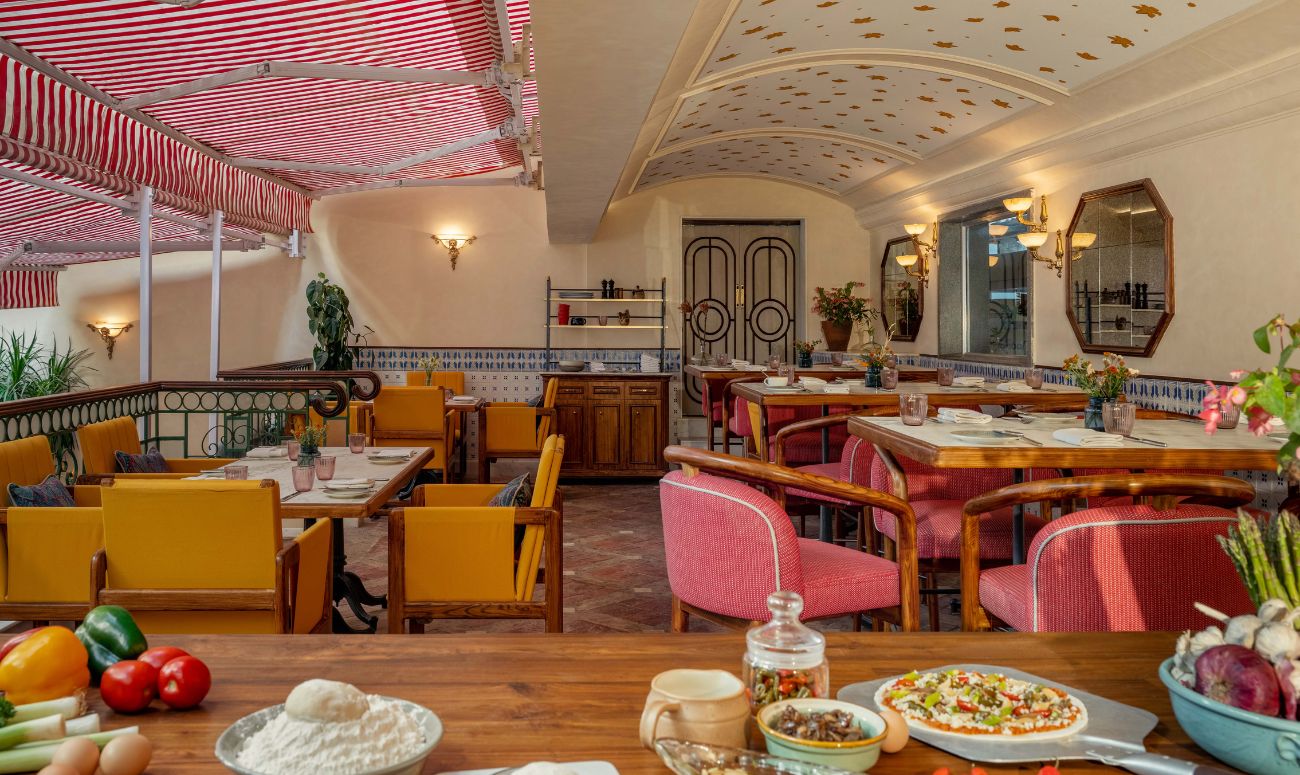 Manu Chandra: I don't think Lupa is progressive at all. I think Lupa is actually putting restauranting back into restaurants. It's trying to put the soul back into where I think the soul belongs. I am trying to turn the wheel back as opposed to turning the wheel forward in some sense. And I do believe that because of all the noise and because of all the fluff that goes around food, and the echo chambers that exist especially in the validation space around chefs and food, we've lost track of what food should be, what entertainment should be, and what hospitality should be. Lupa is, in many ways, a reinvention perhaps. But not to an extent that's trying to break new boundaries. With all the noise surrounding dining out post-pandemic, people forgot what great restaurants can be. It has to be beautiful; it has to be well run, and the service has to be top notch. The kitchen has to be efficient; the food needs to come out in time, and there needs to be a nice vibe in the space. 
There used to be older days, years ago when restaurants were all about location, location, location and then suddenly we had a proliferation with restaurants opening 75 kilometers out of the city and you had to drive to the destination because it was a great experience you wouldn't be able to get anywhere else. So, a lot has happened in the last 10-15 years, and I've been privy to most of it. But I did think that there was an erosion at some level of the fundamental idea of why we actually go out. And Lupa essentially brings that back and it brings it back with a lot of elan and that was the genesis of the idea.
The name is something that I have been inspired by for many years. I used to travel to Italy extensively with Rome continuing to be one of my favourite cities in the world. I am a student of history and Rome is essentially history that's preserved marvelously. I remember, I would meander through the streets endlessly for days at an end, and would see Lupa, the Goddess and mother of Romulus and Remus, the founders of Rome. She is a mythological figure but a she-wolf nurturing and untamable always resonated with me. And the name stuck. So, when it came to it, I decided to call the restaurant Lupa. I knew I would have a Western leaning when it came to this restaurant because that is something that I have been known for and have experience with for many years. The pace and design that I had in mind perfectly, perfectly synchronised with the name.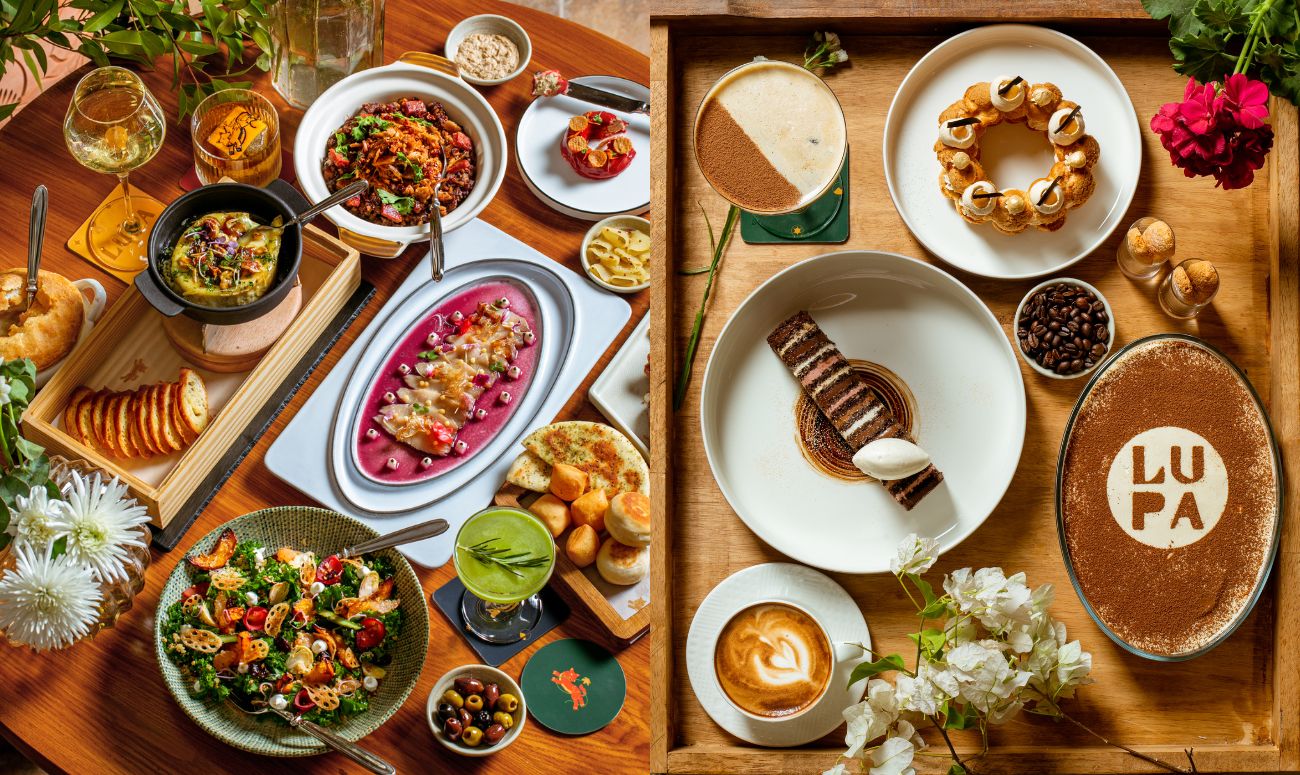 Today, we have this product but two months down the road it could have evolved because I will learn from everything I'm seeing in the past two weeks and continue to evolve it. And that's truly where my strengths lie. If I think something is not going right, I will fix it. If something is going swimmingly well, I will try to improve it.
TRM: With India's food and restaurant industry evolving rapidly to embrace a culinary exploration of global culture, what do you think is the future of Indian cuisine? 
Manu Chandra: I think there's a lot of amazing work happening around Indian food across the globe. Indian chefs are finding their stride and they are now getting the recognition that has been so elusive for so many years. So, there is a modern version of Indian food that seems to get a lot of press but there are other people right now who are making greater noise in this space, who are doing Indian food the way it should be done. Indian food, in my opinion, does not need to be reinvented entirely for it to have a global appeal. The globe is ready for Indian food the way it is. 
I've been doing national dinners across the globe, and I was at the World Economic Forum last month in Davos where I was cooking Indian food for what Indian food is and people were absolutely loving it. Sure, I changed the format a little so that it's easier to eat in a canopy form, but people went crazy because it was full of flavour. I wasn't trying to make it westernised or trying to please a Western audience. I was just making it what it's meant to be, and I think that is the future of Indian food, globally.
The future of Indian food in India has more to do with the sustainability angle, to bring in more from a restaurant perspective on the table as far as biodiversity is concerned, as far as practices as concerned, and not really the butter chicken naan route. And I think that is going to make a more responsible yet more exciting offering across the country as we move forward. A handful of 5-6 restaurants doing deconstructed foods is not going to be the torchbearers of the food industry, I highly disagree with that.
TRM: How has it been working with Chef Prashanth Puttaswamy to create a menu that's designed to stir the imagination and offer a galvanized culinary experience? 
Manu Chandra: Prasanth and I have worked together for almost 17-18 years so, we understand each other implicitly. You know there's very little that needs to be said, either of us says one thing and it gets done. We have already embraced responsible practices in the way we approach our menu. There's a lot of stuff going behind the menu, which is about sourcing locally and working with purveyors and small vendors who are doing things for us exclusively. It's about showcasing freshness and flavour, albeit in a western setting and with a western flavour profile, but that doesn't mean I don't use local produce, I do.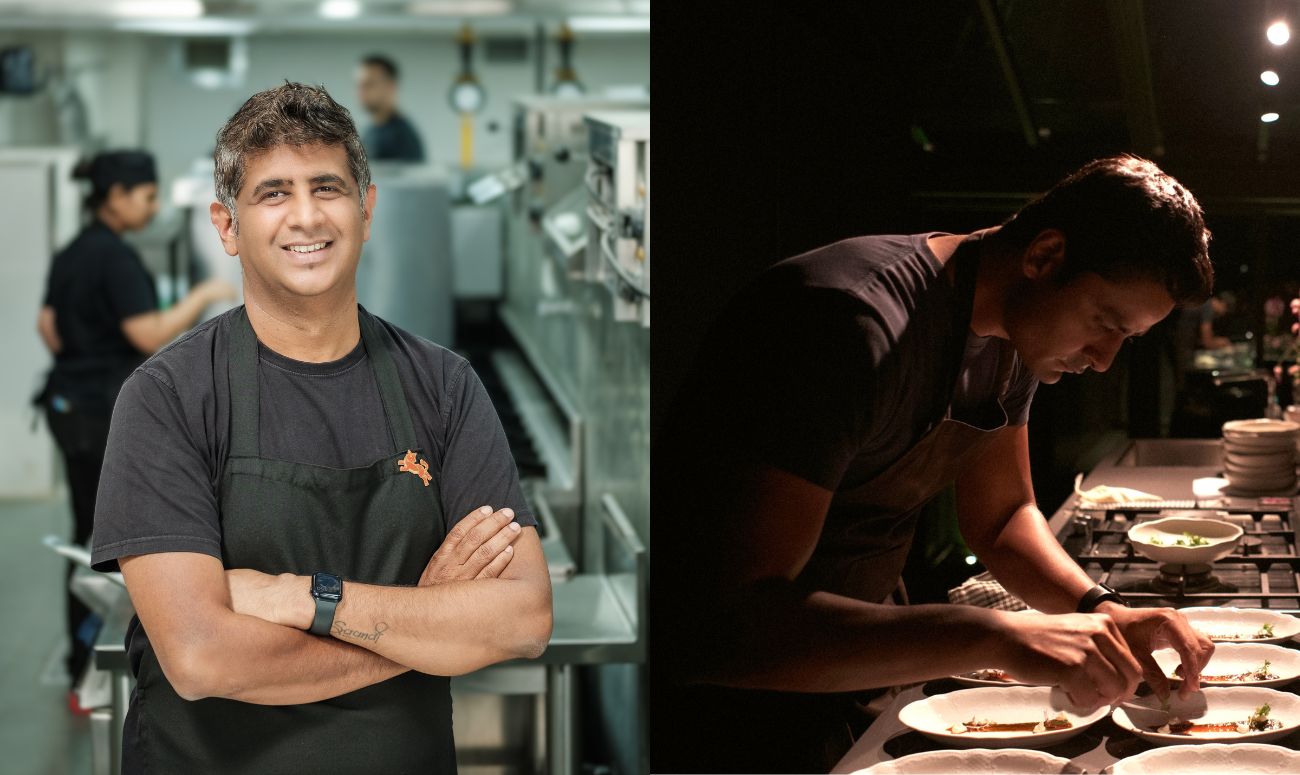 TRM: Lastly, running a kitchen must be such a stressful and chaotic process, can you share with our readers a few mindfulness tips that you consciously practice daily to find balance? 
Manu Chandra: Well, I exercise every day and I think that is extremely important. It was a turning point for me. I realised how much more energetic, how much more calm, and how much more balanced my life became after I started the regular routine of fairly intense exercise. It's great for the body and mind and the results are very tangible. I think everyone should do it. The whole thing about, "But I can't go to the gym," is in vain. I don't go to the gym. I work out at home. I have a seemingly busy schedule, but I manage to do it even with my work hours being 14-15 hours a day, seven days a week. So, anybody who gives me an excuse like they're too tired because their six hours are taking too much of their time is just making excuses. There's always time. So, make it count. 
Read More: 5 Refreshingly Cooling Drinks To Stay Hydrated During The Heat Wave
Like & Follow ThinkRight.me on Facebook, Instagram, Twitter, Pinterest and Telegram to stay connected.