Holi is one of the most ancient Hindu festivals that symbolizes love, colour and the arrival of sweet spring. It also celebrates the divine love between Radha and Krishna. Holi celebrations begin the previous night where rituals are performed before the bonfire and prayers are offered for the victory of good over evil. The next morning is celebrated as Dhuleti or Rango wali Holi where friends and family gather and play with colours. As with all other celebrations, Holi is also incomplete without food.
Since Holi heralds the beginning of warm weather, thandai, a drink which literally means 'cool' is the centre of all celebrations. It is made by grinding nuts and spices and adding them to milk along with rose petals. Gujiyas are another must make delicacy during Holi. They are made with a filling of khoya and dried fruits and then fried and dipped in sugar syrup making you want more. Another Holi specialty is Dahi bhalle or dahi vade. Known by different names across India, this dish is the perfect tangy, refreshing and cooling food item to have in the hot sultry weather.
So go ahead and make these dishes at home for your loved ones and make Holi as delicious as its colours!
Thandai
Ingredients:
6 cups milk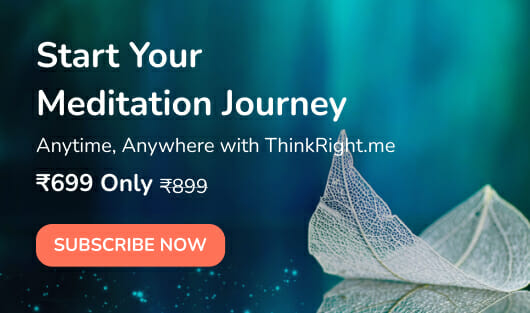 A few saffron threads
1½ cups sugar
4 tablespoons almonds, blanched and peeled
4 tablespoons cashew nuts, soaked
4 tablespoons pistachios, blanched and peeled
3 tablespoons melon seeds, soaked
3 tablespoons poppy seeds, soaked
1 tablespoon few almond slivers
For the spice mix:
1 teaspoon green cardamom seeds
20–25 rose petals
1-inch stick cinnamon
8–10 black peppercorns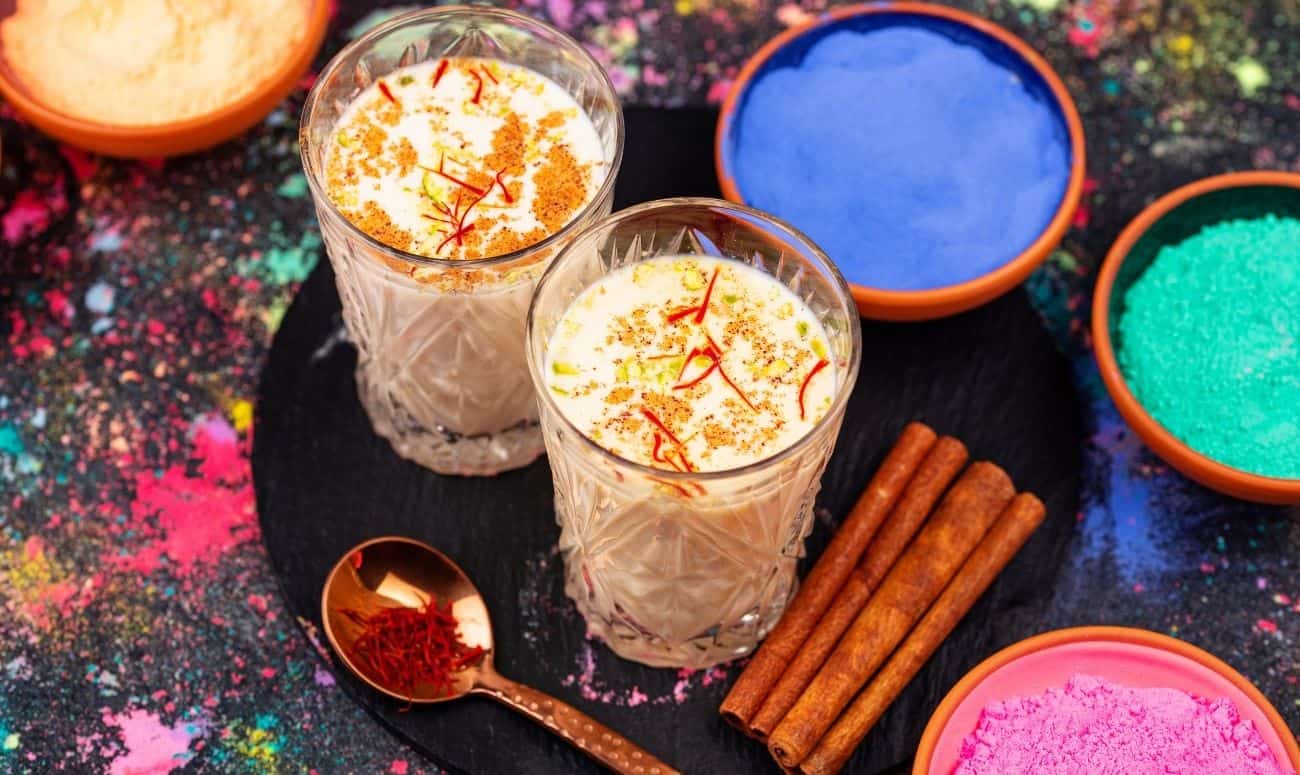 Method:
For the spice mix: Grind the cardamoms, rose petals, cinnamon and peppercorns to a fine powder.
Boil the milk in a thick bottomed pan over medium heat. Remove a few tablespoons and keep aside. Add the saffron and sugar and cook the mixture over low heat for a few minutes.
Grind together the almonds, cashew nuts, pistachios, melon seeds and poppy seeds using a few tablespoons of milk to make a fine paste.
Add the ground paste to the boiling milk and stir well. Cook for a few more minutes, stirring continuously until the mixture thickens.
Add the spice mix to the milk mixture and give it a good stir. Cook for 2 more minutes.
Take the pan off the heat and let the thandai cool. Serve chilled, garnished with almond slivers.
Gujiya
Ingredients:
3 tablespoons ghee, plus more for deep-frying
2 cups maida
For the filling:
1 cup khoya/mawa
1 cup sugar
½ teaspoon cardamom powder
10 almonds, finely chopped
10 cashew nuts, blanched and chopped
For the sugar syrup:
1 cup water
1 cup sugar
1 tablespoon whole milk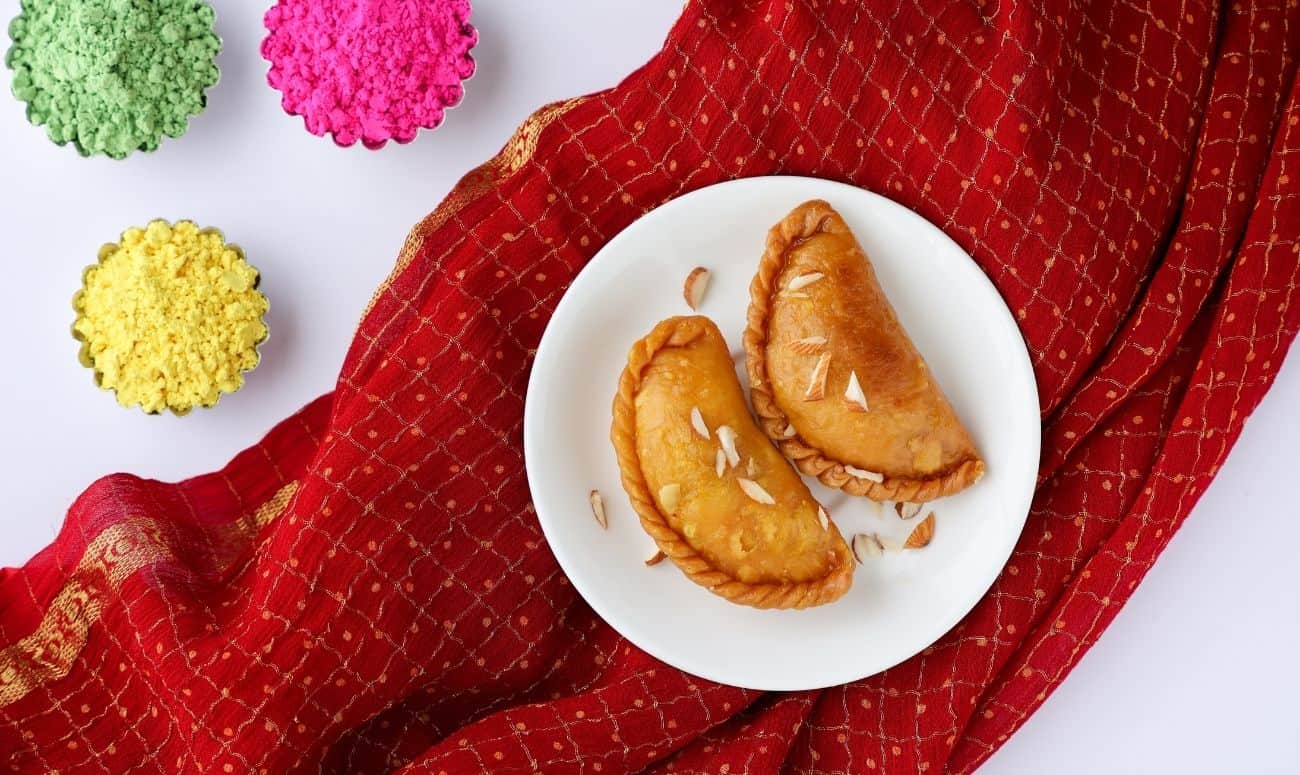 Method:
For the dough: Rub the ghee into the flour. Add a little water and knead to a stiff dough. Cover the dough with a damp cloth and let it rest for 10–15 minutes.
For the filling: Crumble the khoya and roast it in a pan on medium heat until it turns pink. Take the pan off the heat and transfer the khoya to a bowl. Add sugar, cardamom powder, almonds and cashew nuts and mix well.
Divide the dough into small balls and roll out each ball into a thick 4-inch disc. Place a tablespoon of the filling on one half of the disc. Moisten the edges of the disc and fold the other half over. Press the edges together to seal. Mark the edge with a fork, or make a design by pinching and twisting all along the sealed edges. Repeat with the rest of the dough and filling.
Heat the ghee in a wok or deep pan. Deep-fry the gujiya on medium heat until they turn golden brown. Remove with a slotted spoon and drain on paper towels.
For the sugar syrup: Combine water and sugar in a pan and bring to a boil. Cook, stirring occasionally, until the sugar dissolves. When the syrup starts boiling, add the milk and skim off any foam that rises to the surface. Cook the syrup until it reaches single thread consistency. Take the pan off the heat.
Dip the fried gujiya one at a time in the sugar syrup. Transfer to a plate to dry. Cool to room temperature and serve.
Dahi Bhalle / Dahi Vade
Ingredients:
1 cup urad dal
1 teaspoon finely chopped green chillies
1 teaspoon grated fresh ginger
Oil
4 cups plain yogurt
½ teaspoon rock salt
1 tablespoon sugar
½ cup pudina chutney
½ cup date and tamarind chutney
1 teaspoon roasted cumin seeds
1 teaspoon chili powder
Salt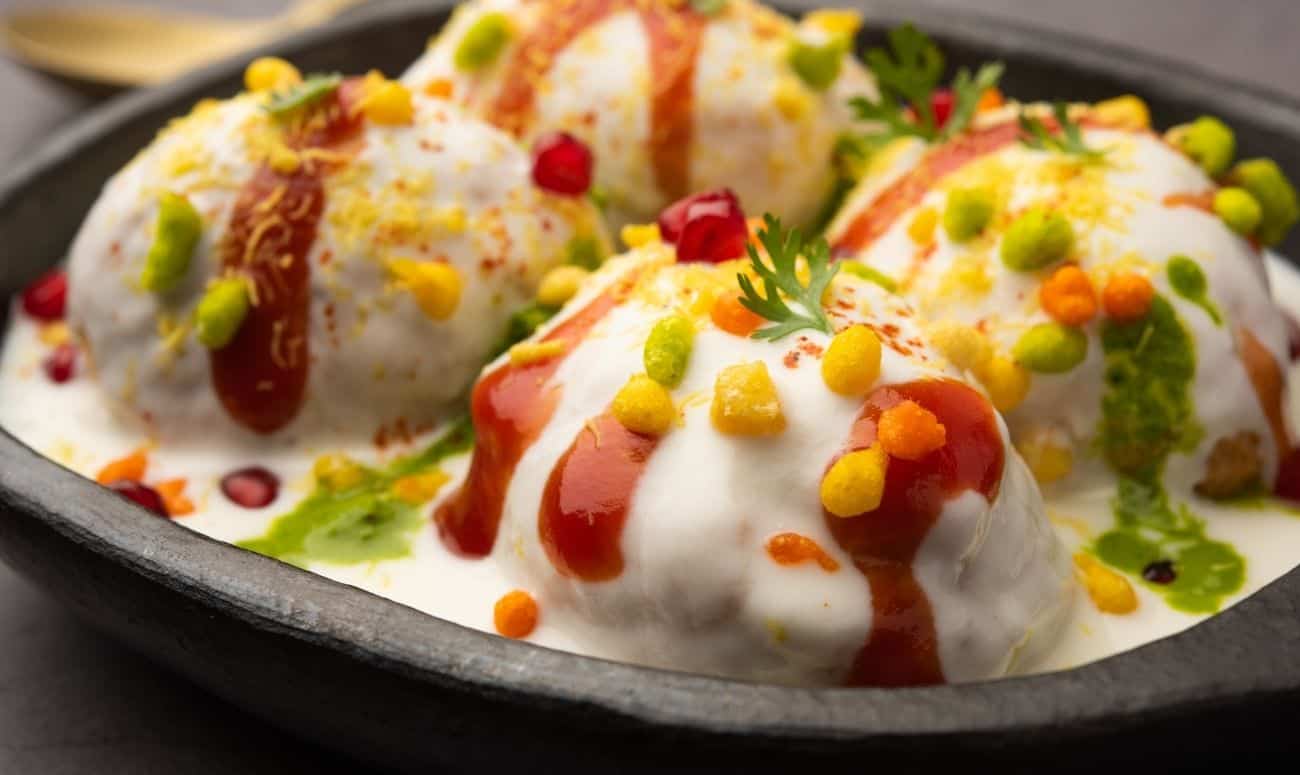 Method:
Wash and soak the urad dal in 3 cups water overnight, or for at least 6 hours.
Drain and grind to a light, soft, smooth paste. Grind once more to make the batter extra light or whip it with a hand beater.
Add green chillies, ginger and salt to taste to the ground paste. Mix well to make a batter.
Boil 3 cups of water in a pan. Add 1 teaspoon salt and keep the mixture warm.
Heat oil in a frying pan. Drop tablespoonfuls of batter into the oil and fry the vadas until light golden brown in color. Drain them and soak them in the salted hot water for at least 10 minutes. Remove the vadas from the water and squeeze between your palms to extract excess water.
Combine the yogurt with rock salt and sugar. Whisk it well.
Place the vadas in a plate and pour the yogurt over them. Top with both chutneys to taste. Sprinkle with cumin seeds and chili powder.
Dr. Deepali Kampani is a digital content specialist who weaves health and food through her pen.
Read more: How To Create A Vision Board For Your Financial Goals
Like & Follow ThinkRight.me on Facebook, Instagram, Twitter, and Telegram to stay connected.